The 10 Best Gloves For Kettlebells This Year!
No more injuring your palms or spoiling the look of them from lifting kettlebells.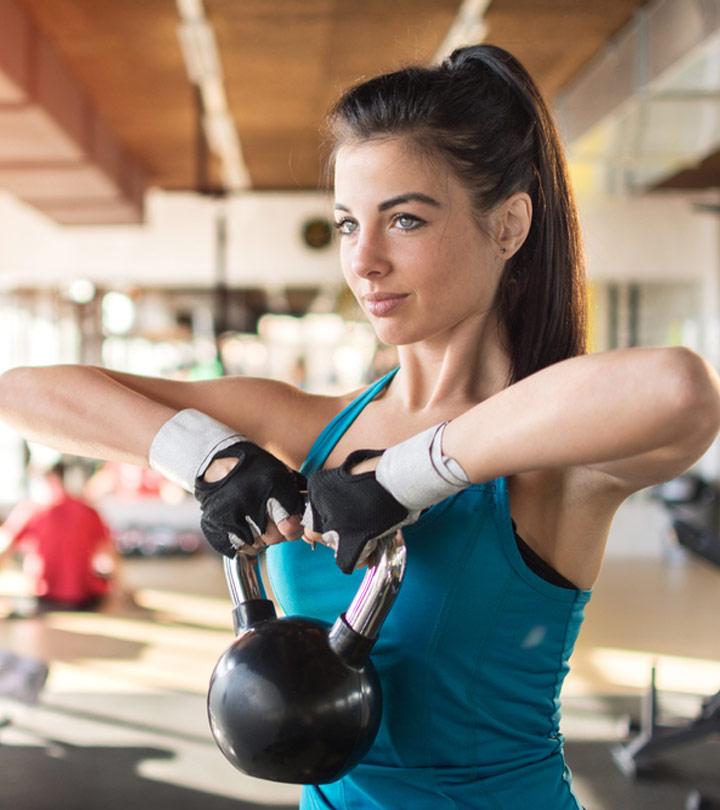 If you are worried that your manicured hands may get damaged while exercising with kettlebells or toning your body, we have a solution for you! Get the best kettlebell gloves to support your wrist and add a good grip while holding the kettlebells. It saves your palms against ripping and bruising by obstructing the friction caused while lifting the kettlebell. These gloves are also called weight lifting gloves. These trendy gloves also add an extra oomph to your gym attire. After all, you can find a variety of them in different colors, patterns, features, etc. They are also made with different materials, each carefully stitched to give the best performance.
There are a variety of these gloves available in the market. But which one will be the best for you? In this article, we have mentioned the best collection of kettlebell gloves that will help in smoothing your kettlebell exercise while keeping your hands beautiful. Keep scrolling!
You 2022 Guide To Purchasing The Best Kettlebell Gloves
The Fit Active Sports Weight Lifting Gloves ranks highest on our list of gloves for kettlebell training. It not only provides high level of protection to your precious hands but also for the level of comfort and universality ensured by them. These full hand workout gloves cover the maximum surface area allowing for comfortable weight distribution and leaving no room for bruising or blisters. Made using high-quality Silicon Printed Neoprene, these gloves are water and aging-resistant. Spend your money once and see the return for ages! Your hands will love them and so will your wallet. With the built-in straps and extra grip – these gloves are made to fit all hands. They don't discriminate or have preferences; they are simply selfless and caring.
Pros
Full hand workout gloves
Comfortable
Good ventilation
Superior wrist support
Unisex
The material does not interfere with your grip.
Cons
Price at the time of publication: $19.95
2.
Best Durable:
GymPaws
Described as the OG fingerless Gym Glove, this non-glove-glove is the shield your hands are begging for. Available in a wide assortment of colors, the GymPaws are the perfect alternative to other bulky kettlebell workout gloves.  These gloves are made from slightly padded soft genuine leather, allowing them to acquire your hand shape with use and get better with time – just like your favorite wine. The military-grade hydrophobic Neoprene in GymPaws is naturally moisture and sweat resistant. Additionally, the ergonomic and ventilated design of the glove makes it ideal for sweaty hands. To make things even better, they are machine washable and dryable!
Pros
Durable
Versatile
Unisex
Slightly padded
Available in multiple colors
Easy to wear
Cons
Price at the time of publication: $22.47
Gripper Callus Gaurd by Fit Four is a unique looking pair of weightlifting glove. Instead of providing complete palm protection, the glove is minimally designed to protect your four fingers. The silicone surface allows for enhanced kettlebell grip and mobility that ensures less slipping and bruising of your hands. This premium weightlifting glove is especially kind to your fragile hands while you lift your extra kilos of kettlebells.  Made from the highest quality of materials, including lycra, these gloves are a good investment of your money and time.
Pros
Lightweight
Good grip
Comfortable
Compact storage
Unisex
Protection specific
Cons
Not water and sweat resistant
Non-padded
Glove alternate
Price at the time of publication: $22.95
These gloves cover only half of your hands and fingers, keeping the rest of your palms open, allowing them to breathe freely. These gloves protect your fingers from getting calluses and offer cushioning for crossfit, weightlifting, pullup, rowing, etc. The microfiber synthetic leather material of the gloves ensures a comfortable, non-slip grip by wicking off sweat and moisture. These pull-on gloves with tabs are easy to wear and remove.
Pros
 3 mm grip lock pads
 Easy to remove tabs
 Non-slip grip
 Lightweight
 Designed for women
Cons
Price at the time of publication: $15.99
This complete all-in-one kettlebell workout glove is ideal for all your kettlebell training! It benefits both, the beginners as well as the more seasoned athletes and trainers- making it a permanent member of your gym equipment.  A palm specific padding ensures a blister and callus-free kettlebell workout session all year round. With uniquely designed wrist wraps, these gloves provide just the right amount of support to feel your calories burn without hurting your hands. The hook and loop wrist straps allow you to adjust these gloves to make them fit perfectly.
Pros
Comfortable
Fully adjustable
Silicone padding
Unisex
Available in multiple colors available
Cons
Sizing chart is not accurate
Price at the time of publication: $26.99
The Steal Sweat Workout Gloves are a dream come true for all the leather lovers out there. They receive all our points for achieving the perfect rugged look that most of us want from our kettlebell training gear. But don't let the looks fool you. These hard-on-the-outside gloves are big softies on the inside and will never let your hands look rugged. The Powa Comfort pads in the gloves protect your palms from the friction and stress caused by lifting kettlebells. To make things better, with double stitching and a combination of long-lasting material, these gloves go a long way. Spend your money once and reap the benefits endlessly. Now that sounds like a good deal!
Pros
Durable
Comfortable
Adjustable
Heavy-duty stitching
Anti-slip grip
Moisture management fleecing
Available in multiple colors
Cons
Might have difficulty in deciding right size.
Price at the time of publication: $21.99
The ProFitness Training Gloves promise an injury-free kettlebell workout experience to all its users. This includes the wide range of injuries your delicate palms have to face, such as callous, blisters, and ripping! Giving you more surface area and weight distribution, these gloves increase your weight-bearing capacity. You can now lift more kettlebells with the same amount of strength- allowing an escalation in your kettlebell training regime! This is all achievable without sacrificing your palms in the process. These gloves are durable, flexible, and supportive. Such versatility accompanied with anti-sweat design makes it a desirable gym partner.
Pros
Comfortable
Versatile
Unisex
Minimizes sweating
Available in multiple colors
Cons
Price at the time of publication: $17.95
The Mssohkan Gym Gloves are an ideal buy for harm reduction. Forget all about calluses, blisters, and early manicures. Don't let your injured hands affect your kettlebell training and your summer-body dreams. Put them on and watch them effectively protect your palms using a slip-free silicone pad. Made with great detail, these gloves use high-quality double-sided Velcro to secure the glove around your wrists, providing just the right amount of support.  You'll like these pairs so much that you'd wear them to sleep, but don't worry, these are made for extensive use- so sleep in them and dream about the kettlebells reps you plan for the next day.
Pros
Affordable
Extra grip
Adjustable
Lightweight
Cons
Might have difficulty in deciding right size
Price at the time of publication: $6.99
This glove provides an exclusively designed silicon padding to protect the most exposed areas of your palm. This silicon padding also allows a stronger and stable hold on those unempathetic kettlebells- to make every kettlebell training session more impactful. The form-fitting lycra at the top of this glove is breathable to prevent overheating and excessive sweating. The same lycra makes the gloves very easy to remove and lightweight. Made with the sole purpose of providing protection, these gloves are to the point. They do not interfere with the natural hand sensory functionality and simply shield your hands.
Pros
Extremely lightweight
Comfortable
Easily removable
Cushioned
Available in multiple colors
Cons
May not be ideal for pulling exercises
Price at the time of publication: $16.99
The Nano Hertz Gloves are specially designed to protect the essential and most vulnerable areas of your palms. Bid adieu to those painful bumps, bruises, and rips. Instead, welcome happy and healthy hands that don't give up from pain mid-workout. These gloves are extremely light, comfortable, and functional- almost like your own skin but better! Extremely versatile, these gloves are ideal for protecting you from bruising from lifting those heavy kettlebells.
Pros
Comfortable
Lightweight
Affordable
Easy to wear
Cons
Stitching might loosen with time
Price at the time of publication: $9.99
Having seen our recommendation of the best gloves for kettlebells, here are some pointers to help you choose your perfect pair of gloves.
How To Choose A The Best Kettlebell Glove – A Buyer's Guide
When deciding your next purchase, it is best to know or decide what you require from the gloves You could be looking for any variety of the following things, and more:
1. 360 protection
Some gloves are limit their protection to the palm area, whereas others provide overall protection. Depending on your requirements, you could go for a simple palm protecting glove or a glove that protects your palm and wrist by giving continuous support. Our list has the best options from both types.
2. Flexibility
Flexibility is another important concern for most kettlebell lifters. Unlike dumbbells, the kettlebell requires a higher level of flexibility around the wrist and extra grip at the palm. On one side, a complex and hardbound glove fails to provide this flexibility but provides strong protection. While, on the other, lightweight gloves provide flexibility and ease of removal but don't provide the strongest protection.
3. Durability
When buying anything, a customer expects some level of durability. Luckily for you, all our recommendations are top-notch and just so durable. Choose any and you won't be dissatisfied.
4. Padding
Padding in a glove protects the hand from direct pressure from the kettlebells and something provides support. Depending on the material of the padding, it can affect the grip of the glove. Usually, silicone padding is considered comfortable and anti-slip, which is a perfect combination for all you kettlebell lifters out there!
5. Material
The material of the glove could be a superficial or functional requirement. Leather lovers might prefer our best pick from the list. Whereas our vegan buddies might consider the Lycra options over the leather options. In terms of function, all gloves ensure the protection of your hands.
Why Trust StyleCraze?
Shreya Vishwanathan, the author of this article, is a fitness enthusiast and finds immense happiness in helping her readers pick the right fitness product without hassle. She has conducted thorough research and read many customer reviews to compile a comprehensive list of the best gloves for kettlebells. This list comprises the products that are functional and trendy.
Frequently Asked Questions
Should You Wear Gloves With Kettlebells?
If you suffer from blisters, ripping, bruising, callusing or any odd combination of all four due to your kettlebell lifting – then weightlifting gloves are the solution to your problem. They provide the right amount of protection and support to avoid future injures to your hand and help you reach your workout goals.
Do You Need Gloves For Kettlebells?
Although many people have no issues lifting kettlebells with their bare hands, a significant portion cannot even fathom the idea of doing so without their favorite pair of gloves. If you fall in the latter, this list is perfect for you!
Recommended Articles
Best Heated Gloves That'll Keep Your Hands Warm And Cozy!
Best Winter Gloves for Women
Best Boxing Gloves For Heavy Bag Training
Best Heat Resistant Gloves for Grilling