15 Best Wrinkle Fillers – 2022
These anti-wrinkle products act like "Botox in a bottle" and are safer alternatives!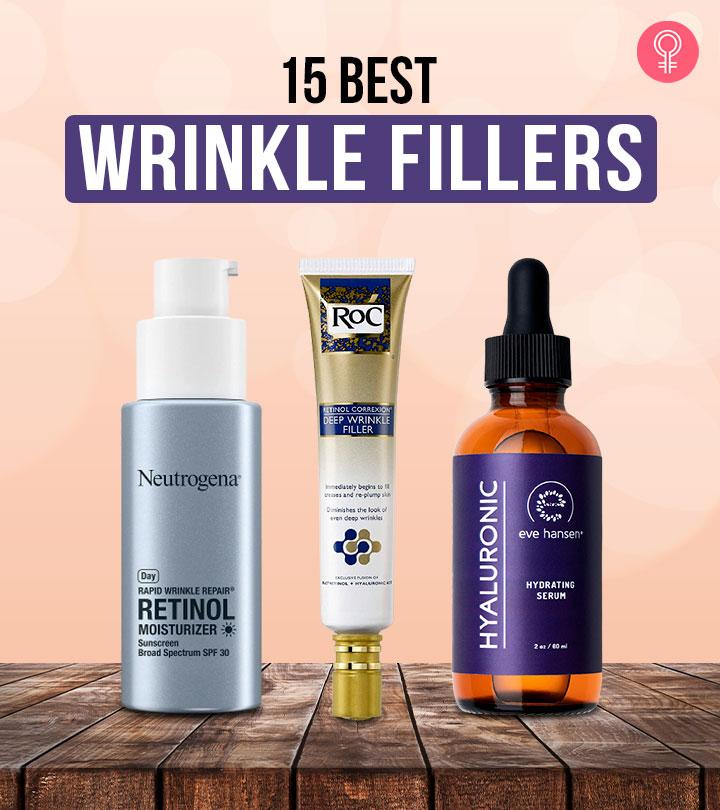 The best wrinkle filler can aid getting rid of symptoms of aging. So, if you are bothered by the fine lines and wrinkles that are cropping up as you age and tired of unsuccessfully trying out anti-aging products, the "botox in a bottle" may be just the thing for you. The term "botox in a bottle" refers to topical medicines that target visual indicators of aging.
Board-certified dermatologist Dr. Anna Chacon says, "Usually topical wrinkle filler's contain some form of collagen or hyaluronic acid as well as alpha hydroxy acids like a lactic/glycolic acid which make the skin tightening in that area." The best part? You no longer need to worry about undergoing surgery as the last resort to protect your skin in the future. To help you navigate the world of topical fillers smoothly, we have listed the top 15 wrinkle fillers that can help you look youthful with ease!
The 15 Best Wrinkle Fillers – 2022
The Neutrogena Rapid Wrinkle Repair Moisturizer is clinically proven to effectively fade the appearance of wrinkles, crow's feet, and fine lines within one week of use. Its formula includes retinol, a potent anti-aging ingredient that renews your skin and can help minimize dark spots and wrinkles. The hyaluronic acid and glucose complex in the formula strengthen the skin barrier to prevent moisture loss. The moisturizer is infused with broad-spectrum SPF 30 to protect the skin from harmful UVA and UVB rays. Watch this YouTuber's video to get a better idea about the product.
Key Ingredients: Retinol, Hyaluronic acid, and Glucose complex
Pros
 Broad-spectrum SPF 30
 Clinically proven formula
 Paraben-free
 Gentle
 Lightweight
 Gets absorbed quickly
Cons
 May cause temporary dryness
The L'Oreal Paris Collagen Moisture Filler keeps your skin hydrated to minimize the appearance of wrinkles and fine lines. It restores the skin's moisture balance in just one week and gives you soft and
plump skin
. The quick-absorbing formula does not leave a greasy residue. You can apply this cream day and night or repurpose it as a makeup primer for a killer base. The product claims to diminish your wrinkles within a week with regular use. Check out this
video
to better understand the functions of the L'Oreal Paris Collagen Moisture Filler
Key Ingredients: Shea butter and Soluble collagen
Pros
 Non-greasy
 Lightweight
 Non-comedogenic
 Dermatologically tested
 Suitable for all skin types
Cons
This cult-favorite wrinkle filling treatment has been a savior for years. The ROC Retinol Correxion Deep Wrinkle Filler fights wrinkles by filling the creases and plumping your skin. It has a unique formula containing hyaluronic acid and retinol that diminishes the appearance of wrinkles and crows' feet in just 4 weeks. In addition, it lifts and firms up your skin while reducing dark spots. Use it daily for younger-looking skin. Watch this video for a thorough understanding of the product.
Key Ingredients: Retinol and Hyaluronic acid
Pros
 Dermatologically tested
 Suitable for all skin types
 Non-comedogenic
 Mild fragrance
Cons
The Eve Hansen Hyaluronic Hydrating Serum has a potent formula enriched with hyaluronic acid and vitamins C and E. It hydrates and soothes your skin while reducing fine lines and wrinkles. The antioxidant-rich green tea in the formula softens mature skin while toning down puffiness and redness. In addition, the serum refines the skin tone and texture to reveal a more radiant and glowing complexion.
Key Ingredients: Hyaluronic acid, Vitamin C, Vitamin E, and Green tea
Pros
 Contains natural ingredients
 Vegan
 Cruelty-free
Cons
None
Whether you have crow's feet, deep wrinkles, or fine lines, the Laboratoires Filorga Time-Filler claims to correct them all. It contains tripeptides, which fade wrinkles and help the skin relax. In addition, the potent collagen-boosting peptides and hyaluronic acid visibly reduce the signs of aging while hydrating the skin to give you a younger appearance.
Key Ingredients: Hyaluronic acid
Pros
Cons
This high-performing treatment by Olay fills fine lines and wrinkles to give you a youthful appearance. Its dual-action formula is enriched with Amino-Peptide Complex and vitamin E that fill in wrinkles, while light-diffusing particles soften the look of pores, leaving your skin with a more even finish. The precision-tipped applicator delivers the product to the target areas around the eyes, mouth, and forehead for better results. Use the Olay Regenerist Wrinkle & Pore Vanisher to get velvety soft and younger-looking skin.
Key Ingredients: Amino-Peptide Complex and Vitamin E
Pros
 Matte finish
 Affordable
 Easy to apply
Cons
If you are looking for instant results, the Boots No7 Instant Illusion Wrinkle Filler will help you. It works as a primer and claims to be a quick fix for deep lines and wrinkles. The product smooths out the appearance of fine lines and makes your face appear younger. This cream contains reflecting pigments and soft-focus spheres that form a light-diffusing cover on your face, giving you a younger appearance.
Key Ingredients: Glycerin
Pros
 Non-greasy
 Lightweight
 Dewy finish
Cons
This dermal filler by Andalou Naturals is a budget-friendly option. The antioxidant-rich natural ingredients boost cell vitality and promote collagen and elastin production. In addition, it contains resveratrol to maintain the youthfulness of your skin, goji berry to improve skin tone and texture, and aloe vera to hydrate and protect the natural moisture barrier of the skin and make it plump and tight.
Key Ingredients: Resveratrol, Goji berry, and Aloe vera
Pros
 Non-greasy
 Quick-absorbing
 Contains organic ingredients
 Non-GMO
 Cruelty-free
 Gluten-free
 100% vegan
Cons
None
This smoothing cream by Dr. Brandt contains a tri-blend, wrinkle-smoothening complex of neuropeptides and minerals. It works on multiple levels to smooth the expression lines, fine lines, and wrinkles and make your skin smooth. The neuropeptides deliver skin-relaxing ingredients to soften the expression lines. The product also contains glycolic and lactic acids to boost collagen renewal, lavender and chamomile oils to deliver antioxidants to the skin layers, and vitamin E to prevent free radical damage. This lightweight formula is clinically tested and gets absorbed quickly to lift your skin and make it look youthful within four weeks.
Key Ingredients: Peptides and Minerals
Pros
 Clinically tested
 Dermatologically tested
 Hypoallergenic
 Ophthalmologically tested
 Safe for contact lens wearers
Cons
If you are looking for a tinted product to match your skin tone and camouflage the wrinkles, go for Dermactin-TS Line Eraser 90 Sec Wrinkle Reducer. The formula contains hyaluronic acid that temporarily fills and plumps the creases to smoothen the skin. The lightly tinted formula blends well, creates a smoother base for makeup application, and covers mild discoloration.
Key Ingredients: Hyaluronic Acid
Pros
 Tinted
 Gets absorbed quickly
 Affordable
Cons
The StriVectin High-Potency Wrinkle Filler targets wrinkles to soften their look, improve overall skin texture, and minimize fine lines. The silicone-free formula is exclusively meant to work on the creases, crow's feet, vertical lines between your brows, fine lines, and expression lines around the lip area. The topical filler is developed with Anti-Wrinkle Technology that plumps your skin to make it appear youthful.
Key Ingredients: Hyaluronic acid and Citric acid
Pros
 Quick-absorbing
 Silicone-free
Cons
The Delfogo Rx Deep Wrinkle Filler Serum is a medical-grade wrinkle filler treatment for your skin. It contains powerful anti-aging ingredients like leuphasyl, argireline, matrixyl, and syn-ake that promote collagen development, diminish wrinkles, and give you Botox-like results. In addition, hyaluronic acid in the formula moisturizes the skin and strengthens its barrier to prevent moisture loss, keep your skin plump, and smoothen wrinkles.
Key Ingredients: Leuphasyl, Syn-Ake, Matrixyl 3000, Argireline, and Hyaluronic acid
Pros
 Medical-grade
 Lightweight
 Clinically proven ingredients
Cons
None
If you are worried about deep wrinkles, try out the Mary Kay TimeWise Repair Volu-Firm Deep Wrinkle Filler. It significantly impacts the appearance of all six wrinkle zones – forehead, between-the-brows, crow's feet, smile lines, vertical lip lines, and marionette lines. It is enriched with retinol, an effective anti-aging ingredient, and hyaluronic acid that acts as a moisturizer and minimizes the appearance of wrinkles. The lightweight formula does not leave any flaky residue.
Pros
 Built-in precise applicator
 Quick-absorbing
Cons
None
This cult-favorite non-injectable wrinkle filler from Revlon instantly plumps up your skin. Its lightweight formula is enriched with hyaluronic acid that locks in moisture to rehydrate the cells, covering all your wrinkles, fine lines, and other visible signs of aging. This wrinkle filler by Revlon can also be used as a makeup primer and claims to give tighter skin within four weeks.
Key Ingredients: Hyaluronic Acid
Pros
 Lightweight
 Gets absorbed quickly
 A little goes a long way
Cons
The Rapid Facial Line Filler by Somaluxe has a clinically tested formula that claims to give you immediate results and improves skin hydration. It contains hyaluronic acid that penetrates your skin and smooths out wrinkles and fine lines, squalene and glucosamine HCI to restore moisture, and vitamin C to provide antioxidant benefits and reduce free radical damage.
Key Ingredients: Hyaluronic Acid, Vitamin C, and Squalene
Pros
 Dermatologist-tested
 Fragrance-free
 Paraben-free
 Sulfate-free
 Cruelty-free
Cons
None
The non-injectable wrinkle fillers are best for people who want to avoid cosmetic procedures. While topical fillers may not give results like filler injections, they can temporarily fill the deep lines and wrinkles. They are less expensive and painful than injectable ones. Injectable wrinkle fillers are of different types, and all work differently. Here is a breakdown.
What Is A Wrinkle Filler?
Dr. Anna Chacon, a board-certified dermatologist, says, "Wrinkle fillers come in a variety of shapes and sizes. I usually think of them as either injectable treatments or topical treatments. Topically that may consist of cosmeceuticals such as hyaluronic acid or collagen." Let's understand how topical dermal fillers may work.
How Does It Work?
Topical wrinkle fillers fill the creases and blur the appearance of fine lines to make your skin look smoother. Most of the products contain hyaluronic acid, peptides, and other cosmeceuticals that reduce dryness and plump up the skin to minimize the appearance of wrinkles and fine lines. Dr. Schwarzburg, MD, Cosmetic Dermatology, says "Keep in mind that there is no cream or serum that will actually get rid of your wrinkles – though they can help make them less visibly obvious."
Different Types Of Wrinkle Fillers
 Hyaluronic Acid Wrinkle Fillers
Hyaluronic acid wrinkle fillers are the most popular ones. Though your skin naturally produces hyaluronic acid, you can use it for its skin-plumping and hydrating properties. Hyaluronic acid wrinkle fillers have a gel-like texture and can last for at least 6-12 months.
 Synthetic Wrinkle Fillers
Synthetic wrinkle fillers include lab-made substances, and they are not related to anything found naturally in the skin. The benefit of this type of wrinkle filler is that it has a long-lasting effect. In addition, it offers a semi-permanent filling of lines and creases. Before using synthetic wrinkle fillers, you have to remember that they are more likely to cause side effects as they provide longer-lasting results. Incorrect use of synthetic wrinkle fillers may cause disfigurement.
 Autologous Wrinkle Fillers
Fat from your own body is commonly used in this type of filler. The autologous wrinkle fillers use fat deposits from donor areas of your body, like your stomach, thigh area, or buttocks. The fat is extracted from either of these body parts through liposuction. It is then injected into another area of your body where volume has been lost. Unlike other types of wrinkle fillers, these natural fillers have a long-lasting effect. In addition, as these fillers come from your body, these injections do not require FDA approval.
Collagen is the most abundant protein found under your skin, bones, cartilage, and tendons. Collagen injections contain bovine (cow) collagen and are injected beneath your skin. Collagen wrinkle fillers can replace your body's original supply of collagen. As it is mainly responsible for the skin's elasticity, your skin looks more youthful.
Wrinkle fillers can plump up and add volume and fullness while smoothing your skin. In the following section, let's go through some significant benefits of non-injectable wrinkle fillers.
Benefits Of Wrinkle Fillers
The major benefits of non-injectable fillers are:
 No downtime
 Easy to use
 No post-op scarring
 No risk of infections
While the results may not be equal to injectable fillers, topical wrinkle fillers:
 Give you instant results
 Are less expensive
 May also address other issues like pigmentation and discoloration, depending on the ingredients
 Hydrate and brighten your skin
Wrinkle fillers can be beneficial for you in various ways. But before choosing the best wrinkle filler, here are the following factors to keep in mind.
How To Choose The Best Wrinkle Filler – Buying Guide
Most wrinkle fillers contain silicone as their primary ingredient. Silicones help in filling the lines, wrinkles, and pores. Go for products that contain potent anti-aging ingredients like hyaluronic acid, retinol, peptides, vitamin C, matrixyl 3000, and stem cells. They penetrate the skin layers and work from within to keep your skin youthful.
Kristin Hegedusch, a licensed esthetician, believes, "When selecting a wrinkle filler, look for one containing a high level of antioxidants. Antioxidants are often touted as a miracle ingredient beneficial for almost every skincare concern. While no single compound or element can make your skin ageless, antioxidants are powerful tools to have on your side. Large amounts of antioxidants help skin repair itself and prevent sun damage. Antioxidant ingredients also correct visible signs of aging – such as wrinkles and dark spots – and brighten the skin for a more youthful appearance."
Tinted wrinkle fillers give you sheer coverage and may also cover up minor discoloration. They eliminate the need for foundation. Non-tinted ones work best as overnight treatments, moisturizers, or primers for your foundation.
Some people are overly sensitive to fragrances. In such cases, go for a wrinkle filler that has a fragrance-free formula. This will help you avoid any possible skin irritation.
Visible signs of aging can be quite a concern for most of us. However, with topical wrinkle fillers, you don't need to worry about the signs of aging anymore. If you have dry skin and want a hydrating option, the L'Oreal Paris Collagen Moisture Filler will work the best for you. If you are looking for products with SPF, the Boots No. 7 Instant Illusion Wrinkle Filler and the Neutrogena Rapid Wrinkle Repair Moisturizer With Sunscreen are the safest. Take your pick from the best wrinkle fillers listed above and say 'goodbye' to those lines and wrinkles on your face.
Why Trust StyleCraze?
Oyendrila Kanjilal, the author, is a certified skin care coach who is passionate about makeup and beauty products and the way they affect your skin. She is especially fond of products that help delay the signs of aging, like wrinkles and fine lines. She has painstakingly done all the research about the ingredients used in various wrinkle fillers and how they may affect you over time – and the result is this list of the top wrinkle fillers. When you select any of the products listed here, you can be sure to see and feel a visible difference!
Frequently Asked Questions
What's the best way to apply a wrinkle filler?
Apply a wrinkle filler with your fingers and gently tap your skin to ensure the product fills the lines.
How long does it take for wrinkle fillers to work?
Wrinkle fillers may take four weeks to show visible results.
Can I permanently get rid of wrinkles?
No. You cannot get rid of wrinkles permanently. However, you can smoothen them temporarily and continue the treatment to maintain the look.
Are wrinkle fillers appropriate for all skin types?
Yes, wrinkle fillers are suitable for all skin types.
Are wrinkle fillers safe?
Yes, wrinkle fillers are safe but they might have their own side effects. The catch is to purchase fillers that come with gentle ingredients and mild formulas. If at all, wrinkle fillers usually have temporary side effects and benign complications.
Do over-the-counter wrinkle fillers work?
Yes, over-the-counter wrinkle fillers do work for some, but it is always advisable to contact your dermatologist before using any fillers on your face. Although mostly harmless, over-the-counter fillers can cause complications if the ingredients do not suit your skin.
Do fillers make wrinkles worse?
No, fillers do not make wrinkles worse. Instead, fillers can volumize certain parts of your face and make your skin look youthful. It might take some time for the fillers to settle in, and your wrinkles might appear bigger than usual. However, that phase is temporary, and the fillers do not cause any negative impact on the signs of aging.
What's the best filler for deep wrinkles?
Fillers containing hyaluronic acid are mostly suitable for deep wrinkles. You can also try fillers with retinol that reduces the appearance of wrinkles and offers a plump skin.
Recommended Articles