15 Best Wrinkle Fillers That Fade Wrinkles And Fine Lines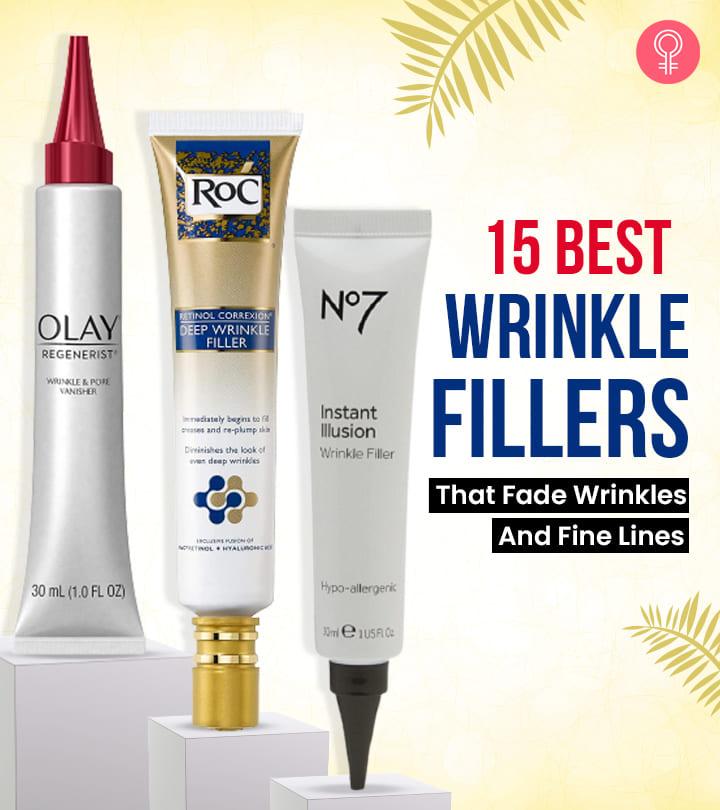 Are those wrinkles and fine lines bothering you? The way our bodies and skin change as we age is natural. These changes may include new wrinkles and fine lines on your skin. No one loves to see unwanted creases and age lines criss-crossing their faces. Anti-aging skin care products may not always show the best results. Many of you may also cringe at the thought of going under the knife to future-proof your skin. What is the solution, then?
Here is some good news for you. Dermal fillers can help in minimizing the signs of aging. These are topical products available in the market that can help diminish the look of all the visible signs of aging. Also called "Botox in a bottle," these filler iron out all those lines on your face without any fuss.
In this article, you'll find a list of the 15 best wrinkle fillers. Keep reading!
15 Best Wrinkle Fillers Available Right Now
This cult-favorite wrinkle filling treatment has been a savior for years. The ROC Retinol Correxion Deep Wrinkle Filler fights wrinkles by filling the creases and re-plumping your skin. It has a unique formula containing hyaluronic acid and retinol that diminishes the appearance of wrinkles and crows' feet in just 4 weeks. It lifts and firms up your skin while reducing dark spots. Use it daily for younger-looking skin.
Key Ingredients: Retinol and Hyaluronic Acid
Pros
 Hydrating formula
 Dermatologically tested
 Dual-action formula
 Suitable for all skin types
 Non-comedogenic
 Mild fragrance
Cons
This high-performing, wrinkle-filling treatment by Olay fills fine lines and wrinkles to give you a youthful appearance. Its dual-action formula is enriched with Amino-Peptide Complex and vitamin E that fill in wrinkles, while light-diffusing particles soften the look of pores while leaving your skin with a more even finish. The precision-tipped applicator precisely delivers the formula to the wrinkle-prone areas around the eyes, mouth, and forehead for better results. With the Olay Regenerist Wrinkle & Pore Vanisher, you get velvety soft and younger-looking skin.
Key Ingredients: Amino-Peptide Complex and Vitamin E
Pros
 Mess-free application
 Matte finish
 Reduces the size of pores
 Suitable for all skin types
Cons
If you're looking for instant results, the Boots No7 Instant Illusion Wrinkle Filler will help you. It claims to be a quick fix for deep lines and wrinkles. It smoothens out the appearance of fine lines and makes your face appear younger. This cream can also be used as a makeup primer. It contains reflecting pigments and soft focus spheres that form a light-diffusing cover on your face, giving you a younger appearance.
Key Ingredients: Glycerin
Pros
 Non-greasy formula
Lightweight
 Can be used as a primer
 Dewy finish
 Instant results
 Good for daily use
Cons
The L'Oreal Paris Collagen Moisture Filler is a daily moisturizer that keeps your skin hydrated while filling in wrinkles and fine lines. It restores the moisture balance of the skin in just one week and gives you soft and plump skin. The quick-absorbing formula does not leave a greasy residue. You can apply this cream during the day and at night or repurpose it as a makeup primer for a killer base. The product claims to erase your wrinkles within a week with regular use.
Key Ingredients: Shea butter and Soluble collagen
Pros
 Hydrating formula
 Non-greasy formula
 Lightweight
 Non-comedogenic
 Can be used as a primer
 Dermatologically tested
 Suitable for all skin types
Cons
The Eve Hansen Hyaluronic Hydrating Serum has a potent formula enriched with hyaluronic acid and vitamins C and E. It hydrates and soothes your skin while reducing fine lines and wrinkles. The antioxidant-rich green tea in the formula softens mature skin while toning down puffiness and redness. The serum refines the tone and texture of your skin to reveal a more radiant and glowing complexion.
Key Ingredients: Hyaluronic acid, Vitamin C, Vitamin E, and Green tea
Pros
 Reduces redness and puffiness
 Improves skin tone
 Moisturizes the skin
 Improves skin elasticity
 Safe for all skin types
 Contains natural ingredients
 Vegan
 Cruelty-free
Cons
None
Whether you have crow's feet, deep wrinkles, or fine lines, the Laboratoires Filorga Time-Filler claims to correct them all. It contains tripeptides that fade wrinkles and helps the skin relax. The potent collagen-boosting peptides and hyaluronic acid visibly reduce the signs of aging while hydrating the skin to give you a younger appearance.
Key Ingredients: Hyaluronic Acid
Pros
 Moisturizes the skin
 Gel-like texture
 Quick-absorbing formula
Cons
As the name suggests, the Dermactin-TS Line Eraser 90 Sec Wrinkle Reducer takes less than two minutes to fade the signs of aging. The retinol in the formula promotes collagen production that helps in evening out fine lines. Hyaluronic acid can withhold moisture and prevent the skin from drying. The lightly tinted formula lifts the sagging skin while treating the uneven skin tone and dark spots.
Key Ingredients: Retinol and Hyaluronic Acid
Pros
 Visibly lifts the skin
 Blurs out imperfections
 Moisturizes the skin
 Tinted cream
 Long-lasting results
 Can be layered under makeup
Cons
The Neutrogena Rapid Wrinkle Repair Moisturizer is clinically proven to effectively fade wrinkles, crow's feet, and fine lines within one week of use. Its formula includes retinol that renews your skin and eliminates the look of dark spots and wrinkles. Hyaluronic acid and glucose complex strengthen the skin barrier to prevent moisture loss. The moisturizer is infused with broad spectrum SPF 30 to protect the skin from harmful UVA and UVB rays.
Key Ingredients: Retinol, Hyaluronic acid, and Glucose complex
Pros
 Provides quick results
 Brightens the skin tone
 Broad-spectrum SPF
 Clinically-proven formula
Cons
• May dry out the skin
This dermal filler by Andalou Naturals is a budget-friendly option. The antioxidant-rich natural ingredients boost cell vitality and promote collagen and elastin production. It contains resveratrol to maintain the youthfulness of your skin, goji berry to improve skin tone and texture, and aloe vera to hydrate and protect the natural moisture barrier of the skin. This product makes your skin appear plumper and tighter.
Key Ingredients: Resveratrol, Goji berry, and Aloe vera
Pros
 Non-greasy
 Quick-absorbing formula
 Organic ingredients
 Non-GMO
 Cruelty-free
 Gluten-free
 100% vegan
Cons
None
This topical cream by Dr. Brandt contains a blend of wrinkle relaxers that gives you younger-looking skin in the comfort of your own home. It claims to smoothen out your wrinkles and make your skin appear tighter. Hyaluronic acid and lactic acid hydrate the skin while relaxing your wrinkles, making them barely visible. Glycolic acid gently exfoliates your skin, unraveling the hidden complexion. The blend of essential oils – castor, chamomile, and lavender – further nourishes the skin and actively delays skin aging. The cream also prevents the probability of future wrinkles and fine lines. It can be used both during the day and at night.
Key Ingredients: Glycerin, Silica, Oat extract, Lactic acid, Glycolic acid, and Hyaluronic acid
Pros
 Softens the lines on the face
 Instant results
 Moisturizing formula
 Mildly exfoliating
Delays skin aging
Cons
The Insta-Tox Facial Firming Wrinkle Smoothing Serum by Serious Skincare temporarily eliminates wrinkles, fine lines, under-eye bags, dark circles, forehead lines, and crow's feet. It tightens and firms your skin while giving you a more youthful appearance. It lasts for at least 6-8 hours, and a tiny amount of this Smoothing Serum goes a long way. It has a quick-absorbing formula and can be worn alone. Give a more refreshed look to your skin within minutes.
Key Ingredients: Camillia extracts
Pros
 Gets absorbed quickly
 Can be applied alone
 Provides instant results
Cons
This cult-favorite wrinkle filler from Revlon is a non-injectable product that instantly plumps up your skin. Its lightweight formula is enriched with hyaluronic acid that immediately fills all your wrinkles, fine lines, and other visible signs of aging. This wrinkle filler by Revlon can also be used as a makeup primer so that you can have a flawless makeup base. You get tighter skin within just 4 weeks of using this product.
Key Ingredients: Hyaluronic Acid
Pros
 Lightweight
 Works as a makeup primer
Shows instant results
Cons
The StriVectin High-Potency Wrinkle Filler targets the wrinkles of your skin in 3 ways – it smoothens your skin, softens the look of deep wrinkles, and minimizes the appearance of future fine lines and wrinkles. It has a silicone-free formula exclusively meant to work on the creases, crow's feet, and vertical lines in between your brows, fine lines, and laugh lines around the lip area. Its Anti-Wrinkle Technology helps to plump up your skin and show effective results.
Key Ingredients: Hyaluronic acid and Citric acid
Pros
 Quick-absorbing formula
 Prevents wrinkles from appearing in the future
 Silicone-free
Cons
The Delfogo Rx Deep Wrinkle Filler Serum is a medical-grade and non-injectable wrinkle filler treatment for your skin. It lifts and tightens your skin while filling it with natural collagen on application. The formula effectively reverses the signs of aging, restores skin elasticity, and stimulates collagen production for a youthful appearance. The formula is enriched with ingredients like leuphasyl and syn-ake that diminish wrinkles. Argireline, a synthetic peptide, offers Botox-like results while promoting collagen production. Hyaluronic acid moisturizes the skin and strengthens its barrier to prevent moisture loss.
Key Ingredients: Leuphasyl, Syn-Ake, Matrixyl 3000, Argireline, and Hyaluronic Acid
Pros
 Medical-grade wrinkle filler
 Stimulates collagen production
 Restores skin elasticity
 Lightweight
Cons
None
15. Somaluxe Rapid Facial Line Filler
This product is clinically tested. The results found a 7.5% decrease in wrinkles after an hour and about 12% decrease after 6 hours. It claims to give you immediate results and also improves skin hydration. It contains hyaluronic acid that penetrates your skin and smoothens out wrinkles and fine lines, squalene to restore moisture, glucosamine HCI, and vitamin C.
Key Ingredients: Hyaluronic Acid, Vitamin C, and Squalene
Pros
 Fragrance-free
 Paraben-free
 Sulfate-free
 Cruelty-free
Dermatologist-tested
Cons
That was the list of the top 15 wrinkle fillers that are worth trying. In the following section, let's learn about the different types of wrinkle fillers!
Different Types Of Wrinkle Fillers
Here is a breakdown of the different types of wrinkle fillers:
 Hyaluronic Acid Wrinkle Fillers
Hyaluronic acid wrinkle fillers are the most popular ones. Though your skin naturally produces hyaluronic acid, you can use it for its skin-plumping and hydrating properties. Hyaluronic acid wrinkle fillers have a gel-like texture, and they can last for at least 6-12 months.
 Synthetic Wrinkle Fillers
Synthetic wrinkle fillers include lab-made substances, and they are not related to anything found naturally in the skin. The benefit of this type of wrinkle fillers is that it has a long-lasting effect. It offers a semi-permanent filling of lines and creases. You have to remember before using synthetic wrinkle fillers that, as they provide longer-lasting results, they are more likely to cause side effects. Incorrect use of synthetic wrinkle fillers may cause disfigurement.
 Autologous Wrinkle Fillers
Fat from your own body is commonly used in this type of filler. The autologous wrinkle fillers use fat deposits from donor areas of your body, like your stomach, thigh area, or buttocks. The fat is extracted from either of these body parts using a liposuction procedure. It is then injected into another area of your body where volume has been lost. Unlike other types of wrinkle fillers, these natural fillers have a long-lasting effect. As these fillers come from your body, these injections do not require FDA approval.
Collagen is the most abundant protein found under your skin, bones, cartilage, and tendons. Collagen injections are popularly known as a cosmetic procedure that is done by injecting bovine (cow) collagen beneath your skin. Collagen wrinkle fillers can replace your body's original supply of collagen. As it is mainly responsible for the skin's elasticity, your skin looks more youthful.
Now that you know about the different types of wrinkle fillers, let's look at the factors you need to consider before buying one.
How To Choose The Best Wrinkle Filler – Buying Guide
Wrinkle fillers can instantly plump up your skin and make it appear soft and smooth. But before choosing the best wrinkle filler, you need to keep the following factors in mind:
Most wrinkle fillers contain silicone as their primary ingredient. Silicones help in filling the lines, wrinkles, and pores. If you're sensitive to silicone, go for a silicone-free wrinkle filler. Some wrinkle fillers also contain hyaluronic acid because it attracts moisture to the skin and helps it look plumper. Other commonly found anti-aging ingredients in wrinkle fillers include peptides, vitamin C, retinol, and stem cells. You can also choose a wrinkle filler with SPF to give you extra protection.
Decide whether you want to buy a tinted or a clear wrinkle filler. Most fillers can be used under makeup. You can use a tinted wrinkle filler to do the work of a filler and even out your skin tone instantly. It will also eliminate the need to apply concealer or foundation.
For your convenience, the best option is to choose a wrinkle filler that dries up quickly. Some wrinkle fillers need time to dry once applied so they can soak into the skin. If you don't wait for the filler to dry to apply moisturizer or makeup on top, it may not work effectively.
Some people are overly sensitive to fragrances. In such cases, go for a wrinkle filler that has a fragrance-free formula. This will help you avoid any possible skin irritation.
Visible signs of aging can be quite a concern for a lot of you. Thankfully, with the products mentioned above, you can camouflage those lines effortlessly. Take your pick from the best wrinkle fillers listed above, and say 'goodbye' to those pesky lines and wrinkles on your face!