Top 9 Lightening Creams For Black Skin Without Hydroquinone In 2023
These brightening creams can give you the even-toned skin you always wanted.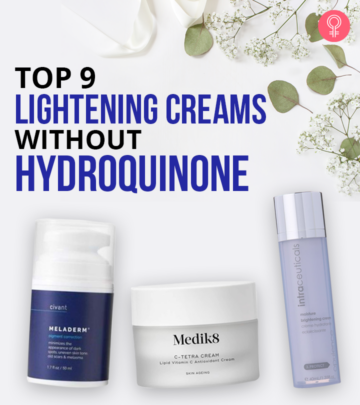 Find the best lightening cream for black skin without hydroquinone is not easy. Luckily, you have come to the right place! Have you recently noticed any unusual changes in your skin color? Has your complexion become uneven? Do not be alarmed. Sun exposure, pigmentation, breakouts, and rashes are common skin problems that can make your skin tone look uneven. While it is always best to visit a doctor if you notice any changes in your skin color, you could also use lightening cream as a preventative measure.
These lightening creams lighten dark patches, hyperpigmentation, and spots, revealing the natural skin tone and brightening it. However, most of them incorporate hydroquinone, a common skin irritant and bleaching ingredient. If you are seeking a hydroquinone-free alternative, we have got you covered. Scroll down to check out the best 9 lightening creams that don't contain hydroquinone!
Top 9 Lightening Creams Without Hydroquinone
If you have dark spots on your face, try this cream. The Dark Spot Therapeutic Cream by Advanced Clinicals is enriched with vitamin C, an ingredient known for skin brightening properties. It helps to fade dark spots, marks, redness, and sun damage to brighten your skin. You can apply the cream on your face, neck, arms, and legs. This therapeutic cream also contains jojoba oil and licorice extract that keeps the skin moisturized and prevent the early signs of aging like fine lines. It is safe for pregnant women, but ensure you consult a doctor before using it. Here's a personal review video to help you get a better understanding of the product.
Key Ingredients:
Vitamin C
Licorice
Jojoba oil
Pros
Gentle
Not tested on animals
Can be used on body and face
Cons
Price at the time of publication: $17.99
The Mabox Vitamin C Moisturizer help fade dark spots, sun spots, signs of aging, and pigmentation. It is enriched with vitamin C, which fights free radicals and protects your skin from harmful environmental aggressors. This cream contains hyaluronic acid, niacinamide, aloe vera, and jojoba oil that hydrate your skin. It boosts collagen production and imparts a youthful glow to your skin.
Pros
Lightweight
100% natural
Non-GMO
Vegan
Cruelty-free
Paraben-free
Silicone-free
Non-greasy
No artificial fragrances
No colorants
Cons
None
Price at the time of publication: $13.99
The Intraceuticals Opulence Moisture Brightening Cream protects your skin from environmental aggressors. It helps minimize signs of premature aging, such as dark spots, dry and flaky skin, and uneven skin tone. It contains peptides, powerful antioxidants like vitamins A, C, and E that have skin healing properties and helps make the skin more resilient. This cream also includes yellow dock root extract and cocoa butter that lock in moisture, deliver antioxidants to your skin, and brighten it.
Key Ingredients:
Vitamins A, C, and E
Cocoa butter
Yellow dock root extract
Pros
No artificial fragrance
Sulfate-free
Vegan
Cons
Price at the time of publication: $65.99
This is a vitamin C serum in cream form. The Medika C-Tetra Cream provides your skin with its daily dose of vitamins C and E to prevent damage caused by harmful free radicals. It protects the skin against environmental aggressors like pollution and UV exposure to prevent premature aging, spots, and dullness. This fast-absorbing formula is perfect for those who have uneven skin tone. The formula uses tetrahexyldecyl ascorbate, a lipid-soluble form of vitamin C that minimizes skin irritation and brightens it. This cream has a refreshing citrus fragrance.
Key Ingredient:
Pros
Vegan
Lightweight
No artificial fragrance
No synthetic colors
Paraben-free
Alcohol-free
Cruelty-free
Cons
None
Price at the time of publication: $63.74
This skin-brightening day cream contains vinanza grape and kiwi extracts that are clinically proven to brighten the skin. This day cream also contains bee venom and manuka honey. These ingredients moisturize your skin, improve its appearance, and remove dead skin cells to brighten it. This cream has anti-inflammatory properties and helps reduce acne. It also contains over 20 active ingredients like peony flower extract that keep your skin blemish-free. This cream can be applied on the face, neck, and décolletage area and is suitable for oily skin.
Key Ingredients:
Manuka honey
Bee venom
Vinanza grape extract
Pros
100% natural ingredients
Gets absorbed easily
Balances skin pH
No harmful chemicals
Cons
Strong fragrance
Expensive
No SPF
Price at the time of publication: $47.99
The Divine Derriere Dark Spot Corrector contains arbutin, a powerful brightening combination of B-white skin peptide, and a particular blend of natural plant-based ingredients. Arbutin, kojic acid, niacinamide, and lactic acid help erase dark spots caused by sun exposure, aging, and pregnancy and prevent melanin development. This powerful combination of ingredients eliminates the appearance of acne, hyperpigmentation, and dark spots while offering a relaxing and calming sensation to your skin.
Key Ingredients:
Arbutin
Kojic acid
Niacinamide
Lactic acid
Pros
Suitable for all skin types
Fast-absorbing formula
Cruelty-free
Natural ingredients
Paraben-free
Affordable
Cons
None
Price at the time of publication: $21.99
The EnaSkin Dark Spot Corrector instantly removes dark spots and prevents their reoccurrence. The gentle formula contains 4-butylresorcinol, lactic acid, kojic acid, salicylic acid, and morinda citrifolia extract, which help soothe redness. This cream provides nutrition and repairs your skin. Click here to check out this YouTuber's unbiased review of the product.
Pros
Suitable for all skin types
Non-sticky
Non-greasy
Vegan
Cruelty-free
Gluten-free
Absorbed quickly
Cons
Takes time to show results
Price at the time of publication: $35.99
This skin brightening skin is meant to fight the first signs of aging. The Mesoestetic Energy C Intensive Cream belongs to the Energy C cosmeceutical line by the brand. It contains a high concentration of vitamin C that fights photoaging and other damage caused by UV rays. It also contains hydrolyzed marine collagen and essential amino acids that promote collagen development and keep the skin healthy. This cream stimulates the fibroblasts to up the collagen levels and boosts the moisture level of the skin.
Key Ingredient:
Vitamin C (ascorbic acid)
Pros
Mild fragrance
Lightweight
Gets absorbed quickly
Cons
Greasy
Contains silicone
Contains PEG
Price at the time of publication: $99.99
The Obagi Nu Derm Skin Brightening Cream reduces dark spots, sun damage, hyperpigmentation and even tones the skin. This hydroquinone-free skin lightener helps brighten the skin by minimizing flaws caused by melasma, UV damage, and acne. It promotes healthy cell regeneration, resulting in a radiant look. This cream is formulated with vitamins, antioxidants, natural ingredients, and 7% arbutin that progressively improve the appearance of blotchy and discolored skin. Antioxidants protect your skin from potential damage, and vitamins boost collagen production and reduce inflammation.
Key Ingredient:
Arbutin
Lactic acid
Vitamin C
Pros
Lightweight
Reduces hyperpigmentation
Natural ingredients
Suitable for dry skin
Cons
Contains sodium metabisulfite
Price at the time of publication: $106.5
These are the 9 best skin brightening creams without hydroquinone available on the market. You must be wondering what the deal with hydroquinone is. Here's why you should stay away from this ingredient.
What Is Hydroquinone? Is It Really Harmful To The Skin?
Hydroquinone is a skin bleaching agent. It is commonly used for treating hyperpigmentation, melasma, dark spots, and similar issues. The FDA allows 2% hydroquinone in OTC products and considers it safe. It is well-tolerated, but it may cause:
Stinging sensation
Itching
Redness (contact dermatitis)
Burning sensation
Swelling
Crusting
Unusual skin discoloration
Moreover, hydroquinone creams often contain sodium metabisulphite, and that may cause serious allergic reactions. hence, it is best to avoid hydroquinone unless suggested by the doctor. If you plan to buy skin brightening cream, here are a few tips to go about it.
How To Choose The Best Lightening Creams
Check The Ingredients: Avoid any cream that contains hydroquinone and mercury. Go for ingredients like kojic acid, vitamin C, licorice extract, and alpha arbutin.
Area Of Application: Check if the cream can be applied on the face or body. Some creams are suitable for the hand and body, while some are only for the face.
Results: Some creams promise visible results in just two weeks, while some may take three to four weeks to show any improvement. Pick a product depending on how fast you are expecting results.
Ease Of Use: A good skin cream should easily spread on the skin without making it feel greasy and sticky. Check the consistency before you buy it.
Why Trust StyleCraze?
The author of this article, Shiboli Chakraborti, is a certified skin care coach. She conducted extensive research and checked many user reviews online to compile this list of the best lightening creams without hydroquinone. She also went through the product websites to understand their formulations before shortlisting them. The listed skin lightening creams may help even out your skin without any damage.
Frequently Asked Questions
How can I lighten my skin without using hydroquinone?
You can use any of the skin brightening creams from our list. None of these creams contain hydroquinone.
What is another name for hydroquinone?
1, 4-Benzenediol, Quinol, Benzene-1,4-Diol, p-Diphenol, p-Dihydroxyxylphenol, Hydrochinonium, Hydroquinol.
Can hydroquinone make dark spots worse?
Yes, it may cause skin allergy and worsen the dark spots.
Can you apply moisturizer over skin brightening creams without hydroquinone?
No. Skin brightening creams are meant to be applied gently to your skin. Most brightening creams have moisturizing and nourishing properties and you will not need to use a moisturizer on top of that.
How does it affect the skin, if you stop using lightening cream without hydroquinone on black skin?
Your dark skin will regain its original complexion if you stop using the lightening cream without hydroquinone.
Recommended Articles