6 Best Lip Lightening Creams And Balms Of 2023
Your one-stop solution to nourish and protect your lips from unwanted pigmentation!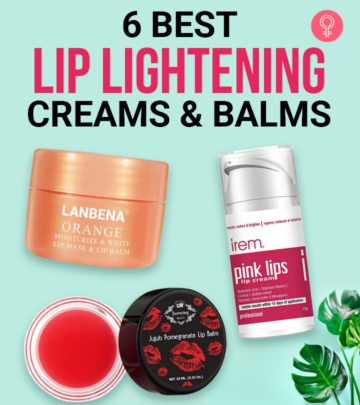 While protecting our skin with SPF from the harsh rays, we often neglect our lips that become prone to hyperpigmentation and discoloration. To get natural-looking, light lips without discoloration, wrinkles, and fine lines, you must use the best lip-lightening cream. With these, you won't have to constantly mask your lips with lipstick or a tinted lip balm. Dr. Enrizza Factor, a Diplomate of the Philippine Dermatological Society and Fellow of the Philippine Academy of Dermatologic Surgery Foundation Inc., says, "Lip balm and lip lightening creams are one of the reasons why skin heals faster. The skin on your lips is thinner than your facial skin, so using a high-quality lip balm ensures quick healing of severely dry and chapped lips."
Lip lightening creams nourish your lips and make them soft and supple while treating pigmentation and discoloration. However, with so many alternatives in the market, finding the best one might get challenging. So, we have brought together a list of the 6 best lip lightening creams for you. Have a look!
6 Best Lip Lightening Creams And Balms
The Omorfee Be Exotic Lip Lightening Balm has nourishing properties that heal and repair damaged lips. It restores the natural color and shine of the lips while removing pigmentation. This lip lightening cream for dark lips is formulated with cocoa butter, carrot seed oil, sweet almond oil, and pineapple extract.
The antioxidant properties of carrot seed oil help repair the damaged tissues of the lips caused by smoking or other external factors and bring back their natural color. Cocoa butter adds intense moisture and makes your lips feel smoother and softer. The vitamin A in this lip lightening balm protects your lips and prevents further darkening due to smoking, harmful UVA and UVB rays, pollution, and using chemical-based products on the lips.
Key Ingredients: Cocoa butter, Carrot seed oil, Sweet almond oil, and Pineapple extract
Pros
Easy to carry
Pleasant fragrance
All organic ingredients
Paraben-free
Paraffin-free
Silicone-free
SLES/SLS-free
Alcohol-free
No synthetic colors
No artificial fragrances
Petroleum-free
Cons
Needs frequent reapplication
Pro Tip
Including exfoliation in your skin care routine can be a great way to deal with pigmentation. Scrub your lips twice or thrice a week to remove dead skin cells and get rid of darker lips.
Price at the time of publication: $14.95
The Derma Pan Lip Balm Treatment and Care is a lip treatment and a lip care tube pack. They work together to transform your pigmented lips to light pink. Use the lip balm treatment before bedtime and lip balm care during the daytime to restore the natural color of your lips. It also treats dried and chapped lips for a smooth texture and is suitable for all skin types.
Key ingredients: Shea butter
Pros
Odor-free
Mercury-free
No harmful chemicals
Creamy texture
Cons
Price at the time of publication: $27.55
The LANBENA Orange Moisturize & White Lip Mask & Lip Balm is enriched with natural sweet orange extract and other botanical extracts that nourish your lips. It also softens the keratin and improves the dryness of your lips to prevent peeling, cracking, and lip lines. The vitamin C in the balm helps lighten lip pigmentation, erase lip lines, and make your pout look smooth and plump. This lip lightening balm diminishes dullness, improves elasticity, and boosts the health of your lips.
Key Ingredients: Natural sweet orange extract
Pros
Easy to apply
Travel-friendly packaging
Pleasant fragrance
Can be used as a base for lipstick
All organic ingredients
Ideal for overnight use
Cons
Price at the time of publication: $4.98
4. PRC Pannara Derma Clinic Lip Perfecting Cream
The PRC Pannara Derma Clinic Lip Perfecting Cream is an overnight lip lightening cream that fixes blemishes, dark spots, and pigmentation on your lips. It also works for dark lips caused due to sunburn, allergens, tan, or dryness. This lip lightening cream contains skin whitening ingredients to get rid of dark patches on the lips. It is ideal for smokers and people with lip discoloration and helps restore the natural lip color within a couple of days of consistent use.
Pros
Easy to carry
Easy to apply
Odor-free
Mercury-free
No harsh chemicals
Cons
StyleCraze Says
Look for lip balms with SPF to limit your sun exposure. One of the main reasons for darker lips can be constant UV exposure. Hence protecting them from the sun can help get rid of darker tones.
The Bioglo Cherry Pink Lip Cream restores youthful pink lips and prevents further discoloration. It can be used on your lips and nipples to prevent discoloration or darkening of your skin and retain pink and natural color.
This lip lightening cream has a plant-based formula with beeswax and shea butter. It is safe for sensitive skin and does not cause allergies or rashes. This product protects your lips from environmental aggressors and pollution and makes them soft, kissable, and hydrated. It diminishes slip lines and dry, scaly, and chapped lips and coats your dull or pale lips with a luxurious coat of pink balm.
Key Ingredients: Beeswax and Shea butter
Pros
Instant visible results
Pleasant fragrance
Attractive packaging
Suitable for sensitive lips
Cons
Oily finish
Does not blend with lipstick.
Price at the time of publication: $14.9
The Jaowying Beauty Jujub Pomegranate Lip Balm helps restore your natural lip color, no matter how pale, dull, or dark they are. This lip lightening balm cream is specially formulated to gradually lift pigment and lighten dark lips or smoker's lips.
The smooth formula is loaded with shea butter, vitamin B3, and pomegranate extract. It promotes suppleness and improves the definition of the lips while preserving moisture and retaining their natural color. Shea butter provides long-lasting hydration and softness, while vitamin B3 helps balance uneven skin tone by speeding up cell renewal. The pomegranate extract adds a beautiful pink tint that works well even under your lipstick.
Key Ingredients: Shea butter, Vitamin B3, and Pomegranate extract
Pros
Non-greasy
Pleasant fragrance
Easy to carry
Adds light tint
Easy to apply
Cons
Less quantity for the price.
Did You Know
Along with using an effective lip treatment, modifying your lifestyle will also play a role in the appearance of your lips. Limiting your caffeine intake and checking your smoking pattern can be helpful if you want to get rid of darker lips.
Price at the time of publication: $12.95
These6 lip lightening creams and balms have great reviews and are pocket-friendly. They are the perfect go-to for happy, pink lips. Pick one today to keep pigmentation and dull and chapped lips at bay.
Infographic: Ingredients To Look For In A Lip Lightening Cream
Check out the infographic below to learn more about the ingredients of your lip lightening cream. It mentions the use of natural ingredients that can protect your lips from harsh environmental aggressors. With the help of this infographic, you can also understand the types of active ingredients that can safeguard your lips and keep them soft.
Why Trust StyleCraze?
The author of this article, Shiboli Chakraborti, is a certified skin care coach and loves trying out new lip care products. She checked many reviews online to compile this list of the best lip lightening creams and balms. Additionally, she went through brand websites to know about the products in detail before shortlisting them. These products can make your lips supple and soft while decreasing pigmentation.
Frequently Asked Questions
What is a safe and tested lip cream to lighten discolored lips?
The Omorfee Be Exotic Lip Lightening Balm is safe and enriched with Vitamin A. It protects your lips from darkening agents like UV rays and environmental aggressors. This product restores the natural color, texture, and glow of your lips.
Which type of treatment is best for lip lightening?
Laser lip lightening is a non-invasive treatment. This pain-free process boosts collagen into your lips to rebuild its original color and texture.
Does brushing your lips make them lighter?
Yes. Brushing the lips is a great way to increase blood circulation and bring more color to the lips. But overdoing it can irritate the delicate lip skin. Therefore, brush your lips only once a week to make them lighter without causing irritations.
Can I use bleaching cream on my lips to lighten them?
Yes, mild bleaching creams especially formulated for lips help lighten your lips. Look out for creams with hydroquinone that promotes skin lightening. Also, do not bleach your lips daily as it might damage the delicate skin.
What causes black/dark lips?
Excessive sun exposure, lack of moisturization, allergic reaction to lip products, and smoking are the most common factors that can contribute to turning your lips dark.
Recommended Articles