6 Best SPF 100 Sunscreens Of 2023 For Maximum Sun Protection
Go out worry-free into the sun with non-greasy and moisturizing SPF 100 sunscreens.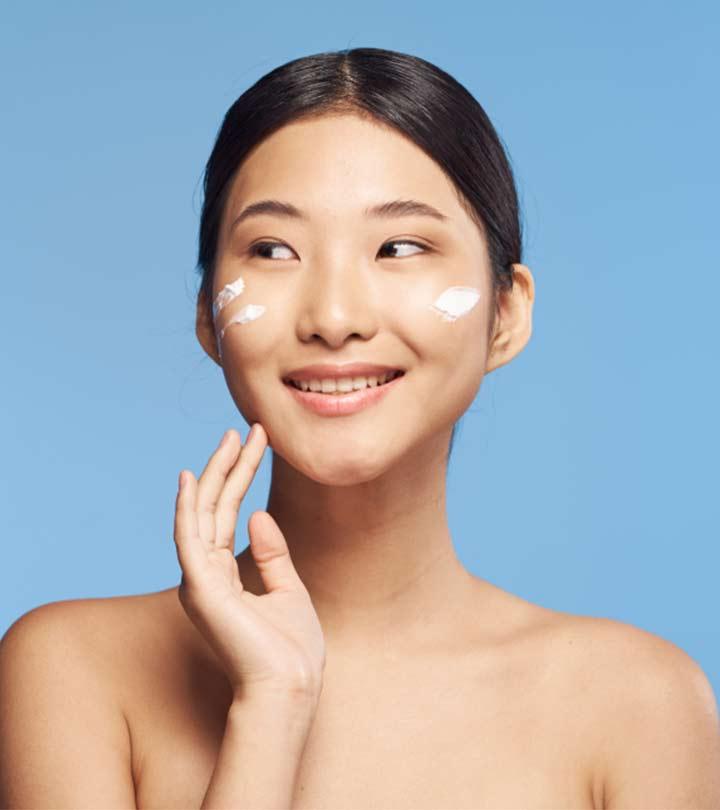 If you find yourself spending a lot of time in the sun, for work or fun, you must get yourself the best 100 SPF sunscreen! While sunscreen should be an essential part of your daily skincare routine, there are times you need stronger protection from the harmful effects of the UV rays. That's when the SPF of your sunscreen matters! The SPF or sun protection factor indicates how much time you can spend in the sun with the given level of protection. For instance, while SPF 15-30 is suitable for indoors or short errands, you must have sunscreen with SPF 50 or more if you are out and about in the sun often. Also, the timing matters! The Sunrays are at their peak between morning 10 a.m. and evening 4 p.m. You can not afford to skip sunscreen if you are going out during these hours. "While wearing hats, scarves, and full sleeve clothes can give you some additional layer of sun protection, wearing sunscreen underneath is non-negotiable! SPF is one of the most effective methods for anti-aging. It gives you dual benefit of sun protection and prevention of aging signs," says Annētta McBain, an Esthetician. Now, to help you decide which sunscreen you should get for yourself, we have shortlisted the 6 best SPF 100 sunscreens for you to choose from!
6 Best SPF 100 Sunscreens Of 2023 For Effective Protection
Get Neutrogena SPF 100 for powerful sun protection minus the greasy feeling. This lightweight broad spectrum sunscreen lotion with dry-touch technology is absorbed fast by the skin for a clean, ultra-light feel, and non-shiny finish. This sunscreen is formulated with Helioplex Technology which offers broad-spectrum protection from the harmful UVA/UVB rays of the sun. Both PABA-free and non-comedogenic, this water-resistant sunscreen provides powerful sun protection, making it great to use as you get your daily dose of sunshine. It can also decrease the risk of skin cancer caused by the sun when used as directed. This sunscreen is available in a spray and stick form as well.
Pros
Non-comedogenic
PABA-free
Non-greasy
Matte finish
Light weight
Water resistant for up to 80 minutes
Fast absorbing
Broad spectrum protection
Dermatologist-recommended
TSA-compliant
Cons

Did You Know?
SPF 15 sunscreen blocks 93% of UVB radiation, while SPF 30 sunscreen blocks 97%. You'll be surprised at how little difference there is between SPF 30 and SPF 50. SPF 50 blocks just 98% of UVB rays, while SPF 100 blocks 99% of UVB rays.
Price at the time of publication: $8.97
If you are the sporty kind who just can't keep out of the sun, this product might just be for you! This 100 SPF sunscreen is a high-performance sunscreen that is suitable for the most intense outdoor activities. The broad-spectrum UVA/UVB protection helps prevent sunburn and skin damage, and its water-resistant formula allows you to have worry-free fun in the sun. It's lightweight, the breathable formula ensures it's non-greasy and won't weigh you down. This 100 SPF sunscreen spray is absorbed quickly and is designed specifically for sports enthusiasts who need a sunscreen that will stay on during the most extreme outdoor activities. This sunscreen has a creamy, moisturizing effect on your skin, while the spray is ideal for quick application.
Pros
Broad spectrum
Water resistant
Lightweight
Non-greasy
Quick absorption
Easy spray application
Cons
Price at the time of publication: $9.29
 You no longer have to curtail your outdoor activities and wonder if you are damaging your skin. Designed to stay on no matter how much you sweat, this high-performance sunscreen protects you from the sun with a durable and water-resistant formula for up to 80 minutes. This spray gives you maximum coverage and delivers broad-spectrum UVA/UVB protection, protecting your skin from 99% of the sun's damaging UV rays. It contains natural moisturizing elements and vitamin E, which is a powerhouse of antioxidants, improving your skin's defense. This SPF 100 sunscreen has been voted the most trusted sunscreen brand by American shoppers in 2023. Definitely worth a try!
Pros
Broad spectrum
Light and breathable
Water resistant for 80 minutes
99% protection from harmful rays
Contains vitamin E
Cons
May form a film on the skin
Price at the time of publication: $7.97
This SPF 100 sunscreen is a broad spectrum sunscreen for your face and body, specifically formulated to help protect skin that burns easily. It's formulated with exclusive Cell-Ox Shield technology, that is UVA/UVB filters with antioxidants. It's water-resistant for up to 80 minutes, lightweight, and is absorbed fast by the skin without leaving a white residue behind. This sunscreen is suitable for adults and children aged above 3. The oxybenzone and octinoxate-free sunscreen leaves your skin hydrated, smooth, and protected. Just apply to your face and body thoroughly 15 minutes before sun exposure.
Pros
Lightweight
Hypoallergenic
Non-comedogenic
Paraben-free
Fragrance-free
Non- whitening
Oxybenzone-free
Octinoxate-free
Suitable for sun-sensitive skin
Dermatologist-recommended
Cons
Some may find it oily and greasy

Pro Tip
To protect your skin from both UVA and UVB rays, use sunscreens with a higher PA rating.
Price at the time of publication: $25.99
 This SPF 100 sunscreen is mild and effective and is made with EWG green grade formula that forms a safe and perfect layer for the protection of your skin. It provides an even UV barrier, effectively blocking the harmful UV rays of the sun. Its light texture allows for easy cleansing with a mild soap. Its safe formula is made with carefully selected ingredients that are suitable for sensitive skin. It contains Neo CMS, which is a patented material for a 3-step strengthening and recovery of your skin barrier. Centella asiatica takes care of wounded skin by boosting collagen synthesis, and balloon vine helps to lower skin heat and relieve inflammation. Its active ingredient is zinc oxide, which protects your skin from harmful UVA/UVB rays of the sun. Hydrolyzed collagen and acetyl hexapeptide-8 boost the skin's elasticity and strengthen the skin's barrier.
Pros
Suitable for all skin types
Contains natural ingredients
EWG green-grade formula
Dermatologically-tested
Cons
Price at the time of publication: $26.6
 If finding the ideal sunscreen seems like a distant dream, this sunscreen might just make it a reality. This SPF 100 sunscreen combines antioxidants with moisturizing oils and has a subtle, tropical fragrance in a broad spectrum, reef-friendly, UVA/UVB formula. This effective 100 SPF sunscreen spray is water resistant for up to 80 minutes, and is most effective for those with very fair or extremely sensitive skin that tans slowly and burns easily. It has an easy-to-grip, consumer-friendly bottle with a twist spray dispensing cap, and should be reapplied after toweling dry, swimming, or excessive sweating.
Pros
Cruelty-free
Gluten-free
Water resistant
Reef friendly
PABA-free
Gluten-free
Paraben-free
Retinyl palmitate-free
Octinoxate-free
Oxybenzone-free
Cons
Price at the time of publication: $15.95
Now that you have been through our review of the 6 best SPF 100 sunscreens, let us help you with a few tips to keep in mind while choosing your sunscreen, so that you derive the maximum benefit and keep your skin safe from sunburn and harmful radiations.
How To Choose A Sunscreen With SPF 100
Sun damage to our skin is caused by both UVA and UVB rays. UVB rays are shorter, can't go through glass, and cause sunburn. UVA rays can go through glass and affect your skin by penetrating the surface even when you can't feel it. Your skin needs protection from both and that's why it's important that your sunscreen should mention 'broad spectrum', 'multi-spectrum', or 'UVA/UVB protection on the label. UVA coverage is usually provided by avobenzone and zinc oxide, so your sunscreen should definitely have one of these ingredients.
Physical vs. chemical sunscreen
A physical, mineral, or inorganic sunscreen may have either zinc oxide or titanium dioxide as an active ingredient. These sunscreens create a protective barrier on your skin that reflects and scatters UV rays, but new research shows that inorganic sunscreens may actually protect your skin by absorbing up to 95% of the rays.
Any ingredient apart from zinc oxide and titanium dioxide is considered to be a chemical sunscreen ingredient. Chemical sunscreens are absorbed by your skin like a lotion instead of forming a barrier on your skin. These active ingredients cause a chemical reaction that converts the UV light into heat so that it can't harm your skin. Which one you decide to use is a personal choice, but when you choose a purely physical sunscreen, it's important to choose one with at least a 10% concentration of zinc oxide, or you won't get broad-spectrum coverage.
There are many great sunscreens available that are good for both your face and body, but do remember that the skin of your face tends to be more sensitive. A lightweight, non-greasy sunscreen specifically formulated for the face can be used if preferred, as they are non-comedogenic and are less likely to cause breakouts or irritate the skin. It's also a good idea to avoid spray sunscreens as they are unsafe to inhale. At the most, you can spray the sunscreen on your hand first and then rub it on your face. Stick sunscreens are also a good alternative as they are easy to apply around your eyes.
For babies, children, and people with sensitive skin, a physical sunscreen is recommended as they are less likely to cause allergic reactions or rashes. A hypoallergenic sunscreen with zinc oxide is a great choice. A spray sunscreen is great for slightly older children who might make a fuss if they have to sit through the process of applying sunscreen.
Though the active ingredients are tested vigorously for safety, chemical sunscreens are more likely to cause skin irritation when compared to a physical sunscreen. If you have a skin condition like rosacea, eczema, or are prone to skin allergies, opt for a physical sunscreen with zinc oxide and titanium dioxide. It's also safer to settle for a sunscreen that is fragrance-free and hypoallergenic.
It's important to remember that water resistant does not mean your sunscreen is waterproof. There is no sunscreen that is waterproof or sweatproof. Those sunscreens that claim to be water resistant must specify whether it lasts for 40 minutes or 80 minutes while swimming or sweating. In any case, all sunscreens must be reapplied every 2 hours.
At some point in the early 2000s, brands started putting out sunscreens with higher and higher SPFs, until we reached SPF 100. Now that you know what to look for in your SPF 100 sunscreen, it's equally important to know why it is essential to use this sunscreen, and the benefits you can derive from it.
SPF 100 Skin Care Benefits
 Studies have shown that an SPF 100 sunscreen is more protective against sunburn than a lower SPF. If you are prone to suffering sunburn, getting a sunscreen with SPF 100 might be the only answer. SPF 100 creates a physical barrier that blocks 99% of UVB rays which are responsible for sunburn and skin cancer. And while the difference in level of protection between SPF 30 and SPF 100 is only 2%, the cumulative effect when used day after day, will go a long way.
Infographic: Factors To Keep In Mind While Buying SPF 100 Sunscreen
Sunscreen is a vital component of any skin care regimen. Regardless of your skin type or concern, this is a must-have product in your arsenal. When purchasing SPF 100 sunscreen, most people focus solely on the sun protection factor number, or SPF number, and ignore all the other factors. Checking its ingredients is critical in determining its effectiveness.
Check out the infographic below to learn about the ingredients to look for and avoid when purchasing SPF 100 sunscreen for maximum sun protection.


One cannot emphasize enough the importance of sunscreen in a daytime skin care routine. It keeps your skin shielded against the harmful UVA and UVB rays of the sun and allows you to enjoy the sunshine without worrying about tan or other skin damage. The best SPF 100 sunscreens ensure maximum safety. They have non-comedogenic formulas that are lightweight and water-resistant. Some of these sunscreens contain natural moisturizing ingredients like vitamin E to keep the skin nourished. They are also dermatologist tested and reef-friendly. You should consider factors like broad-spectrum and ingredients before investing in these products. Also, avoid sunscreens that feel sticky and leave a white film on the skin after application.
Why Trust StyleCraze?
Vaishnavi Kothuri is a skin and hair care enthusiast who enjoys researching new skincare products. She understands the significance of SPF for protecting our skin from the sun and thus went through various customer reviews on trustworthy websites to compile this list of the top SPF 100 sunscreens. These products contain no toxic ingredients and protect the skin from the sun's damaging rays. Sneha has also described each product, included a buying guide, and addressed some common questions to help you choose the best option.
Frequently Asked Questions
Is SPF 100 sunscreen good?
SPF 100 sunscreen keeps out nearly 99% of UVB radiation. When you use a sunscreen with SPF 100, it would take you 100 times longer to experience sunburn as compared to no sunscreen. A higher range of SPF prevents more damaging UVB rays from penetrating than a lower range of SPF. So, an SPF 100 sunscreen translates into higher sun protection and lesser skin damage.
How long does SPF 100 sunscreen last?
A sunscreen's SPF guarantees protection only for 2 hours after you put it on. The SPF number of your sunscreen is based on how much protection it will give you against the sun for 2 hours.
Is there a difference between SPF 30 and 100?
No sunscreen can completely stop dangerous radiation from the sun from affecting the skin. SPF 30 sunscreen blocks nearly 97% of radiation, while SPF 100 sunscreen blocks about 99% of radiation. So, the difference between SPF 100 and SPF 30 isn't nearly as great as the difference between SPF 30 sunscreen and no sunscreen.