The 13 Best Body Oils For Smooth And Glowing Skin In 2022
Enjoy a spa-like experience at home to polish your skin for a radiant ook.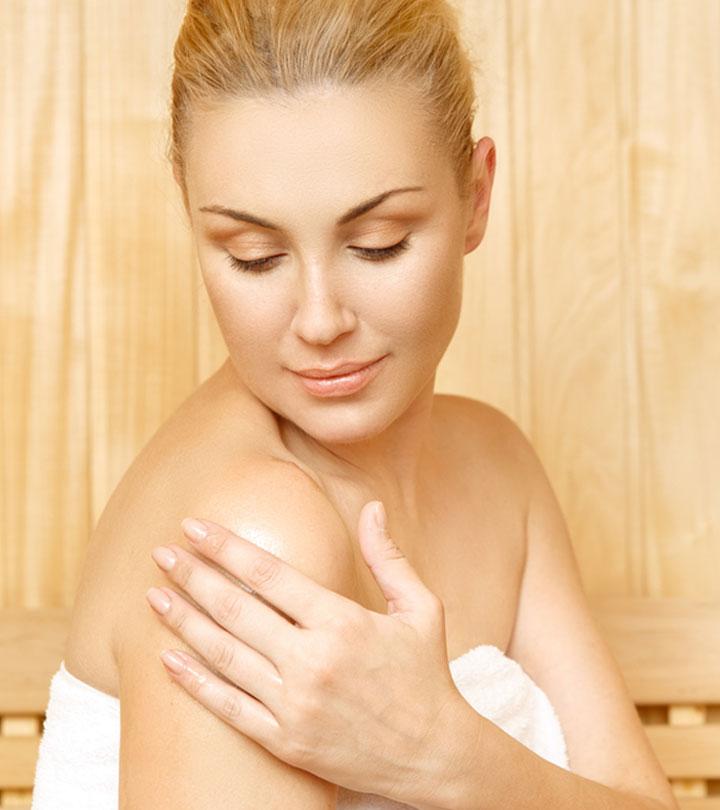 While you might know about the best moisturizers and lotions to combat dull, dry skin, have you ever heard about the best body oils for glowing skin? Yes, these body oils are the new rave of late! Thicker than facial oils but lightweight and easy to slather on, these body oils help nourish your skin from within! They give your skin a well moisturized polished look and feel, keeping any signs of dryness away! While regular body butter and lotions can also work for you, there are times when your body needs that extra TLC. Body oils are meant to give you that luxurious spa-like feel while moisturizing, strengthening, and protecting your skin barrier from various environmental stressors like pollution, dust, stress, and weather changes! Now, if you are eager to get that smooth glowing skin, pick any of the 13 body oils listed below and see the difference for yourself!
Top 13 Body Oils For Glowing Skin That You Must Try!
Skin so soft, you can't keep your hands off! This Moroccan argan oil-infused body oil mist acts as a tonic for dry skin, thus leaving it hydrated, soft, and smoother than ever. Also, it contains water-based silk proteins, so the oil doesn't feel heavy or sticky on the skin. Ensuring a radiating appearance with every use, the fragrance will also perk up your mood and confidence to flaunt your glow wherever you go. Bask in, already!
Pros
Ultra-nourishing body oil
Lightweight and gentle
Improves elasticity and texture
Paraben-free, silicone-free, and sulfate-free
Suitable for dry skin and all skin types
Cons
May not absorb quickly
Not recommended if you are sensitive to smell
Gentle, lightweight, and quick-absorbing, this body oil by Neutrogena will vanish like magic on skin! No, seriously, this sheer sesame oil moisturizer enters your skin instantly to ensure intense nourishment and leaves a soft and smooth feeling. Besides this, it is made of oil extracted from white sesame seeds, which is lightweight and gentle on the skin. All in all, it works best on damp or post-shower skin to deliver a super-soft and radiating glow. Try it! Learn more about this product in this video.
Pros
Infused with a light fragrance
Pampers skin and seals in natural moisture
Non-greasy and dermatologist-tested
Suitable for dry, sensitive and dehydrated skin
Cons
Fight aging signs, sagging, discoloration, and dryness with this plant oils and vitamin formula! Are you dealing with early signs of aging or are you looking for a body oil for mature skin? This collagen-infused oil with vitamin E, C, and 99% pure botanical oils guarantees to hydrate, tighten, and moisturize instantly. Also, it claims to naturally soften skin within 7 days and reduce sagging and discoloration within 28 days! Don't believe us? Try it to witness a younger-looking glow!
Pros
Quick-absorbing oil
Improves elasticity
Plumps dry and dull skin
Boosts hydration levels
Corrects skin tone and texture
Cruelty-free, paraben-free, mineral oil-free, and BHT-free
Cons
How about a fruity indulgence for your skin? Yep, infused with apricot and fig extracts, which have skin-healing benefits, your body oil can't get any more tempting than this! Apricot will restore the natural radiance and maintain softness and suppleness, whereas fig, on the other hand, is known to ease psoriasis and eczema. Other than this, vitamin K, E, and omega fatty acids fight aging signs, combat sun damages, and reduce stretch marks as well! Still, want to miss it?
Pros
All-natural ingredients
Hydrates and nourishes intensely
Cruelty-free and vegan
Paraben-free, phthalate-free, non-GMO, and alcohol-free
Suitable for sensitive, acne, and oily skin
Cons
This body oil will make your skin glow up (literally!). Do you have a special occasion or party coming up? If yes, then get ready to glow up like a stunner from head to toe with this moisturizing body oil that comes with a subtle shimmer and a rosy tint. Making your skin appear luminous, healthy, smooth, and soft instantly, prep up to be showered with compliments wherever you go with this on! Bringing out the showstopper in you and boosting your confidence, this glow body oil is ultra-hydrating, and it diminishes imperfections too. Do not skip it!
Pros
Transfer-resistant and non-sticky
Infused with salted caramel and pistachio scent
Suitable for all skin tones
Cons
Rejuvenate your skin anywhere, anytime with this mess-free dry oil spray. Being your ultimate go-to for lubricating dry or dull skin, this one will boost hydration and leave a sheer finish for your skin to look healthy and enhanced. Now, if you are wondering, what's the secret behind its ultra-nourishing benefits? It is the formula, of course. It contains aloe vera, jojoba oil, cucumber, and chamomile extracts to pamper and uplift your skin instantly! Flaunt-worthy glow, anyone?
Pros
Lustrous body oil mist
Moisturizes intensely
Cruelty-free and vegan
Gluten-free, paraben-free, sulfate-free, phthalate-free, and more
Cons
Intense flowery scent
Expensive
Therapeutic and how! Lose yourself in the enchanting aromas of essential oils with this body massage oil for glowing skin. Relaxing your mind, body, and soul and moisturizing intensely, experience a therapeutic detox with this massaging oil with every use. Besides this, it erases fine lines, wrinkles and stimulates blood circulation too! Just what your body needs to relax, rejuvenate, and be healthy again, Vanilla Dreams contains sweet almond oil, lavender oil, jojoba oil, antioxidants, vitamin E, and more. Too good to be missed, we think!
Pros
Aromatherapist-recommended
Edible and all-natural formula
Paraben-free and cruelty-free
Ideal for both men and women
Relieves pain and eliminates cellulite
Uplifts mood and replenishes dry skin
Soothes irritation and diminishes stretch marks
Gentle, hypoallergenic, and suitable for sensitive skin
Cons
Not ideal if you are sensitive to smell
Wrinkles, dryness, stretch marks, scars, or uneven skin texture— nothing stands a chance against this botanical blend. Working intensely and aggressively on all skin problems, Makari Extreme Body Oil ensures glowing and youthful skin with consistent use. Packed with ultra-healthy oils, it contains argan, carrot (which is rich in antioxidants!), chamomile, soybean, sweet almond, and also Omega 3 and 6. Offering the benefits of tightening, moisturizing, softening, protecting, and renewing skin all in one go, this body is a must-try for all.
Pros
Improves elasticity
Prevents future skin and free radical damage
Brightens skin and eliminates blemishes
Hydrates and nourishes the skin intensely
Intense anti-aging and hydration formula
Hydroquinone-free and cruelty-free
Suitable for African-American and all other skin types
Cons
Protecting your skin from the harsh rays of the sun, meet the superhero of all body oils! Yep, Supergoop's glow oil is powered not only to provide broad-spectrum protection with SPF 50 but is water-resistant for up to 80 minutes as well! Sounds interesting? There's more. Hydrating your skin intensely with every use, it also nourishes with enriching ingredients like grape seed oil, marigold, vitamin E, and meadowfoam. Super, isn't it? Try it!
Pros
Lightweight oil
Non-greasy and quick-absorbing
Protects and brightens the skin
Fades sun spots and UV damages
Reef-safe and suitable to use post-shower
Cons
Enjoy the moisturizing benefits of shea butter, now in this body oil! Just what your skin needs to feel pampered, it will also boost hydration and restore the natural softness with every use. Yep, you think you can handle the glow-up? Plus, it claims to fight aging signs, stretch marks, acne, and skin irritations too. Infused with antioxidants and vitamins such as A, E, and F, it also contains olive oil, avocado oil, and sweet almond. A good option for those with eczema and psoriasis, give this body butter oil a try this season!
Pros
Improves elasticity
Stimulates blood circulation
Softens hard skin on feet and hands
Provides relief from itchiness and dryness
Glides easily, non-greasy, and non-sticky
Ideal to use on hair, wounds, and cracks
Organic, eco-friendly, and cruelty-free
Gluten-free, phthalate-free, sulfate-free, paraben-free, and more
Cons
Strong fragrance
Thick consistency
Keep the dryness and dullness away, even on the go! This compact, mess-free, and easy-to-use spray will keep your skin hydrated and glowing always. Packed with all-natural, organic oils, and food-grade ingredients such as jasmine sambac oil, grapeseed oil, and camellia seed oil, it's safe for your skin and insanely therapeutic too. And the best part— it absorbs into the skin almost immediately! Busy bees and travelers, shop ASAP.
Pros
Ultra-hydrating oil
Lightweight and non-greasy
Improves elasticity and appearance
Leaves skin soft, moisturized, and fragranced
Cruelty-free and non-GMO
Paraben-free, gluten-free, sulfate-free, phthalate-free, and more
Cons
Sensitive skin? Desert Essence is the body oil for you. From keeping your skin moisturized for 24 hours, soothing irritated skin to fighting aging signs, breakouts, and inflammation, Desert Essence can do it all. Yep, and the credit goes to its ultra-enriching formula that contains jojoba oil, apricot oil, sunflower seed oil, chamomile oil, and shea butter to provide an instant boost of hydration and moisture. Do not skip it!
Pros
Natural body oil for glowing skin
Lightweight and quick-absorbing
Suitable for dry to normal skin
Reduces fine lines and eliminates dryness
Cruelty-free and free from sulfates, parabens, silicones, paraffin, and more
It does not contain artificial dyes and fragrances.
Cons
Don't mind spending on premium body oil? Then The Body Shop will be a great pick. You can either add it to the hot bath or use it post-shower on damp skin to replenish the lost moisture. Infused with Manoi, a blend of fragrant tiare flowers and coconut oil, it provides intense nourishment for the skin to look healthy, moisturized, and glowing forever. Give it a go!
Pros
Luxurious blend
Lightweight and quick-absorbing
Leaves skin soft and smooth
Ideal to use on hair and for overnight treatment
Cons
Now, who's ready to relax and glow up with the best? There you go, those were the 13 best body oils for glowing skin in 2022. Do you need more assistance with buying the right body oil for your skin? If yes, then check out our buying guide below.
Buying Guide:
How To Choose The Best Body Oil For Glowing Skin?
Look out for the following features when choosing a body oil for your skin:
Skin type: Prioritize your skin type while choosing a body oil. Your face and body skin type may be different, so you must figure out your skin type before picking a body oil.
Intensely nourishing: To see the healthy glow, you need to moisturize and hydrate intensely to eliminate the dullness. Hence, pick a formula with enriching ingredients that'll help your skin rejuvenate and glow.
Lightweight and non-greasy formula: Pick a lightweight oil always. The reason being, the lightweight formula will glide smoothly on the skin and will not turn sticky or greasy after a few hours.
Quick-absorbing oil: Other than being lightweight, the oil should be quick-absorbing, so it can penetrate the skin quickly to hydrate and moisturize instantly.
Chemical-free: Lastly, the oil should be chemical-free. Considering these oils penetrate deep into the skin, you clearly wouldn't want chemicals entering your body. Hence, pick a chemical-free oil for the best experience.
Why Trust StyleCraze?
The author, Vaishnavi Kothuri, is a skin care enthusiast. She advocates using oils to massage your skin for replenishing it with moisture and nourishment. She went through hundreds of user reviews on trusted online forums and did in-depth research into the products to compile this list of the best body oils for glowing skin. These oils help seal the hydration in the skin for a healthy glow.
Frequently Asked Questions
Are Body Oils Good for Glowing Skin?
Absolutely! Body oils help replenish the lost moisture and hydration post-shower, thus helping your skin rejuvenate and glow.
When Should I Apply Body Oil?
Body oil has nourishing ingredients that help revitalize, soothe, and nourish skin intensely. Besides this, it can fight aging signs, acne, breakouts, uneven texture, and scars too. So if you are dealing with any skin woes, body oil can help.
Should I Apply Body Oil Before Lotion?
No, always apply the lotion first because body oils are heavy and may block the lotion from penetrating your skin.
Is It Okay to Use Body Oil on Your Face?
No, you must not use body oil on your face. Body oils are heavy compared to facial oils and may disturb the pH balance of your skin or clog pores.
Does Coconut Oil Darken the Skin?
No, coconut oil will not darken the skin but will hydrate and moisturize it intensely. In fact, if you are planning to get a natural sun tan, coconut oil will keep your skin hydrated throughout.
Recommended Articles:
Best Natural Body Oils Your Skin Will Love
Best Body Oils That Soften And Moisturize Dry Skin
Best Body Shimmer Oils For A Sun-Kissed Glow
Best Body Oils With Anti-Aging Benefits For Women