13 Best Almond Oils For Skin That Are Worth The Try
Use these nourishing to moisturize and nourish your skin and make it glowing.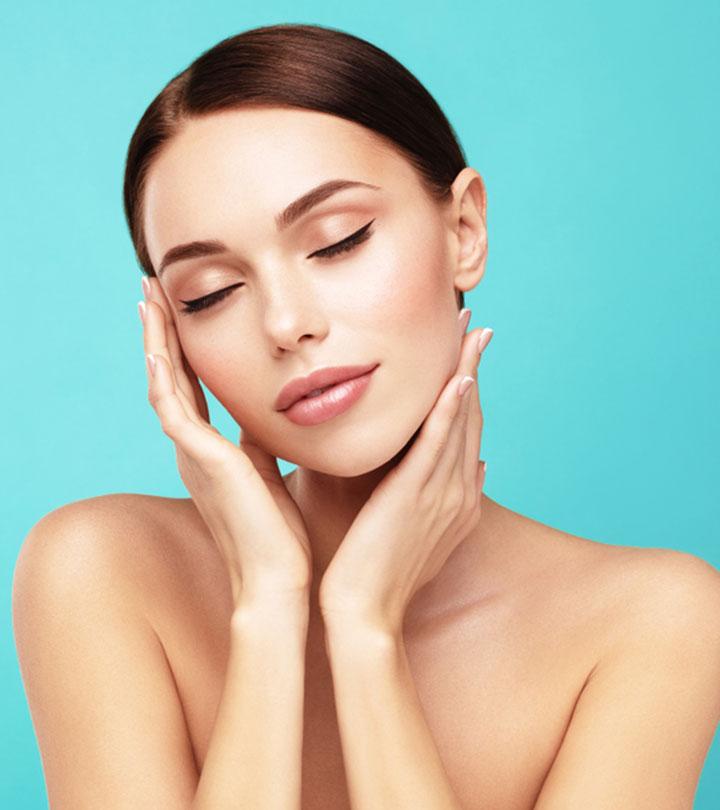 The benefits of almond oil for the skin are quite well-known. Whether you munch on soaked almonds every morning or crush them to make fresh almond milk – the health-boosting dietary nutrients of almonds can help nourish your skin health as well. Almond oil is enriched with healthy fats and is light and nourishing enough to be used on your skin every day. Not only does almond oil moisturize your skin and get rid of dryness, but it also helps reduce dark circles and puffy eyes, improves the appearance of spots and scars, and fights the effects of sun damage to improve your overall skin tone and complexion. This oil is gentle enough to be used on your baby's delicate skin. Regular massage with almond oil helps build muscles and improve bone strength as well.
To experience its many benefits yourself, try getting your hands on any of the 13 best almond oil for skin mentioned below. Check them out!
13 Best Almond Oils For Skin – Our Top Picks
Most people with dry skin find it difficult to choose a moisturizing product that is formulated with natural ingredients. If you relate to this, Viva Naturals Sweet Almond Oil is here to solve your problem. This oil is derived from the seeds of the sweet almond tree, which adds to its purity and makes it 100% natural. You can use it as a moisturizing massage oil for your body, a nourishing face serum, makeup remover, or a perfect ingredient in DIY beauty blends. This fast-absorbing oil is infused with rich fatty acids and vitamin E that help in keeping your skin soft and hydrated. Ideal for sensitive skin, this almond oil nourishes your skin with its non-sticky formula and doesn't clog the pores, giving you a radiant glow.
Pros
Light texture
Non-GMO ingredients
Allergy-safe
Non-greasy
Fragrance-free
Cons
May not offer long-lasting moisturizing effect
If makeup removers dry your face, you need to try this cold-pressed almond oil that can remove waterproof makeup and leave your skin feeling moisturized. This organic oil also minimizes acne formation and treats dark circles while brightening and lightening uneven skin tone. Enriched with vitamin A and E, this almond oil gives you a youthful glow and can be used as a carrier oil for other essential oils. You can use this unrefined vegan product for a relaxing body massage or mix it with your bath salts for a comfortable bath. This light-textured oil can also be applied directly to the skin and is suitable for sensitive skin as it is free of hexane and other harmful ingredients.
Pros
Reduces stretch marks
Does not contain paraben and SLS
Non-greasy
Cruelty-free
Non-comedogenic
Cons
Some may find the smell intense.
The Mary Tylor Naturals Organic Sweet Almond Oil is ideal for those who have sensitive skin. It does not contain any additives, chemicals, and fillers that can cause skin irritation, offering nourishment to all skin types. It is formulated with antioxidants, vitamins A, B, C, and E along with proteins and essential fatty acids that help maintain the moisture balance of your skin and make it softer and healthier. This cold-pressed almond oil works great as a carrier oil and can be an excellent addition to your DIY beauty mix and aromatherapy. To add more to its benefits, it doubles as a makeup remover too.
Pros
Reduces dark spots
Can be used for the hair
Cruelty-free
Hexane-free
Climate pledge friendly
Cons
Some may find it a little sticky on the skin.
This Molivera Organics Sweet Almond Oil can help heal your dry and damaged skin with its magical hydrating properties. This premium quality oil can moisturize your skin, leaving it smooth, soft, and healthy. It helps treat acne-prone skin and also provides anti-aging benefits. This oil is great for mature skin as it prevents your skin from getting stretchy, reduces wrinkles, and fine lines. It also doubles as a baby oil that can keep your tiny one's skin soft and nourished. Formulated with 100% pure and natural ingredients, this cold-pressed almond oil is safe for all types of skin.
Pros
Free of additives
Long-lasting effect
Lightens dark circles
Hexane-free
Pleasant nutty scent
Cons
It might be slightly greasy.
Say goodbye to blemishes and scars on your skin as this cold-pressed, unrefined almond oil is here to help you achieve clear and healthy skin. This California-made sweet almond oil is 100% natural and pure minus harsh chemicals such as hexane or any additives. Enriched with minerals and vitamins, this oil is safe for all types of skin. What's more? You can also use it for your hair. Get ready for a relaxing massage or give yourself the peace of mind you need through aromatherapy by adding this oil to your diffuser.
Pros
Suitable for all skin types
Vegan
GMO-free
Not tested on animals
Cons
It may take some time to be absorbed by the skin.
With several natural ingredients, this sweet almond oil from Spain is an ideal product to rejuvenate and nourish your dry and sensitive skin. This oil is infused with omega-3 fatty acids, zinc, vitamin A and E, making it a nourishing skin potion that hydrates parched skin. Apart from using it as a daily moisturizer, you can experiment with this almond oil by replacing your lip balm with it, as a makeup remover, sunburn remedy, or mixing it with essential oils for aromatherapy. And if you are dealing with dark circles or desire to lighten your complexion, this oil can do the job for you.
Pros
Absorbs quickly
Does not clog pores
No synthetic fragrance
Non-greasy
Cruelty-free
Cons
Might not deliver lasting results
Say yes to flawless and soft skin with this vegan sweet almond oil that gets absorbed quickly without clogging your pores. It is suitable for all skin types, including acne-prone and sensitive skin— the credit goes to various soothing ingredients such as calcium, zinc, and vitamins A, B, D, and E. These ingredients help calm skin inflammation and diminish dark spots, leaving your skin feeling healthy. It is an ideal carrier oil that can be mixed with jojoba oil, castor oil, mango butter, shea butter, avocado oil, vitamin E oil, and other organic essential oils to add to its skin benefits.
Pros
Lightweight
Cruelty-free
Hypoallergenic
No synthetic fragrance
Free of hexane and sulfates
Cons
Protect your skin from sun damage and aging with this organic almond oil! It helps reduce wrinkles and fine lines while diminishing dark spots and blemishes on the skin. This oil is formulated with essential fatty acids, minerals, and vitamin A, B, D, E, and K. It comes with anti-inflammatory properties that soothe irritated skin and keep it moisturized and nourished. This oil is easy to apply as it gets absorbed quickly and can help treat your dull, dry, and damaged skin. Give this sweet almond oil a try if you dream of even skin tone.
Pros
Non-greasy
Lightweight
Cruelty-free
Vegan
Free of hexane
Non-GMO
Free of preservatives
Cons
Some may find the scent overpowering.
This almond oil is known for its excellent moisturizing effect on dry and dull skin. Whether we talk about scars and stretch marks or dark circles and blemishes, this oil is made to reduce them all. It gives way to radiant soft skin that stays nourished and hydrated for a long time. This oil can be used for removing even stubborn makeup to reveal a squeaky clean skin. And to add more to its benefits as a makeup remover, you can expect it to keep your skin hydrated after the makeup is off your face. Enriched with vitamins A, E, and B, this high-quality oil will help you improve the health of your skin and make it look vibrant over time.
Pros
Reduces wrinkles and fine lines
Does not contain paraben, sulfate, and phthalate
Vegan
Cruelty-free
Cons
The oil may not absorb quickly.
Achieve healthy-looking skin with this almond oil that works great as a daily moisturizer or as a therapeutic massage oil. It helps relieve the skin of dryness without blocking pores, leaving you with soft and smooth skin. This oil is easily and quickly absorbed, so you don't have to worry about the usual greasy layer that oils leave behind. This expeller-pressed oil does not contain paraben, gluten, hexane, corn, GMO, and soy.
Pros
Protects from sun damage
Suitable for all skin types
Vegan
Cruelty-free
Cons
May not be suitable for extremely sensitive skin
If you are dealing with skin irritation, scars, and stretch marks, this almond oil is the right product for you! It helps diminish spots and marks while soothing any itch or irritation. This oil adds a youthful natural glow to the skin by reducing fine lines, wrinkles, and dark circles. Suitable for all skin types, this almond oil can be used for different purposes— as a facial cleanser, massage oil, in beauty blends, and as a body moisturizer. It does not contain paraben, sulfate, phthalate, gluten, synthetic fragrance, silicone, and other harmful ingredients which is good news for those with sensitive skin.
Pros
Lightweight
Non-greasy
Hypoallergenic
Vegan
Cruelty-free
Cons
Looking for an age-defying skin product? If yes, you should try this almond oil that slows down the signs of aging to give the skin a youthful appearance. It is rich in vitamin A, B, and E, which will help reduce your eye bags, dark circles, and fine lines, leaving you with radiant skin. This oil also works great as a carrier oil as it blends well with other essential oils. You can apply it to your face and body to hydrate and moisturize your dry skin. You can also use this oil as a makeup remover and massage oil and get rid of the clutter that having different oils for different purposes in your cabinet creates.
Pros
Removes dead skin cells
Useful for aromatherapy
Non-greasy
Lightweight
Cons
Might not be suitable for oily skin
This almond oil is best used for aromatherapy to unwind and for massage to improve your blood circulation, leading to healthy glowing skin. Enriched with vitamin E, this oil offers anti-aging benefits by reducing fine lines and revealing a radiant skin. Along with almond oil, this oil also contains lavender essential oil and jojoba oil. These ingredients help soothe skin irritation and act as a natural conditioner for your skin by locking in moisture. This oil is suitable for all skin types, including sensitive skin as it is naturally made and is free of chemicals.
Pros
Hypoallergenic
Rich in antioxidants
Free of sulfate and paraben
Cruelty-free
Pleasant fragrance
Cons
Now that we have looked at the 13 best almond oils for skin, here are a few things you need to keep in mind when buying the right oil to keep your skin hydrated and healthy.
How To Choose Almond Oil For Skin
Hexane-free: To choose the right almond oil, you should check whether it is hexane-free or not. Hexane is a chemical that is used to extract oil from the seed and may cause irritation and redness. Thus, it is better to go for hexane-free and cold-pressed almond oil.
Carrier oil: If you are getting almond oil to use for your skin, then pick the one that serves as a good carrier oil. This means you can easily mix the almond oil with any essential oil of your choice for massage or in your beauty blend.
Pure and natural: Almond oils are generally preferred as moisturizers because they are natural. However, several brands add preservatives and additives to make them last longer. Such oils might not be suitable for sensitive skin, so it is better to choose pure sweet almond oil for your skin that is derived from cold-pressed almonds and has no harsh ingredients.
Non-greasy: When it comes to oils, they are likely to be sticky and greasy. But pure almond oil is considered to be a quick-absorbing and non-greasy type of oil. However, it is recommended that you check the label of the product and read reviews before buying any almond oil.
If you have read our list, you might have a fair idea as to which is the right almond oil for your skin. Now, let us talk about the several ways in which you can use almond oil.
How To Use Almond Oil For Skin
Step 1: Take a small amount of almond oil and apply it to your face.
Step 2: Use cotton dipped in warm water to remove the makeup and oil from your face.
Step 3: Wash your face with a face wash.
Step 1: Add a few drops of almond oil in an essential oil such as lavender, rosehip, or lemon oil.
Step 2: Dampen your skin.
Step 3: Apply the mix and leave it for a few minutes.
Step 4: Rinse thoroughly with warm water.
You can directly use almond oil on your skin as a moisturizer or as a massage oil. You can also add a few drops of almond oil to your moisturizer to make it more hydrating and use it as your daily body lotion or face cream.
As already stated, almond oil offers plenty of benefits. The next segment will help you explore the many advantages of the oil when used for your skin.
Benefits Of Almond Oil For Skin
Prevents acne flare-ups
Reduces skin irritation
Provides sun protection
Hydrates, nourishes, and moisturizes dry skin
Reduces scars and stretch marks
Delays the signs of aging
Improves skin tone and complexion
Diminishes dark circles and puffiness
What Are The Side Effects Of Almond Oil?
Almond oil is a natural product and is therefore considered safe for the skin. However, if you are allergic to nuts, it is not advisable to use almond oil on your skin. And if you are not sure whether almond oil would suit your skin, you can do a patch test by applying a small amount on your elbow or on your wrist. If you don't notice any signs of allergy such as redness, swelling, or itching, the oil is safe to use on your skin.
Almond oil has been one of the best ways to care for the skin for decades and it is still as popular as ever. From its moisturizing and hydrating benefits to high nutrient content and anti-inflammatory properties, this oil has multiple properties, which is why it is worth every penny you decide to spend on it. If you want to make the most out of the benefits of almond oil, pick the right one from our list of the 13 best almond oils for skin and let your face exude that beautiful, natural shine and glow.
Why Trust StyleCraze?
The author, Kirtana Divakar, is a skin care enthusiast who loves trying out new products and is aware of the latest beauty trends. She has done in-depth research before recommending these top 13 almond oils for your skin. She has gone through various beauty forums to check customer testimonials to make sure you get to select from the top-rated products.
Frequently Asked Questions
Is almond oil good for your skin?
Yes, almond oil is good for the skin as it helps eliminate dryness and reduce irritation, dark circles, scars, spots, and wrinkles.
Does almond oil remove dark spots?
Yes, almond oil contains vitamins and other nutrients that help remove dark spots.
Does applying almond oil on the face cause pimples?
Almond is generally safe to use on the face and it is highly unlikely that it could cause pimples on your skin.
Is almond oil good for wrinkles?
Almond oil has anti-aging properties that diminish fine lines and wrinkles and delay the signs of aging.
Can almond oil lighten your skin?
Yes, almond oil is a great product for those who want to lighten their complexion and even out the skin tone.
Does almond oil make lips pink?
Almond oil is surely a good lip balm for chapped lips, thus resulting in healthy, hydrated, pink lips.
Recommended Articles