9 Best Pure Coconut Oils For Hair In 2023
Add this nourishing magic potion to your hair care routine and see the magic for yourself.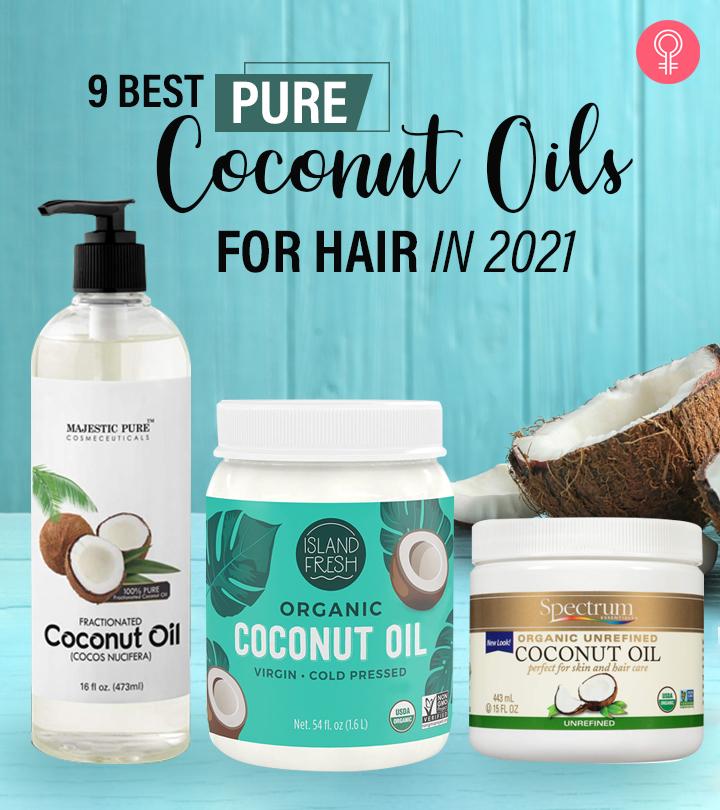 Let's face it — growing your hair long takes a little too much patience. But here's a secret: you can speed things up with the best coconut oil for hair growth. Infused with nurturing minerals, vitamins, proteins, and other ingredients, this versatile super-oil can do wonders for your hair and scalp. From hydrating your strands and protecting them from environmental damage to reducing daily wear and tear, the 9 oils we've listed here will make your hair longer, healthier, and shinier. Read on for detailed reviews.
Things To Consider Before Buying Coconut Hair Oil
Make sure you take into account a few points before you pick a coconut oil that will suit your hair.
Cold/expeller-pressed: This indicates that the oil has been extracted from the coconut without the use of heat or chemicals. This process keeps the nutritional properties of the oil intact.
Read the label: Look for oils that are organic, virgin, and non-hydrogenated. These kinds of oils are made from freshly-grown coconuts without pesticides and are devoid of trans fats.
Certifications: Make sure that the oil has certifications like 'Fairtrade Certified' and 'Non-GMO Seal of Approval'. This guarantees that the oil is pure and has passed all approved tests.
Fractionated oil: Fractionated coconut oil is in liquid form and remains so even in lower temperatures. The compounds, long-chain fatty acids that solidify the oil are broken down. Such coconut oils are lightweight and less greasy.
RBD label: An RBD label indicates whether the oil has been refined, bleached, and deodorized. These processes remove beneficial antioxidants, polyphenols, and phytonutrients.
Color: If the oil is yellowish, avoid buying it since it may be contaminated. Pure and good coconut oil should be clear.
9 Best Pure Coconut Oils For Hair
Majestic Pure oil is a premium quality oil processed to contain only the useful medium-chain fatty acids. This coconut oil has a rich concentration of caprylic acid as well as capric acid that are excellent antioxidants. It is known to keep the moisture locked in and prevents hair fall and breakage. Curly hair people can also benefit from this oil to keep their curls smooth and nourished. It has soothing properties and is also extensively used as a massage oil, a lip balm, and in aromatherapy. It is also an excellent carrier oil for your favorite essential oils as well.
Pros
Lightweight
Non-comedogenic
Odorless
Non-staining
Long shelf-life
Cons
Price at the time of publication: $18.99
This oil from OGX is a magical concoction of coconut oil and bamboo extract. It is an excellent formula for soft and hydrated hair. It works as a leave-in treatment for the hair. This oil is an absolute treat for hairstyling as it works its way through making your hair frizz-free, enhancing elasticity, and taming flyaways. This oil keeps hair silky soft, glossy as well as bouncy. It is used on dry hair to tame flyways and on wet to create your favorite style. Spray the mist on your finished style to get an instant shine. This hair product is designed to bring natural goodness to all kinds of hair irrespective of the texture. You can check this YouTube video for more information about the product.
Pros:
Lightweight
Natural ingredients
Paraben-free
Sulphate-free
Surfactant-free
Cons:
Price at the time of publication: $6.99
The Handcraft Blends Fractionated Coconut Oil is a lightweight formula that moisturizes your hair without clogging your pores. The oil is a unique combination of fatty acids and powerful medicinal ingredients that improve your scalp health and promote healthy hair growth. The rich blend of antioxidants in the formula protects your hair against free radical damage and fights infections and fungal damage on the scalp. This versatile formula leaves your hair looking and feeling silky smooth and voluminous. Additionally, this oil also offers therapeutic benefits as it can soothe and relax your senses.
Pros
Lightweight
Synthetic fragrance-free
Professional grade formula
Cruelty-free
Hexane-free
Preservative-free
Alcohol-free
Paraben-free
Sulfate-free
Cons
May cause itchiness to the sensitive scalp
Price at the time of publication: $12.69
The Spectrum coconut oil is made with the expeller process that helps maintain its natural nutrient content. It restores scalp health by removing dry and dead skin. Omega-6 fatty acids present in this oil promote the integrity of the hair follicles. The oil provides a protective layer against the harmful UV rays of the sun and other weather damages. It has a rich tropical fragrance and provides the hair with deep conditioning treatment. It is also an ideal choice for skincare.
Pros
Organic
Preservative-free
Artificial fragrance-free
Value for money
Cons
Price at the time of publication: $7.86
This product from Now Solutions gives you a conditioning moisturizer in the form of coconut oil. This natural oil is scalp-friendly and rich in saturated fats. You can massage your hair with this, keep for a few hours, and then wash it for a silky smooth feel. It is an organic alternative to chemical hair conditioners. It revitalizes damaged hair and promotes growth and shine. It is also a good moisturizer for your skin.
Pros
Non-greasy
Paraben-free
Artificial color-free
Solvent-free
Petrochemical-free
Phthalate-free
Synthetic fragrance-free
Cruelty-free
Cons
Price at the time of publication: $5.93
The Okay 100% Pure Coconut Oil moisturizes your hair and restores its natural shine. The oil is rich in antioxidants like vitamin E and fatty acids that stimulate blood circulation in your scalp, promote healthy hair growth, and prevent free radical damage. The oil maintains your hair's moisture and reduces protein loss caused by combing. This oil is great for treating dry itchy scalp, dermatitis, thinning hair, and dandruff. Additionally, this potent formula is highly effective in improving your skin's health. It stimulates collagen production and protects the skin against sun damage.
Pros
Suitable for all hair types
Lightweight
Absorbs easily
Reduces dandruff
Safe and effective for skin health
Cruelty-free
Paraben-free
Silicon-free
Sulfate-free
Cons
None
Price at the time of publication: $7.97
De La Cruz's coconut oil is an outstanding hair moisturizer that can be used on the face and body as well. It is an excellent massage oil that makes the skin soft and hair supple. This oil is expeller-pressed and pure and forms a protective, rich shield for each hair follicle. The oil works great as a pre-shampoo mask for all hair types. It can also be used as a leave-in conditioner for very curly hair, giving them a hydrated and shiny appearance. The coconut oil has a sweet fragrance and soothes the senses.
Pros
Non-sticky
Hexane-free
Artificial color-free
Cruelty-free
Vegan
Gluten-free
Cons
Added fragrance
Expensive for the size
Price at the time of publication: $6.74
The Palmer's Moisture Boost Hair + Scalp Coconut Oil is a potent formula that quickly absorbs into your strands and locks in moisture. This formula restores the natural shine of your hair and makes it manageable. The oil is also infused with Tahitian Monoi Oil which increases the hair's elasticity and fills your hair with a delicate tropical scent. Created for all curl types, this color-safe formula eliminates split ends and provides intense nourishment to your hair from root to tip.
Pros
Suitable for all curl types and pattern
Absorbs quickly
Pleasant fragrance
Long-lasting effect
Safe for colored hair
Sustainable
Cruelty-free
Phthalate-free
Paraben-free
Gluten-free
Synthetic dyes-free
Cons
None
Price at the time of publication: $5.76
The ORS coconut oil is a hair-repair oil that rejuvenates the scalp, removing dead skin cells. It helps regenerate new cells and provides a healthy environment for new hair growth. The oil strengthens the hair and soothes the scalp without weighing the hair down. This coconut oil has conditioning properties that provide a reflective luster to the hair with ultra-moisturization. It can also be used as a conditioner before any styling treatment like perming to prevent damage and dryness.
Pros
Lightweight
Non-greasy
Paraben-free
Sulfate-free
Cruelty -free
Cons
Price at the time of publication: $19.03
Why Trust StyleCraze?
The author, Shiboli Chakraborti, is a certified skincare coach, with good expertise on how your skin behaves in response to different skincare and makeup products. She has gone through in-depth reviews and customer feedback of all the products listed here, to bring you a specially curated list of the best pure coconut oils for hair. Pure and all-natural, these not only moisturize and nourish your hair but also help prevent itchiness, irritation, and environmental damage.
Frequently Asked Questions
Is coconut oil actually good for your hair?
Coconut oil is an extraordinary moisturizing agent for your hair. It can be used on both wet and dry hair and helps to minimize hair damage giving you healthy, glossy hair.
Can coconut oil damage your hair?
No, it does not. In fact, it has many health benefits for hair.
Is overnight oiling good for hair?
Overnight oiling is generally not recommended as it attracts dirt and grime. However, if you have very dry, frizzy, and damaged hair, you can go for this regime.
How often should I put coconut oil in my hair?
Two to three times a week is sufficient.
Does coconut oil make hair white?
No, it does not. Coconut oil seeps into the scalp and binds the protein content of the hair. It restores aging hair and slows down the hair-greying process.
Is it OK to not oil hair?
It is ok to not oil your hair, but hair oils provide nourishment to the hair. An oil massage on the head improves blood circulation that promotes hair growth and also soothes the nerves.
Recommended Articles