The 10 Best Coconut Oils For Hair Growth – Top Picks Of 2023
Explore the secret to beautiful hair with the most nourishing oils available online!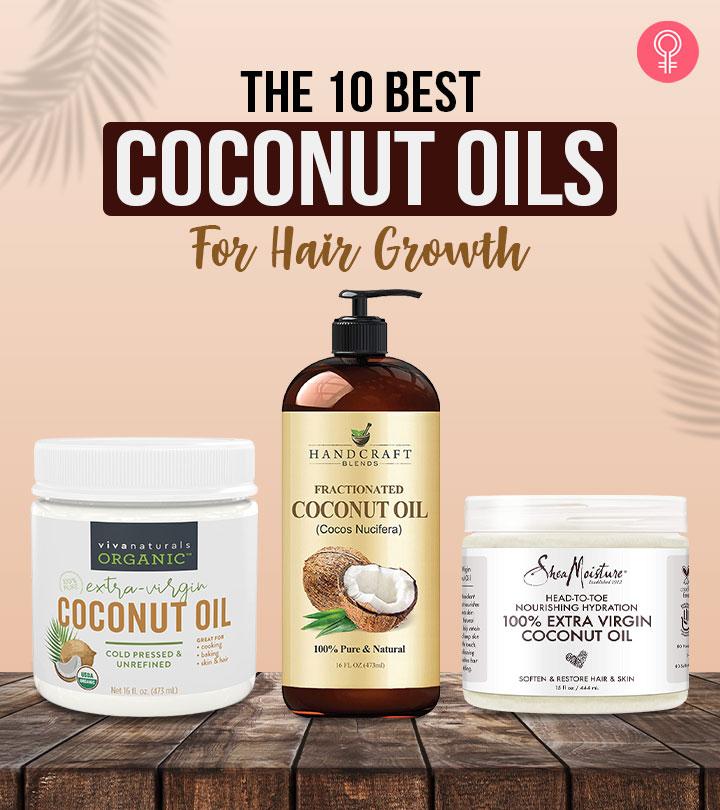 While coconut has been a staple beauty product in many parts of the world, a lot more women have been looking for the best coconut oil for hair lately. The reason? Kim Kardashian's revelation that she uses it for nourishing her tresses. The benefits of coconut oil are as varied as the types of coconuts — from reviving dull, lackluster hair to making your roots stronger, its wondrous effects are backed by science. According to Ghanima A, a cosmetologist and hair expert, "Coconut oil strengthens the hair. Unlike many other oils popular for hair care, coconut oil penetrates the hair shaft and benefits the hair from the inside. Most other oils just sit on the surface of the hair."
So, now that you know the kind of wonders coconut oil can do, it's time to pick one that suits your unique needs. Check out our list of the top 10 coconut oil brands that deserve a spot on your beauty shelf.
The 10 Best Coconut Oils For Hair Growth Of 2023
The multipurpose Organic Extra Virgin Coconut Oil by Viva Naturals comes with a bunch of benefits. You can use it for your skin, hair, nails, and as a cooking oil. If you have extremely dry and damaged hair, use this oil as a hair mask once or twice a week. It can help transform dull and lifeless tresses into lustrous and healthy locks. The oil is lightweight and suitable for daily use. You can also check this YouTuber's detailed review to know more about the results after using this product.
Pros
USDA-certified
Non-sticky
Non-greasy
Gluten-free
Non-GMO
Cons
None
Price at the time of publication: $7.96
The Handcraft Blends Fractionated Coconut Oil is lightweight and 100% pure and can be used as a carrier oil for aromatherapy, essential oil massages, dogs and other pets, and hair and skin moisturizer. The professional-grade formula feels silky-smooth and works effectively on all skin types. It improves scalp health, supports hair growth, and also adds shine to your tresses. You can also check this video out for a brief review of the product.
Pros
Fragrance-free
Hexane-free
Preservative-free
Chemical-free
Cruelty-free
Vegan
Paraben-free
Sulfate-free
Alcohol-free
Cons
Unpleasant metallic scent
Price at the time of publication: $12.69
This lab-tested Virgin Coconut Oil by Coco & Co. is packed with essential nutrients for your skin, hair, and body. The oil's unique extraction process helps retain all the nutrients of coconut oil compared to regular coconut oil. It is extracted from freshly pressed coconut milk. The lightweight oil melts into your skin, is easily absorbed by the scalp, and promotes strong and healthy hair. You can also use it for cooking and as a makeup remover.
Pros
Unrefined
Lightweight
Non-greasy
Pleasant aroma
Paraben-free
Phthalate-free
Gluten-free
Sulfate-free
Cruelty-free
Vegan
Cons
None
Price at the time of publication: $16.5
If dryness is your concern, try out the OGX Extra Strength Damage Remedy + Coconut Miracle Oil. It is a blend of coconut oil, tiare flower extract, vanilla planifolia  extract, and glycerin that softens your hair and revives rough and damaged strands to give you soft, manageable, and healthy locks. The oil can tame frizz and flyaways, and its pleasant tropical fragrance stimulates your senses. It is ideal for medium to coarse hair with medium to dry hydration levels and medium to high volume hair types. Watch this video for more information about the product.
Pros
Paraben-free
Sulfate-free
Pleasant fragrance
Cons
Price at the time of publication: $7.34
This oil is cold-pressed from organically harvested coconuts and contains all key ingredients and nutrients to condition and repair dry and damaged hair. It claims to boost scalp health and combat dandruff, itching, and dryness. The oil can strengthen hair roots and promote healthy hair growth. It is a great choice to tame wild baby hair and unruly locks. Use it as a pre-shower hair mask to get silky, soft, and manageable tresses, or warm it up a bit and use it as a body moisturizer.
Pros
USDA-certified
Vegan
Cruelty-free
100% organic
Cons
None
Price at the time of publication: $11.95
This 100% extra virgin coconut oil is ideal for extremely dry, damaged, and distressed hair. It is packed with vitamins, proteins, and antioxidants that instantly hydrate and nourish the hair and protect it from damage. The minerals and fatty acids in this oil help restore your hair's vitality and elasticity. In addition, this coconut oil contains Acacia Senegal extract that locks moisture and increases hair elasticity and coconut milk that conditions your hair. All the ingredients used in the product are ethically traded and sustainably produced.
Pros
Non-greasy
Cruelty-free
Sulfate-free
Paraben-free
Phthalate-free
Mineral oil-free
Propylene glycol-free
Petrolatum-free
Cons
Price at the time of publication: $11.99
The Premium Nature Coconut Oil is fractionated and cold-pressed to retain its purity, therapeutic, beauty, and health benefits. The healthy saturated fats in this oil maintain scalp health, nourish the roots, and promote healthy hair growth. The lightweight oil penetrates deep into the hair shafts and strengthens the strands without any greasiness. It is easily washable and does not leave residue on your scalp and skin.
Pros
Fragrance-free
Lightweight
Affordable
Cruelty-free
Vegan
BPA-free
Hexane-free
Cons
None
Price at the time of publication: $14.95
This all-natural, multipurpose coconut oil is an elixir for your face, hair, and body. It works as a deep moisturizer and conditioner for all hair types and textures. This non-greasy oil is best for dry and thinning hair and may help soothe an itchy scalp and relieve symptoms of allergies, dermatitis, and rashes.
It penetrates deep into your shaft, preventing protein loss and dullness. The hydrating oil improves hair elasticity and prevents breakage, split ends, and hair fall. It also makes hair manageable while restoring its shine and softness. You can also use it on your body and lips to manage dryness and keep the skin nourished.
Pros
Paraben-free
Silicone-free
Sulfate-free
Cruelty-free
Cons
Price at the time of publication: $9.93
The Ultimate Originals Therapy Coconut Oil Stimulating Growth Oil is ideal for curly, wavy, and kinky hair. It is formulated to repair, strengthen, and add shine to dry and damaged hair. The formula is packed with nourishing ingredients like soybean oil and avocado extract that help rejuvenate, condition, and moisturize your hair all day long.
Pros
Easy to apply
Lightweight
Non-drip package
Reasonably priced
Cons
Not 100% pure coconut oil
Greasy
Price at the time of publication: $7.88
The Organic Root Stimulator Coconut Oil & Hairdress is lightweight and adds long-lasting reflective luster to your hair without weighing it down. It contains a blend of coconut and soybean oils to rejuvenate your hair and scalp.  The product claims to remove dead skin cells to promote healthy hair growth. It improves moisture retention and shine and enhances the overall texture of your hair. It also provides nourishment to each strand to prevent protein loss and protect against damage.
Pros
Non-greasy
Paraben-free
Sulfate-free
Cruelty-free
Cons
Price at the time of publication: $8.99
Coconut oil boosts hair growth, strengthens the roots, moisturizes the strands, and keeps the hair healthy. To ensure you get all the benefits of coconut oil, you need to pick the right one based on a few factors.
How To Select The Best Coconut Oils For Hair Growth
Coconut oils, unlike other hair oils, suit every hair type. For dry, damaged, and coarse hair, use around 5 tablespoons of coconut oil while massaging or masking. However, for oily or thin hair, 2 to 3 tablespoons will suffice.
To pick a high-quality product, there are few types of coconut oil that one must know about while buying –
Refined And Unrefined
Refined oils possess no coconut flavor or aroma. They are produced from dried copra, not fresh coconuts. The oil typically undergoes various levels of processing, including being deodorized and bleached. Whereas, unrefined coconut oil is normally considered unadulterated and it has a light coconut taste and aroma.
Virgin / Extra Virgin Coconut Oil
An unrefined coconut oil is typically labeled as 'virgin' or 'extra-virgin'. The term virgin generally means that the oil is generally unprocessed. Commonly, the virgin coconut oils are made from the first pressing of fresh, raw coconut without the addition of any chemicals.
Cold-Press
Cold-pressed coconut oils are made by using the extraction method where milk or oil from the coconut is separated in a heat-controlled environment. Cold pressed coconut oil is considered raw, and all nutrients are retained in the oil.
Organic
Organic coconut oil indicates that the farm on which the coconuts are grown do not use pesticides or GMOs. These are considered the highest grade of natural and high-quality oils as most of its nutritional value is maintained.
To make sure your hair growth gets all the necessary boost, it is best to know the purity of the product. It is always better to use unrefined, organic, or virgin coconut oil compared to refined coconut oil. This is because these types of coconut oils have all their natural nutrients intact.
The next sections discuss the benefits of coconut oil, types of coconut oil, and how to use it. Keep reading!
Benefits Of Coconut Oil: 5 Reasons To Use It For Your Hair
1. Prevents Hair Damage
Coconut oil can prevent hair damage and reduce hair protein loss. This is because it contains lauric acid, a fatty acid. Due to lauric acid, coconut oil has low molecular weight and a straight linear chain, making it easy to penetrate the hair shafts and be more effective than other oils (1), (2).
2. May Stimulate Hair Growth
The lauric acid in the oil can penetrate hair shafts and nourish the hair bulb, which is crucial for hair growth (3).
3. May Prevent Lice
A study found that a blend of coconut oil and anise could be an alternative therapy for treating head lice (4).
You can get smoother and healthier hair by using these top-rated coconut oils. The purity and efficacy of coconut oil depend a lot on the extraction process. And accordingly, the types also vary. Here is a guide to help you understand the different types of coconut oil is available.
Types Of Coconut Oils
Organic Coconut Oil: Organic coconut oil is extracted from coconuts grown without pesticides and intensive chemical farming techniques. You can check for "USDA-certified" products to ensure you are buying pure coconut oil.
Cold-Pressed Coconut Oil: Cold-pressing is the process of oil extraction without using heat as heat can reduce the nutritional value of the oil. Cold-pressed oils can be virgin or extra virgin oils and contain the highest amounts of nutrients.
Refined Coconut Oil: Refined coconut oil is extracted from dried coconut kernels. Refined oils need to be processed in high heat and treated with preservatives.
Unrefined Coconut Oil: Unrefined oil is extracted from fresh, mature coconuts without any chemical processing. It is either extracted via wet milling (oil extracted from coconut milk) or quick-drying (squeezing oil from dry coconut).
Ghanima A advises, "Always purchase unrefined, virgin coconut oil. If you have ever used the refined version, you will notice an immediate difference in the texture, smell, and overall quality of unrefined coconut oil."
Coconut oil is versatile and can be used in multiple ways to nourish your hair. Here are a few tips on applying coconut oil.
How To Apply Coconut Oil
As A Hair Mask
Warm the coconut oil.
Massage your scalp and hair with it.
Wrap a warm towel around your head or wear a shower cap.
Leave it on for 30 minutes or overnight.
Wash your hair after 30 minutes or the next day with a mild shampoo.
As Hair Oil
Warm the coconut oil.
Massage your hair from root to tip with it.
Comb your hair and style as usual.
Ghanima A shares a few more tips on using coconut oil. She says, "If you are planning on leaving coconut oil in your hair, only do so in the summer. In the winter, it solidifies easily in the colder temperatures and can clump in your hair and make it hard, even if you applied it at room temperature. It's best to use it as a hair mask at room temperature with equal parts of honey. This way, the benefits of coconut oil penetrate your hair and scalp and are rinsed out after that."
Coconut oil is traditionally used to maintain hair health, prevent damage and breakage, and improve hair luster. You can pick any of the oils from our list. However, if you have frizzy hair, pick the SheaMoisture Head-To-Toe Nourishing Hydration 100% Extra Virgin Coconut Oil. The Ultimate Originals Therapy Coconut Oil Stimulating Growth Oil is the best affordable option, and if you want non-greasy and lightweight oil, get the COCO & CO. Virgin Coconut Oil.
Why Trust StyleCraze?
StyleCraze articles are backed by expert opinions and suggestions from certified professionals. The author, Oyendrila Kanjilal, a certified skin care coach, is a big fan of cold-pressed coconut oil. She believes that coconut oil is one of the best at-home remedies for nourishing and strengthening dry and damaged hair. She consulted experts and checked hundreds of brands and reviews to pick effective and the best organic products available on the market.
Frequently Asked Questions
What kind of coconut oil is best for natural hair?
Virgin coconut oil works the best for natural hair.
Which coconut oil is best for hair: refined or unrefined?
Unrefined coconut oil is better for hair than refined coconut oil because unrefined coconut oil is not processed and does not contain any additives.
Is coconut oil suitable for all hair types?
Yes, coconut oil is suitable for all hair types.
Does coconut oil have any negative effects on hair?
Coconut oil is generally considered safe for your skin and hair. But, applying too much of it can cause buildup and make your hair greasy and dull.
Can I put coconut oil directly on my hair?
Yes, you can put coconut directly on your hair.
Is it okay to apply coconut oil on hair everyday?
No. Although coconut oil is gentle and lightweight, ideally, you should apply it thrice weekly.
Do you apply coconut oil to wet or dry hair?
You can use coconut oil on damp and dry hair before and after a wash.
Sources
Articles on StyleCraze are backed by verified information from peer-reviewed and academic research papers, reputed organizations, research institutions, and medical associations to ensure accuracy and relevance. Read our editorial policy to learn more.
Recommended Articles:
Best Coconut Oil-based Products For Everyday Hair Care
Best Coconut Oil-Based Products For Curly Hair
Best Coconut Oil Shampoos
Best Pure Coconut Oils For Hair