15 Best Peppermint Shampoos
Promote hair growth and replenish your scalp, and never worry about hair fall again.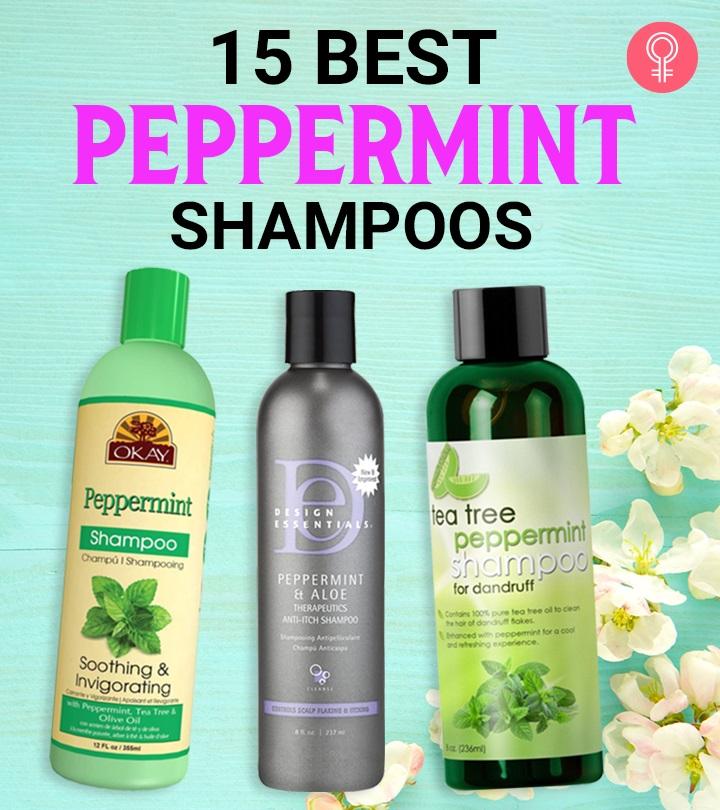 Peppermint is a great addition to beauty and skincare products and has recently made its way into hair care. The best peppermint shampoos, in particular, are where all the buzz is at, and for good reason. These shampoos consist of menthol, which not only calms and soothes your scalp but treats dryness plus itchiness alike. And let's not forget the hypnotizing fragrance, which is always a plus. Treat yourself to these top 15 peppermint shampoos that will slay your precious locks in the best way possible!
What Is A Peppermint Shampoo Good For?
Peppermint extract contains a natural compound called menthol that has cooling and healing properties, along with a very fragrant and refreshing scent. Peppermint is excellent for your hair and scalp as it cleanses and invigorates the hair by getting rid of any residue and dirt without stripping it of its natural oils. It balances the natural oils of your hair and leaves it feeling shiny and bouncy.
Peppermint also helps with dryness, itchiness, and other scalp problems while improving blood circulation to the scalp to boost hair growth. The antiseptic healing properties of this ingredient improve scalp health and hydrate it without weighing it down. All in all, a peppermint shampoo can be a great choice for you as it provides the following benefits:
It is antibacterial.
It has antiseptic and anti-inflammatory properties, which means it is good for irritated and sensitive scalp.
It is vasodilating (improves blood circulation).
It provides invigorating aromatherapy that calms the senses with its crisp and refreshing scent.
15 Best Peppermint Shampoos
Pros
Safe for color-treated hair
Sulfate-free
Paraben-free
Cruelty-free
Moisturizes the scalp
Suitable for all hair types
Cons
Price at the time of publication: $16.49
Pros
Ideal for all hair textures
Gentle
Provides immediate relief
Value for money
Moisturizing
Cons
May irritate a sensitive scalp
Price at the time of publication: $22.99
The Avalon Organics Strengthening Peppermint Shampoo gently cleanses and replenishes weak and brittle hair. It contains plant-sourced botanicals and essential oils like peppermint essential oil, quinoa protein, calendula, babassu oil, aloe, and vitamin E that work together to nourish and seal the hair cuticle. These ingredients make your stronger hair while restoring its bounce and length and repairing its elasticity. The shampoo also smoothes out your split-ends and flyaways. 
Pros
Vegan
Paraben-free
Sulfate-free
Cruelty-free
Non-GMO
No synthetic colors or fragrances
Cons
Price at the time of publication: $8.34
The OKAY Peppermint Shampoo is great for cleansing your hair. It has a refreshing scent that will awaken your senses. It soothes your scalp while removing dandruff and lice. This shampoo is rich in nutritious ingredients that provide nourishment to your hair and also restore damaged hair. 
Pros
Silicone-free
Paraben=free
Cruelty-free
Affordable
Suitable for all hair types and textures
Cons
Price at the time of publication: $9.06
Pros
Paraben-free
Cruelty-free
Hypoallergenic
Contains natural ingredients
Color-safe
Cons
Price at the time of publication: $9.95
Pros
Vegan
Cruelty-free
Paraben-free
Silicone-free
Lightweight
Cons
A lot of product required per wash
Price at the time of publication: $35.98
The Chimichurri Mint Tingle Shampoo from Sauce Beauty imparts an invigorating sensation and intensely moisturizes dry and damaged hair. When you use this shampoo, your scalp will start to tingle and feel a cooling sensation due to the menthol present in it. The zesty boost from peppermint boosts your scalp's blood flow, which is necessary for healthy hair growth.
This shampoo also contains spearmint, which has antifungal and antibacterial properties. Along with that, this formula has mongongo, macadamia, and argan oils that are rich in fatty acids and antioxidants that give your brittle strands more elasticity and intensely hydrate your dry scalp. It also contains aloe that strengthens weak hair to withstand damage from heat-styling tools. This shampoo is ideal for medium to coarse and highly processed or damaged hair. 
Pros
Ideal for dry and damaged hair
Paraben-free
Sulfate-free
Gluten-free
Pleasant smell
Moisturizing
Cons
Price at the time of publication: $11.99
The Natural Escapes Peppermint & Rosemary Shampoo helps restore softness, health, and fullness of your hair while stimulating new hair growth. The peppermint and rosemary oils promote hair growth and make your hair thick by stimulating blood flow to the scalp and increasing the oxygen and nutrient supply to your hair follicles and roots. This means that your hair will grow to its full potential, resulting in longer, thicker, and fuller hair.
While the organic jojoba oil and rosehip seed oil in this shampoo moisturize and protect your hair, the lavender, and chamomile distillates gently soothe and nourish the hair. Pro-Vitamin B5 and Vitamin E help moisturize and soften the hair, and wheat protein strengthens the hair with essential amino acids.
Pros
Color-safe
Paraben-free
Sulfate-free
Cruelty-free
Petrochemical-free
No synthetic fragrances or colors
Vegan
Pleasant fragrance
Suitable for oily hair
Cons
May be harsh on dry hair
Does not work well for 4A hair
Price at the time of publication: $29.95
The C.O Bigelow Lavender Peppermint Shampoo was originally created exclusively to be supplied to some of the best 5-star hotels around the world. However, the loyal following the range received propelled the brand to make it available for the masses online. This shampoo is lightly scented with a refreshing lavender and peppermint fragrance blend to calm and soothe your senses during and after use. 
Pros
Ideal for fine hair
Refreshing sensation
Pleasant fragrance
Lightweight
Cons
Price at the time of publication: $18.0
The Aquableu Natural Peppermint Oil Shampoo does not contain any harsh chemicals and provides the hair with effective ingredients. It is excellent for men, women, and children with a gluten allergy or other sensitivities that occur due to any autoimmune disease. This product is safe to use on color-treated and keratin-treated hair.
The peppermint oil has natural antiseptic properties that cleanse the scalp and remove any excess oil and dirt without stripping the natural oils needed for proper hair health. It also imparts a cold tingling sensation to your scalp that revitalizes your senses and refreshes the mind while promoting hair growth. This shampoo cleanses, nourishes, and hydrates your hair without weighing it down. 
Pros
Does not weigh down your hair
Ideal for all hair types
Gluten-free
Sulfate-free
Paraben-free
Silicone-free
Cruelty-free
Cons
Price at the time of publication: $8.99
The Majestic Pure Peppermint Shampoo is the perfect shampoo to remove excess oil and dirt buildup while hydrating the hair and scalp. This shampoo gives a fresh, clean, and natural scent. The formula is carefully crafted with beneficial ingredients like peppermint oil, rosemary oil, and coconut oil that help clarify, nourish, and hydrate the hair and scalp. This shampoo is gentle enough for daily use. 
Pros
Cruelty-free
Color-safe
Sulfate-free
Ideal for all hair types
Pleasant fragrance
Cons
None
Price at the time of publication: $16.98
The CP-1 Cool Mint Shampoo soothes and cleanses the scalp and helps control oil. It also helps balance the pH of your scalp and hair. This shampoo maintains a low acidic pH (5.5) of your hair and scalp. The mint's freshness and amino acids provide much-needed nutrition to your hair. This formula cleanses the scalp while retaining the natural oils in the hair roots. 
Pros
Ideal for dry and itchy scalp
Moisturizing
Silicone-free
Paraben-free
Cons
Price at the time of publication: $21.2
The Nexxus Pep'R'Mint Herbal Shampoo is a natural cleansing potion that deeply cleanses the scalp and refreshes the hair with a masterful blend of energizing botanicals and stimulating aromatic essential oils, including peppermint oil. This formula contains Yucca and Peruvian soapbark that gently cleanses the scalp and hair, while the chamomile, cranesbill, and nettle impart high luster and shine to the hair. The natural peppermint essence removes all unpleasant odors and uplifts your mood. 
Pros
Pleasant fragrance
Lathers well
Moisturizing
Calming
Lightweight
Cons
Price at the time of publication: $54.98
The Detroit Grooming Co. Peppermint Shampoo & Body Wash is a great 2-in-1 product that cleanses your entire body and hair thoroughly. This product is made from all-natural essential oils and natural ingredients that help moisturize and hydrate your skin and scalp while promoting the skin's overall health.
It contains avocado oil that penetrates the scalp to soothe and nourish it, grapeseed oil that soothes inflammation, and wheat germ oil that hydrates the skin and hair. This shampoo is rich in vitamins A, B, D, and E that nourish your hair and replace its missing proteins. It is suitable for all types of skin and hair. 
Pros
Smells great
Moisturizing
Lightweight
Lathers well
Cons
May irritate a sensitive scalp
Price at the time of publication: $24.95
The Natural First All Natural Peppermint Infused Shampoo cleans and conditions your hair. It makes the hair shiny and gives great volume and bounce. The chemical-free formula lathers well and eliminates all the excessive oil and dirt buildup on your scalp. It contains a blend of essential oils, natural corn starch, xanthan gum, castile soap, castor oil, and hemp oil. This shampoo is hand-made in small batches to maintain freshness. 
Pros
Ideal for daily use
Paraben-free
Sulfate-free
Gluten-free
Great for sensitive and dry scalp
Cons
Difficult to spread throughout the scalp and hair
Price at the time of publication: $7.95
Why Trust Stylecraze?
The author, Shiboli Chakraborti, is a certified skincare coach who has in-depth knowledge of the science and formulation of various skincare and haircare products. She knows what product works best for the various types of skin and hair. So when it comes to choosing the best peppermint shampoos, she has gone through several reviews and customer feedbacks in various health and beauty forums to curate this list of the best for you. These shampoos not only cleanse and cool your scalp adding that silky smooth shine to your hair but also help repair and protect your hair from various environmental stressors.
Frequently Asked Questions
Is a peppermint shampoo good for 4c hair?
As 4c hair can be very delicate and sometimes dry and sensitive, a peppermint shampoo can be great for this hair type. It eliminates dryness and itchiness and provides a soothing effect to an irritated scalp without breaking or drying out the hair.
Can you add peppermint oil to shampoo?
Yes, peppermint oil can be added to shampoo to boost hair growth as it increases blood circulation to the scalp.
Is peppermint shampoo safe during pregnancy?
Yes. Peppermint shampoo is safe during pregnancy. However, avoid using such shampoos if you have any cuts or rashes on the scalp.
Can I use peppermint shampoo every day?
No. Skip using peppermint shampoo daily to prevent drying your tresses and irritating the scalp.
Is peppermint more effective than minoxidil?
Yes. Peppermint oil improves blood circulation and increases hair growth by 92%, while minoxidil increases the growth by only 55%.
What is the best way to apply peppermint shampoo?
• Saturate your hair with lukewarm water.
• Pour a small amount of peppermint shampoo on your palms.
• Apply it to your scalp and massage the hair gently until it lathers.
• Rinse your hair and scalp thoroughly.
• Pat it gently with a clean towel to dry it.