15 Best Organic Shampoos For Oily Hair
Enhance your oily hair and scalp health with these organic haircare products.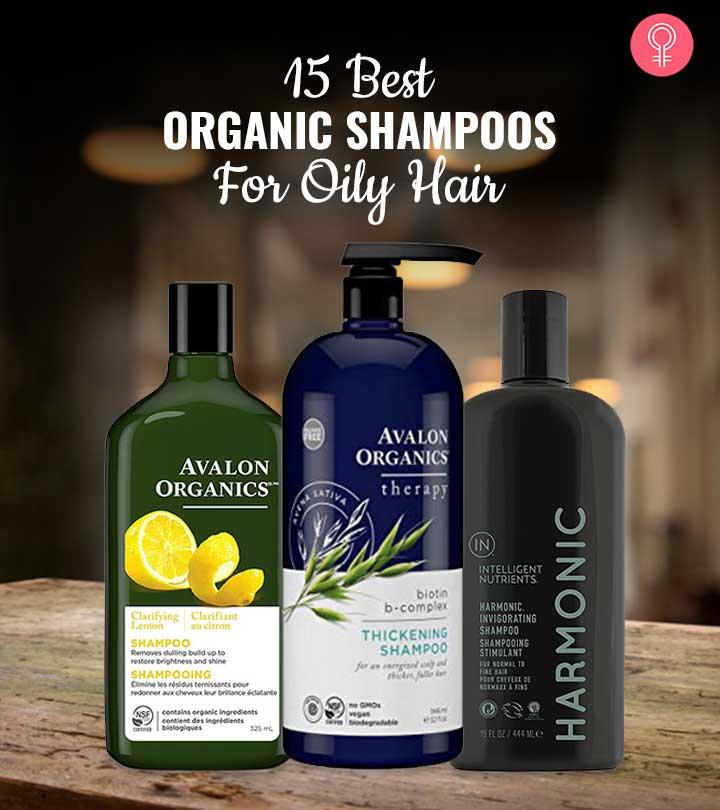 While oily hair needs to be washed frequently, you must be careful of the toxic chemicals and harmful ingredients in most commercial hair care products. That said, you may want to get your hands on some of the best organic shampoos for oily hair. While regular shampoos may seem to show results faster, organic shampoos with their natural oils and ingredients, are better for your scalp and hair health in the long run. One specifically designed for oily hair would help you cleanse away the excess oil and sebum buildup while maintaining adequate moisture levels. If you are not sure where to get started, have a look at the 15 best organic shampoos for oily hair listed below.
Why Choose Organic Shampoos?
Regular shampoos contain sulfates, which are surfactants that are useful for removing grease and buildup from oily hair, leaving it with that squeaky clean feeling we are all familiar with. However, in the long run, it may do more harm than good for your hair. The harsh chemicals in regular shampoos can strip the hair and scalp of much-needed moisture and essential oils. It provokes the scalp to produce more sebum, making your hair greasier than ever. Alternatively, these shampoos can over-dry your hair, leaving it frizzy, damaged, and dull.
Organic shampoos are an excellent solution to tackling these issues. They contain natural surfactants that produce a mild lather. Your hair is not only cleansed of grease and residue but also nourished with the goodness of natural ingredients. Organic shampoos can help nurse your damaged hair back to health, making it soft and shiny once again.
If you are wondering why your hair is oily or greasy in the first place, there may be more than a couple of reasons for it. It could be due to humidity in your environment, or the texture of your hair, or even plain genetics. Sometimes, hormonal imbalances or skin conditions could also cause oiliness in the scalp, in which case you should consult your doctor.
Organic shampoos are formulated using ingredients that have multiple benefits for hair and scalp health. Look for shampoos enriched with herbs and essential oils. These are naturally nourishing ingredients that do not require artificial fragrances. An organic shampoo may not lather as well as a regular shampoo because it does not contain sulfates and other surfactants or synthetic detergents that create the suds and bubbles we are used to.
Now that you are aware of what going organic entails, let's take a look at the 15 best organic shampoos for oily hair that can help you fight the grease without the irritation.
Top 15 Organic Shampoos For Oily Hair
The Degrease Moisture Control Shampoo helps get rid of grease and oil that build up in your hair and scalp. It clarifies, cleanses, and balances the scalp's health by washing away excess oil. The formula contains a potent blend of cypress oil, lemon oil, basil oil, and rosemary oil. These ingredients help clean the hair follicles and add a luscious volume and bounce to your hair.
Pros
Contains 96% natural ingredients
Suitable for all hair types
Gentle on sensitive scalp
Safe for color-treated hair
Cruelty-free
Paraben-free
Sulfate-free
BPA-free
Hypoallergenic
Made in the USA
Cons
None
The Rahua Classic Shampoo lends balance to the scalp so that it is not left feeling too dry or too oily. The shampoo contains rare but sustainably sourced ingredients, such as Rahua oil and Palo Santo oil. Rahua oil is rich in omega-9, while the fresh, woodsy scent of Palo Santo oil is pleasant without being overpowering. The creamy restorative formula gives you soft, smooth, and shiny hair while also soothing your scalp. Here's a review video to help you get a better understanding of the product.
Pros
Made with certified organic ingredients
Suitable for all hair types
Pleasant fragrance
Safe for color-treated hair
Made in the USA
Vegan
Paraben-free
Sulfate-free
Gluten-free
Cruelty-free
Cons
None
Dr. Alkaitis Organic Herbal Shampoo is best suited for cleansing oily, dry, and normal hair. It encourages healthy hair growth by stimulating blood circulation to the scalp and roots. The herbal shampoo contains a nourishing formula enriched with medicinal herbs, vitamins, and therapeutic and essential oils. Regular use makes your hair silky soft while also adding a healthy luster. It promises you a balanced scalp with strong, healthy hair.
Pros
Suitable for all hair types
Safe for color-treated hair
Gentle enough for daily use
Made with natural ingredients
Chemical-free
Non-drying
Promotes healthy hair growth
No synthetic fragrance
Detangles without the need for conditioner
Cruelty-free
Cons
The Christina Moss Naturals Organic Shampoo is a powerful hair cleanser formulated using essential oils, plant extracts, and fatty acids. The organic and natural ingredients clean your hair thoroughly and help make it soft and shiny. The shampoo cares for all types of hair and scalp and restores balance and moisture. The concentrated formula should be diluted with a little water for the best results – it also makes the product last longer.
Pros
Contains certified organic ingredients
Safe for color-treated hair
Lathers well
Vegan
No harmful chemicals
Sulfate-free
Cruelty-free
GMO-free
Cons
The Avalon Organics Biotin B-Complex Thickening Shampoo provides gentle and nourishing cleansing for fine, thinning hair. The certified organic formula is enriched with essential oils and natural botanical extracts. The nourishing shampoo has a delicate blend of saw palmetto, biotin, vitamin E, and quinoa protein. It adds volume to fine hair while stimulating the scalp to promote hair growth. It also cleanses the hair from the follicles and works to strengthen every strand of hair. Need more information? Watch this video to make an informed decision about the product.
Pros
Contains certified organic ingredients
Paraben-free
Sulfate-free
Phthalate-free
Cruelty-free
Vegan
No harsh preservatives
No synthetic colors
No artificial fragrances
Cons
The Honeydew Lemon Sage Oily Hair Shampoo contains tea tree and rosemary infusions that provide a 100% natural therapeutic grade oil treatment. The formula is enriched with essential oil of lemon and plant extracts from sage and rosemary. This organic shampoo helps reduce the secretion of excess sebum in the scalp. It balances and clarifies both the hair and the scalp and removes product buildup as well as accumulated dandruff. It deeply cleanses pores on the scalp to give you thick, bouncy hair.
Pros
Pleasant fragrance
Safe for color-treated hair
Soothes itchy scalp
Non-toxic
100% natural
Paraben-free
Cruelty-free
Travel-friendly packaging
Cons
Tree To Tub Soapberry Peppermint Shampoo uses a natural lathering ingredient – wild soapberry. Combined with foaming coconut cleansers, it helps the hair maintain the required acidic pH level of 5.5. It has a light, refreshing scent of peppermint and the goodness of nourishing ingredients like aloe vera, organic Moroccan argan oil, olive leaves, and chamomile. This gentle shampoo for oily hair comes recommended by dermatologists and is safe and gentle for your scalp and hair health. If you need further convincing, check out this YouTuber's review.
Pros
Gentle on all hair types
No harsh chemicals
Pleasant fragrance
Paraben-free
Sulfate-free
Silicone-free
Cruelty-free
Vegan
Cons
May not remove grease effectively.
May irritate sensitive skin.
The Avalon Organics Clarifying Lemon Shampoo provides gentle cleansing for oily greasy hair. It revitalizes hair by thoroughly removing excess oil and product buildup that make the hair look dull and lifeless. The formula is certified organic and is made using essential oils and plant-based botanical extracts. It contains lemon essential oil, aloe vera, and vitamins that clarify and brighten oily hair. The plant-derived cleansers wash away residue without stripping hair of essential moisture.
Pros
Certified organic formula
Contains plant-based cleansers
Pleasant fragrance
Non-drying
Cruelty-free
Paraben-free
Sulfate-free
Affordable
Cons
Not travel-friendly
Does not lather easily.
The Renpure Advanced Tea Tree & Lemon Sage Shampoo offers a concentrated dose of the goodness of lemon sage and tea tree in one product. The astringent nature of tea tree helps soothe an itchy scalp, while the vitamin C from lemon sage helps restore shine and strength to dull, damaged hair. It leaves your hair feeling soft, healthy, and refreshed. The shampoo provides excellent oil control without irritating the scalp or disturbing its moisture balance.
Pros
Safe for color-treated hair
Pleasant fragrance
Cruelty-free
Dye-free
Paraben-free
Sulfate-free
Affordable
Cons
Not travel-friendly
Does not lather well.
The Honeydew Argan Oil Shampoo for Oily And Greasy Hair is an all-natural shampoo enriched with Moroccan argan oil and jojoba. It cleanses hair effectively, reducing sebum, and making hair strands stronger. The hair becomes healthier and is less prone to breakage. The shampoo also balances moisture in the scalp while removing product buildup and protecting against environmental damage. The formula also contains keratin, which adds shine and makes hair stronger.
Pros
96% of natural ingredients
Paraben-free
Cruelty-free
Affordable
Safe for color-treated hair
Contains keratin that strengthens hair
Cons
Strong smell
May leave behind some residue.
The Honeydew Hair Superfood Balancing Shampoo provides sebum control and oil therapy for oily hair and scalp. It contains clarifying essential oils that naturally purify the hair and help reduce hair loss. The antifungal ingredients like lemon basil and cypress in the formula act as natural astringents, helping fight dandruff. The shampoo also contains rosemary that controls excess sebum production, preventing hair from becoming too greasy and weighed down.
Pros
Suitable for all hair textures
Safe for color-treated hair
Hypoallergenic
Cruelty-free
Sulfate-free
Paraben-free
Cons
Not enough oil control.
The smell takes some time to get used to.
Saragan Activated Charcoal Shampoo has a cleansing and clarifying formula, enriched with the potency of activated charcoal. It also contains several nourishing ingredients, such as keratin, camellia oil, argan oil, jojoba oil, avocado oil, coconut oil, and almond oil. It effectively removes dirt, grease, and product buildup without stripping your hair and scalp of its natural oils. The nutrient-rich shampoo helps strengthen and nourish damaged hair, making it healthy and revitalized.
Pros
Safe for color-treated hair
Convenient pump dispenser
Lathers well
Makes hair soft and shiny
Paraben-free
Sulfate-free
Cons
Not travel-friendly
May dry out hair.
The Intelligent Nutrients Harmonic Invigorating Shampoo helps make oily hair the cleanest and lightest it has ever been. It removes grease and buildup to leave you with smooth, moisturized, and well-behaved hair. The non-toxic formula has a low pH that is gentle on your hair and scalp and helps calm frizz to give you more manageable hair. The shampoo is also enlivened with the refreshing aroma of bergamot and rosemary essential oils.
Pros
Suitable for normal to fine hair
Sulfate-free
Silicone-free
Gluten-free
Cruelty-free
Sustainable packaging
Cons
Expensive
Does not lather easily.
The 100% Pure Yuzu & Pomelo Glossing Shampoo entirely cleanses oily hair and scalp without stripping it of essential moisture and natural emollients. The formula is a refreshing blend of citrus fruits like yuzu and pomelo, along with rose water and sea salt. It provides gentle exfoliation to the hair strands, leaving you with shiny, revitalized locks. The hair glossing shampoo treatment adds a glossy finish and preserves hydration with a touch of fatty-acid rich coconut oil.
Pros
Sulfate-free
Paraben-free
Phthalate-free
PEG-free
No artificial fragrances
Cons
Availability may be an issue.
May leave hair feeling dry.
The Rosemary Grapefruit shampoo from Stop The Water While Using Me! is best suited for cleansing damaged hair and sensitive scalps. It lends the hair a smooth and soft texture and also leaves it perfectly hydrated. The biodegradable formula is completely free of synthetics, paraffin, silicones, and mineral-oil based ingredients. The organic shampoo contains rosemary extracts that help balance the moisture levels in your scalp and hair and nourish it back to health.
Pros
Pleasant fragrance
Paraben-free
Cruelty-free
100% natural
Biodegradable formula
Cons
Expensive
Availability may be an issue.
Does not lather easily.
Why Trust StyleCraze?
The author, Sakshi Bahal is a hair care enthusiast and advocates organic and natural products over chemical-laden options. She believes that organic shampoos packed with natural oils and ingredients will leave your scalp and hair healthier in the long run. She has compiled this list after hours of research and examination of online reviews and after carefully weighing the most popular options on the market.
Frequently Asked Questions
Does organic shampoo make my hair greasy?
Organic shampoos can make your hair feel greasy after washing if not rinsed off properly. Unlike regular shampoos, organic shampoos are very concentrated products, hence it is more difficult to wash off.
Is organic shampoo better than regular shampoo?
Yes, most organic shampoos are better than regular shampoos. This is because organic shampoos are enriched with natural oils, minerals, and herbal extracts that help in retaining the moisture in the hair follicles. They are also made without too many harmful chemicals and are safer for the hair.
How often should I use organic shampoo in a week if my hair is too oily?
If you have oily hair you can use organic shampoo once every two days for a clean, non-greasy sclpa and hair. .
What ingredients should I avoid for oily hair?
If you have oily hair, avoid ingredients like parabens, silicones, formaldehyde, triclosan, phthalates for the best results.
How do you care for oily hair naturally?
Here are some of the ways to care for oily hair naturally:
•  Make a schedule and do not ski hairwash days.
•  Use a lightweight hydrating conditioner.
•  Use dry shampoo in between wash days.
•  Invest in a good clarifying shampoo to get rid of sebum and scalp buildup.
•  Exfoliate your scalp once a week.
Is it okay/safe to use an aloe vera shampoo for oily hair?
Yes, it is safe to use an aloe vera shampoo for oily hair as it gently cleanses the scalp. It effectively removes the extra sebum, oil, and product buildup without damaging the hair follicles. It also helps get a healthy, shiny look.
Can I use regular conditioners after using organic shampoo for oily hair?
Yes, you can use regular conditioners after using organic shampoo for oily hair as long as they provide enough nourishment to the strands. But, if your hair tends to get too greasy, use a lightweight conditioner instead.
Recommended Articles