8 Best Sulfate-Free Clarifying Shampoos Of 2023
Let your hair loose confidently with the nourishing hair care essentials at hand.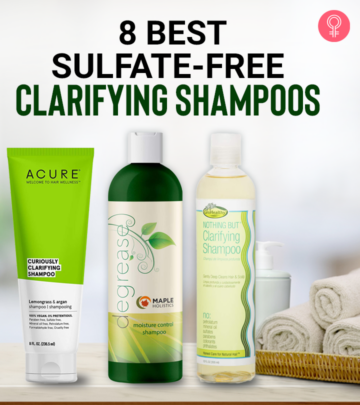 Does your hair become greasy just after a few hours of hair wash? Some scalps produce more secretive oils than others. When that natural oil is mixed with product buildup or other environmental gunks, it can make the hair lose its lushness. A clarifying shampoo once a week is ideal because more than that can lead to severe dryness. If your hair feels greasy, then it's time for you to switch to the best sulfate-free clarifying shampoo. This shampoo will deeply cleanse your scalp and remove product buildup, making it feel oil-free, non-sticky, and fresh. If you use hair styling products on a regular basis or spend a lot of time outdoors in the pollution, this shampoo will also remove product buildup and gunk, leaving your hair feeling light and healthy.
Listed below are the 8 best sulfate-free clarifying shampoos available online. Scroll down and make your pick.
Top Picks
8 Best Sulfate-Free Clarifying Shampoos Of 2023
Pros
Long-lasting effect
Promotes hair growth
Color-safe
Paraben-free
Silicone-free
Cruelty-free
Cons
Price at the time of publication: $11.95
Pros
Softens hair
Reduces frizz
Vegan
Paraben-free
Cruelty-free
Color-safe
No synthetic dyes
Pleasant fragrance
Cons
May weigh down thick hair
Price at the time of publication: $23.73
Pros
Leaves hair soft
Suits all hair types
Vegan
Cruelty-free
Paraben-free
Mineral oil-free
Formaldehyde-free
Paraffin-free
Petroleum-free
Cruelty-free
Pleasant fragrance
Cons
None

Price at the time of publication: $6.99
Pros
Softens hair
Reduces dandruff
Safe for all hair types
Color-safe
Manges frizz
Paraben-free
Sodium chloride-free
No artificial fragrances
Cons
None
Price at the time of publication: $24.29
Pros
Boosts volume
Naturally-derived ingredients
Improves hair texture
Vegan
Cruelty-free
Ideal for thin strands
Cons
Price at the time of publication: $12.95
Pros
Softens hairs
Maintains scalp pH balance
Phosphate-free
Paraben-free
Pleasant fragrance
Color-safe
Cons
Price at the time of publication: $75.0
Pros
Cruelty-free
Paraben-free
Vegan
Color Safe
Long-lasting
Promotes hair growth
Cons
None
Price at the time of publication: $15
Pros
Vegan
Suits all hair types
Color-safe
Silicone-free
Paraben-free
Phthalate-free
Dye-free
Cruelty-free
Pleasant fragrance
Cons
None

Price at the time of publication: $14.99
Clarifying shampoo is usually filled with harsh and drying chemicals like sulfate, but there are several shampoos in the market which are sulfate-free and get the job done. In order to get the best results, it is best to choose the right one that has effective ingredients and is perfect for your hair type. Here are few features to consider before choosing a sulfate-free clarifying shampoo:
How To Choose The Best Sulfate-Free Clarifying Shampoo
1. Ingredients
Apart from clarifying ingredients mentioned in the infographic, look for shampoos that are rich in nutrients, vitamin C, natural extracts, and minerals to improve your scalp and hair health. Choose shampoos with almond extracts, jojoba oil, almond oil, lavender, coconut oil, carotene, keratin, proteins, and essential oils that keep your hair looking healthy and flawless. Avoid formulas with EDTA and tetrasodium EDTA as these chelating agents may cause irritation in sensitive skin and scalp.
2. Type Of Hair
Your hair can be oily, dry, fine, thick, brittle or a combination of all these things. It is ideal to choose a specific shampoo that caters to your hair type, in order to reap maximum benefits. Here are a few common hair types and the type of shampoos to pick:
Dry Hair: If you have dry hair, your strands can be brittle and dull. In this case, choose a shampoo that gives you additional conditioning and moisturization properties. Look for shampoos that contain silicone or essential oils that lock in moisture by coating your strands with a protective layer.
Normal Hair: For normal hair, which is not too dry or oily, go for a gentle shampoo that does not contain excess additives or leave behind any residue. It is best to go for a mild, everyday shampoo which is perfect for daily use.
Oily Hair: If your scalp tends to get oily even after you shower, you need a specific shampoo that targets excess oil production in your scalp. Make sure to stay away from oil-based, or intense moisturizing shampoos, as it can weigh down your hair and make it greasy..
3. Additional Benefits
Other than the type of hair, take note of any scalp or hair ailments. For instance, if you have dandruff, choose a clarifying shampoo that does not dry the scalp too much and has ingredients like tea tree extracts or menthol. Active ingredients like zinc and selenium sulfide also help control dandruff. Choose a color-safe formula for color-treated hair as clarifying shampoos generally tend to strip off the hair color.
These are the top 8 sulfate-free clarifying shampoos available online. These shampoos have their own set of advantages. We will explore them in the following section.
What Are The Advantages Of Sulfate-Free Clarifying Shampoos?
In addition to removing scalp and hair impurities and build-up, these shampoos help in these other ways.
These shampoos do not contain harsh ingredients like sodium laureth sulfate, sodium lauryl sulfate, ammonia laureth sulfate, or ammonia lauryl sulfate. Overuse of sulfates may cause scalp irritation, reduce natural hair oils, and fade your hair color.
Your scalp has sebum, a natural oily coating or layer. Using a sulfate-free clarifying shampoo will protect your hair from the excess loss of sebum. The shampoo will instead balance the sebum levels.
Sulfate-free shampoos generally protect colored hair and even make the color last longer. They also remove product residue and build-up without stealing the hair color.
Sulfate-free clarifying shampoos are infused with natural, essential oils that fight hair frizz. These oils protect your kinky or curly locks, giving them shine, health, and bounce.
Whether you want to curl or straighten your hair, you can do that more frequently with sulfate-free clarifying shampoos.
Why Trust Stylecraze
The author, Shiboli Chakraborti, is a certified skin care coach and loves to write articles about hair care. She prefers using sulfate-free clarifying shampoos for her hair because these formulas prevent the hair from turning greasy. She has gone through multiple online reviews and user feedback before curating the list. The recommended products remove product buildup, making the hair feel oil-free, non-sticky, and fresh.
Frequently Asked Questions
Do you really need a clarifying shampoo?
Yes. A clarifying shampoo removes build-up and excess oils. It also deep cleanses and moisturizes your scalp and hair.
Is there a sulfate-free clarifying shampoo?
Yes, you will find many sulfate-free clarifying shampoos like GIOVANNI 50:50 Balanced Hydrating-Clarifying Shampoo, ACURE Curiously Clarifying Shampoo, Puriya Scalp Clarifying Shampoo, Nothing But Clarifying Shampoo, Moroccanoil Clarifying Shampoo, and more
Are all clarifying shampoos free of sulfates?
No, not all clarifying shampoos are free of sulfates. Some may contain sodium laureth or lauryl sulfates. Read the ingredients list thoroughly before making a purchase.
What is the difference between a purifying and a clarifying shampoo?
A purifying shampoo can be used in between the days of using a clarifying shampoo. It gently gets rid of build-up and restores the moisture balance.
A clarifying shampoo removes product build-up, residue, environmental contaminants, chlorine, minerals, and silicones. It cleanses and conditions your hair to give your curls and waves their shine and bounce.
How often should you wash your hair with a clarifying shampoo?
You can use a clarifying shampoo once or twice a week to get rid of the build-up, dirt, excess oils, and other impurities.
Why is a sulfate-free shampoo better?
A sulfate-free shampoo is better because it seals your hair's natural oils and promotes hair health and shine. It can be especially effective for color-treated hair.