14 Best Melasma Products You Can Try In 2022 For The Best Results
For the spotless, even-toned skin of your dreams grab the right skincare products.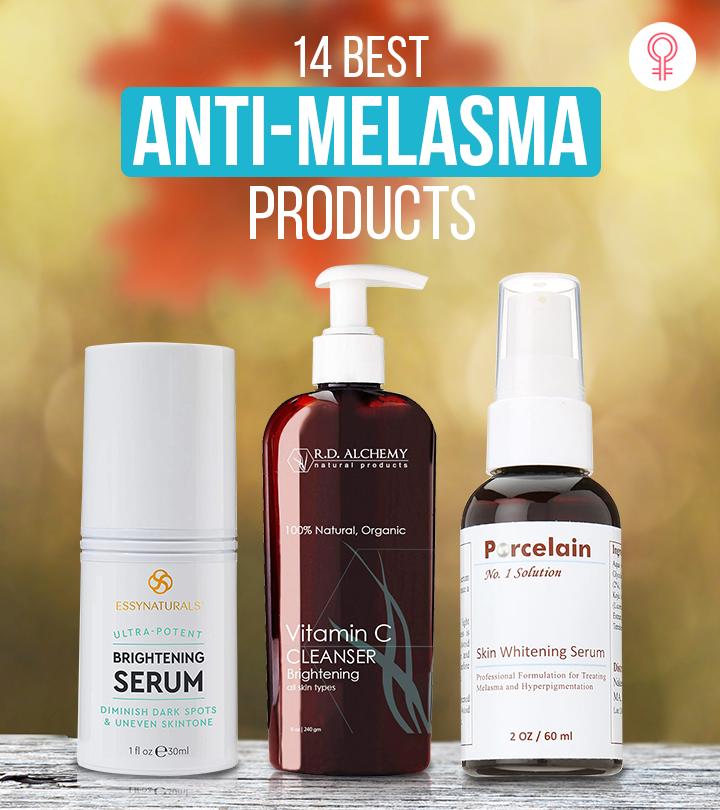 Hormonal changes and overexposure to the sun can lead to dark spots all over the face called melasma. While there are no risks associated with melasma, they make you feel conscious. On your doctor's recommendation, you can use some of the best melasma products available in the pharmacy to tackle them. Here is a list of some of the melasma products you can try.
What Is Melasma?
Melasma is a skin condition characterized by dark, discolored patches all over the skin. It is caused due to excess sun exposure or hormonal changes during pregnancy. It is a common skin condition among women, while men may also get affected. There is no definitive cause of melasma. It most likely occurs when melanocytes overproduce pigmentation. People with darker skin tones are more prone to melasma as they have more active melanocytes. A few common triggers of melasma are sun exposure, hormonal changes, and irritation from certain skin products.
Most people wonder if melasma is the same as hyperpigmentation and age spots. What is the truth?
What Is The Difference Between Melasma, Hyperpigmentation, And Age Spots?
Hyperpigmentation is a broad term used to describe many different skin conditions caused by melanin. Melasma is one such condition and a form of hyperpigmentation, where dark patches are formed in your skin due to hormonal imbalances. Meanwhile, age spots are a common occurrence in people over the age of 50. Age spots mostly appear among people with a fairer skin tone and are caused in those areas more frequently exposed to the sun.
Since melasma is a common skin condition, treating it is fairly easy. Certain over-the-counter products may help. Here is a list of 14 best anti-melasma products available on the market.
14 Best Anti-Melasma Products
The Admire My Skin Ultra-Potent Brightening Serum helps brighten and fade dark spots, hyperpigmentation, and melasma. The serum is formulated with salicylic acid, azelaic acid, lactic acid, and vitamin C. These acids help reveal brighter skin. The brand claims to show results in just 4 weeks of regular use of the product. For best results, you can use the serum once or twice every day. However, do a spot test on your skin before using it on your face. The serum also helps decrease fine lines and wrinkles. Check out this YouTuber's review of the product if you require more details.
Pros
Reduces fine lines and wrinkles
Moisturizes skin
Suits sensitive skin
Cons
None
The Ebanel 2% Hydroquinone Serum is a great product that helps lighten dark spots, sunspots, age spots, liver spots, freckles, uneven pigmentation, and discoloration. The product also helps remove acne scars, fine lines, and wrinkles. The product can be used on face, neck, hands, elbows, knees, inner tights, underarms, and more. Additionally, it can also be used under your makeup. The serum contains azelaic acid, arginine, and stem cell extracts that may help soothe and nourish skin. Before using the serum, do a patch test to check if it suits your skin. The serum is good for all skin types. It is also cruelty-free, hypoallergenic, and paraben-free.
Pros
Reduces fine lines and wrinkles
Ideal for all skin types
Cruelty-free
Hypoallergenic
Paraben-free
Cons
The Porcelain Skin Whitening Serum is a professionally formulated product that works great for melasma and hyperpigmentation. It also helps fade age spots, freckles, sunspots, and acne scars. In addition to this, the serum also prevents appearance of future dark spots and helps reduce skin damage caused due to sun exposure. The serum is suitable for all skin types. It contains hydroquinone that is effective in lightening your skin. The serum is fragrance-free, and free of parabens, sulfates, and phthalates.
Pros
Reduces skin damage caused by sun exposure
Suitable for all skin types
Fragrance-free
Paraben-free
Sulfate-free
Phthalate-free
Cons
The GleeBee Dark Spot corrector is carefully formulated to be used for your face, legs, arms, knees, elbows, thighs, and other dark spots. The corrector helps to nourish your dry skin, minimize melanin production, and restore the damaged skin. This corrector penetrates the skin to remove age marks, acne, dullness, and other sun marks. In addition, this dark spot corrector hydrates your skin, brightens it, repairs it, and makes the skin look youthful.
Pros
Easy to use
Suitable for all skin types
Delays aging signs
Vegan
Cruelty-free
Gluten-free
Cons
Sensitive skin may experience irritation or redness
The Dearskin Tranexamic Acid Serum is a great product that effectively reduces dark spots, hyperpigmentation, and melasma. The serum works by blocking any formation of melanin, which, in turn, gives your skin a healthy complexion. The product claims to reduce your skin concerns by 60% in the first 4 weeks of use. It shows full results after 12 weeks of regular use. The serum is dermatologically tested for allergy and sensitivity. The serum has a non-irritating and hypoallergenic formula. The serum is cruelty-free, paraben-free, and formulated with natural and organic ingredients.
Pros
Dermatologically-tested
Non-irritating
Hypoallergenic
Cruelty-free
Paraben-free
Formaldehyde-free
Moisturizing
Cons
None
The Plexaderm Fade Gel is a brightening treatment that helps treat hyperpigmentation, skin discoloration, age spots, and melasma. The gel is formulated with 2% hydroquinone that successfully exfoliates your skin and makes it smoother and radiant. The gel also contains MCT oil that helps retain skin moisture and makes your skin soft and supple. It is paraben-free and is free of other chemical colorants. The gel is also cruelty-free.
Pros
Cruelty-free
Paraben-free
Exfoliates skin
Chemical colorant-free
Cons
The Melloderm-Hq 2% Treatment is a gel-based product that contains 2% hydroquinone as an active ingredient. This gel helps in the treatment of melasma and freckles. It also helps remove dark spots. For best results, you can apply the gel once a day.
Pros
Cons
May not suit those with sunburns or hypersensitivity
The Vincere Cream helps treat melasma as well as age spots, sunspots, pigmentation, and freckles. The cream has a greaseless texture and has a great fragrance. It is also very easy to use and very affordable. The cream also helps protect skin from UV exposure. The cream is moisturizing and helps diminish fine lines and wrinkles.
Pros
Non-greasy
Pleasant fragrance
Affordable
Moisturizing
Protects against UV damage
Fades fine lines and wrinkles
Cons
None
The Mesoestetic Cosmelan Treatment is an at-home depigmenting treatment that helps treat melasma, hyperpigmentation, and sunspots. The treatment is safe for all skin types and is formulated without any caustic chemicals. It also helps in treating discoloration, brown spots, and dark patches. This treatment will help you achieve a renewed and luminous skin. It is paraben- and scent-free.
Pros
Safe for all skin types
Paraben-free
Scent-free
Cons
The Concept Anti-Melasma cream is a great blemish cream that reduces melasma and also helps reduce freckles and dark spots. The cream is dermatologist-tested and is formulated without any chemicals. The brand claims to reduce all your skin blemishes with just 3 weeks of regular use. The cream has a non-sticky texture and can be used under your makeup as well. It contains vitamin B3, licorice extract, pea seed extract, and octadecenedioic acid that help improve dull skin and give you radiant, smooth skin. The cream also contains vitamin E and aloe vera that help moisturize your skin.
Pros
Dermatologist-tested
Non-sticky texture
Can be used under makeup
Cons
None
The Amela-Ex Anti-Melasma Cream helps lighten your skin and reduces the appearance of melasma effectively. The cream also helps reduce the appearance of freckles and dark spots. The brand claims to show effect after 3 weeks of regular use. The cream is formulated without any harmful ingredients. It also nourishes your skin and helps maintain its softness and smoothness.
Pros
Easy to use
Nourishes skin
Cons
None
The Magiclear Anti-Spot Lotion is a face toner that gently cleanses your skin while lightening your spots. The toner helps activate the renewal process of your skin and also helps reduce wrinkles and fine lines. The toner contains vitamin B3 that helps improve your skin tone. It also helps combat acne and removes post-acne scars. It contains pea peptide that helps repair skin damage caused by excess sun exposure. The toner helps remove freckles and sunspots as well. It moisturizes your skin and gives your skin a radiant glow.
Pros
Repairs damage by sun exposure
Moisturizes skin
Cons
The RD Alchemy Vitamin C Cleanser helps you get fresh and vibrant skin. The vitamin C in the cleanser helps brighten your skin and makes it more vibrant. It also helps reduce melasma and hyperpigmentation as well. It can also help reduce the appearance of sunspots and age spots. The cleanser also offers various anti-aging benefits that will help keep your skin young and smooth while reducing fine lines and wrinkles. The cleanser is perfect for all skin types. It is formulated with organic and natural ingredients and is free of sulfates and soap.
Pros
Reduces signs of aging
Suitable for all skin types
Sulfate-free
Soap-free
Cons
None
The EltaMD Tinted Face Moisturizer is an oil-free moisturizer that also doubles as a sunscreen. The product contains zinc oxide and titanium dioxide that protect your skin from the harmful sun rays – and may also help reduce the severity of melasma. The moisturizer has a water-resistant formula. It also contains hyaluronic acid that helps boost moisture retention in your skin, giving it a smooth and youthful appearance.
Pros
Water-resistant formula
Moisturizing
Lightweight
Dye-free
Fragrance-free
Oil-free
Paraben-free
Non-comedogenic
Cons
None
These are the top anti-melasma products available on the market. But before you make a purchase, here is what you must consider.
How To Choose The Right Product For Treating Melasma
Check If It Suits Your Skin Type: There are a variety of creams and serums available to treat melasma. You need to find the right cream for your skin type. It is best to consult your dermatologist. Also, do a patch test on the back of your neck or your arm to check if the product suits your skin.
Check The Ingredients: Most anti-melasma products contain hydroquinone, alpha hydroxy acids (glycolic acid), antioxidants, alpha-arbutin, or kojic acid. Hydroquinone is one of the most common ingredients that inhibit melanin production. Anti-melasma creams usually contain 0.1 to 2% of hydroquinone. However, this ingredient can cause skin irritation. Antioxidants protect your skin from sun damage and free radicals. Alpha-arbutin is a skin lightening agent that works by reducing melanin production. Most skin lightening products contain kojic acid, which lightens sun damage, age spots, and scars. Kojic acid also has anti-aging effects. Choose a product depending on your skin's sensitivity to these ingredients.
Read Reviews: Go through reviews on various websites to understand how well the product works. Review can give you an idea of which skin type the product works best on.
Check Other Benefits: Some anti-melasma products come with additional benefits like reducing freckles and diminishing black spots. Go for these based on your requirement.
Note: There has been some debate on the safety of using hydroquinone. While some dermatologists say it is alright to use 2% hydroquinone, others suggest it is better to avoid it totally. Over-the-counter products may contain 2% hydroquinone, and higher concentrations require prescriptions.
We have seen the products that can help treat melasma. But can you prevent the condition altogether?
How To Prevent Melasma?
Melasma is caused due to hormonal imbalances. There is very little information available on its prevention. However, you may lessen its effect on your skin by following these steps:
Have a healthy diet rich in greens and antioxidants. These foods may help improve your skin condition.
Add vitamin D to your diet. The nutrient may fight skin damage caused by the sun.
Only use skin care products that are gentle on your skin. Avoid products that may irritate your skin.
Never forget to wear sunscreen, even if you are inside your house. Sunscreens are the best products that protect your skin from the harmful UV rays.
Why Trust StyleCraze?
The author of this article, Shiboli Chakraborti, is a certified skin care coach. She understands skin needs completely and comes up with a recommended list of products after a detailed exploration. The list of best melasma products is compiled after thorough research and reading customer reviews online from trusted platforms. These products effectively deal with melasma and provide visible results with regular usage.
Recommended Articles