10 Best Anti-Melasma Products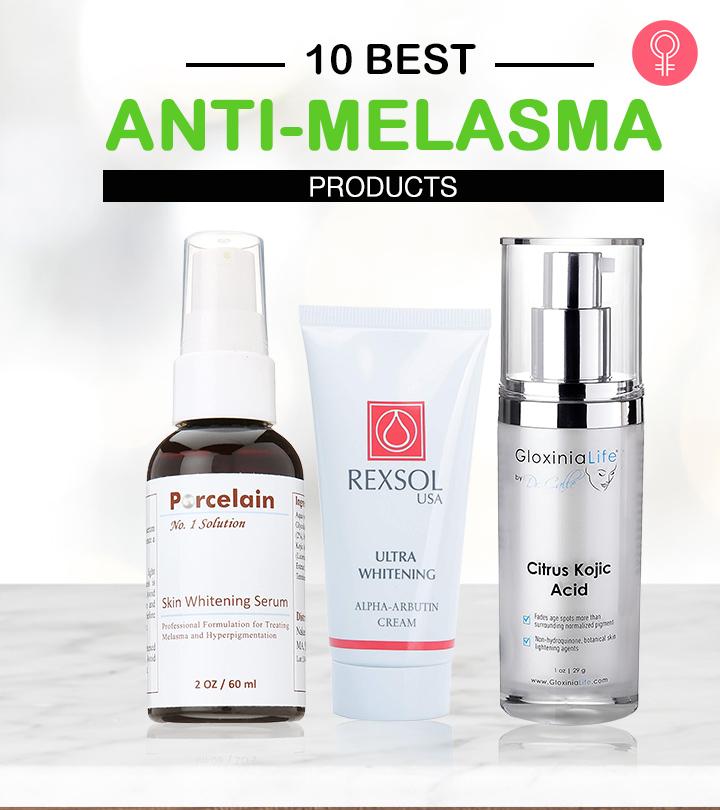 Melasma is a common skin problem. It results in skin discoloration, dark spots, and patches due to accumulated melanin. It appears as brown or gray skin patches or spots and can be seen on the cheeks, forehead, bridge of the nose, chin, upper lip, forearms, and neck. Women are more prone to melasma than men, and this condition can be especially common during pregnancy (1). While dermatologists recommend a combination of prescription-strength medications and in-office treatments to treat melasma, you can also use certain over-the-counter products to fade these marks and prevent melasma. In this article, we have listed the 10 best anti-melasma products that can help you deal with this condition. Check them out!
10 Best Anti-Melasma Products
Novobey Anti-Melasma Cream lightens the skin to fade spots and blemishes. It brightens the skin tone and improves skin dullness. It also improves the appearance of age spots, wrinkles, fine lines, scars, and discoloration. It contains a combination of rich nutrients that deeply nourish the skin and make it smoother. It is made from pure natural ingredients that are easily absorbed by the layers of the skin. It does not cause irritation, although it is advised to perform a patch test before full-fledged use.
Pros
Fades dark spots
Reduces dark pigmentation
Makes skin soft
Reduces fine lines
Reduces light freckles
Lightweight 
Cons
May not work on all skin types.
May leave some skin types dry
The Insta Natural Dark Spot Corrector helps reduce blemishes, acne scars, sunspots, and hyperpigmentation marks. It contains niacinamide, which helps strengthen the skin barrier while also controlling any redness and discoloration. Glycolic acid helps exfoliate dull skin cells and boosts cell regeneration, leaving you with bright and healthy skin. The natural ingredients in the formula offer anti-aging benefits to reduce wrinkles and fine lines as well. The stem cell technology contained in this serum helps provide an even-toned and radiant complexion. It also helps keep your skin hydrated and nourished.
Pros
Suitable for all skin types
Paraben-free
No harsh preservatives
Cruelty-free 
Cons
May increase skin sensitivity
The M&M Beauty Best Age Spot Remover is an anti-melasma cream that is recommended by doctors. It is one of the most potent OTC dark spot corrector creams available on the market. The smooth, lightweight formula contains several nourishing ingredients like lavender oil, aloe, grape, and rose water. Apart from freckles, the cream is also effective on acne scars, sun spots, dark spots, and rosacea. The formula contains 2% hydroquinone, so be sure to test it on your wrist or arm beforehand.
Pros
Powerful formula
Contains 2% hydroquinone
Cruelty-free
 Cons
The Instaderm Dark Spot Corrector Cream has a moisturizing and highly effective formula that helps lighten, brighten, and whiten the skin. It is free of hydroquinone and contains no harsh chemicals. The gentle formula helps reduce signs of discoloration on the skin. The cream helps visibly reduce and fade acne scars, age spots, sun spots, freckles, etc. With regular use, it helps make your complexion more even-toned and youthful.
Pros
Dermatologist-recommended
Suitable for all skin types
No harsh chemicals 
Cons
May irritate sensitive skin
Melloderm-HQ is an anti-melasma cream that contains 2% hydroquinone. This topical gel decreases the formation and accumulation of melanin in the skin or its surface. It is also used to lighten dark or over pigmented areas of the skin, like age spots, melasma, and freckles. It also helps even out the skin tone and balances the complexion. It should be applied to the skin at night. If you have sensitive skin, do a patch test before applying the cream to your face. If you notice any redness, irritation, or burns/tingling, consult a dermatologist.
Pros
Reduces and fades spots
Evens skin tone
Lightens complexion
Doesn't dry out the skin 
Cons
Packaging issues
Very less quantity 
Rexsol Ultra Whitening Alpha-Arbutin Cream is an ultra-whitening cream that significantly reduces skin hyperpigmentation. It improves skin tone and also reduces wrinkles and fine lines. It removes the appearance of all types of discoloration, like melasma, dark spots, and hyperpigmentation. This cream contains an exclusive formula that combines nature's more effective whitening ingredients to clear spots and discoloration. It contains alpha arbutin that brightens the skin and reduces excess pigmentation and spots. It is a faster and safe option for skin whitening.
Pros
Fades discolored skin
Improves skin tone
Reduces dark spots
Anti-wrinkle properties
Minimizes liver spots 
Cons
Dimore Dimollaure Herbal Whitening Cream is made from a natural biological essence that helps remove acne spots, excessive pigmentation, freckles, and spots. It whitens spots and blemishes. It contains ingredients like aloe vera, freesia, lotus, white ginseng, licorice, daisies, lilies, and olive oil. These ingredients prevent the skin from producing too much melanin. This cream also regulates cell regeneration and increases repair capabilities. It prevents any spots or marks from regenerating on the skin and makes it soft and smooth.
Pros
Reduces dark spots
Fades fine lines and wrinkles
Leaves the skin smooth
Fades freckles 
Cons
Less quantity
Does not suit sensitive skin.
May cause itchiness and redness.
Pekas Cream helps treat melasma and highly pigmented skin. It lightens and evens out the skin tone and helps lighten hyperpigmented skin that has been caused by extreme sun exposure. The cream contains a mild combination of products to achieve the best results and maximized benefits. It helps reduce the signs of aging like wrinkles and fine lines. It also helps reduce discoloration or hyperpigmentation, dark spots, and blemishes. This cream is safe for pregnant and lactating women. It can be used with sunscreen. It is clinically and dermatologically tested and prescribed.
Pros
Helps lighten the skin tone
Reduces fine lines and wrinkles
Reduces discoloration
Soothes skin
Clinically and dermatologically tested 
Cons
May not suit all skin types
Vincere Anti-Melasma Cream helps reduce and fade freckles, dark spots, and discoloration. It is enriched with active ingredients that protect the skin from the harmful UV rays and the damage caused by them. It does this by slowing down melanin production gradually. The 'Nano Size Formula' penetrates into the deeper layers of the skin. This directly attacks and reduces freckles, dark spots, and discoloration. The cream also enhances skin clarity and promotes a luminous complexion. It moisturizes the skin and diminishes fine lines and wrinkles.
Pros
Lightens spots
Lightweight
Fades the signs of aging
Moisturizes the skin 
Cons
Porcelain Skin Whitening Serum is professionally formulated with effective ingredients that help treat melasma. This serum helps reduce or fade age spots, brown spots, freckles, sun spots, acne scars, and uneven skin tone. It contains over 97% high-quality natural ingredients. The serum contains hydroquinone, which is approved by the FDA and often used in the treatment of melasma. It helps reduce brown patches and other skin discoloration. It prevents any future damage to the skin by protecting it with antioxidants from botanical extracts. The serum also contains kojic acid, glycolic acid, and licorice root extracts. Kojic acid helps inhibit melanin production, which helps prevent continuous discoloration or spots. Glycolic acid helps in cell turnover rates. It also removes unhealthy or abnormal layers of superficial skin cells where hyperpigmented cells collect. The licorice root extract helps prevent aging, rosacea, and hyperpigmentation. This cream is suitable for all skin types. It does not contain artificial fragrances, parabens, phthalates, and sulfates. 
Pros
Paraben-free
Sulfate-free
Phthalate-free
No artificial fragrance
Reduces the effects of chemical peels
Works like an exfoliator
Improves skin tone and texture 
Cons
May cause breakouts.
May cause allergic reactions.
Does not suit all skin types
[ Also Try – Cosrx Centella Blemish Cream ]
Note: Use all the above products with a sunscreen or sunblock to help treat melasma.
Here are a few factors you need to consider before buying an anti-melasma cream or serum.
How To Choose The Best Melasma Cream Or Serum: A Buying Guide
Check If It Suits Your Skin Type: There are a variety of creams and serums available to treat melasma. You need to find the right cream for your skin type – whether you have dry skin or sensitive skin. It is best to consult your dermatologist. Also, do a patch test on the back of your neck or your arm to check if the product suits your skin.
Check The Ingredients: Most anti-melasma products contain hydroquinone, alpha hydroxy acids (glycolic acid), antioxidants, alpha-arbutin, or kojic acid. Hydroquinone is one of the most common ingredients that inhibit melanin production. Anti-melasma creams usually contain 0.1-2% of hydroquinone. However, it can cause skin irritation. Antioxidants protect your skin from sun damage and free radicals. Alpha-arbutin is a skin lightening agent that works by reducing melanin production. Most skin lightening products contain kojic acid, which lightens sun damage, age spots, and scars and has anti-aging effects. Choose a product depending on your skin's sensitivity to the ingredients.
Read Reviews: Go through reviews on various websites to understand how well the product works. It can give you an idea of which skin type suits the product.
Other Benefits: Some anti-melasma products come with additional benefits like reducing freckles and diminishing black spots.
Note: There has been some debate on the safety of using hydroquinone. While some dermatologists say it is alright to use 2% hydroquinone, others say it is better to lay off it completely. Over the counter products may contain 2% hydroquinone, and higher concentrations require prescriptions.
Conclusion
Remember, you need to be patient while using any of the above products, and it may take anywhere between a few weeks to a few months before you see results. When it comes to treating melasma, maintenance and patience are important. Pick any of the above products and be consistent with your routine to notice visible changes.
Expert's Answers For Readers' Questions
Who can be affected by melasma?
People with darker skin tones are more prone to melasma. Melasma may also pass through blood relatives.
What causes melasma?
There is no definitive cause of melasma. It most likely occurs when melanocytes overproduce pigmentation. People with darker skin tones are more prone to melasma as they have more active melanocytes. A few common triggers of melasma are sun exposure, hormonal changes, and irritation from skin products.
Recommended Articles
The following two tabs change content below.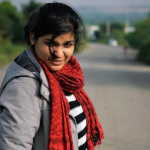 Anjali Sayee is a writer and an introvert. From studying Aeronautical Engineering and wanting to design her own airplane to writing articles on hairstyles, she has been on quite a journey. She believes that hair is one of the key factors that define a woman's personality. To quote her, "What's the first thing they do in the movies to show a personality change? Change the hair – because it has a life of its own." She's here to help you find the hairstyle you need. This bookworm is a self-professed Wholocker, a talented drummer, and an amateur photographer.