15 Best Water Flossers For Healthier Gums And Teeth
Eliminate common dental problems easily and effectively with a powerful jet of water.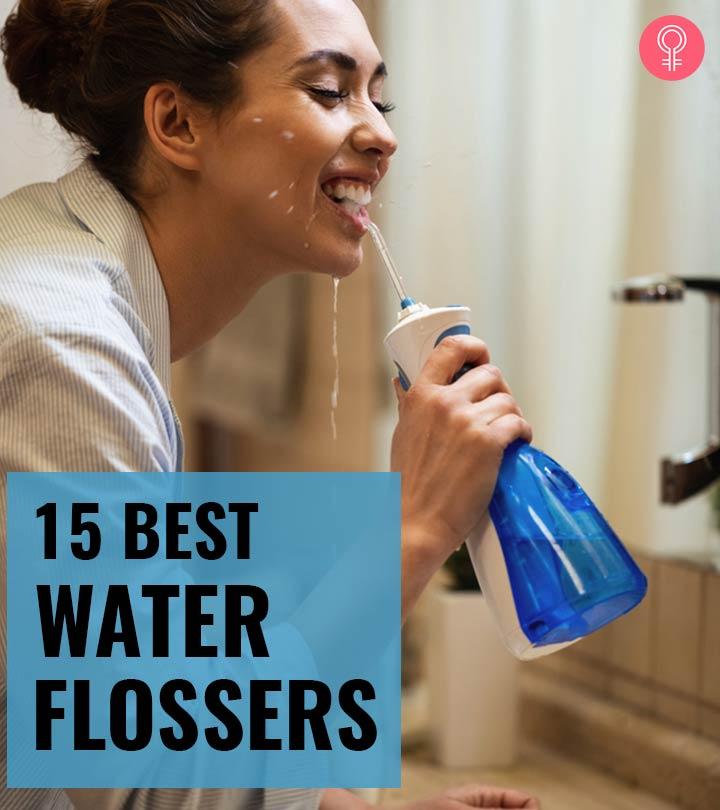 Although regular dental floss can give you clean teeth and gums, they may not always be safe, especially for people with sensitive gums. This is why we have prepared a list of the 15 best water flossers for teeth cleaning that are available online. So what are you waiting for? Go ahead and check out the list, and pick the one that fits your needs.
15 Best Water Flossers
The Waterpik Water Flosser is a professional-grade product accredited by The American Dental Association (ADA). It can hold 22 ounces of water and offers 90 seconds of water flow capacity with no filling required. It includes an on/off switch on the handle. It has a 1-minute and 30-second timer. It cleanses the area between your teeth, and your gumlines to maintain optimum dental wellness. It removes 99.9% of the plaque and reverses symptoms of gingivitis, preventing its progression to more serious gum disease and teeth loss effectively..
The modern device is equipped with advanced technology that stimulates gums and massages them gently. The unique combination of pulsations and water jet pressure removes harmful bacteria that traditional toothbrushes cannot reach. The flosser has enhanced pressure with 10 settings, ranging from 10 psi to 100 psi. The built-in timer can customize the flossing time with a pause between 30 seconds and 1 minute. It delivers 1400 water pulses per minute for cleaner teeth. It also works on dental braces. This video takes you through this product's details.
Pros
Cleans 99.9% plaque
Clinically proven
ADA-approved
Massage mode for gums
Ensures proper blood circulation
High volume reservoir
Dishwater-safe tank
Suitable for the entire family
Cleans around braces
Easy to store
Easy to use
Cons
None

Price at the time of publication: $76.3
The Hangsun Professional Cordless Water Flosser is an upgraded design that uses a combination of high pressure and pulse flow technology to clean the areas between the teeth and gums. It has normal, soft, and pulse modes that suit normal to sensitive gums. The detachable water tank can hole up to 300 ml of water. It thoroughly cleans the limescale (chalky deposition) and dental plaque to improve oral health.
It has 3 modes of operation and 4 detachable nozzles that ensure good oral health for the entire family. The IPX7 waterproof design provides both internal and external protection. The 360° rotatable nozzle allows you to clean the difficult-to-reach areas that are important for maintaining dental hygiene. The cordless design is lightweight and travel-friendly.
Pros
Waterproof design
Leakage-proof
USB rechargeable design
Lightweight and travel-friendly
Designed for long-term use
Cons
May be very powerful if not used rightly
Price at the time of publication: $26.99
The Cremax Portable Water Flosser is made with the latest pulsation technology that removes 99% of plaque. It makes minimal noise. It has four different modes – normal, soft, and pulse for effective plaque removal and teeth whitening.
The flosser has a compact design with an upgraded 300 ml reservoir that can offer longer flossing. The IPX7 waterproof design makes it safe to use in the shower and also prevents leakage. The 1800 pulses per minute offer deep cleaning. The 360° rotatable nozzle allows you to clean the difficult-to-reach areas easily. The flosser comes with 4 additional jet tips along with a long-lasting battery and a USB cable.
Pros
360° rotatable nozzle design
1800 pulses per minute
Easy operation
Long-lasting battery
Cleans around braces
Cons
None
Price at the time of publication: $34.99
YaFex Water Flosser is a portable device that helps you remove food debris from your mouth and promote healthy gums. It has three water adjustment modes, the normal, soft, and pulse modes to make it convenient for you to customize your water pressure according to your dental needs.
A friend to your sensitive gums, this water flosser focuses on cleaning deep between your teeth and below the gumline. The pack comprises one periodontal jet tip for periodontal pockets, one nasal rinse tip for the nose clean, and one tongue cleaner tip which removes debris from the tongue. If you're looking for a water flosser that will also help you maintain fresh breath, this product should be on your top list. For a more detailed review of this product, here's a video.
Pros
Compact
Portable
USB charging
5 multifunction water jet tips
Suitable for sensitive gums
Cons
Price at the time of publication: $27.99
The Bestope Water Flosser provides professional teeth care management for the entire family. It has a 300 ml detachable water tanker that offers uninterrupted water flossing for overall oral hygiene. It is intelligently engineered with five different cleaning modes with memory function and low-noise performance.
The soft mode is for super sensitive gums and teeth, the low mode is for people who are under an orthodontic process, the medium mode is for deep cleansing the areas in between the teeth, the high mode has a strong water pressure and is meant for efficient cleaning, and the super-high mode has a high-frequency pulse for deeper cleaning. The IPX7 waterproof design is safe for bathroom use and helps prevent accidents. The flosser has 8 different nozzles with a 360° rotation for multi-angle cleaning. It comes with a USB cable and a carry bag. Know more about this product in this video.
Pros
300 ml detachable water tanker
Waterproof design
Safe for bathroom use
Two-way water fill tanker
Travel-friendly
360° rotational nozzle
Cons
Not leakproof
The button placement is not optimal
Not a long-lasting battery
Price at the time of publication: $29.99
Keep your teeth healthy with the Initio Water Flosser. You can now take care of bleeding gums, teeth decay, bad breath, braces, dental implants, dental calculus, and periodontal pockets with this multifunctional device. The flosser has 2 operation modes and 10 adjustable pressure settings with a range of 25-120 psi. It comes with a detachable 600ml water tank capacity to offer uninterrupted 90 seconds of service. In addition, the device has six multifunctional tips: 2 tongue scrapers, 3 standard nozzles, 1 orthodontic tip, and a pocket tip. The fully rotating nozzle reaches each corner and the 1400 pulses per minute offers you deep cleaning. Moreover the pocket tip helps to clean efficiently below the gumline for a full cleaning experience.
Pros
360° rotatable nozzle design
Uninterrupted 90 seconds of use
Easy operation
Detachable tanker
Cleans around braces
Cons
None
Price at the time of publication: $28.99
H2ofloss Water Flosser is equipped with a patented gravity ball design that ensures smooth waterflow irrespective of the direction the floss is placed. It comes with five water settings: super high, strong, medium, soft, and low. In addition, it has six multifunctional tips: orthodontic tip, periodontal tip, 2 jet tips, toothbrush tip, and tongue cleaner. The powerful 2500Mah lithium battery allows you to use the device for 10 to 15 days on full charge. A 300ml detachable water tank encourages essay filling and cleaning of the tank. Moreover, it comes with an adapter, user manual, and a storage bag.
Pros
Long-lasting battery
360° rotatable nozzle
Lightweight
Waterproof design
Rechargeable battery
LED indicator
Portable
Cons
Price at the time of publication: $33.98
The Turewell Water Flosser is a heavy-duty device. It comes with a 600 ml water holding capacity for uninterrupted cleaning. It offers 90 seconds of continuous water flow. It has a 3-minute smart timing function that auto-stops the irrigation process to prevent any tooth damage. It seamlessly adjusts 10 pressure settings to find the most comfortable pressure for each family member. The unique oral irrigator adjusts the water pressure from 30 to 125 psi to protect from the sudden water flow. The flosser comes with 1250 to 1700 times/minute water pulsation. It helps remove plaque, debris, and food remnants between the teeth.
Pros
Removes 99.9% debris
Leakage-proof
Smart design
3-in-1 design lead
Ergonomic handle
Smart timer
Large tank capacity
Easy to clean
Durable
Cons
Heavy
Not travel-friendly
May show variable speed at times
Price at the time of publication: $39.99
The Mornwell Water Flosser is a cordless device. It comes with pulsation technology that blasts away almost 99% of the plaque, food remnants, and dirt between the teeth. It maximizes oral health by providing you with a fresh breath. It has a leakage-proof, IPX7 waterproof, and a 150 ml full-opening water tank that allows longer cleaning time. It comes in 3 modes: normal, soft, and pulse, which enable proper cleaning from all angles. The flosser's long battery life enables 2 weeks of usage on a single charge. Its compact design makes it travel-friendly. The flosser easily fits into your travel backpack. It is suitable for people who wear dental equipment, including braces.
Pros
Long battery life
Cleans 30 times on a single charge
Waterproof
Leakage-proof
Travel-friendly
Suitable for the entire family
Auto-timer protection
Easy to use
Cons
Price at the time of publication: $23.99
The Burst Water Flosser comes with three adjustable water pressure settings, standard, turbo, and pulse. It is useful in dislodging food and bad bacteria from your gums that cause bad breath. It can also help you in stimulating blood circulation by effectively massaging your gums.
This compact water flosser comes with a protective storage bag and can be used during travel. The adjustable tips of the flosser is a boon for people with braces or dental issues. Make this flosser part of your oral care routine for enhanced teeth and gum health.
Pros
Uses cordless motor
3 adjustable pressure settings
Stimulates blood circulation
Includes 360-degree rotating tips
Storage bag
Travel-friendly
Cons
Might not be suitable for sensitive gums
Price at the time of publication: $48.98
The Sammix Dental Oral Irrigator is a professional-grade water flosser certified by FDA. It is specifically meant for those with braces. It comes with a 600 ml leakage-proof detachable water tanker that holds a large amount of water for continuous flossing.
The non-slip design of the irrigator with a vacuum suction bottom makes it hold onto a smooth surface. The flosser has 10 adjustable cleaning modes with 30-125 psi/secs water pressure for a smooth operation. The upgraded pulsation technique allows the water to pulse up to 1700 times/minute and flashes out all the debris between the teeth, cleansing the mouth and gums. The flosser is compact. It comes with a flexible hose.
Pros
Large capacity tank
Leakage-proof
Anti-slip bottom
Ensures deep teeth cleaning
Adjustable pulse pressure
Compact
Takes care of teeth braces
8 dental tips
Cons
Price at the time of publication: $39.99
The Panasonic Cordless Dental Water Flosser uses a pulsing jet water stream to reach the deep sockets in your mouth, along with your teeth and the gumline. It has two-speed settings – high-speed pulsing for normal gums and low-speed pulsing for sensitive gums. The targeted jets of water remove food particles and plaque from your teeth. The device offers 40 seconds of water flossing. It has an easy-to-fill water tank that can accommodate 5.5 ounces of water.
Pros
Easily fits into a small bag
Travel-friendly
Cordless, collapsible design
Easy to use
Battery-operated design
Cons
None
Price at the time of publication: $29.71
The MySmile Cordless Oral Irrigator comes with a powerful 1800 mAh lithium battery that lasts 15-20 days when fully charged. This device cleans your mouth according to your needs. Its versatile cleaning modes include strong, normal, soft, pulse, and child modes for safety. You can click on any one of the modes and get started on removing food residue from your teeth, and catering to bad breath, or leftovers stuck on the surface of your tongue.
This water dental flosser also takes care of your dental problems and caters to tooth decay, plaque, dental implant, etc. Its 360-degrees rotating nozzle easily cleans areas that are too difficult for traditional toothbrushes and jet dental flosser to reach.
Pros
360-rotating nozzle
Easy to use
5 cleaning modes
Travel-friendly
Cons
Price at the time of publication: $61.99
The Nicefeel Cordless Water Flosser is equipped with a detachable 300 ml water reservoir. With its patent waterproof drainage design, this device is perfect for uninterrupted and clutter-free dental flossing. It works at an 1800 times/minute high-pressure water pulse and has four extra jet water flossers. The powerful pulse technology flushes out 99.9% bacteria, plaque, and debris between the teeth. The dental care device has three modes – normal, soft, and pulse. A powerful battery with a USB port enables 20 days of uninterrupted functioning with just a single charge.
Pros
Long-lasting battery
360-degree rotating nozzle
Comes with a storage bag
Ergonomic design
300 ml water tank
Uninterrupted function
Waterproof
Cons
Not suitable for sensitive gums
Price at the time of publication: $25.32
Clean your teeth and improve gum health with the Nicwell Smart Oral Irrigator. It is equipped with four operation modes – soft, normal, pulse, and custom and effectively removes even smaller particles hidden between your teeth. It offers 1400-1800 pulses per minute and runs for 10-15 days on full charge. It also comes with five interchangeable jet tips: a tongue scraper, orthodontic tip, periodontal pocket tip, and two standard nozzles. The IPX7 water-resistant design allows you the flexibility of using water floss when showering. Additionally, a unique pulsation technology promotes strong water pressure to remove invisible particles between teeth and massage the gums.
Pros
Lightweight
Waterproof
Rotatable nozzle
Ergonomic handle
Portable
1-year warranty
Cons
May not be suitable for sensitive gums
Adapter not included
Price at the time of publication: $39.99
These are the 15 best water flossers to buy online. In the upcoming sections, we have further discussed water flossers. Read on to learn more about these dental solutions.
What Is A Water Flosser?
An electric water flosser is a home dental care device that uses a stream of high-pulsation water to flush out plaque, debris, and food remnants between the teeth. Studies show that regular flossing could be effective in reducing plaque biofilm and pathogenic bacteria from the tooth surface or from oral pockets as deep as 6mm (1), (2).
A 2009 study at the University of Southern California Central for Biofilms found that a 3-second mouth flossing using an orthodontic jet tip removed 99.84% of the salivary biofilm and 99.9% of plaque biofilm (3).
How Does A Water Flosser Work?
The cleaning power behind the water flosser is a combination of water pressure and pulsations. As per the American Dental Association, flossers with ADA Seal of Acceptance can get rid of plaque. The water from the flosser teeth cleans away harmful plaque and food debris when pointed at the gum line and the areas between the teeth.
Let us scan through the benefits of a water flosser.
Benefits Of A Water Flosser
It is very simple and enjoyable to use compared to regular string floss.
The adjustable pressure and angled tip offer a comfortable way to flush out debris.
The jets of water help remove plaque and food remnants from the smallest of oral gaps.
A water flosser serves multiple purposes. Different types of nozzle heads clean the tongue, teeth, dental plaque, and gum lines. They also remove debris from the braces.
There are different types of water flossers for plaque prevention and teeth maintenance on the market. Let us take a look at each.
Types Of Water Flossers
1. Cordless Flossers 
These flossers are ideal for travelers. They are easy to use and less noisy when compared to other flossers. They are lightweight and compact. But these dental appliances have limited features and require a regular battery change.
2. Countertop Flossers 
Countertop water flossers are the most common. They have multiple settings with advanced features. The device has a water tank connected to the flosser. The pressure levels are higher compared to other flossers. But you need a power source to plug in these devices in your regular dental routine. Also, they are not travel-friendly.
3. Faucet-Fed Flossers
These flossers can be attached to sinks or showers. They are non-electric flossers, making them an excellent choice for travelers. But these devices come with limited settings with very little motor power.
Now that you know everything about water flossers let us look into the features you need to consider before buying one.
Things To Consider Before Buying A Water Flosser
1. Pressure Settings
Having multiple (adjustable) pressure settings is important, especially for people with sensitive gums. These settings help you adjust the water flow according to your choice. Most water flossers come with three pressure settings for normal and sensitive gums. Top-end water flossers come with high-pressure tips. Choose the pressure setting depending on the sensitivity of your gums and teeth.
2. Water Reservoir Capacity
Water flossers with large water tanks allow for longer and uninterrupted flossing. You don't have to refill the tank multiple times. But these devices are tough to carry, and the leftover water needs to be disposed of.
A regular detachable or cordless water flosser has minimal features with very less water capacity but is extremely travel-friendly. In that case, 300 ml water tanks are perfect.
3. Tip
If you are choosing a countertop flosser for your entire family, purchase one that comes with replaceable tips. But if it is for individual use, you can pick a basic cordless flosser that comes with at least one extra tip.
4. Size
One important question to ask yourself before considering the size of a flosser is if you are looking for a portable device. If you travel frequently, choose a cordless water flosser that does not take a lot of space in your bag.
But if you need a water flosser for your entire family, choose a countertop water flosser that can accommodate 600 ml of water. It comes with a broader base and can take up good storage space.
Why Trust StyleCraze?
Aditi Naskar, the author, has a diploma in health & wellness. She has curated this list of best water flossers after checking hundreds of user reviews and online feedback. Water flossers are best for people with sensitive gums. She has considered the safety parameters and ease of use before picking these dental products from reputed water flosser brands.
Frequently Asked Questions
How often should you do water flossing?
Water flossing can be done once a day.
Is it better to floss or brush first?
It is better to floss first, followed by brushing. Flossing removes the tartar and debris stuck between the teeth. This makes brushing afterwards more effective.
Can I use mouthwash in the flossing device?
Yes, you can use mouthwash in the flossing device.
Can Waterpik damage your teeth or gums?
No, Waterpik does not damage teeth or gums if used once a day. It helps flush out all the food particles between the teeth.
Can I scrape plaque off my teeth?
Scaping plaque off your teeth can harm the tooth enamel and damage it.