10 Best Water Flossers You Can Buy In 2020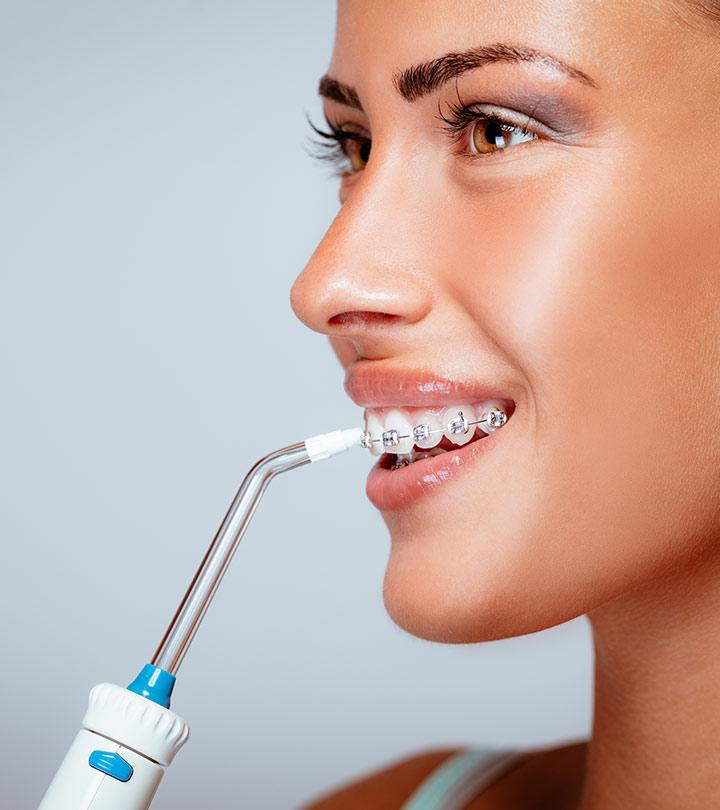 Are you still using a string to floss your teeth? It's time to move on to something more hygienic, effective, and automatic. While a regular dental floss can clean your gums and teeth thoroughly, it is not entirely a safe process, especially for people with sensitive gums. To avoid the pain or possible bleeding, we have curated a list of 10 best water flosser 2020.
A water flosser is the surest way to improve your oral hygiene with zero risks. Check out the types of water flossers below.
Types Of Water Flossers
There are three types of water flossers that are commonly used.
1. Cordless Flossers
These flossers are for travelers. They are easy to use and less noisy compared to other flossers. They are lightweight and compact. But, they have limited features and require a regular battery change. It is the best cordless water flosser 2018.
2. Countertop Flossers
Countertop water flossers are the most common kind. They have multiple settings with advanced features. The device has a water tank connected to the flosser. The pressure levels are higher compared to other flossers. But, you need a power source to plug in these devices. Also, they are not travel-friendly.
3. Attachable Flossers
These flossers can be attached to sinks or showers. They are non-electric flossers, making them an excellent choice for travelers. But these devices come with limited settings with very little motor power.
Let's now look at the top 10 water flossers you can buy.
Top 10 Water Flossers To Buy In 2020
This water flosser is a professional-grade product. It includes an on/off switch on the handle. It has a 1-minute and 30-second timer. It cleanses deep between your teeth and the gumline. It takes just a minute of your time each day. The unique combination of pulsations and water jet pressure removes harmful bacteria that traditional toothbrushes cannot reach. The water jet spray for teeth cleans even the dental braces.
Pros
Eliminates plaque
Cleanses around the braces
Improves gum health
Easy to store
Contains different modes
ADA-approved
Cons
None
This water flosser is packed with multiple features. It is a cordless and rechargeable product that can be used in your shower. It is equipped with a quiet motor that makes 68% less noise compared to other water flossers. The water cabinet can fill up to 150 ml of water from two ports. The flosser flushes the bacteria effectively from the deep pockets along your gumline.
Pros
Universal voltage
Auto shut-off
Has three water jet stream modes
Travel-friendly
Cons
None
The Panasonic Portable Oral Irrigator uses a pulsing jet water stream to reach the deep sockets along with your teeth and gumline. It has two-speed settings – high-speed pulsing for normal gums and low-speed pulsing for sensitive gums. The targeted jets of water remove food particles and plaque from your teeth. The device has an easy-to-fill water tank that can easily accommodate 5.5 ounces of water. It is the best portable water flosser.
Pros
Easy to use
Portable
Three pressure settings
Suitable for normal and sensitive gums
Cons
This upgraded design uses a combination of high pressure and pulse flow technology to clean the areas between the teeth and gums. It has three modes – normal, gentle, and pulse modes to suit normal and sensitive gums. The 360° rotatable nozzle allows you to clean the difficult-to-reach areas easily.
Pros
Easy to clean
Waterproof design
Long-lasting battery
Portable
Cons
The charging portal doesn't work properly.
This product is created using air and micro-droplet technology to help eliminate plaque from your teeth. The product claims to remove up to 5X more plaque than a manual toothbrush. It prevents cavities and gives you healthier gums in just two weeks. It is safe for people with veneers, implants, and orthodontics.
Pros
Can use both water and mouthwash
Can store water for up to 2 uses
Cleanses in just 30 seconds
Cons
This water floss machine has three pressure points – normal, soft, and pulse. The normal mode is for cleansing deeply between teeth, the soft mode exerts gentle pressure for cleaning sensitive teeth, and the pulse mode is for massaging your gums. The device has a removable reservoir for easy cleaning and clutter-free refills.
Pros
Safe for braces and veneers
Travel-friendly
Universal USB 5V charging
Cons
This water flosser is equipped with a detachable 300 ml water reservoir. With its patent waterproof drainage design, this device is perfect for uninterrupted and clutter-free dental flossing. It works at 1800 times/minute high-pressure water pulse and has four extra jet water flossers. The device has three modes – normal, soft, and pulse modes.
Pros
Long-lasting battery
360° rotating nozzle
Cleanses 99.99% plaque
Comes with storage bag
Cons
Not suitable for sensitive gums
Ailife Fort Water Flosser is designed especially for dental plaque and periodontitis. It has three replaceable nozzles that are suitable for normal and sensitive gums. The detachable water reservoir can store up to 278 ml. This device has a USB interface charging portal, which is compatible with various charging options. Ailife Fort is the best travel water flosser.
Pros
Comes with a storage travel bag
Long-lasting battery
Suitable for adults and kids
Safe for braces
Cons
No light indication for charging
Homegeek Water Flosser uses a unique combination of water pressure and pulsations for effective oral dental flossing. It reduces gingivitis by 61%, as compared to other water flossers. The device features 10 water pressure settings to suit different gum sensitivities. It comes with seven multifunctional jet tips to remove plaque from the corners and deepest sockets of your teeth.
Pros
1250-1700 times/min water pulse
600 ml of a water reservoir
Includes a tongue cleaner
Cons
This water flosser is designed to reduce gingivitis with its 1,600 pulses per minute jet water stream. It uses a combination of water pressure and pulsations to clean the deepest areas underneath your teeth and below the gums, where regular string flossing can't reach. The device has three modes for rinsing your teeth and massaging gums.
Pros
Easy to clean
360° tip rotation
Dual voltage
Cons
Now that you know about the top 10 water flossers available on the market let's look into the features you need to consider before buying one.
Things To Consider Before Buying A Water Flosser
1. Pressure Settings
Having multiple(adjustable) pressure settings is mandatory, especially for people with sensitive gums. These settings help you operate the steam flow according to your choice. Most water flossers come with three pressure settings for normal and sensitive gums. Top-end water flossers come with high-pressure tips. Choose the pressure setting depending on the sensitivity of your gums and teeth.
2. Water Reservoir Capacity
Water flossers with large water tanks allow for longer and uninterrupted flossing. You don't have to refill the tank multiple times. But these devices are tough to carry, and the leftover water needs to be disposed of.
A regular detachable or cordless water flosser has minimal features with very less water capacity but is extremely travel-friendly. In that case, 300 ml of water tanks are perfect.
3. Tip
If you are choosing a countertop flosser for your entire family, purchase one that comes with replaceable tips. But if it is for individual use, you can pick a basic cordless flosser that comes with at least one extra tip.
4. Size
One important question to ask yourself before considering the size is whether you want a portable flosser or not. If you travel frequently, choose a cordless water flosser that does not take much space in your bag or that which comes with a storage bag.
But if you need a water flosser for your entire family, choose a countertop water flosser that can accommodate 600 ml of water. It comes with a broader base and can take up good storage space.
Our aim was to help you save time in selecting the best water flosser from tons of brands out there. With the information provided in this article, you can select the perfect and reliable water flosser that suits your needs. Pick a product, try it out, and let us know how it worked for you by commenting below.
Recommended Articles
The following two tabs change content below.

Latest posts by Pooja Karkala (see all)

Pooja Karkala
Pooja is a Mass Communications and Psychology graduate. Her education has helped her develop the perfect balance between what the reader wants to know and what the reader has to know. As a classical dancer, she has long, black hair, and she knows the struggle that goes into maintaining it. She believes in home remedies and grandma's secrets for achieving beautiful, luscious hair. When she is not writing, she learns Kuchipudi, practices yoga, and creates doodles.