The 15 Best Long-Handled Bath Brushes- Buying And Review Guide – 2023
Cleanse the hard-to-reach body parts quickly while showering with these tools.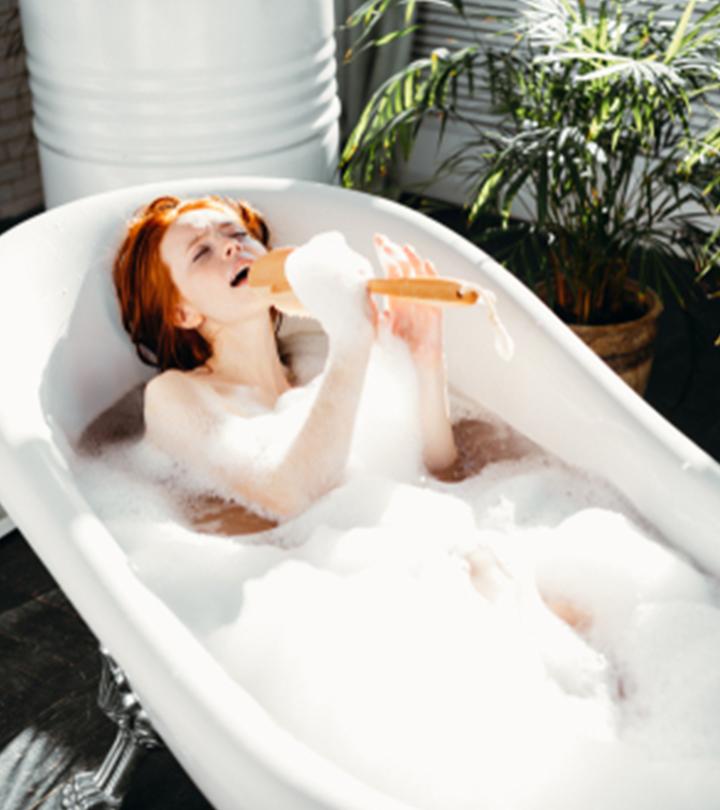 A long-handled bath brush is particularly crafted to assist in exfoliating dead cells and removing impurities, especially from your back. It smoothly reaches hard-to-reach places. The best long-handled bath brush enhances blood circulation, sheds off the dead cells, and tones your skin. In addition, these bath brushes eliminate skin irritations, pore blockage, stimulate the skin, and keep your skin clean. You can use this bath brush for regular exfoliation.
With so many bath brushes available in the market, it can be difficult to narrow down on just one. So, to help you out, we have compiled a list of the best of them. Let's check out the 15 best bath brushes that will make your bath time easier and your skin cleaner. Keep scrolling!
Top 15 Best Long-Handled Bath Brushes
Sometimes the simplest of bath techniques can be the most effective. This premium bath brush can clean your back deeply, exfoliating every inch of your skin removing pore blockage and skin irritation. Promoting great skin health, this is great if you have sensitive skin. It is lightweight and its long curved handle helps you reach hard-to-reach areas making it easier for you to bathe. Another point to note is, that the handle is super durable, so you won't have to rush to the nearest store to buy yourself a new one, anytime soon!
Pros
Soft nylon bristles that help exfoliate your skin
Improves skin condition by promoting blood circulation
Can be used wet or dry
Sturdy and convenient to use
Cons
Can be challenging to grasp at times
Price at the time of publication: $6.99
Are you looking for a perfect set of exfoliating body brushes? With Vive Shower Brush, you can experience a spa-like treatment at home! Recommended for daily use, its natural boar bristles are extra soft and safe to use on all skin types. Suitable for use on body and face, it helps eliminate patches of rough skin, cleanses, and also improves circulation. The small bristles can make your face and neck look smoother and softer, giving it a glowing appearance. Convenient to hold, the dual brushes for wet and dry brushing are great to clean hard-to-reach areas such as the feet and back. Its handle is proven to be durable and will not deteriorate with time.
Pros
Long-lasting with durable handle
Dual brush bristles for wet and dry shower body brushing
Good quality brush for body and face
Cons
Bristles can shed, if not handled properly
The handle can be short for some people
Price at the time of publication: $7.99
Are you having difficulty washing and scrubbing your back in the shower? Look no further than the Vive Loofah Sponge Back Scrubber! Designed with a curved handle, this premium bath brush is a perfect tool to scrub the areas you cannot reach. The attached loofah gently exfoliates, improving the feel and health of your skin. You can use this with your preferred gel, body wash, or shampoo while in the shower or bathtub. It is finally time to bid goodbye to twisting painfully to clean your body!
Pros
Ergonomic design
Loofah mesh is firm
Eliminates dead skin cells
Comfortable and non-slip grip when wet owing to the textured rubber sleeve
Cons
You will need to apply significant pressure for a good scrubbing action
Price at the time of publication: $13.99
You can now enjoy your bathing experience and feel refreshed and energized. All you need to have is this massaging, wooden bath brush! The soft yet firm bristles effectively exfoliate your skin. The advantage of this body scrub brush is that you can use it either wet or dry as the natural boar bristles massage your skin. Using this back scrubber not only brushes off dead skin cells but also improves your body's lymphatic system. If you have sensitive skin, this is a go-to scrub!
Pros
Improves overall circulation
Cleanses pores
Reduces the appearance of cellulite
Handle is ergonomically-designed and durable
Cons
Needs to be rinsed well after each use
Needs to be dried properly
Cannot be exposed to direct sunlight
Price at the time of publication: $18.97
Make your bathing experience energized with the GreenLeaf MAYDZ Long Handle Back Brush. This bath brush comes with soft and firm bristles that help to exfoliate your skin while promoting blood circulation through massage. The long handle of the brush is carefully crafted with water-resistant wood. In addition, the 17-inch long handle helps to smoothly reach all the areas of the body. You can remove the dead skin cells, unclog the pores, stimulate your nervous system, and aid in detoxifying your skin.
Pros
Hanging loop
Non-skid support
Two-way brush
Ergonomically designed handle
Cons
Bristles might shed if it is not used carefully
Are you tired of switching between body bath brushes and loofahs? Here's what you need for the perfect shower experience. Designed using non-stiff bristles for a smooth bathing time, you can reach all difficult spots, reducing patches with rough skin. This curved shower cleaning brush long handle is suitable for skin exfoliation and can be used to rejuvenate sensitive skin types, improve blood circulation, and enhance the health of the skin. On the other side of the brush is the loofah which suds up well to remove dirt and pores.
Pros
Non-stiff bristles
Easy clean-up
Convenient to hang
Cons
No grip on the handle, making it slightly uncomfortable to use
Length of the handle can make it awkward to use
Price at the time of publication: $9.99
Designed primarily for wet brushing, you can enjoy your time bathing as this shower brush from Metene is here for you. The soft and stiff bristles help cleanse the pores and nourish your skin in the best way possible! this long handle scrubber helps in reducing the appearance of cellulite, making your skin look smoother and healthier. If you prefer dry brushing, this is a perfect tool for you to promote circulation and detoxify your body. "Dry brushing is a great way to exfoliate the skin and oxygenate, and increase blood circulation in the body. Dry bushing in the direction of blood flow to the heart to assists with the body's lymphatic and detoxification process," advises Carlee Spath, a licensed Esthetician with over 10 years of experience.
Pros
Beautiful design
Easy to use and store
Non-slippery with four rubber anti-skid buttons
Suitable for sensitive and delicate skin
Cons
Super-long Handle; can get uncomfortable to use
Price at the time of publication: $8.47
The best pampering gift for him or her or even yourself! The natural boar bristles are designed to offer you a smooth spa experience that helps restore the natural texture of your skin. This premium set includes a body brush, face brush, a travel bag, a pair of shower gloves, and is a great way to revitalize your skin after a stressful day at work. So, go ahead and try this, as even regular dry brushing helps in exfoliating the skin naturally, leaving you feeling relaxed.
Pros
Stimulates the lymphatic system
Cleanses pores and removes dirt
Increases circulation
Cons
Price at the time of publication: $19.95
Cleaning your skin can never be ignored, so why ignore the hard-to-reach areas of your body? With TopNotch Body Brush, make showering hassle-free again! Safe for use on all skin types, the long and medium bristles clears pores and removes dirt from your skin, making it look brighter and supple. The durable, long handle is sturdy and can be used for dry skin brushing, scrubbing, and massaging. Available in attractive colors, it can be used by both men and women and works well with your favorite soap or shower gels.
Pros
Ergonomic design
Available in attractive colors
Sturdy and hygienic
Exfoliates the skin making it softer and smoother
Cons
Nylon bristles can be too firm and harsh on sensitive skin
Price at the time of publication: $10.99
When it comes to exfoliating your skin, all you need is a body brush. This dry body brush is known to cure a myriad of skin problems. With its natural boar bristles, this product is perfect for deeply massaging and cleansing. The long bath handle is sturdy and can be used to clean dull, dehydrated skin in hard-to-reach areas. This product also helps reduce the appearance of cellulite and is an ideal brush to increase blood circulation and stimulate the lymphatic system.
Pros
100% natural bristles
Can be used on neck, shoulders, feet, and back
Good quality bamboo handle and eco-friendly
Cons
The bristles can be hard on sensitive skin
Price at the time of publication: $10.99
Are you digging for ways to transform your dull skin? This product is a must-have if you're a fan of using premium bath body brushes. Moderately-sized, the Redecker Beechwood Bath and Shower Brush are designed for women, men, and your entire family. Safe to use with the natural pig bristle fibers, it is a fantastic tool to achieve that radiant, glowing skin. Moreover, this is an all-natural solution to softer skin. This brush is excellent for eliminating dry patches and exfoliating the skin.
Pros
Handcrafted with beech wood
Long handle for multi-purpose use
Hook provides a convenient way to store
Cons
You will need to dry the brush at room temperature
Price at the time of publication: $29.99
Are you looking for a luxe bath brush that helps you scrub hard-to-reach corners? The UTRAX 20" Long Detachable Wooden Bath Brush is the product for you. The long, detachable handle is firmly attached with a secure grip and helps you eliminate dirt and grime from hard-to-reach spots. Designed with natural boar bristles, it helps exfoliate the skin, allowing it to feel and look softer and smoother. These are the bathroom scrubber with handle.
Pros
Long-reach handle
Convenient to use
Natural boar bristles
Cons
The handle can get slippery
Price at the time of publication: $11.99
With a cleansing body brush made of very soft and fine bristles – what else could bath time possibly need? A classic product – G2PLUS Soft Bath Brush gently cleanses your back, neck, shoulders, and other hard-to-reach places. Safe to use on skin, this product helps eradicate dry, rough skin, eczema, back acne, and more. If you want flawless skin, it is time to incorporate this body bath brush into your routine.
Pros
Non-slip handle grip
Versatile in length making it easy to clean hard-to-reach spots
Increases circulation
Cons
The bristles are too soft, it may shed eventual
Price at the time of publication: $9.99
Ever thought how to wash your back in the shower? Have you failed at multiple attempts? With EZ Reach Back Brush, you can now bathe hassle-free! Grab this long-handled brush and let its gentle bristles make you feel rejuvenated. With natural and soft bristles, this shower back brush is a perfect tool to scrub your body to get radiant skin. Avoid the hassle of bending too much with this brush and buff away dead skin cells from the hard-to-reach places too.
Pros
Exfoliates
Removes dead skin cells
Cons
The twisted wires of the handle can make it a bit uncomfortable to hold
Price at the time of publication: $17.19
If you have sensitive skin, a soft bath brush is a must-have for your daily bathing routine. This 3-in-1, long-handled shower brush set comes with interchangeable heads that are uniquely designed to make your skin soft and smooth. It helps clear pores, removes dirt from areas you can't reach, and softens the texture of the skin. It exfoliates the skin and helps eliminate cellulite. So, go ahead and try this extra long handled back brush!
Pros
3-in-1 scrub
Comes with nylon, sponge, and pumice stone brush
Foldable handle
Cons
Can be harsh on the skin if used incorrectly
Price at the time of publication: $14.99
Now that we have seen the 15 best long handled bath brushes, we will understand how to select the right one.
How To Buy Long-handled Bath Back Brushes
Here are a few tips to consider while buying a bath brush:
Handle material: Wooden brushes are preferable as they do not slip off your hands. However, wooden handles need more care as they can deteriorate faster.
Good bristle design: While this can be a personal choice, soft bristles work the best for all skin types considering that bristles can give a tingling feeling and you do not want to scrub hard to turn your skin red.
Handle Size and length: Different products offer a variety of sizes and shapes. Note that larger heads can allow you to scrub more while the smaller ones can help you in applying more pressure to your skin. However, choose the one that allows you to reach hard-to-reach places even if the brushes are curved.
Accessories: If you need more than just one brush, grab a set that offers you more. With smaller and detachable heads, you can choose the perfect mix of bath brushes.
Why Trust Stylecraze?
Vaishnavi Kothuri, the author, is a skin care aficionado who advocates the importance of using long-handled bath brushes for a refreshing shower experience. She prefers using these brushes because they exfoliate dead skin cells and remove impurities. She has gone through various online reviews before curating the list for her readers. According to her, the best part about these brushes is that they eliminate skin irritations, pore blockage, stimulate the skin, and keep your skin clean.
Frequently Asked Questions
How often should you change your bath brush?
Ideally, you must change your bath brush every three months. Replace your bath brush whenever it begins to shed, smell, or appear discolored.
Can you use the bamboo brush in the shower?
Yes, you can use a bamboo brush in the shower. It is a sustainable resource grown without toxic pesticides or fertilizers. Also, a bamboo brush is ideal for wet or dry use because it is inherently waterproof and antibacterial.
How many times a week should you dry brush?
You can use a dry brush 3-5 times weekly.
Does dry brushing help crepey skin?
Yes. Dry brushing helps promote circulation, removes dead skin cells, and improves dull skin. Also, it activates the lymphatic system and removes toxins from your body, treating crepey skin.
How do you clean bath brushes?
• Use warm water and a mild soap or natural disinfectant, such as a solution of tea tree oil, to wash the brush.
• Do not immerse the brush completely in water.
• Rinse the brush, blot any extra water with a towel, or shake it out.
Recommended Articles