10 Best Women's Cashmere Socks Of 2023
Nothing spells classy, casual, and comfy better than Cashmere socks in winters.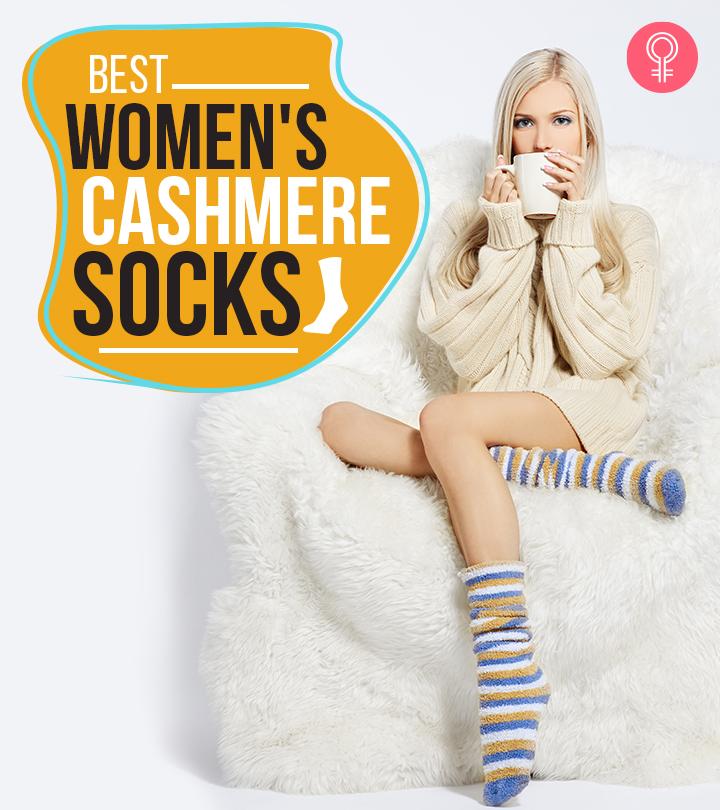 Cashmere as a fiber is eight times warmer than regular wool. Put on the best cashmere socks to stay warm and comfortable this winter. Not only are these socks extremely lightweight and breathable, but they are also very, very cozy! So, whether you are lounging at home near the fireplace or stepping out in the winters. A pair of good quality cashmere socks will keep your feet toasty.
Did you know that Cashmere is a natural fiber obtained from the Pashmina and Cashmere goats of Northern India and Central Asia? Apart from providing optimum insulation, it is also moisture-wicking! The market is full of socks claiming to be made of genuine Cashmere, but unfortunately, many of them are not! Here, we have compiled a list of the best genuine cashmere socks that are either pure cashmere or cashmere blends. These winter essentials are also tried and tested by users worldwide. So, go ahead and check out these socks to stock up for the cold days.
10 Best Women's Cashmere Socks For Winter
For utmost comfort along with style, check out this set of five athletic socks by Century Star! The winter woolen socks are a blend of polyester, spandex, and cashmere, thus are super breathable and insulating. The thick bottom design reduces foot friction while walking, hiking, or any outdoor activities, preventing any painful blisters. The classic and elegant design also makes a perfect gift for your loved one this season.  Keicia Shanta, a fashion expert, considers these socks a perfect holiday gift for a mom.
Pros
Breathable
Prevents blisters
Stretchable
Super thick
Soft
Comfortable
Breathable
Cons
None
Price at the time of publication: $11.49
Gear up for those cold winter mornings with this cozy pair of socks by Falke. These keep your feet warm and comfortable. Unlike regular heavy cashmere socks, these are a unique blend of wool, rayon, polyamide, and cashmere. This makes them super lightweight too! The reinforced stress zones at the ball of foot and heels make these socks extremely tough and durable. The optimally designed pair of socks are easy to use, wrinkle-free, and provide cold feet relief.
Pros
Durable
Luxurious
Lightweight
Good support
Wrinkle-free
Comfortable
Soft
Pain-free elastic
Cons
Price at the time of publication: $27.4
This premium quality pair of socks by iMongol is crafted by the best Mongolian craftsmen. These are 97% cashmere along with just 3% elastic and are of the finest quality. The thermal socks are also thick, durable, and of mid-calf length; thus is perfect for wear with any footwear for longer periods. These seamless socks are comfortable to wear and do not bunch up at the toes.
Pros
Super stretchable
Durable
Seamless design
Comfortable
Tightly woven
Very soft
Good fit
Ample warmth
Cons
None

Price at the time of publication: $16.99
The State Cashmere Super Soft Bed Cuff Socks are made of Grade A cashmere sourced from Inner Mongolia. They do not restrict circulation or leave marks on your skin. They are ideal for wearing on long journeys to keep your feet toasty. This unisex pair of non-binding cashmere socks gives you optimum comfort and breathability. It is a radically affordable yet luxurious pair of socks of the finest cashmere. Keicia Shanta, a fashion expert, says, "Love the fact that these socks are made from a great material that keeps your feet warm and soft on the skin."
Pros
Lightweight
Non-binding
Comfortable
Non-digging
Cons
Hand wash or dry cleaning only
Price at the time of publication: $45
This pair of casual cashmere socks by Jenolan Collections is a soft blend of cashmere, wool, and Angora. It is perfect for any weather conditions and places, outdoors, camping, hiking, casual wear, or indoors. You can even wear these thick, comfortable socks to bed! This set comes in a pack of three multi-colored socks in black, light blue, and navy blue.
Pros
Warm
Very soft
Durable
Perfect thickness
Good fit
Comfortable to wear
Durable
Cons
None
Price at the time of publication: $14.9
These soft, plush, and cozy women's socks by West Coast are made of a blend of super-fine merino wool, cashmere, and other fibers. They are super comfortable, stretchable, lightweight, and moisture-wicking. They keep your skin warm and comfortable all day. These are lighter than regular woolen socks, but last for a longer period. The versatile design is ideal for use at home, outdoors, and even during sleep.
Pros
Sweat-wicking
Lightweight
Stretchable
Versatile wear
Breathable
Soft
Wide color range
Cons
None
Price at the time of publication: $29.99
Unlike the other cashmere socks on this list, this design by Cashmere Boutique is made of 100% pure high-quality cashmere fibers! This pair is super luxurious, soft, and provides you with eight times more warmth than regular woolen socks. The brand also provides 100% satisfaction guarantee!
Pros
Breathable
Prevents blisters
Lightweight
Stretchable
Versatile use
Ideal for gifting
Exceptional warmth
Luxurious feel
Cons
Price at the time of publication: $49
With over 40 years of experience in the cashmere industry, Lona Scot has been delivering exceptional cashmere clothing that is elegant and cozy! This pair of cashmere socks from their line is super luxurious and has a clean finish that suits any footwear. It is made with a blend of 85% cashmere and 15% nylon which is also quick drying and possesses sweat-wicking properties!
Pros
Versatile wear
Breathable
Soft on skin
Lightweight
Durable
Cons
Price at the time of publication: $39.95
This pair of exquisitely soft and cozy socks by Milica Books feels like a warm hug to your feet. It is made of quality Mongolian cashmere that is luxurious and of superior quality. These fashionable socks feel super soft on your skin and enhance your sleep in the cold winters. This pair of socks is also available in a wide range of colors and makes for a perfect gift for your loved one.
Pros
Super stretchable
Durable
Lightweight
Comfortable
Tightly woven
Very soft
Good fit
Ample warmth
Cons
Price at the time of publication: $49
The Graham Cashmere Women's Pure Socks are expertly knitted from the finest, softest, and purest cashmere. They are durable and high-quality socks that are comfortable and long-lasting. They are created to offer your feet luxury, relaxation, warmth, and comfort. These elegant yet stylish socks come in three colors and are appropriate for daily use and to give as gifts to loved ones.
Pros
Super soft
Breathable
Durable
Luxurious feel
Very comfortable
Cons
None
Price at the time of publication: $59.99
Cashmere is a premium quality material that is extremely comfortable and luxurious, but it can get a little tricky when it comes to washing and care. Here's a quick guide on how to take care of your cashmere fiber.
How To Care For Cashmere Socks?
Here is a simple guide to keeping your cashmere socks feeling and looking the best:
Before Wash
As cashmere is a very luxurious and delicate fiber it should never be worn with hard shoes like court shoes, dress shoes, or rough boots. It is best to be worn with soft loafers, moccasin, comfy slippers, or on its own.
Make sure to keep the socks away from rough items like zippers or jewelry as these items can cause snagging, tiling, or even leave holes.
During Wash
Make sure to always follow the product's label instructions.
Never machine wash cashmere socks (unless mentioned) even on a delicate setting, as the tumbling action around the drum can cause the fibers to tangle, bulk, or tear.
Never dry clean them, as dry cleaning can remove the natural conditioners within the fibers and leave the socks feeling brittle and harsh.
Always use a mild washing liquid or a special cashmere washing liquid. Never soak your socks for longer than five minutes.
Wash similar colors together.
Do not use any stain removal activators or bleach as this can damage the natural fibers.
Do not scrub, rub, or twist your socks, instead gently squeeze out the excess water.
After Wash
Dryer socks as soon as possible, or it can develop a damp odor.
Do not tumble dry.
Gently reshape your socks while they are still damp.
Dry your socks on a flat surface away from direct sunlight or heat, also never hang them to dry as it can cause them to stretch.
Do not press or iron cashmere socks.
It is not too difficult to care for your cashmere socks, so go ahead and get a few pairs for your winter fashion wardrobe. Here's a quick guide on how to select the best ones.
How To Choose The Best Cashmere Socks?
Here are a few features to consider in order to choose the best cashmere socks:
When buying cashmere socks, always check the fabric content to get the best pair. At times, a cashmere blend may contain less than 10% cashmere, which can be affordable but deprive you of the luxurious experience. Choose hypoallergenic materials with anti-odor properties, and consider the grade of the cashmere, which reflects the quality. The grading system is split into three categories: grade C cashmere, which is the lowest quality, grade B cashmere which is in the middle, and grade A cashmere which is the finest. Also, check the place of production, for instance, Mongolia and China are the leading producers of cashmere, but the finest ones are produced in the mountains of Kashmir in India.
Cashmere socks come in a variety of colors, designs, and styles, just choose the one that fulfills its purpose and is comfortable to wear. Also, consider the length of the socks, to wear them according to the type of footwear.
The Bottom Line
Why Trust StyleCraze?
Baishali Bhattacharya is a certified image consultant and fashion enthusiast who loves finding and reviewing new product entries in the industry. On her quest to shortlist the best cashmere socks made of genuine cashmere fibers, she looked at numerous reviews and considered user feedback while conducting in-depth research on the options available in the market. The socks she has shortlisted and reviewed are lightweight, breathable, highly insulating, and water-repelling as they are crafted with pure cashmere or cashmere blends.
Frequently Asked Questions
Are cashmere socks warmer than wool socks?
Yes! Cashmere socks are way warmer than wool socks. Cashmere fibers are finer, lighter, and warmer, which means you won't have to resort to extra bulky socks to keep your feet insulated.
What should I wear under cashmere socks?
You can wear thin cotton or viscose socks under cashmere socks, so the moisture is drained away from the skin. This ultimately ensures dry and comfortably warm feet.
Are Cashmere Socks really helpful in winter?
Yes! Cashmere Socks are really helpful in winter as they offer ample warmth and wick away moisture from the feet for extra comfort.
Can we wear Cashmere Socks in bed?
Of course! You can wear cashmere socks in bed to prevent freezing toes, and enhance your sleep in winters. But, make sure your bed does not contain any harsh or sharp surfaces that can pull on the socks, as it can have the fibers snagged.
Do we wear Cashmere Socks in snowy places?
Yes, you can wear cashmere socks even in snowy places. This type of socks is excellent even in wet conditions, as they repel water and do not lose their insulating properties.
Recommended Articles