7 Best Foot Warmers To Tuck Your Feet In Winters – 2023
These foot warmers keep your feet warm and toasty when the temperature takes a plunge.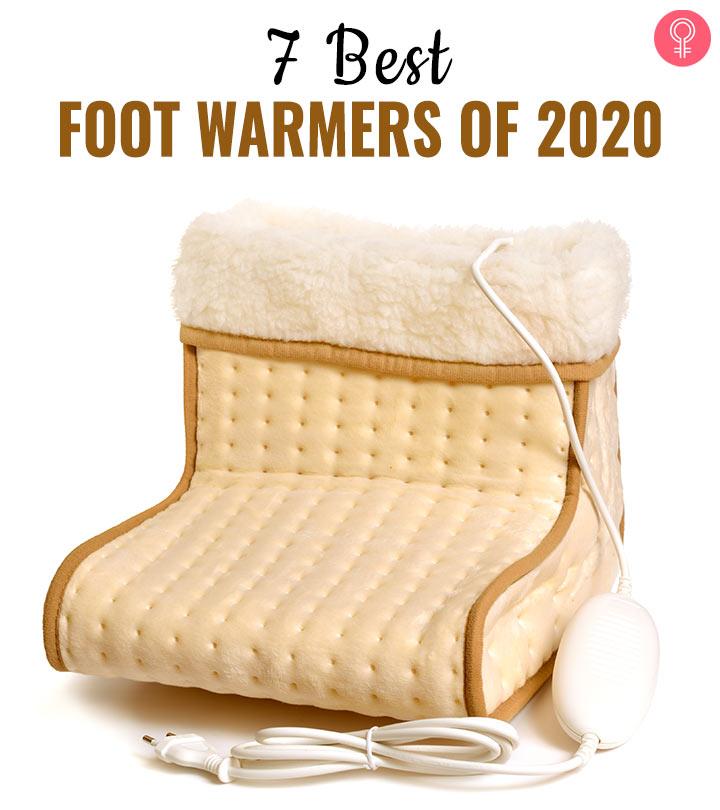 As the saying goes, "A cool mouth, and warm feet, live long." If you struggle to fall asleep during those winter nights as your feet stay cold, no matter what you do, well, you can bid your sorrows goodbye. Here are the 7 best foot warmers that you can tuck your feet into whenever you feel the chills. Whether you're working in your office, watching Netflix, or skiing on the hillside – these warmers will always give you the required warmth. So go ahead and give this piece a read!
What Is A Foot Warmer?
As the name implies, a foot warmer is a device that warms your foot. It comes in several styles, but the basic idea is that it is a heating device that envelops your feet to keep them warm for an extended period.
How Does A Foot Warmer Work?
The technology used by foot warmers varies depending on the model. Most come with a cord that plugs into a power outlet and heats the device. They also have a controller that allows you to adjust the heat intensity based on your comfort and tolerance. Some models have rechargeable batteries instead of power cords, making them a little more portable.
Later in this article, we will discuss the noteworthy features of foot warmers in a buying guide that will help you choose the foot warmer best suited to your needs. But first, let us take a look at the 7 best foot warmers of 2023 for your cold feet.
Top 7 Foot Warmers Of 2023
Pros
Improves blood circulation
Ergonomic design
3 adjustable positions
Adjustable heat settings
Energy-efficient
1-year warranty
Suitable for home and office use
Can also be used as a heated panel
Reduces fire hazards
Is safe to touch
Cons
None 
Price at the time of publication: $39.49
https://cdn2.stylecraze.com/wp-content/uploads/2023/04/HotHands.jpg
HotHands Insole Foot Warmers are the perfect companions for your winter walks and activities that require you to go out on a chilly day. These foot warmers are odorless and can be easily disposed off along with the usual household garbage after use.
The warmers have air-activated warming technology that heats it up within 15-30 minutes after removal from the outer package. The average temperature they provide is between 99°F-109°F. If you feel the heat is decreasing, expose the warmer to the air and shake it. The warmer comes with an adhesive and should not be applied directly to the skin.
The package contains 5 pairs of warmers, which provide up to 9 hours of heat. The adhesive allows the warmer to stay in place and is designed to provide maximum comfort in shoes or boots. 
Pros
Single-use item
TSA Approved
Natural heat
Ready to use
Cons
Price at the time of publication: $9.99
Pros
Lightweight
Portable
Flexible
Cons
None
Price at the time of publication: $159
Pros
Stays warm for up to 5 hours
Built-in automatic shut-off
Breathable knit fabric
Rechargeable foot warmer
Ready-to-use in 15 mins
Non-skid bottom
Suitable for home and office use
Portable
Cons
May get uncomfortably hot at times.
Price at the time of publication: $49.95
Pros
4 temperature settings
Machine-washable fabric
Anti-slip sole
Automatic shut-off
Drawstring closure for a snug fit
Storage bag included
5-year warranty
Built-in LED controller
Cons
Heat is limited to the soles.
Price at the time of publication: $49.99
Pros
Versatile
Washable
Perfect gift choice
Cons
Price at the time of publication: $36.99
Pros
Versatile
Fast heating
Ultra soft plush material
Cons
Price at the time of publication: $29.99
Price at the time of publication: $33.87
Read on to know some of the benefits of using foot warmers and how they can help you live a better life.
Benefits Of Using A Foot Warmer
The most significant advantage of a foot warmer is that it gets rid of cold fit and the misery associated with it quickly.
As it warms your feet, the heat from a foot warmer also eases any pain you may feel after a long day, caused by stiff and sore muscles.
The health benefits of using foot warmers include relief from arthritic pain, Raynaud's disease, and poor blood circulation.
If your home has cold floors that make it uncomfortable to walk barefoot in the winter, or you work in an office with the AC set at an awkward temperature, a foot warmer can improve your daily life.
Warm feet can help you sleep better. Get a foot warmer to help you doze off peacefully on cold nights.
Yes, foot warmers are exciting, and we are sure you can't wait to bring one of these lovely devices home as a treat for your cold feet. But go through this buying guide before you hit that tempting "add to cart" button. Here are some features that you must consider when purchasing a foot warmer.
Features To Consider Before Buying A Foot Warmer – Buying Guide
Type Of Warmer – Foot warmers vary in design and function. While all of them are designed to keep your feet warm, you might need to look at the style. Some are wearable – like socks and slippers – giving you the freedom to move around, while others can be used only when sitting or lying in bed.
Safety Features – It is essential to check the safety features of any electric device. The foot warmer is a heat source that is in direct contact with a part of your body. Hence, you need to make sure that the associated risk with using the device is minimum. Be aware of the automatic shut-off feature in your device to avoid overheating.
Energy-Saving Warmers – Many feet warmers are designed with an automatic power-off function that shuts off the device after a certain period. This not only conserves energy but also prevents accidents and harm (to you and the machine) caused by overheating.
Place Of Use – Do keep in mind the purpose for which you are purchasing a foot warmer. If it is intended for indoor use, most designs will work well since you will probably have accessibility to a power source. However, if you want foot warmers that will keep you warm while you are outdoors, heated socks are a far better option.
Style – This depends on your comfort entirely. If you are okay with using a foot warmer that requires you to stay in one place, there are a lot of models in the market for you. However, if you want a device that does not restrict mobility, you can look at slipper-shaped foot warmers, although these are mostly for indoor use.
Budget – As with any purchase, keep your budget in mind. Unless your foot warmer offers extraordinary features apart from heating, such as massaging or aromatherapy, you might not need to splurge a lot to get one home.
Power Source – Foot warmers are often either battery-powered or connected to a power cord that needs to be plugged in before use. Consider this feature when purchasing a device for your cold feet.
If you have ever felt miserable when having cold feet, remember that is not a coincidence. Foot warmers can ease the discomfort and chills that cold feet cause and keep you warm and cozy whenever you want.
Why Trust StyleCraze?
The author, Sakshi Bahal, loves researching and reviewing health gadgets. She vouches for the best foot warmers to keep your feet warm and snuggle through the winter months. These foot warmers are easy to carry, and you can keep them wherever you want to avoid chills from creeping to your feet. Not only are they super comfortable, but also you can choose any kind of design that suits you best!
Frequently Asked Questions
Are electric foot warmers safe?
Electric foot warmers are quite safe to use as long as you comply with the manufacturer's guidelines and safety warnings. To avoid overheating, make sure the device is turned off in due time. You could also wear socks to prevent burns if the foot warmer gets too hot.
Do foot warmers help with foot pain?
If your foot pain is caused by muscle tension, such as soreness from standing on your feet all day, heat therapy from foot warmers can undoubtedly provide relief.
How do I clean a foot warmer?
Electric foot warmers usually have a plush fabric cover that is removable and machine-washable. Follow the washing instructions carefully, and your foot warmer can be as good as new once again.
Does wearing two pairs of socks keep your feet warmer?
No, doing this double socking will only make your feet cool as the outer socks won't be able to maintain a warm temperature due to lack of exposure to the skin.
Why do older people's feet get cold?
Due to a lack of blood circulation in the feet, older people get cold feet.
How do you warm up your feet fast?
Here are some ways to warm up your feet quickly:
• Soak your feet in hot water.
• Wear woolen socks.
• Use an electric blanket.
• Place a bottle of hot water near your feet.
• Use foot warmers.
Recommended Articles: