10 Best Microwave Heating Pads Of 2023 For Tired & Achy Muscles
Convenient and portable heat therapy option to ease cramps and sore muscles.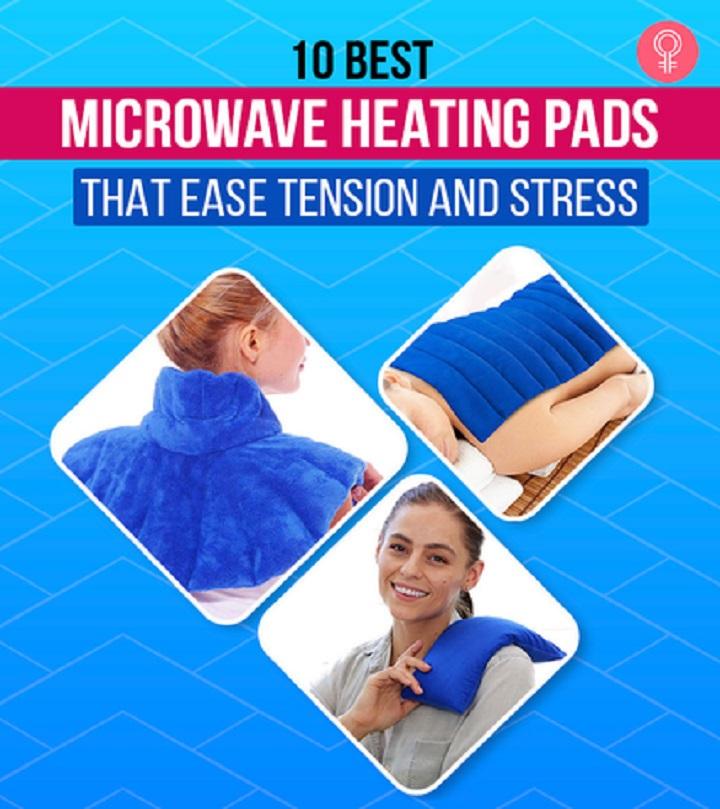 Period cramps, back pain, and muscle aches are common concerns in women. These might be due to a regular menstrual cycle or aches that occurred after a gym session or aches caused due to some injury. To remedy those, you need the best microwave heating pads. They provide you with relaxation from the discomfort. In addition, this thermotherapy or heat therapy can also alleviate pain caused by an old injury.
These heating pads are convenient to use. All you need to do is place the heating pad in a microwave for a few minutes and use it. So, if you are looking for a heating pad, you're on the right page. We have rounded up the best microwave heating pads in this article. Keep scrolling to read more!
What Is A Microwave Heating Pad?
A microwave heating pad is essentially a regular heating pad that is warmed by heating it in the microwave or an oven before use. It is typically made using a thick fabric like flannel filled with gel and natural grains like wheat or flax seeds.
Read on to find out the mechanism behind this efficient problem solver.
How Does A Microwave Heating Pad Work?
A heating pad helps alleviate pains in your joints, muscles, and tissues as a form of heat therapy. "Heat makes your blood vessels dilate, which increases the blood flow to the affected area. That in turn relaxes your muscles and reduces stiffness," explains Dr. Dave Candy, physical therapist and owner of More 4 Life. "Increased blood flow also brings nutrients andIt also increases the oxygen to your muscles, which flow to the wounded cells and accelerates healing. Finally, heat causes your brain to release endorphins which decrease pain."Let's now check out the best of the lot!
Top Picks
10 Best Microwave Heating Pads
Pros
Easy to use
Flexible
Soft fabric
Value for money
Cons
None
Price at the time of publication: $13.99
Pros
Portable
Easy to use
Washable
Longer heat retention
Durable
Cons
None
Price at the time of publication: $16.99
Pros
Easy to use
Soft fabric
Durable
Uniform heat distribution
Cons
None
Price at the time of publication: $29.9
Pros
Portable
Lightweight
Uniform heat distribution
Flexible
Cons
None

Price at the time of publication: $21.5
Pros
Easy to use
Soft fabric
Mild scent
Cons
None
Price at the time of publication: $35.99
Pros
Soft fabric
Stretch-resistant
Durable
Uniform heat distribution
Cons
Price at the time of publication: $21.99
Pros
Soft fabric
Easy to use
Long-lasting
Minimal design
Unscented
Cons
Price at the time of publication: $29.99
Pros
Soft fabric
Easy to use
High heat retention
Ergonomic design
Portable
Cons
Price at the time of publication: $27.99
Pros
Easy to use
Versatile
Value for money
Uniform heat distribution
Cons
None
Price at the time of publication: $19.99
Pros
Easy to use
Value for money
Mild scent
Excellent heat retention
Available in 12 different designs
Cons
None
Price at the time of publication: $29.99
Let's find out the right way to use a heating pad and get the maximum benefits.
How To Use A Microwave Heating Pad
Start by inserting the heating pad in the comfort wrap provided.
Place the heat pack in the microwave. Ensure that there is nothing else in the microwave along with it.
Warm up the pad in the microwave as per the instructions. Most heating pads take up to two minutes in a standard microwave setting. In case your microwave does not have a turntable, rotate the heating pad by 180 degrees halfway through the total time.
Make sure that you allow the heating pad to sit idle for up to 30 seconds before removing it from the microwave.
Test the heating pad for the optimal temperature to avoid burning your skin. Once done, place it over the affected area.
If you feel that the pad is losing heat, go ahead and reheat the product until it reaches the optimal temperature you are looking for.
Heating pads are indeed saviors, and you must invest in one! If you are wondering how long they last, scroll down for the answer.
How Long Do Microwave Heating Pads Last?
The durability of a microwavable heating pad depends on the construction, insulation, filler, and material quality. The heat in most standard size heating pads lasts for about 45 minutes, while the larger ones may last even longer.
There a few factors that will come in handy to help you make the right purchase decision when it comes to choosing the best microwaveable heating pads. Take a look at them below.
How To Choose The Best Microwavable Heating Pads
Microwavable heating pads are available in a wide range of sizes, from small to extra-large. You need to choose the size based on your needs and requirements. For instance, if you intend to use the heating pad over your back, it will have to be quite big. It is best to buy a larger size to serve multiple uses and purposes.
The most common shapes for microwavable heating pads are square and rectangular. However, there are other shapes that you can choose from, depending on your requirements.
The sign of a good heating pad is its flexibility in contouring the target area. This helps increase the effectiveness of the heating pad.
Whether you are looking for a high-end product or a cheaper one, there are microwavable heating pads in all price ranges. They start at about $10, and the large sizes can go up to $40.
Microwavable heating pads come with a filler material that gets warmed inside the microwave to produce moist heat. Most of these are natural materials like rice, flax seed, wheat, and popcorn kernels, while others come with a synthetic gel filled inside. Choose one based on your preferences.
There are tons of chronic pain conditions, muscle soreness, or injuries that need constant care, and one of the effective ways to do that is a microwaveable heat pad. Skip the struggle to fill up that old hot water bottle and pick one of these. If you are looking for a flexible pad to relieve neck and back pain, the Carex Bed Buddy Heat Wrap is a great option. For larger areas like your back, the heating pad Soothing Company is a good pick.
Frequently Asked Questions
Can I warm my microwave heating pad in a regular oven?
Yes, microwave heating pads can be heated in a regular oven. You can set the temperature at 200 degrees for about 15 minutes.
Are microwavable heating pads also suitable for cold applications?
While most heating pads double as cold compresses, however, this doesn't stand true all the time. It largely depends on the material, construction, and other several factors.
How do heating pads help with pain?
The heat from the heating pads helps heal the damaged tissue by stimulating the oxygen, blood, and nutrient flow in the muscles. This helps reduce stiffness and pain, thereby temporarily alleviating discomfort.
Does a heating pad really help cramps?
Heating pad helps relax the muscles of your uterus that cause period cramps. It boosts circulation and reduces pain in the abdomen, back, or legs.
How many times a day can I use a heating pad?
You can use a heating pad 2-3 times daily.