11 Best Microwave Heating Pads Of 2023 For Tired & Achy Muscles
Convenient and portable heat therapy option to ease cramps and sore muscles.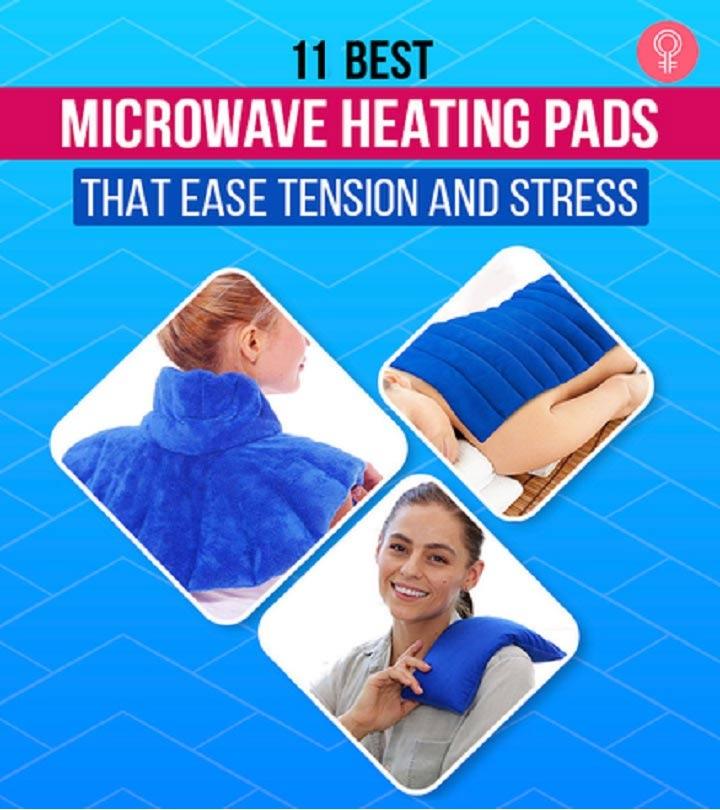 Period cramps, back pain, and muscle aches are common concerns in women. These might be due to a regular menstrual cycle or aches that occurred after a gym session or aches caused due to some injury. To remedy those, you need the best microwave heating pads. They provide you with relaxation from the discomfort. In addition, this thermotherapy or heat therapy can also alleviate pain caused by an old injury.
These soothing heat therapy pads are convenient to use. All you need to do is place the heating pad in a microwave for a few minutes and use it. So, if you are looking for a heating pad, you're on the right page. We have rounded up the best microwave heating pads in this article. Keep scrolling to read more!
What Is A Microwave Heating Pad?
A microwave heating pad is essentially a regular heating pad that is warmed by heating it in the microwave or an oven before use. It is typically made using a thick fabric like flannel filled with gel and natural grains like wheat or flax seeds.
Read on to find out the mechanism behind this efficient problem solver.
How Does A Microwave Heating Pad Work?
A heating pad helps alleviate pains in your joints, muscles, and tissues as a form of heat therapy. This heat regulates the blood flow to the affected area, relaxing the muscles and reducing stiffness. It also increases the oxygen flow to the wounded cells and accelerates the healing of the tissues.
Let's now check out the best of the lot!
11 Best Microwave Heating Pads
The Carex The Original Bed Buddy Hot & Cold Wrap uses moist heat to ease pain, sore muscles, and cramps. It increases blood circulation and also aids in the healing of injuries or wounds. The moist heat therapy provides quicker and complete pain relief in just two hours. This heat wrap is filled with 100% natural herbs, flowers, and grains. It features a form-fitting, flexible design that contours the target area for effective pain relief. It is an affordable option as well. This therapeutic heat pack is available in four unique scents – original white, balance orange, bliss pink, and fresh green. Also, the online reviews of this device unanimously praise its user-friendly design and effective results, expressing satisfaction after putting it to the test.
Specifications
Dimensions: 9 X 5 X 7.6 inches
Material: Fleece
Pros
Easy to use
Flexible
Soft fabric
Value for money
Cons
None
This portable microwave heat pad by Thermalon is designed to provide calming relief from joint and muscle pains in the shoulder, abdomen, back, hip, and more. It comes with the patented HydroPearls technology that captures moisture from the atmosphere for relieving pain and providing comfort. This microwave-activated heating pad contours the target area to provide even heat distribution and deeply penetrating moist heat. The microwavable comfort pad also features a pocket to help you warm up your hands. The heat lasts for an extended period of time.
Specifications
Dimensions: 12 X 9 inches
Material: Fleece
Pros
Portable
Easy to use
Washable
Longer heat retention
Durable
Cons
None
The Geniani Magma Microwave Heating Pad has an ergonomic design that perfectly fits the contour of your neck. It also doubles up as a cold pad to ease swelling. This cordless, weighted pad delivers up to 20 minutes of soothing heat that calms your stress, soothes chronic neck pain, and helps treat migraine. It is soft and the stay-in-place design enables you to use it in any position. This pad is packed with a mix of millet and lavender that releases a soothing fragrance when heated up. Moreover, this product has positive reviews online for being easy to use and being of good quality.
Specifications
Dimensions: 12.4 x 7.01 x 5.35 inches
Material: Polyester
Pros
Ergonomic fit
Stay-in-place design
Hot and cold therapy
Cordless design
Soft to the touch
Universal size
Travel-friendly
Comes with a storage bag
Cons
The Purple Moon Collection heating pad is the right choice for anyone looking to get relief from muscle and joint pain. It is made of 100% polyester and has long ties that secure it in place so you can move freely while enjoying natural moist heat therapy. Its flaxseed filling provides maximum coverage and comfort, making it more effective than dry heat. This reusable microwave heat pack has a wearable design and is a great way to get relief from cramps or menstrual soreness without having cords getting in your way. Reviewers online have put this product to the test, providing positive feedback for its key features, safety, comfort, and ease of use.
Specifications
Dimensions: 71 x 20 x 10 inches
Material: Polyester
Pros
Easy to use
Soft fabric
Durable
Uniform heat distribution
Cons
None
Get yourself this versatile microwave heat pack by My Heating Pad, which is designed to deliver gentle heat therapy. It is filled with a blend of rice and flaxseed and heats up fully in about 90 seconds for instant pain relief. This easy-to-use pack features soft fleece on one side for moist warmth and cotton on the other to increase heat retention. This relaxing microwave heat pack is small and flexible enough to be used on the knees or the neck effectively.
Specifications
Dimensions: 91 X 1.18 X 11.81 inches
Material: Fleece and Cotton
Pros
Portable
Lightweight
Uniform heat distribution
Flexible
Cons
None

The Huggaroo Microwavable Heating Pad is designed to provide intense moist heat therapy, especially in your neck and shoulders. This microwavable hot pack is filled with flaxseeds, wheat, lavender, chamomile, peppermint, spearmint, lemon grass, rosemary, cinnamon, yarrow, white willow, valerian root, yellow dock, and hops. The cordless and weighted structure is ideal to be used anywhere, giving you ample freedom of movement. It provides instant pain relief to tightened muscles and tension in the neck and shoulder region. Depending on the nature and extent of injury you can reduce the heating time to adjust the heating level. You can also chill this in the freezer for instant cold therapy.
Specifications
Dimensions: 18 x 14 x 3.5 inches
Material: Polyester
Pros
Easy to use
Soft fibre
Removable, washable cover
Mild scent
Cons
None
The SunnyBay Microwavable Extra Long Neck Heating Wrap is filled with fresh whole wheat that holds heat for a long time. This soothing microwave wrap is highly flexible and pliable enough to cover even difficult-to-reach target areas with ease to provide deep heat therapy. All you need is two minutes in the microwave to get at least 30 minutes of heat. You can also use this comfortable heat therapy wrap for cold therapy by placing it in the freezer for some time. Check out this video based on the tester's experience to know if this model is the best one for you.
Specifications
Dimensions: 26 x 5 x 1 inches
Material: Fleece
Pros
Soft fabric
Stretch-resistant
Durable
Uniform heat distribution
Cons
The REVIX Extra Large Microwave Heating Pad is a great choice for anyone looking to find relief from pain. Not only does it provide moist heat therapy, but its extra large rectangle shape and flexibility make it easy to adjust and secure onto any area of the body that needs relief. With organic flaxseeds, millets, sorghum, and clay beads providing comfort while relieving muscle tension, or back strain – this microwavable pain management pad has you covered! And if you're dealing with stomach discomfort or menstrual cramps – don't worry! The heating pad also offers support during cold therapy sessions so you can get fast relief from swelling, sprains, and arthritis when needed.
Specifications
Dimensions: 23.9 x 12.6′ inches
Material: Polyester
Pros
Soft fabric
Easy to use
Long-lasting
Minimal design
Unscented
Cons
The Soothing Company Extra Large Heating Pad offers targeted pain relief for your back, shoulders, and neck. It features a flax seed filling that conforms to your body to provide a comfortable and snug fit. This heating pad comes with extra-long, adjustable straps that keep it secure. Its design makes it ideal for rotator cuff injuries, lower back pain, abdominal ache, and neck injuries.
Specifications
Dimensions: 58 x 10 inches(heating pad) and 17 x 10 inches (heat compress area)
Material: Fleece
Pros
Soft fabric
Easy to use
High heat retention
Ergonomic design
Portable
Cons
The SuzziPad Microwave Heating Pad is a great way to get natural relief from pain and stiffness. It is cordless; so you can take it anywhere you need the heat. The unique combination of flaxseed, millet, and clay beads provides deep penetrating moist heat that helps improve blood circulation while relieving joint pain, cramps stiffness knotted muscles tightness arthritis swelling, and inflammation. It comes with an easy-to-use velcro strap which makes securing this pad around your body effortless.
Specifications
Dimensions: 7 x 18 inches
Material: Polyester
Pros
Easy to use
Versatile
Value for money
Uniform heat distribution
Cons
None
The 2-in-1 hot and cold compress by Sacksy Thyme can be used for calming stomach cramps, back aches, bruises, or elbow or knee pain by kids and adults alike. It is designed with optimal density that can mold to the contour of any area on your body. This sack is filled with dried cherry pits and organic flax seeds that retain a solid amount of heat. However, you can customize it by choosing your own herb filler like lavender and eucalyptus to enjoy a gentle massage. You can also go for the brand's special blend or leave it unscented. All you need are two minutes in the microwave to set it up. It comes in 12 different design options.
Specifications
Dimensions:13 x 7.5 x 2 inches
Material: Soft cotton
Pros
Easy to use
Value for money
Mild scent
Excellent heat retention
Available in 12 different designs
Cons
None
*The prices provided in this article are based on the latest available information. However, they may vary due to changes in pricing by the seller and/or promotional offers.
Let's find out the right way to use a heating pad and get the maximum benefits.
How To Use A Microwave Heating Pad
Start by inserting the heating pad in the comfort wrap provided.
Place the heat pack in the microwave. Ensure that there is nothing else in the microwave along with it.
Warm up the pad in the microwave as per the instructions. Most heating pads take up to two minutes in a standard microwave setting. In case your microwave does not have a turntable, rotate the heating pad by 180 degrees halfway through the total time.
Make sure that you allow the heating pad to sit idle for up to 30 seconds before removing it from the microwave.
Test the heating pad for the optimal temperature to avoid burning your skin. Once done, place it over the affected area.
If you feel that the pad is losing heat, go ahead and reheat the product until it reaches the optimal temperature you are looking for.
Heating pads are indeed saviors, and you must invest in one! If you are wondering how long they last, scroll down for the answer.
How Long Do Microwave Heating Pads Last?
The durability of a microwavable heating pad depends on the construction, insulation, filler, and material quality. The heat in most standard size heating pads lasts for about 45 minutes, while the larger ones may last even longer.
There a few factors that will come in handy to help you make the right purchase decision when it comes to choosing the best microwaveable heating pads. Take a look at them below.
How To Choose The Best Microwavable Heating Pads
Microwavable heating pads are available in a wide range of sizes, from small to extra-large. You need to choose the size based on your needs and requirements. For instance, if you intend to use the heating pad over your back, it will have to be quite big. It is best to buy a larger size to serve multiple uses and purposes. This advice is often reiterated by healthcare specialists as well as medical device experts who understand the importance of size in addressing different pain areas.
The most common shapes for microwavable heating pads are square and rectangular. However, there are other shapes that you can choose from, depending on your requirements.
The sign of a good heating pad is its flexibility in contouring the target area. This helps increase the effectiveness of the heating pad. This characteristic is often emphasized in in-depth reviews and direct observations by users who have experienced the effectiveness of the pad in molding to the body.
Whether you are looking for a high-end product or a cheaper one, there are microwavable heating pads in all price ranges. They start at about $10, and the large sizes can go up to $40.
Microwavable heating pads come with a filler material that gets warmed inside the microwave to produce moist heat. Most of these are natural materials like rice, flax seed, wheat, and popcorn kernels, while others come with a synthetic gel filled inside. Choose one based on your preferences.
There are tons of chronic pain conditions, muscle soreness, or injuries that need constant care, and one of the effective ways to do that is a microwaveable heat pad. Skip the struggle to fill up that old hot water bottle and pick one of these. If you are looking for a flexible pad to relieve neck and back pain, the Carex Bed Buddy Heat Wrap is a great option. For larger areas like your back, the heating pad Soothing Company is a good pick.
Frequently Asked Questions
Can I warm my microwave heating pad in a regular oven?
Yes, microwave heating pads can be heated in a regular oven. You can set the temperature at 200 degrees for about 15 minutes.
Are microwavable heating pads also suitable for cold applications?
While most heating pads double as cold compresses, however, this doesn't stand true all the time. It largely depends on the material, construction, and other several factors.
How do heating pads help with pain?
The heat from the heating pads helps heal the damaged tissue by stimulating the oxygen, blood, and nutrient flow in the muscles. This helps reduce stiffness and pain, thereby temporarily alleviating discomfort.
Does a heating pad really help cramps?
Heating pad helps relax the muscles of your uterus that cause period cramps. It boosts circulation and reduces pain in the abdomen, back, or legs. It also helps soothe cramps occurring due to primary dysmenorrhea.
How many times a day can I use a heating pad?
You can use a heating pad 2-3 times daily.
Recommended Articles