7 Best Cotton Candy Perfumes Of 2023 For A Long-Lasting, Sweet Scent
Get nostalgic about the subtle and delicious scent of childhood with these fragrances.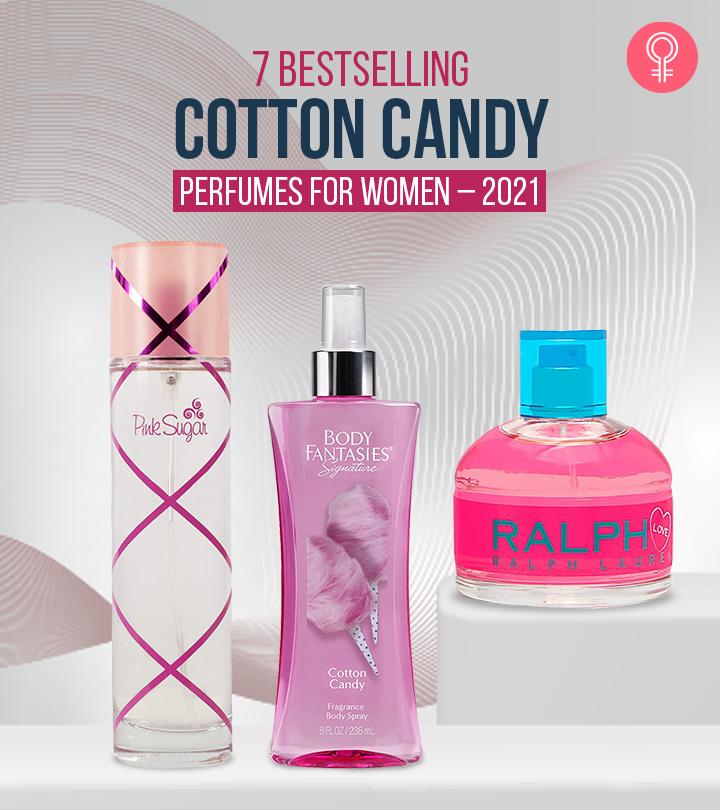 We all have a distinct memory of sniffing (and eating) cotton candies as children, whether at a county fair or another attraction. Unfortunately, as a note in fragrances, it is rarely utilized and is linked with 'girly' aromas intended towards a younger population. But, there are several best cotton candy perfumes available that will appeal to people of all ages. The vibrant, aromatic perfume is ideal for summers and leisure activities and is suitable for ladies of all ages. We have prepared a list of the best cotton candy perfumes available on the market, particularly for you. Scroll down to check them out.
Top Picks
7 Best Cotton Candy Perfumes For Women – Top Picks Of 2023
This playful and cool Sweet Like Candy Eau De Parfum from Ariana Grande has an irresistibly sexy and sweet fragrance. This fun yet subtle smelling perfume has sweet top notes of pear, sparkling blackberry, and Italian bergamot. Its heart notes consist of dewy honeysuckle, jasmine sambac, and frangipani. The base notes are derived from sexy vanilla, marshmallow, cashmere woods, and Crème de cassis to offer a luxurious and indulgent experience. In this YouTube video, you will find a detailed review of this product.
Pros
Subtle fragrance
Long-lasting
Attractive packaging
Cons
Price at the time of publication: $45.8
Pros
For all occasions
Fruity scent
Attractive packaging
Value for money
Cons
Price at the time of publication: $39.0
The Thierry Mugler Angel Eau de Parfum Spray is a classic fragrance for women that was first introduced in 1992. The scent is described as a gourmand fragrance, meaning it has a combination of sweet and food-like notes. The top notes of the fragrance include bergamot, melon, coconut, and jasmine. The heart notes include honey, apricot, blackberry, plum, red berries, and orchids. The base notes include tonka bean, amber, patchouli, musk, and vanilla. The fragrance is known for its strong, long-lasting aroma and is often described as being both sweet and sensual. It is available in a variety of sizes and is suitable for evening wear.
Pros
Long-lasting aroma
Great sillage
Versatile packaging
Suitable for all ages
Suitable for evening wear
Cons
None

Price at the time of publication: $94.49
Pros
Sweet fruity scent
Long-lasting
Not overpowering
Cons
Price at the time of publication: $6.12
Pros
Floral fruity fragrance
Pleasant scent
Attractive packaging
Suitable for all ages
Suitable for evening wear
Cons
Price at the time of publication: $27.39
Pros
Non-staining
Suits all skin types
Vegan
Paraben-free
No toxic ingredients
Sweet fragrance
Long-lasting
Cons
None
Price at the time of publication: $28.99
Pros
Parabens free
Dermatologist tested
Soothing fragrance
Value for money
Cons
Some may feel the scent is a bit chemically
Price at the time of publication: $21.22
Cotton candy is one of the most popular flavors of all time, and there's no doubt that it makes for a grand perfume. Sweet, sugary, and light, these scents are perfect for summertime and spring. However, when it comes to finding the best cotton candy perfume, there are a few things you'll want to keep in mind.
Things To Look For In A Cotton Candy Perfume
Personal Choice: First and foremost, you'll want to make sure that the scent you choose is one that you absolutely love. Cotton candy can be a very sweet and sugary scent, so if you're not a fan of overly sweet fragrances, this might not be the right type of perfume for you.
Strength: If you are looking for a light, fresh scent, then an eau de toilette or eau de cologne will be your best bet. However, if you are looking for something with a bit more staying power, then an eau de parfum or perfume oil will be your best option.
Long-lasting: In addition to choosing a scent you love, it's also important to consider how long-lasting the fragrance is. Some cotton candy perfumes can be quite faint, while others will last all day long. If you want a perfume that's going to last through your workday or a night out on the town, make sure to choose one with good staying power.
Packaging: It's worth considering what type of bottle and packaging you prefer. Some cotton candy perfumes come in cute, whimsical bottles that are perfect for display, while others come in more practical packaging that's easy to throw in your purse or travel bag. Whatever your preference, there are plenty of great options available on the market today.
Price: Finally, take into account the price you're comfortable with. There are plenty of high-quality cotton candy perfumes on the market, but they can range significantly in price. Along with the price, choose a perfume after considering the scent, sillage, notes, and customer reviews available on different e-commerce sites.
Why Trust StyleCraze?
The author, Baishali Bhattacharya, is a skin care enthusiast and is a big fan and advocate of wearing cotton candy perfumes for their mesmerizing fragrance. She has studied the best-selling perfumes in this category and scrolled through hundreds of reviews posted on e-commerce and other online forums. The products shortlisted above offer a subtle, long-lasting fragrance and are a great value for money.
Frequently Asked Questions
What does a cotton candy perfume smell like?
Cotton candy perfumes are sweet-smelling with notes of raspberry and citrus. The middle notes in these perfumes comprise strawberry sugar.
What note is cotton candy?
A cotton candy note is usually a blend of ethyl maltol, fresh vanilla, and strawberry sugar.
Are cotton candy perfumes vegan?
Yes, many cotton candy perfumes contain no animal-derived ingredients. Many companies do not test their fragrance on animals. However, a good number of these perfumes are actually considered vegetarian and not vegan when they contain animal-derived ingredients such as beeswax and honey.