7 Bestselling Cotton Candy Perfumes For Women – 2021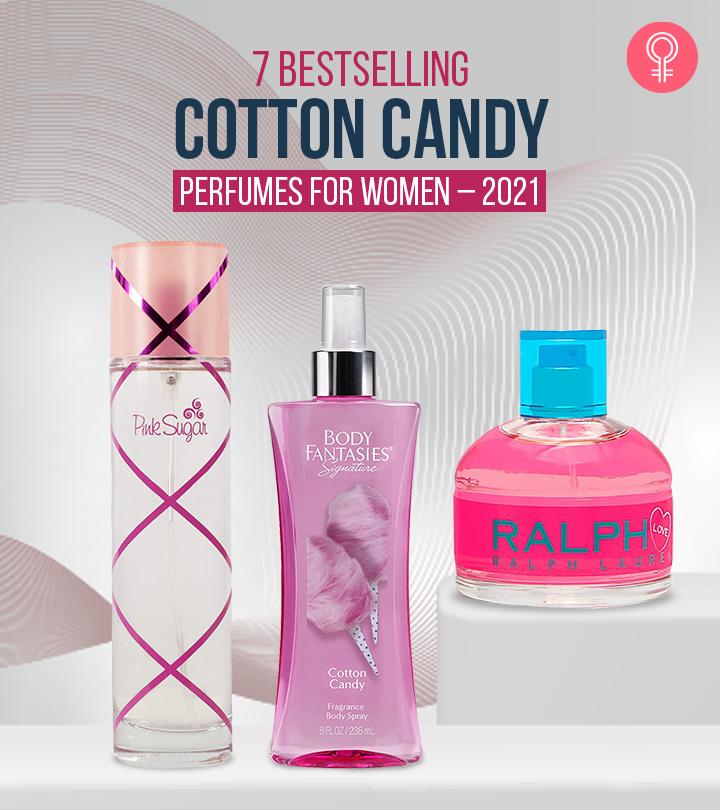 Are you a hardcore cotton candy fan? If you are nodding your head, you should indulge your senses with a sweetly-scented cotton candy perfume. The playful, aromatic aroma is suitable for women of all age groups and ideal for summers and outdoor fun. Lucky for you, we have rounded up the most popular cotton candy perfumes available on the market. Scroll down to check out the 7 best long-lasting cotton candy perfumes for women!
7 Best Cotton Candy Perfumes For Women
This playful and cool Sweet Like Candy Eau De Parfum from Ariana Grande has an irresistibly sexy and sweet fragrance. This fun yet subtle smelling perfume has sweet top notes of pear, sparkling blackberry, and Italian bergamot. Its heart notes consist of dewy honeysuckle, jasmine sambac, and frangipani. The base notes are derived from sexy vanilla, marshmallow, cashmere woods, and Crème de cassis to offer a luxurious and indulgent experience.
Pros
Subtle fragrance
Long-lasting
Attractive packaging
Cons
The Pink Sugar Eau de Toilette has a sensual and captivating fragrance that stays on your skin the whole day. This soft and pleasant perfume smells like sugar icing and offers a sweet and exquisite experience. Its delicious marshmallow-like fruity scent has a touch of caramel and vanilla with oriental notes to produce a seductive aroma. The playful white and pink-hued bottle awakens the feminine side of every woman.
Pros
For all occasions
Fruity scent
Attractive packaging
Value for money
Cons
Angel By Thierry Mugler is a sweet and tempting award-winning perfume that lingers on your skin all day long. Its top notes consist of sugary cotton candy, jasmine, melon, coconut, pineapple, orange, bergamot, melon, and cassis. It has a blend of vanilla, sandalwood, and patchouli, with lower notes of fresh citrus, melons, peaches, and plums. This perfume is recommended for daytime wear.
Pros
Long-lasting
Subtle fragrance
Refillable
For all occasions
Cons
Fragrance lightenswith time.
This Signature Cotton Candy Fragrance Body Spray from Body Fantasies comes packed in a feminine bottle featuring the vibrant and fruity scent of cotton candy. This sweet-smelling perfume has top notes of sparkling raspberry and citrus. The middle notes consist of cotton candy and strawberry sugar. The base notes are derived from soft caramel, musk, and whipped vanilla to offer you a perfectly balanced fragrance.
Pros
Sweet fruity scent
Long-lasting
Not overpowering
Cons
The Delicious Cotton Candy by Gale Hayman is a feminine perfume with a sweet cotton candy-like fragrance. The long-lasting fragrance derives its top notes from cotton candy, orange, bergamot, and clementine. The heart notes of this EDT spray perfume consist of plum, licorice, lily of the valley, strawberry, brown sugar, and fig leaves. Vanilla, musk, cedarwood, and caramel constitute the base notes.
Pros
Long-lasting
Pleasant scent
Value for money
Attractive packaging
Cons
This perfume has a deliciously sweet yet addictive fragrance that stays on throughout the day without fading. Its notes are derived from an indulging blend of rose absolute, luscious red apple, and pink cotton candy to mesmerize your senses and keep you smelling delicious.
Pros
Non-fading
Long-lasting
Pleasant scent
Suits all skin types
Cons
None
The Demeter Cotton Candy Cologne Spray is filled with a magical and sweet scent without being overpowering. This light and delightful perfume works as a perfect pick-me-up to provide an indulgent aromatic experience. The sugary smell of cotton candy makes it a perfect choice for all ladies.
Pros
Subtle scent
Soothing
Value for money
Cons
These cotton candy perfumes are inspired by the delectable juicy and fruity flavors of cotton candy and are sure to uplift your mood. Choose the best buy from the above list!
Recommended Articles