11 Best Escada Perfumes (Reviews) For Women – 2022 Update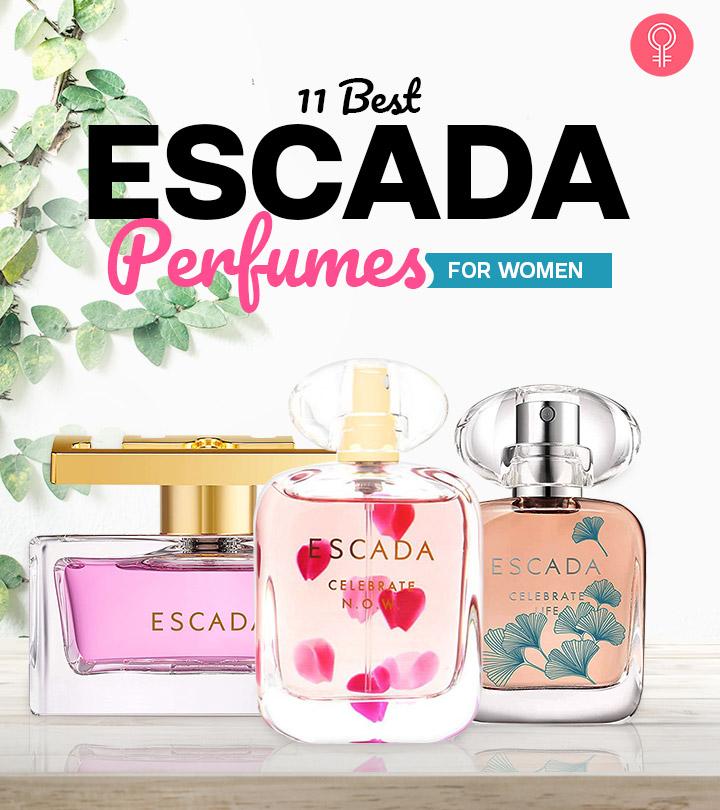 Escada represents elegance and luxury. It is one of the most esteemed brands of all time, and just like its designer clothing and accessories, Escada perfumes for women leave a mark in every nook they venture into. The perfect blend of glamor, modern grace, and alluring femininity, Escada symbolizes authenticity. Escada fragrances are formulated to enhance the look of a woman using the sense of smell. Let's have a look at some of their timeless perfumes below.
Best Escada Perfumes For Women – Our Top 11
Especially Escada is a fantastic combination of a subtle rose fragrance, a crisp tones of pear, and musky hints of ambrette and ylang-ylang, It is an exotic fragrance to bring out the feminine side of you. This heady mix of floral and musky notes can be worn at any time of the day.
If you are on the lookout for a luscious summer fragrance, Escada's Island Kiss is the perfect choice. It is inspired by Caribbean beaches, salty sea breeze, and exotic fruits and flowers. Its fruity top notes include orange, mango, passion flower, and peach with magnolia at the heart. Woody and musky notes comprise its base, giving it a sensuous appeal.
Escada's Sentiment is a very delicate and light fragrance that is sweet yet long-lasting. This feminine fragrance begins with floral notes of white peach, hyacinth, and tuberose that engulf your senses and settle into a sweet base of palisander rosewood, vanilla, and heliotrope. This is the perfect perfume to gift to a loved one because of its gorgeous heart-shaped bottle.
Escada Sorbetto Rosso is inspired by the glamour of the Amalfi coast. It is an intoxicating blend of juicy watermelon blossom, sweet citrus, and refreshing sea salt. Spritz on this fresh summer fragrance before heading out to the beach and live the Dolce Vita. Check out this review for a detailed understanding about the product.
Escada Celebrate Life is a lively fragrance for women to express their lust for life and the joy of living. Its top notes are dominated by the fruity scents of bitter orange, lychee, and pear while rose, amber, and orange blossom occupy its heart. Ambroxan, vanilla, and musk round off the base of this gorgeous fragrance. This eau de parfum was formulated to boost a woman's confidence in what she does every day.
Escada Magnetism is the perfect balance of fruity, floral, and musky scents that boosts your femininity. This sophisticated fragrance has fruity top notes of pineapple, melon, blackcurrant, and red berries. Its floral heart notes feature scents of magnolia, iris, freesia. The sandalwwod, caramel, patchouli, and vanilla at the base round off this fragrance beautifully.
Escada's Celebrate N.O.W. is an oriental floral fragrance. It is fresh yet spicy, invigorating, intense, and sensual. Spicy ginger dominates its top note, followed by magnolia at the heart and cinnamon, vanilla, and tonka bean at the base. This eau de parfum is perfect for special occasions, like a wedding or a formal dinner.
No products found.
Escada Sexy Graffiti is a woody composition with musky vanilla and violet notes. Red berries, along with raspberry, wild strawberry, and grapefruit, balance the fragrance of lily-of-the-valley and red peony to soften the fruity opening and giving the whole thing a romantic twist. This eau de toilette is recommended for daytime wear.
Escada Rockin' Rio is inspired by the ultimate fruity cocktail and composed of the fresh and fruity notes of coconut, tangerine, pineapple, and papaya for a tropical opening. It has a hint of cotton candy and peach with a musky touch of sandalwood. This is the perfect perfume to carry along on a tropical holiday.
Escada Attraction is the feminine version of the Magnetism cologne for men. The spicy pepper and saffron notes at the top and woodsy sandalwood notes at the heart have been cut through with hints of floral aromas to create an almost androgynous fragrance. Pick this perfume if your tastes lean toward musky fragrances.
Escada Joyful aims to evoke a sense of optimism and enjoyment in the wearer. This bright fragrance has fruity notes of blackcurrant, melon, and mandarin at the top and floral accords of peony, magnolia, nectarine, and violet leaf at the heart. The sweet scents of honey and sandalwood at the base round off this fragrance beautifully.
Your perfume can make or break the impression you make on people. Escada ensures that you always smell divine and create an unforgettable impression on everyone you encounter. Which of these luxurious fragrances would you like to try out? Comment below to let us know!
Why Trust StyleCraze?
Shalini Roy is a makeup enthusiast and loves writing well-researched content on the same. Her in-depth study and passion for perfumes have aided her in selecting the best Escada fragrances for her readers. She curated these options after carefully considering customer feedback of each product on several websites. Her recommended products have exotic, fruity, and floral fragrances that keep you fresh and confident all day!
Recommended Articles