7 Best Strong Hold Hairsprays For Natural Hair – 2023
Keep your sleek tresses in place with hydrating and non-sticky hair care products.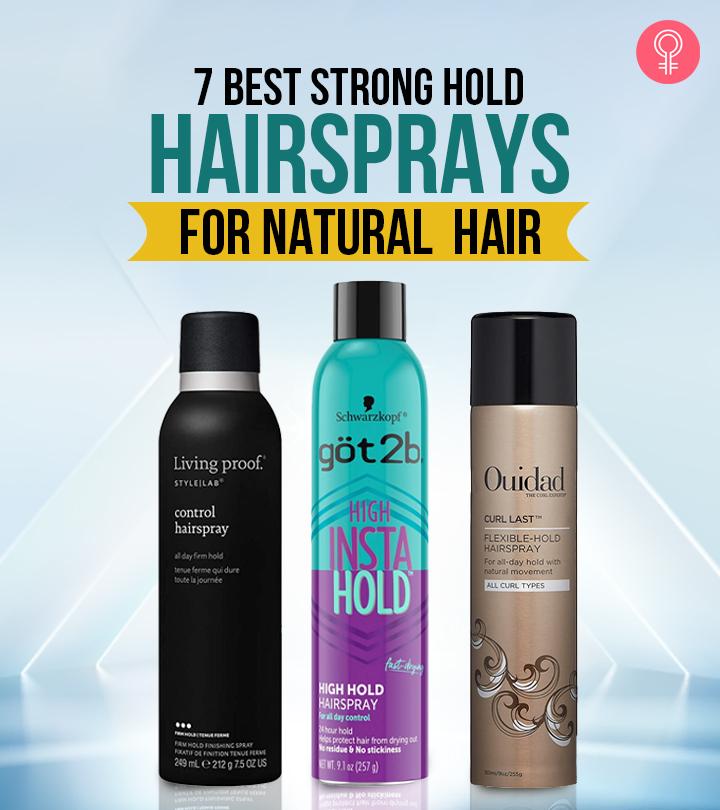 Hairspray is a magical hairstyling product that keeps your hair protected against wind and humidity. The best hairspray for natural hair offers your mane the ideal finish and keeps your hair in control without making it stiff or sticky. Maintaining a short hairstyle, sleek ponytail, or a stylish hairstyle can be tricky. So, you can use hairsprays to hold your hair, make them luminous, and keep your hair hydrated. In addition, some hair styling products can even hold the hair color without causing it to fade out.
In this article, we have sifted a list of the 7 best hair sprays suitable for natural hair. Keep scrolling to check them out!
7 Best Strong Hold Hairsprays For Natural Hair
Schwarzkopf brings you a hair spray that offers a strong hold for 24 hours! The professional hair spray dries fast and is safe to use on colored hair as well. The non-sticky formula keeps the hair moisturized and controls frizz by not letting the hair dry out. It does not contain any harmful chemicals and leaves no residue. It is a lightweight formula that holds any style in place.
Pros
Fast-drying
Lightweight
No harsh chemicals
Color-safe
Paraben-free
Sulfate-free
Non-sticky
No residue
Cons
Price at the time of publication: $8.99
If you want a firm hold along with extra shine, use the Moroccanoil Luminous Strong Hairspray. It can also be used as a base before braiding your hair to avoid flyaways. The formula contains nourishing argan oil, which is rich in antioxidants and essential fatty acids. The strong-hold spray also minimizes frizz by fighting humidity. It adds a healthy shine to the hair. It is a lightweight spray that leaves the hair movable without any unwanted flaking or sticky residue. After using this spray, hair is easily brushable – it does not tangle or tear. This finishing tool is excellent for creating any head-turning hairstyles.
Pros
Non-sticky
No flaking
Lightweight
Pleasing scent
No buildups
Cons
None
Price at the time of publication: $26.0
Maintain your hairstyle with the Nexxus Maxximum Finishing Mist that provides a strong hold. It is ideal for women with uncontrollable, frizzy hair. It is created with a signature Fluid-Fix Complex which keeps the hair moisture balance intact and does not affect its suppleness. The flexible hold allows the hair to move freely. This spray leaves your hair glossy, soft, and shiny. It strengthens the hair strands, which do not tear or tangle as you brush them. It has a wonderful citrus fragrance with floral notes. This video will give you more insights into the product.
Pros
Fine mist
Long-lasting hold
Glossy finish
Pleasant scent
Lightweight
Cons
None
Price at the time of publication: $11.79
The Redken hairspray offers an extra strong hold for 24-hours straight! The anti-frizz formula also offers protection from humidity. It is blended with a Spray Strong Complex of active ingredients, including camelina, coriander, and apricots. These botanical ingredients provide nourishment to the hair and strengthen each strand from within. The lightweight spray leaves no residue and causes no ugly flaking on the hair. Brush the hair easily and give it a natural look with this super-strong finishing product. It provides a long-lasting shiny finish and is great for buns. To make an informed decision before buying, you can check out this video.
Pros
No residue
No flaking
Extra strong formula
Silicone-free
Lightweight
Long-lasting hold
Cons
None
Price at the time of publication: $24.0
Keep your hair color intact with Pureology Lock It Down hairspray. It offers optimal hold and protects the hair from heat damage, outside stressors, and color fading. The hairspray is enriched with the goodness of olive oil, which provides strength to the hair and gives it a lustrous, glowing effect. The layered formula leaves the hair brushable. It dries quickly and lasts all day, holding your hairdo in perfect condition through all commutes and busy days. Its signature scent is a blend of tuberose, cedarwood, and almond milk
Pros
Safe for colored hair
Long-lasting
Pleasant scent
Paraben-free
Mineral oil-free
Sulfate-free
Silicone-free
Vegan
Cons
None
Price at the time of publication: $29
The Living Proof Style Lab Control Hairspray offers a firm hold on any hairstyle for the whole day. It gives the hair a shiny, glossy appearance and makes it soft to touch. It is ideal for dry hair as it contains conditioning emollients and panthenol. The spray is enriched with Endura-flex technology, which is built with combined firm and flexible polymers. The flexible polymers keep the style intact without deflating or dampening it and offer a flake-free finish.
Pros
Long-lasting hold
Flake-free finish
Color-safe
Paraben-free
Gluten-free
Silicone-free
Phthalate-free
Cruelty-free
Cons
Price at the time of publication: $27
If you want a buildable hairspray for your curls that slowly sets in your hairstyle, try the Ouidad Curl Last Flexible-Hold Hairspray. It allows customization of the hold and leaves curls soft and bouncy. It creates no stiffness or stickiness in the hair. This formula is enriched with natural hydrators like hydrolyzed oat protein and sunflower oil that moisturizes the hair and controls frizz, while the flexible resins in the product lock the style in, offering a voluminous appearance to the hair.
Pros
Non-sticky
Non-stiff finish
Buildable formula
Budget-friendly
Cons
None
Price at the time of publication: $20
If you have natural hair and are looking for a strong-hold spray, you have myriad options to choose from. However, not all prospects will fulfill your hair needs! Here is a list of considerations to remember while purchasing the best strong-hold hairspray for natural hair.
How To Choose The Best Strong Hold Hairspray For Natural Hair
When purchasing products to maintain natural hair, choose products devoid of sulfates, parabens, silicone, and alcohol. In the long run, using all these compounds may be highly damaging to your hair. In addition, several generic brands of hairspray include sodium chloride in their formulas, which can dry out your hair immensely. Therefore, steer clear of products containing salt. Instead, opt for nourishing oils like argan oil, olive oil, antioxidants, protein, panthenol, and other fatty acids in the hairspray.
Consider your hair type while buying a hair spray. For instance, it is essential to select a hairspray that does not add extra weight to your hair if you have straight, lanky hair. Instead, a spray that could add volume to the hair would be ideal. Also, avoid products that leave behind a sticky film. They tend to cause the hair shafts to stick to each other, creating an appearance that is greasy and dirty.
If you use heat styling tools on your hair daily, choosing a hairspray that offers protection against heat is in your best interest. Those with dyed hair should look for a product designed specifically for colored hair. If you spend a lot of time outside in the sun, opt for a spray with SPF that offers protection from UV rays.
As far as possible, stay away from hairsprays that have artificial fragrances. If, on the other hand, you only use hairspray on occasion or for formal occasions, you can choose a product that has a subtle, natural, floral scent. However, you should steer clear of perfumes that are too overbearing because they have the potential to give you not only a headache but also damage your hair.
Our list of the best strong hold hairspray for natural hair is carefully curated to cater to your hair needs. Use these sprays so that you no longer need to worry about constantly brushing or keeping your hair in place. Forget the uncontrollable factors and let these sprays do the job for you. Go on and click on the links above, and let your hair speak for itself every time you step out!
Why Trust Stylecraze?
The author of this article, Shiboli Chakraborti, is a hair care enthusiast who believes in using only the best products to style and maintain your hair. She has spent hours investigating multiple products and user reviews, vetting out the best options to bring you this specially curated list of stronghold hairsprays for natural hair. These hairsprays have been recommended for their benefits like fast-drying, non-sticky, and lightweight texture, and being mostly chemical-free.
Frequently Asked Questions
Should I wash my hair after applying hair spray?
No, do not wash your hair after applying hair spray. If you want to remove the spray from your hair, simply brush it out.
How do you wash your hair after using hairspray?
If you want to remove unwanted hairspray buildup from your tresses, use a clarifying shampoo to wash your hair. Use a generous amount of clarifying shampoo and apply it evenly to your hair. Gently wash your hair and ensure the shampoo does not leave any further residue.
What happens if you use a hairspray every day?
Regular use of hairspray may cause buildup in your hair. Also, it may turn your tresses too greasy and heavy.
What happens if I use too much hairspray?
Your hair turns crunchy and hard if you use too much hairspray at one go. It may also lead to hair loss and breakage.
Can a hairspray cause dryness and damage to your hair?
Yes, repeated use of harsh hair sprays may cause dryness and damage your hair. Instead, choose formulations that retain your hair moisture while reducing buildup.
Recommended Articles