7 Best Korean Lip Tints Of 2022 That Last All Day
Get flawless lips with organically enriched lippies that offer great color payoff.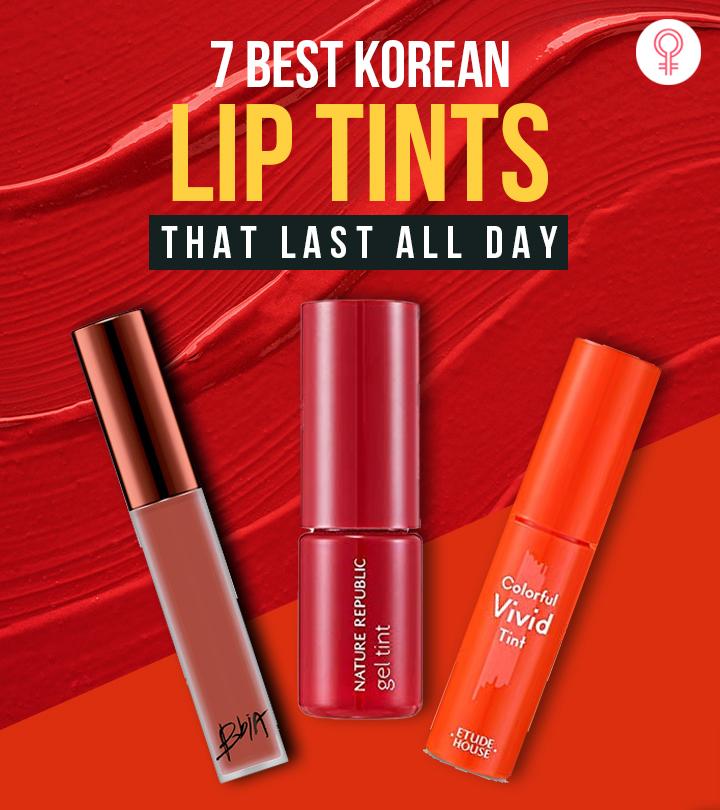 Getting dolled-up and having all eyes on them is every girl's dream. And what better way to achieve that than to use the best Korean lip tints? The K-beauty industry is known and loved by all for its deeply nourishing ingredients, and their lip tints are no different. Not only will they give your lips a pop of color, but they will also ensure they stay hydrated for lips that are soft, smooth, and perfect. They glide with ease and also stay put all day long.
With so many options in the market, we're sure you'll be overwhelmed. We've listed out the 7 best Korean lip tints to make this process easy for you. Some of our options even include lip tints with SPF for the ultimate sun protection. So go on, and find your perfect lip match!
What Are Lip Tints?
A lip tint or a lip stain is a liquid or gel-like product that delivers natural, long-lasting color to the lips. These K-beauty bestsellers highlight the natural color of the lips and give you a vibrant, youthful look. They blend effortlessly and double up as blushes.
Let's now look at the best Korean lip tints to buy.
7 Best Korean Lip Tints
The moisturizing, non-sticky lip tint from Flynn defines the lips and adds a dewy shine. The hydro-gel permeates the lips and spreads the color evenly for a fuller look, while the nourishing oils in the formula keep the lips hydrated through the day. You can create multiple looks with this versatile tint – from soft MLBB glazing to ombre lips. The drop-free reservoir applicator ensures a mess-free application.
Pros
Non-sticky
 Moisturizing
Long-lasting
 Smudge-free
 Paraben-free
Gluten-free
Cons
The innovative peel-off lip tint from Berrisom adds a pop of colors to your lips. This lightweight lip stain is smudge-proof, long-lasting, transfer-proof, and does not require frequent touch-ups. It is packed with nourishing papaya, blackberry, evening primrose, camellia, and royal jelly extracts that hydrate the lips, while allantoin and collagen enhance skin elasticity. This lip tint also exfoliates the lips by removing dry skin flakes and dead cells.
Pros
 Long-lasting
 Highly pigmented
 Smudge-free
Transfer-proof
Cons
Dries the lips.
Difficult to remove.
This lip tint from the Nature Republic glides smoothly on the lips and coats them evenly. The long-lasting color does not require frequent retouching. The moisturizing formula keeps the lips from drying out, while the non-sticky texture makes it comfortable to wear.
Pros
 Non-sticky
Moisturizing
 Glides on smoothly
Cons
None
The long-lasting lip stain from rom&nd has a transparent finish with a light tint. It is quick absorbing and gives a luminous shine to the lips. This tasteless gloss has a mild pleasant fragrance and moisturizes the lips without leaving them sticky. This sheer lip tint is easy to apply and does not smudge.
Pros
 Non-sticky
 Long-lasting
 Quick drying
Cons
 Frequent reapplication required.
The eye-catching colorful, vivid tint from Etude House has a natural gradient effect on the lips when blended from the center outwards to the edges of the lips. It glides smoothly and moisturizes the lips. The menthol present in this formula has a cooling and plumping effect on the lips. This bright ruby red grapefruit tint gives the lips a long-lasting dramatic look.
Pros
 Cooling effect
 Plumps the lips
 Highly pigmented
Cons
The water-gel formula of the TONYMOLY lip tint leaves the lips non-sticky and well moisturized. It is fortified with argan oil and fruit extracts to keep the lips refreshed through the day. This collection of bright summer colors is infused with fresh fruit flavors of guava, cranberry, and carrot. The vibrant shades of red and pink coat the lips evenly to give an eye-popping effect.
Pros
 Non-sticky
 Moisturizing
 Pack of three
 Long-lasting
 Quick absorption
Cons
None
The Bbia lip tint has a long-lasting velvety texture that glides on smoothly to create a soft blurred matte effect. It adheres to the lips like a second layer. These tints do not transfer or smudge, so there is no need for a touch-up during the day. The wand applicator provides easy application with a single sweep while it smoothens flaws and gives the lips a healthy finish.
Pros
 Long-lasting
 Blurring effect
 Smudge and transfer proof
 Velvety texture
Cons
Lip tints should not be confused with lipsticks. Let's look at the differences between the two in the next section.
Lip Tints Vs. Lipsticks
The main difference lies in the formulation. Lip tints have a gel or liquid base, while lipsticks generally contain waxes, emollients, and oils. Lipsticks usually come in a twist-up bullet form and are more moisturizing due to the oils, but this may also shorten their shelf life. Lip tints have a thinner consistency and need to be applied with a wand. They adhere to the lips better than lipsticks and require only a tiny amount to achieve the perfect look. Lip tints are lightweight and feel comfortable on the lips.
In the next section, we have discussed the steps to follow to apply a lip tint. Keep scrolling for more information.
How To Apply Lip Tints
Exfoliation: The first step before applying a lip tint is to remove the dead skin cells from the lips by exfoliation. It is important as the tint is easily absorbed and may have a drying effect on the skin. Choose a gentle lip brush to exfoliate.
Moisturizing: After exfoliation, pat the lips dry. Apply a layer of balm to hydrate and moisturize the lips.
Application: Finally, apply the lip tint of your choice. Choose one that matches your lip color.
Why Trust StyleCraze?
The author, Baishali Bhattacharya, is a certified makeup expert and image consultant. She is convinced from her thorough research that Korean lip tints are what you need to achieve that just-been-kissed look. These lip tints have taken the beauty industry by storm as they look subtle and natural. You can wear them during the day for a soft, flushed look.
Frequently Asked Questions
Are Korean lip tints good?
Yes, Korean lip tints are effective and safe for your lips. They are not only the perfect way to provide a subtle flush of color, but it's also the secret to long-lasting healthy lips.
What lip tint does Blackpink use?
Blackpink Jennie's favorite range is glaringly. The stars favor the matte lip tint of various shades like 333 Closure, 177 Seoul Days, 499 Lodge Suede, and 435 Pampas.
How long do Korean lip tints last?
Korean lip tints may last for more than six hours. You can pick from nude tones to chili reds that pop. These moisturizing lip tints give you a lasting tint that holds nearly throughout the day and gives you a long-lasting shine and healthy-looking lips.
What lip tint do K-pop idols use?
The Benefit's Benetint is the OG lip tint is a subtle red tint that gives the most natural flush on the lips and cheeks. Several K-pop stars use this OG lip tint even while participating in a reality show.
What lip tint does BTS use?
The Lip Fondue Aurora 3D Pearl and Toneup CC Pure Red Lip Tint are known to be used by at least one BTS member.
Is lip tint better than lipstick?
Yes. Lip tints can be better than lipsticks depending on the need of the hour and how you use them. Lip tint sticks are convenient like a lip balm and have a lightweight creamy texture. They make your dry lips look fuller and softer. The color looks natural on your lips.
Can you sleep with lip tint on?
A lip tint that contains natural, moisturizing, and nourishing ingredients is safe to use overnight.
Recommended Articles