7 Best Korean Lip Tints Of 2021 That Last All Day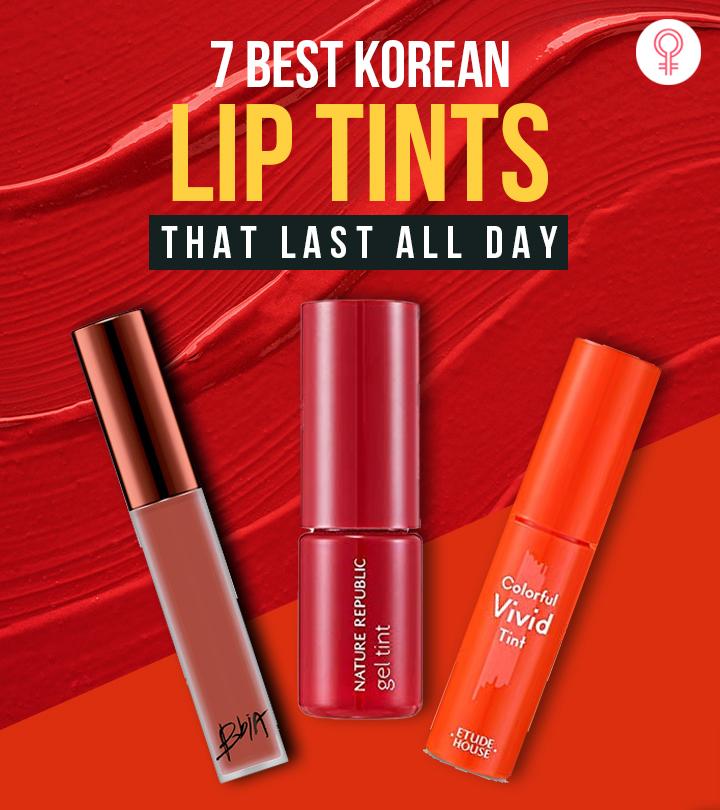 If you are looking for a long-lasting natural lip color that does not require frequent touch-ups, a lip tint is what you need. These beautiful K-beauty exports add a subtle hue to your lips, are long-lasting, and do not require frequent touch-ups. They are often formulated with nourishing ingredients that moisturize your lips. Some of them also contain SPF for added sun protection.
While some lip stains offer a matte finish, others let you achieve a gradient "ombre" look. Some are shiny and glossy, while some leave a long-lasting, natural-looking hue on your lips. With so many options in hand, it may be tricky to choose the perfect lip tint for you. To help you find your match, we have put together a list of the 7 best Korean lip tints. Scroll down to check them out!
What Are Lip Tints?
A lip tint or a lip stain is a liquid or gel-like product that delivers natural, long-lasting color to the lips. These K-beauty bestsellers highlight the natural color of the lips and give you a vibrant, youthful look. They blend effortlessly and double up as blushes.
Let's now look at the best Korean lip tints to buy.
7 Best Korean Lip Tints
The moisturizing, non-sticky lip tint from Flynn defines the lips and adds a dewy shine. The hydro-gel permeates the lips and spreads the color evenly for a fuller look, while the nourishing oils in the formula keep the lips hydrated through the day. You can create multiple looks with this versatile tint – from soft MLBB glazing to ombre lips. The drop-free reservoir applicator ensures a mess-free application.
Pros
 Non-sticky

 Moisturizing
Long-lasting
 Smudge-free
 Paraben-free
Gluten-free
Cons
The innovative peel-off lip tint from Berrisom adds a pop of colors to your lips. This lightweight lip stain is smudge-proof, long-lasting, transfer-proof, and does not require frequent touch-ups. It is packed with nourishing papaya, blackberry, evening primrose, camellia, and royal jelly extracts that hydrate the lips, while allantoin and collagen enhance skin elasticity. This lip tint also exfoliates the lips by removing dry skin flakes and dead cells.
Pros
 Long-lasting
 Highly pigmented
 Smudge-free
Transfer-proof
Cons
Dries the lips.
Difficult to remove.
This lip tint from the Nature Republic glides smoothly on the lips and coats them evenly. The long-lasting color does not require frequent retouching. The moisturizing formula keeps the lips from drying out, while the non-sticky texture makes it comfortable to wear.
Pros
 Non-sticky
Moisturizing
 Glides on smoothly
Cons
None
The long-lasting lip stain from rom&nd has a transparent finish with a light tint. It is quick absorbing and gives a luminous shine to the lips. This tasteless gloss has a mild pleasant fragrance and moisturizes the lips without leaving them sticky. This sheer lip tint is easy to apply and does not smudge.
Pros
 Non-sticky
 Long-lasting
 Quick drying
Cons
 Frequent reapplication required.
The eye-catching colorful, vivid tint from Etude House has a natural gradient effect on the lips when blended from the center outwards to the edges of the lips. It glides smoothly and moisturizes the lips. The menthol present in this formula has a cooling and plumping effect on the lips. This bright ruby red grapefruit tint gives the lips a long-lasting dramatic look.
Pros
 Cooling effect
 Plumps the lips
 Highly pigmented
Cons
The water-gel formula of the TONYMOLY lip tint leaves the lips non-sticky and well moisturized. It is fortified with argan oil and fruit extracts to keep the lips refreshed through the day. This collection of bright summer colors is infused with fresh fruit flavors of guava, cranberry, and carrot. The vibrant shades of red and pink coat the lips evenly to give an eye-popping effect.
Pros
 Non-sticky
 Moisturizing
 Pack of three
 Long-lasting
 Quick absorption
Cons
None
The Bbia lip tint has a long-lasting velvety texture that glides on smoothly to create a soft blurred matte effect. It adheres to the lips like a second layer. These tints do not transfer or smudge, so there is no need for a touch-up during the day. The wand applicator provides easy application with a single sweep while it smoothens flaws and gives the lips a healthy finish.
Pros
 Long-lasting
 Blurring effect
 Smudge and transfer proof
 Velvety texture
Cons
Lip tints should not be confused with lipsticks. Let's look at the differences between the two in the next section.
Lip Tints Vs. Lipsticks
The main difference lies in the formulation. Lip tints have a gel or liquid base, while lipsticks generally contain waxes, emollients, and oils. Lipsticks usually come in a twist-up bullet form and are more moisturizing due to the oils, but this may also shorten their shelf life. Lip tints have a thinner consistency and need to be applied with a wand. They adhere to the lips better than lipsticks and require only a tiny amount to achieve the perfect look. Lip tints are lightweight and feel comfortable on the lips.
In the next section, we have discussed the steps to follow to apply a lip tint. Keep scrolling for more information.
How To Apply Lip Tints
Exfoliation: The first step before applying a lip tint is to remove the dead skin cells from the lips by exfoliation. It is important as the tint is easily absorbed and may have a drying effect on the skin. Choose a gentle lip brush to exfoliate.
Moisturizing: After exfoliation, pat the lips dry. Apply a layer of balm to hydrate and moisturize the lips.
Application: Finally, apply the lip tint of your choice. Choose one that matches your lip color.
Now that you know how versatile and long-lasting lip tints can be, go ahead and choose from our list of the best Korean lip tints that can give your lips a dramatic look effortlessly.
Recommended Articles
The following two tabs change content below.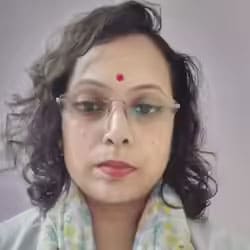 Baishali has a master's degree in English and is an associate editor. She specializes in makeup and fashion and reviews products that fall under these categories. Prior to this, she worked with a digital marketing company in Kolkata where she wrote stories on travel, beauty, and home décor. When she is not working, Baishali loves reading and having intense discussions over a cup of tea.