Vaseline: What Is It And How To Use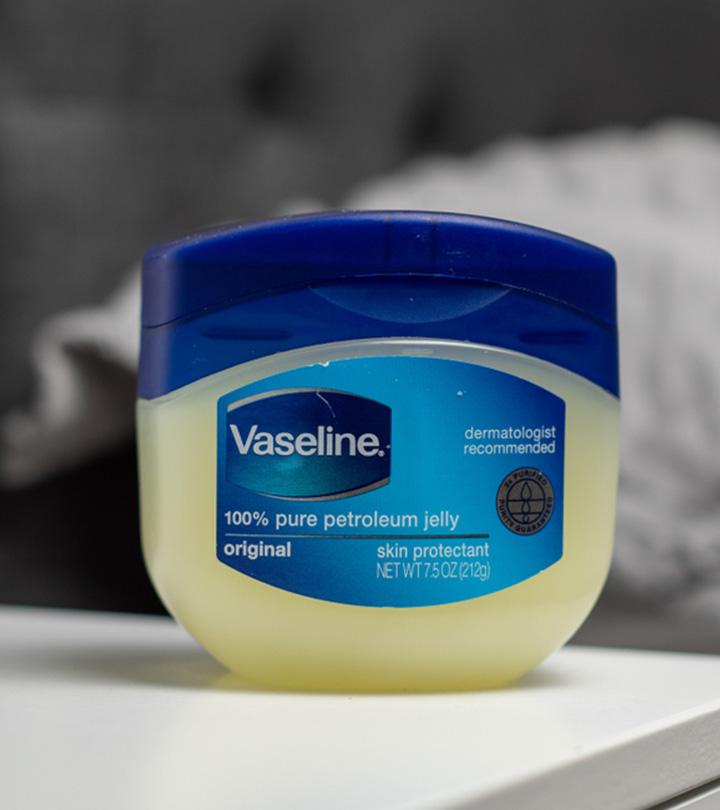 A jar of Vaseline has been a staple in every household for years now. It is a quick fix for chapped lips and winter dryness and is used for various beauty applications and hair problems.
Vaseline is interchangeably referred to as petroleum jelly and can be used in various ways to promote skin health. Here, we discuss Vaseline (aka petroleum jelly) and its uses. We will also look at any potential risks it may pose. Keep reading.
What Is Petroleum Jelly?
Petroleum jelly is an odorless, jelly-like substance found in the petroleum distillation process. It is most commonly known as Vaseline today but was first discovered in 1859 by Robert Augustus Chesebrough in Pennsylvania.
The semisolid material is a mixture of hydrocarbons and is a component in most cosmetic products. It contains mineral oils and wax and has become one of the most popular remedies for dry skin and chapped lips overtime.
Historically, petroleum jelly was used to treat burns and wounds. However, today it is used for various other purposes too.
11 Ways You Can Use Vaseline
1. To Moisturize Your Skin
One of the most common uses of Vaseline is as a moisturizer for dry, dehydrated skin. This versatile moisturizing product can be used on your face and body. It does not make your skin greasy.
The biggest advantage of petroleum jelly is its ability to seal in moisture and fight dryness. It can keep your skin soft and supple, more so during the winters. Applying a generous amount of this cream can also repair the cracks and dryness on your ankles and elbows.
2. To Remove Your Makeup
Vaseline acts as a great makeup remover for women of all skin types. Its oily texture breaks down makeup, and you can remove it easily in a few swipes.
Petroleum jelly usually does not irritate the face. Thus, people with sensitive and dry skin may use it in the place of harsh makeup removers. It is also gentle on your skin. When applied in the right quantities, it does not feel heavy or greasy.
3. To Highlight Your Cheeks
Why spend money on a good highlighter when you can just use a little Vaseline to highlight your cheekbones? A small dollop of petroleum jelly on the cheeks will give you an effortlessly dewy look. But do not apply too much of it, especially if you have acne-prone skin. It is notorious for clogging your pores and may make your face look sweaty.
4. To Reduce Split Ends
A lesser-known use of Vaseline is relieving split ends. Dry hair is more prone to splitting at ends and becoming frizzy and unmanageable. Petroleum jelly€™s waxy texture can impart an instant shine and hydration to your dry hair.
Applying a little petroleum jelly to your split ends will also reduce their visibility and make your mane much sleeker. However, avoid applying too much on your hair or using it on your scalp.
5. To Make Your Perfume Last Longer
Vaseline can increase the longevity of your perfume and keep you smelling fresh for longer. This emollient is a thick, oily substance that stops the scent from getting absorbed into your skin too quickly. Apply a pea-sized amount to your wrists before you spritz the fragrance.
6. To Heal Minor Skin Burns And Bruises
Applying Vaseline to minor burns or bruises on your skin can help retain moisture and keep the dryness away. It is also safe to be applied to post-operative wounds to speed up the healing process (1). However, bear in mind that the jelly may cause skin redness in some rare cases. Consult your doctor in this regard.
Before applying petroleum jelly on wounds, it is advised to clean the area properly. Using it on unclean wounds can trap bacteria and degrade the wound, further slowing down the healing process.
7. To Heal Diaper Rash
You can also use Vaseline for treating and preventing diaper rash in kids. Applying the ointment showed a lesser incidence of diaper rash in babies (2). Vaseline acts as a barrier between the skin moisture and the epidermis. It protects the skin from developing an undesirable reaction or rash.
8. To Prevent Atopic Dermatitis In Infants
Some infants have a higher risk of contracting atopic dermatitis or eczema. Research shows that applying Vaseline can prevent this out break in infants (3). The product can seal the moisture and oils in the baby's skin and keep it from drying out. Vaseline is safe for topical application on newborns from 3 weeks after birth.
9. To Relieve Itching, Psoriasis, And Eczema
Individuals with eczema or psoriasis regularly deal with itchy skin, irritation, and patches. Such individuals also have dry, flaky skin. Using petroleum jelly can considerably reduce inflammation and offer relief from itching. It also acts as a great moisturizer and prevents itchiness and flare-ups. To improve its efficacy, use petroleum jelly on damp skin (preferably after a bath).
10. As A Perfect Makeup Solution
Unsurprisingly, petroleum jelly can be used in makeup and skincare. The semisolid substance not only helps you moisturize and highlight your skin but also changes the texture of your makeup products from matte to creamy or shiny. Just mix a pea-sized amount of the jelly with your powdered shadow to create a creamy and more pigmented look.
While Vaseline has many advantages, you must remember not to overuse it. In the following section, we will look into certain risks and considerations associated with Vaseline.
Risks And Considerations Of Using Vaseline
Vaseline can trap bacteria in and around open wounds if not cleaned properly. It may also cause infections if the jar is unsanitary. Wash your hands before using Vaseline from the jar.
People with oily skin may have a higher risk of clogged pores or breakouts with excess Vaseline application (as it is a thick emollient). Use only a small amount of the cream if you are prone to breakouts. Always apply it to freshly washed skin.
Always purchase purified petroleum jelly that is suitable and approved for topical application. Unrefined petroleum jelly often contains harmful impurities.
Vaseline may cause allergic reactions in people who have sensitive skin. Carry out a small patch test before applying it to your face or body, or consult your dermatologist before use.
Vaseline is only meant for external use. Do not consume it or apply it internally.
Certain people believe that refined petroleum jelly contains carcinogenic substances and may increase cancer risk. But how far is this true?
Does Petroleum Jelly Cause Cancer?
No, there is no scientific evidence to suggest that petroleum jelly can cause cancer.
Petrolatum substances have their name in the CMR (i.e., carcinogens, mutagens, or toxic to reproduction) list, leading to this widespread misinformation. Unrefined petroleum jelly may contain certain substances (polycyclic aromatic hydrocarbons) that are linked to cancer risk. However, more research is warranted in this regard. Consult your doctor for more details.
In Closing
Vaseline is the easiest way to tackle dry skin. This inexpensive product creates a layer over the epidermis that prevents moisture loss and keeps skin plump and hydrated.
The various uses of petroleum jelly, aka Vaseline, make it a must-have product in every household. However, it may cause certain skin reactions and warrants a patch test before use. Its relation to cancer is unclear. Ensure you discuss the same with your doctor before using it in your regular skincare routine.
Recommended Articles
Sources
The following two tabs change content below.