10 Best Flat Irons For Short Hair – Reviews And Buying Guide
Protect short hair from damage and get a sleek finish with these lightweight flat irons.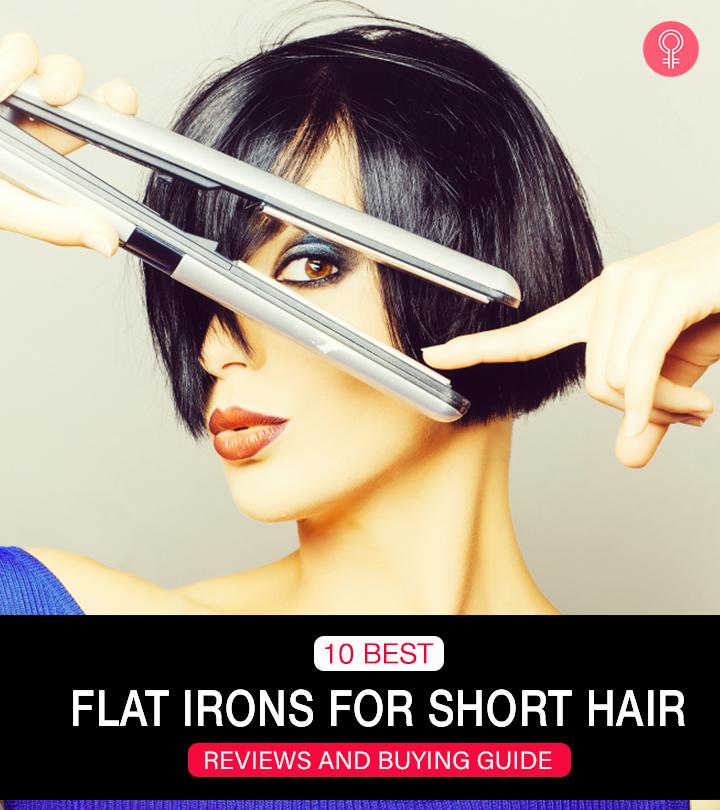 The most enticing part about having short hair is you don't need long plated irons to straighten them. The best flat iron for short hair instantly gives you a sleek and smooth finish. Flat irons meant for short hair vary in size, width, and temperature settings. Even if you have short hair, choosing professional-grade straighteners with ceramic heat technology is a good idea. They protect against damage and offer a glossy finish. But, you need thin plates for short hair to straighten each section perfectly.
Yvey Valcin, a celebrated Hair Stylist, mentions, "I would have to say, putting heat on your hair is a very critical approach that is why it's important to know your hair well. There are a couple of plate irons, ceramic and titanium, both will do the job, but hair responds to each of them differently. For instance, if you already have dry hair, titanium is not your go-to because it'll only dry the hair even more which will cause hair damage. It is always good to get a good flat iron, the same ones professionals in the industry use." Whether you have wavy, thick, or naturally curly hair, here is our list of the best straighteners for short hair that will suit you. Scroll down!
Top 10 Flat Irons For Short Hair
HSI Professional Glider Flat Iron has tourmaline ceramic plates with 8 micro-sensors that use Heat Balance technology to distribute heat evenly so that you spend less time on styling your hair. It regulates the temperature so that you do not apply excessive heat to straighten your hair.
HSI Professional Glider heats up quickly, and its temperature can be adjusted between 140-450° F. It gives you complete control in matching the heat to your hair type.
The anti-frizz technology used in the tourmaline infusion place helps reduce flyaways and frizz by generating negative conditioning ions to protect your hair from breakage. In addition, the floating plates give the flexibility to straighten your hair quickly. This video of a tester's experience with this iron will give you a better insight into it.
Specifications
Plate Size: 1 inch
Plate Material: Tourmaline ceramic
Temperature: 140-450° F
Key Features
110/220 worldwide dual voltage
360° swivel cord
Micro sensors for distributing even heat
Pros
1-year warranty
Durable plates
Comes argan oil treatment and a style guide
Reduces static
Cons
None

Price at the time of publication: $39.95
Remington S5500 1" Anti-Static Flat Iron is perfect for styling dry and frizzy hair. It reduces the amount of negatively charged particles during styling to protect your hair from breakage. The plates are designed with advanced technology that helps eliminate static by 50% and tames flyaways.
The ceramic plates with titanium coating heat up quickly and allow smooth gliding for quick styling sessions to create a silky, shiny look. The non-snagging plates are 30% longer than regular flat irons for quick and easy styling.
The digital LCD controls enable you to figure out the perfect temperature for your hair type.
This flat iron has a special Turbo Boost function that allows the device to quickly boost its temperature to the highest degree. Watch this video to check out a tester's experience of using the flat iron.
Specifications
Plate Size: 1 inch
Plate Material: Ceramic plates coated with titanium
Temperature: 410° F with 6 heat settings
Key Features
60-minute auto shut-off
Turbo Boost function
LCD display
120 VAC
30-second heat-up time
Pros
2-year limited warranty
Easy to use
Gives you silky and smooth hair
Styles your hair within minutes
Adds shine and luster to your hair
Cons
None

Price at the time of publication: $19.84
The Terviiix Flat Iron for Short Hair allows you to choose the temperature based on the thickness and style of your hair. It heats up fast in just 15 seconds and is quick for smoothing out short layers. The IONIC hair care technology smoothens open hair cuticles, seals your hair moisturizer, and makes the hair non-frizzy. In addition, this flat iron minimizes hair damage with the even distribution of heat and is a great option for efficient styling on short hair. It provides a sleek and polished look and reduces hair breakage as it does not snag hair. Click here to explore a reviewer's experience of the tool.
Specifications
 Plate size: 3/10 inch
 Temperature: 122℉ to 450℉
 Plate material: Ceramic
Key features
 Even heat distribution
 Digital LCD display
 Floating plate
Pros
 Quick heat-up
 Sleek finish
 Hanging loop
Cons
None

Price at the time of publication: $19.99
Ba Byliss Pro Nano Titanium-Plated Ultra-Thin Straightening Iron uses high-heat conductivity to straighten your hair quickly without damaging the cuticles. Its slim design helps you hold your hair in place for flexible styling. This way, you can avoid the hand fatigue caused by long straightening sessions. You can also achieve pin-straight styles with this fast-performing flat iron.
The heat levels provide excellent hair-straightening results without drying out your hair. The extended 5" long plates allow you to straighten wider sections of hair. This flat iron has 50 heat settings that go up to 450° F.
Specifications 
Plate Size: 1 inch
Plate Material: Titanium and ceramic
Temperature: 450° F
Key Features
Extra-long 5″ plates
50 heat settings up to 450° F
Advanced heated plates
Pros
Lightweight
Easy to hold
Imparts conditioning ions
Covers a large section of hair in a single stroke
Heats up quickly
Corrosion-resistant
Cons
None
Price at the time of publication: $154.99
Get gorgeously smooth and shiny straight hair with the InfinitiPro Tourmaline Ceramic 1" Flat Iron that is designed to protect your hair from burning while providing salon-quality results in the comfort of your home. The tourmaline ceramic-coated plates provide even heat distribution to minimize damage and give you frizz-free, shiny, and healthy-looking hair.
The device heats up within 15 seconds to an ultra-high 455° F. It also has variable heat settings to suit every hair type. This professional-quality hair straightener lets you style your hair quickly and efficiently without burning it.
Specifications
Plate Size: 1 inch
Plate Material: Tourmaline ceramic
Temperature: 455˚F
Key Features
15-second heat-up time
30 heat settings
Auto-off function
Pros
Imparts a lustrous shine
Reduces heat damage
Delivers quick results
Easy to hold
Cons
None
Price at the time of publication: $30.58
Furiden Professional Flat Iron is a 2-in-1 tourmaline ceramic flat iron for all hair types. It is equipped with 5 adjustable temperature settings to give you more control while styling your hair. The advanced precision-engineered floating plates eliminate snagging and provide a glossy shine to your hair. The high-technology ceramic plates are infused with MCH tourmaline heaters for immediate heat recovery within 15 seconds. This flat iron is perfect for creating endless styles, be it glamorous curls, mermaid waves, or a sophisticated straight look. Its curved edges and rounded barrels provide flexible hold for hours.
Specifications
Plate Size: 1 inch
Plate Material: Tourmaline ceramic
Temperature: 250-450˚ F
Key Features
5 temperature settings
Advanced floating plates
Curved edges and round barrels
Universal dual voltage
Auto-sleep mode
Pros
Easy to hold
18-month warranty
Durable
Long-lasting results
Comes with a travel bag, a heat-resistant glove, a professional styling comb, and 2 styling and sectioning hair clips
Cons
None
Price at the time of publication: $69.99
CHI G2 Ceramic And Tourmaline Straightening Iron creates silky, shiny, and frizz-free hair instantly. It is powered with the most recent advanced technology with unique features. It offers superior performance with full customization options. It has a stylish and ergonomic design that enables you to create endless styles. The upgraded ceramic plate technology offers great durability and makes styling your hair smoother and quicker than ever.
Specifications
Plate Size: 11/4 inches
Plate Material: Ceramic and titanium
Temperature: 425° F
Key Features
Quick 40-second heat-up time
Dual voltage for international travel
1-hour auto-shut off
Pros
Two-year limited warranty
Gives silky, shiny, and frizz-free hair
Delivers quick results
Easy to hold
Cons
None
Price at the time of publication: $60.0
This award-winning flat iron straightens your hair effortlessly within minutes. It uses ceramic heat technology to style your hair at the optimum styling temperature for silky and smooth results. The rounded barrel and floating plates make this straightener glide through your hair easily to create a perfectly straight look.
The 1" plate is useful for straightening baby hair at the roots. This flat iron is capable of heating up to 365°F, ensuring effective styling while minimizing heat damage. Say goodbye to frizz and hello to long-lasting, flawless hair with this exceptional, professional-grade flat iron.
Specifications
Plate Size: 1 inch
Plate Material: Ceramic
Temperature: 365º F
Key Features
30-minute auto-shut off
30-second heat-up time
Universal voltage
Pros
Easy to use
Minimizes heat damage
Travel-friendly
Suitable for all hair types and textures
Cons
None
Price at the time of publication: $169.0
Bed Head Pixie ½'' Straightener is the ideal flat iron for extremely short hair. It reaches the roots to tame flyaways with no strand left behind. The tourmaline ceramic technology helps fight frizz and add a lustrous shine to your hair. It is a lightweight and compact straightener that is easy to use and carry around anywhere. Its shorter plate width allows better maneuvering around short hair and enhanced control on shorter strands.
Specifications
Plate Size: ½ inch
Plate Material: Tourmaline ceramic
Temperature: 430° F
Key Features
30-second heat-up time
Worldwide dual voltage
Tangle-free swivel cord
Pros
Perfect for straightening baby hair at the roots
Travel-friendly
Durable
Easy and comfortable to use
Lightweight
Cons
None
Price at the time of publication: $25.89
The 6th Sense 2 in 1 Mini Flat Iron Curling Iron is a versatile styling option designed for at-home usage and while traveling. It features a compact design that makes it easy to pack and carry, and its dual voltage capability allows its usage in any country with the appropriate plug adaptor. It also comes with a heat-resistant carry case for easy and safe storage during travel. This multi-functionality tool is effective for straightening, curling, and creating beachy waves on your hair.
The iron heats up quickly to 375° F, which is the ideal temperature for no heat damage. The iron also features nano titanium plates for even heat distribution and smooth hair curling.
Specification
Plate Size: 1 inch
Plate Material: Nano titanium
Temperature: Up to 375° F
Key Features
Dual voltage for international use
Fast heat up time to 375 degrees Fahrenheit
Minimal heat damage
Pros
Versatile
Portable
Lightweight
Compact design
Adjustable temperature
Cons
None
Price at the time of publication: $29.95
Buying a flat iron for short hair can be tricky. To help you out, we have compiled a buying guide that can make your shopping experience easier. Scroll down and find the factors that you must consider to purchase an expert-recommended flat iron.
Buying Guide – How To Choose The Right Flat Iron For Short Hair
Here are some key features you need to consider when purchasing a flat iron for short hair.
1. Temperature Settings
Having multiple temperature settings enables you to choose the exact temperature that suits your hair type and maintains an even temperature throughout the styling process. This is especially useful if you are going to share the tool with your family. Here are the recommended temperature ranges for different hair types:
Fine hair – 250-350º F
Normal hair – 300-400º F
Thick or coarse hair – 350-455º F
2. Plate Coatings
These days, every straightener has a coating of some kind for better styling. The most common coatings or infusions are as follows:
Ceramic: Ceramic plate coating promotes even heat distribution and lowers heat damage. It builds up the heat evenly without overheating or causing hot spots. It also reduces frizz and dryness.
Titanium: Titanium is a good conductor of heat. It heats up quickly. It also helps heat penetrate the cuticles of your hair faster than other materials.
Tourmaline: Tourmaline crystal plate infusion prevents frizz and moisture loss. It is a semi-precious stone that, when paired with ceramic, enhances the straightening effect. Tourmaline also provides a smooth and straightened look without static.
Silk heat plate: Silk flat irons are extremely smooth. They help create soft and shiny hair without any damage or hotspots. With silk heat plates, there is a lower chance of snagging.
3. Plate Size
The plate size is fairly important as it differs depending on the type and length of your hair. For short hair, you can use a 1-inch or smaller plate to target baby hair and bangs. Using a small straightener allows you to style your hair from the roots with precise styling control. The set wop late sizes are suitable for short hair:
Narrow: If your hair is chin-length, purchase a flat iron with no wider than 1" plates. This will help you maneuver the iron easily and cover more surface area while straightening your hair.
Mini: If you have a pixie cut, a mini flat iron with ½" or ¾" wide plates are perfect.
4. Weight
Straightening your hair takes time, especially if you have extremely coarse and thick hair. You may end up holding your hands up over your head for a long period of time. To avoid arm fatigue, purchase a lightweight straightener. Titanium is the perfect option as it is a lightweight and durable material.
5. Swivel Cord
A 360º swivel cord enables you to straighten your hair freely and gives you the flexibility to style your hair comfortably at any angle.
6. Dual Voltage
Dual voltage (110-120V and 220-240V) enables you to use your flat iron anywhere in the world without needing a converter. 
7. Safety Features
The most important feature you need to look for in a flat iron is the auto-shutoff feature. In case you forget to turn off your device and leave the house, this feature will shut down the tool after a prescribed time (60-90 minutes) on its own.
Another feature you may need is a locking mechanism. This enables you to lock the plates shut while heating to prevent burning your hand accidentally. It is also a good feature for traveling. 
8. Warranty
Always purchase a straightener that comes with a good warranty. This represents the authenticity and quality of the brand as promised to a customer.
Besides these features, here are some tips to keep in mind when straightening your short hair. 
Always straighten your hair on low heat to avoid damaging your tresses.
Do not straighten your hair every day.
Always use a heat-protectant spray or serum before straightening your hair to prevent breakage, split ends, and hotspots.
Do not blowdry your hair before straightening it as this will add more stress to the cuticles due to double doses of high heat.
Always condition your hair before straightening. This will reduce the risk of damaging your hair.
Do not go over the same spot several times with the flat iron. This can severely damage the strands.
Now that you know everything about buying a flat iron, let's check out how to straighten your hair! 
Step-By-Step Guide To Straightening Short Hair
Step 1 – Dry Your Hair
You need to dry your hair thoroughly before straightening it. Do not use a flat iron on wet hair as it can damage your tresses. The best thing to do is to air-dry your hair and then proceed to straighten it.
Step 2 – Section Your Hair
Section your hair on the sides and at the back: right side, left side, right crown, left crown, right nape, and left nape. Always start from the top, then work your way down to the nape of your neck.
Step 3 – Brush Through
Before straightening a section of hair, comb through it thoroughly to avoid knots and tangles. If you do not comb your hair, it can cause hotspots.
Step 4 – Straighten
Pick up your hair inch by inch and straighten it thoroughly, starting from as close to the scalp as possible. However, you need to be extremely careful to not burn your roots. Do not pass over the same section more than twice.
Flaunt your perfectly sleek and shiny straight hair by using any of these amazing hair straighteners. Pick your favorite product from the list to get the short and straight hair of your dreams!
Why Trust StyleCraze?
Pooja Karkala is our in-house writer who loves reviewing hair care products after considering the readers' requirements and unique hair types. She has looked at multiple products and user reviews before compiling this list of the best flat irons for short hair. Each product has been carefully handpicked, and she compares factors such as size, width, and temperature settings to help you choose one that best suits your requirements.
Frequently Asked Questions
Is it possible to get a salon-quality straightened look by doing it myself at home?
Yes, you can, provided you use the right products in the right way. However, for perfect salon-quality results, you need to practice straightening your hair several times.
How much heat is right for my hair?
You can use 250-350º F on fine hair, 300-400º F on normal hair, and 350-455º F on thick or coarse hair
How do you curl short hair with a flat iron for beginners?
• The first step towards curling short hair with a flat iron is prepping the hair for the process. Always make sure that your hair is dry and apply a product for heat protection before heat-styling.
• Then, brush your hair to ensure there are no knots.
• Decide on what type of curl you want for your hair.
• Start creating sections in your hair.
• Start curling your hair and make sure to work with one section at a time. Don't forget to clip other sections.
• After curling all the sections, run a comb or your hands through the curls and set it all with hairspray.
What's the difference between flat irons and straighteners?
Straighteners are a category of styling tool that consists of various tools such as flat irons, straightening brushes, etc. to straighten the hair. Flat irons, on the other hand, are specific types of styling tools that have two plates with which you straighten the hair.
How do I get volume on top of my head?
You can easily get volume on top of your head with the help of a flat iron. The trick is, instead of pushing the hair back, use a flat iron to draw it upward, forward, and away from the scalp. This will result in volume at the top. Use a hair-setting spray that creates volume and texture and holds your hair in place.
Recommended Articles