15 Best Curling Irons For Thick Hair Of 2022 Reviews & Guide
Get voluminous ringlets with super affordable hair care devices for thicker strands.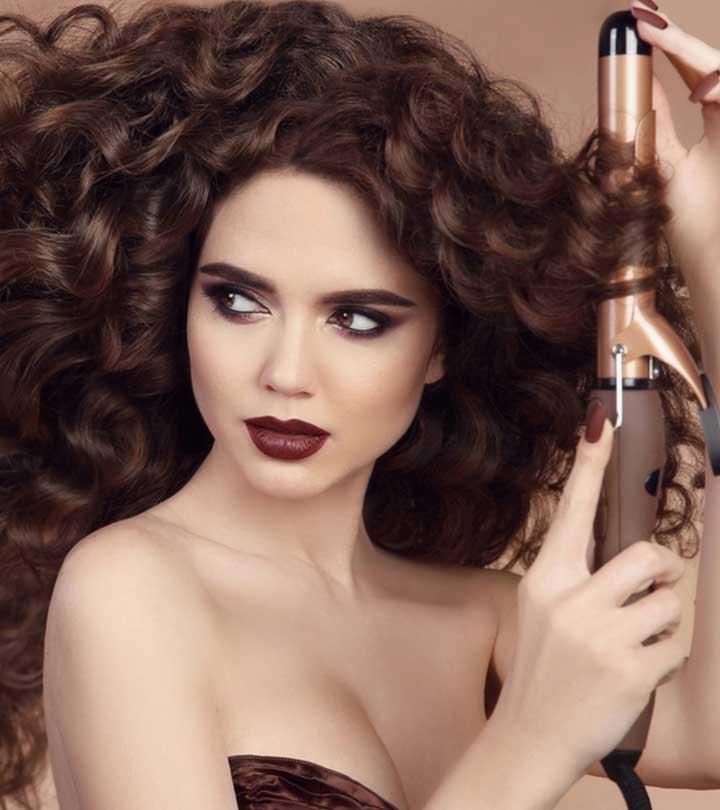 Wondering how to deal with thick hair? With some of the best curling irons for thick hair, you will not find it hard to tame those locks. All lovely ladies with thick hair, as much as you think it's tough to manage thick hair, it is also a huge blessing. Sure, thick hair can offer a lot of resistance while styling but the right curling iron can make your locks shiny and beautiful. Gorgeous curls that have the desired volume and shine makes every woman confident to rock her hair. But how do you achieve that when you have thick hair? If you pay a little attention when purchasing your curling iron, you can make the experience of curling your hair effortless. Enjoy experimenting with various types of curls just like you desire. It could be beachy waves, closed curls, or open curls that flatter your hair and give you that rocking bounce.
If you're not very good at choosing styling appliances, fret not. We got you lovely! Check out our list of the best curling irons for thick hair if you want a lead:
Top 15 Curling Irons For Thick Hair: Best Curling Irons & Wands For Your Hair
Style your hair to suit your personal taste with the Hot Tools Professional Curling Iron. It is designed with a cutting edge style tool that lets you create the perfect curls, romantic beachy waves, and glamorous loops. It comes with a styling iron of 24-karat which evenly distributes heat from one end to the other and ensures that the wand remains hot throughout your styling process. With complete control of the heat setting, you just have to twist the rheostat to set the temperature you desire. It also has a rotating cool tip to enable faster curl wrapping, giving you perfectly curled locks. Learn more about this product in this video.
Pros
Unique styling surface which allows even distribution of heat
Sleek design and comfortable grip for easy use
Variable temperature control of up to 430 F
Stays consistently hot and maintains temperature throughout the styling process
Comes with a foldable safety stand for convenient storage
Cons
Does not allow hair to glide through it
With a Ceramic Tourmaline barrel Technology, the Bed Head Wave Artist is one of the best curling irons for thick hair. It provides long-lasting results and makes your hair frizz-free and shiny. It is designed with a deep barrel technology to ensure quick and easy beachy curls with temperature up to 400 F that stays consistently hot. The multiple heat setting feature makes this curler suitable for all hair types, including coarse hair. To get natural-looking beach waves, style one-inch sections of your hair and use larger sections for uniform and sculpted waves. It also features an auto shut-off component for safety purposes. The Bed Head Wave Artist Curling Wand is trendy and cool, and it comes in an ultraviolet purple color that beautifies your bathroom counter. This video will provide you with added insights about the product.
Pros
Deep barrel technology to aid quick and easy beach waves
Temperature control up to 400 F to suit all hair types
Consistent heat to enrich styling experience
Makes hair frizz-free
Gives hair a boost of shine
Cons
Cannot put a lot of hair into each section
One of the best clamp-free curling irons for thick hair, the Conair Infiniti Pro Curling Wand gives you those dreamy beachy waves you always desired. Whether you want looser curls or tighter ones, a simple wrap around the curling tool allows you to create your hairstyle. If you want tight curls, simply wrap your hair tightly around the wand and for loose curls, wrap your hair in wider sections. It is conically tapered which enables you to try out a variety of different curls, from trendy and twisted spirals to curly and wavy bouncy locks for all your styling needs. The Tourmaline Ceramic technology gets rid of frizzy hair and makes your hair silky and smooth. It heats up and is ready to style your hair in less than 30 seconds. Take a look at this video to know more about the product.
Pros
Clamp-free and tangle-free technology to ensure easy curling
Heats up in less than 30 seconds and remains hot consistently
Automatic shut-off feature to ensure safety
Comes with a thermal glove to offer protection for your hand
The cord is long enough to ensure styling any part of your hair
Cons
Does not come with a clip to hold the hair down
Another one from Connair, this curling iron is sturdy with a touch of classy. It instantly heats up, eliminating your wait time. The Conair Instant Heat Curling Iron has a modern and patented design. Its unique feature is the tangle-free swivel cord and a nonslip grip handle. It has an electronic touchpad control switch and a dual voltage system which gives it a modern touch. The curling iron comes with a setting of 25 different temperatures to give you the most optimized control. The inch barrel has a combination of elements like chromium, nickel, copper, and steel which ensures consistent heat and long-lasting results.
Pros
The device has a modern design
It has an option of 25 different temperatures
It features an instant heat-up option
It has a sturdy non-slip grip
The tangle-free swivel cord makes it convenient for use
Cons
Does not have a chrome finish
If you are looking for loose curls for thick hair, this curling iron is the one for you. It uses far-infrared heat which helps to heat hair from the shaft and reduce damage. It is designed to manage 50 different heat settings and features a turbo heat button which instantly boosts heat and gives you defined curls. You can choose from various sizes depending on the curl size you desire. Unlike conventional barrels, the BabylissPRO Nano Titanium Spring Curling Iron barrels are made up of Sol-Gel technology which has a higher percentage of titanium and ceramic. Because of this, they are stronger, chemically resistant, and long-lasting.
Pros
A choice of 50 different heat settings which go up to 450 F
Has a turbo heat boost button that results in defined curls
Can create loose waves or textured curls, depending on your preference
Barrels have a high-end technology to make it stronger and long-lasting
Cons
The CHI Spin N Curl Ceramic Rotating Curling Iron proves to be an essential beauty gadget if you're obsessed with on-the-go curls without having to deal with split ends or frizz. More so, this curling iron is also useful in repairing damaged hair, giving it a healthy and shiny look. The curling iron intensively nourishes your hair while preventing the hair from getting damaged due to heat. This curler has an automatic shut-off button for energy-saving and its power cord prevents wire twinning for a professional experience every time you desire you create elegant curls.
Pros
Adjustable heat settings as per hair type
Prevent hair tangle
Makes hair shiny and healthy
Travel-friendly
Cons
Bestope includes a 1-inch bubble barrel in its 5-in-1 curling wand set that helps first-timers get the curls they always wanted. No more trips to the salon to get curls done! This curling iron gives your hair frizz-free and shiny finish. The lock for the barrels is notch based which gives them extra stability. With the non-skid type handle, it is evident that safety and comfort are at the forefront of the design. Bestope also includes a heat resistant glove that comes handy when you want to quickly swap barrels without having to wait for it to cool down. It makes a great gift for your friends and family members.
Pros
Comes with a bubble barrel
Takes 45 seconds to reach a temperature of 410F which is suitable for all hair types
The barrel is made of 100% Tourmaline ceramic which ensures even heat distribution, rapid heating and helps seal moisture to protect the hair
Has an auto shut-off function that shuts down the wand when left unused for 60 minutes
Cons
Doesn't have an option to regulate temperature
The Remington CI9538 Pro Curling Wand features a 1-inch-1.5inches wide conical barrel with ceramic coating. The pearl-infused barrel creates dreamy, tousled waves with a smooth and lustrous shine. In addition, it offers 9 heat settings and heats up to 410°F. It tames frizz and gives you gorgeous-looking hair instantly.
Pros
Pearl-infused barrel
Consistent heat
Tames frizz
9 heat settings
LCD temperature display
Auto shut off
Cons
This curling wand by Revlon is a budget-friendly, feature-loaded product. The heating wand is coated with ceramic thrice which helps avoid damages caused due to over-styling by evenly distributing heat. It gives you natural looking curls whether they are loose waves or bouncy curls. You may heat the wand to a temperature of 420F with 30 different heat settings all for hair types, thick or thin.
Pros
30 heat settings that heat up to 420F giving precise control
Triple coated ceramic helps prevent hair damage
A swivel cord that reduces tangling
Cons
No indicator to tell the exact temperature setting at any given time
The Herstyler Baby Curling Iron Wand is made of ceramic that releases negative ions, preventing damage to the hair cuticles. This mini curler creates tight curls that look smooth, natural, and last a day easily. It heats up to 400°F and the clipless teflon barrel helps you to have shiny hair without any breakage. The ergonomically designed curling iron is suitable for all hair types and is convenient for travel and storage.
Pros
Suitable for all hair types
Travel-friendly
Heats up quickly
Lightweight
Tapered barrel
Cons
No auto shut off
No indicator
No temperature adjustment
This sleek and stylish looking product from Hoson is for people with short or medium hair length. The long barrel curls long hair well allowing you to roll your hair down the barrel all the way. The barrel is half an inch in diameter with a Dual PTC heater that heats up to 225F in 60 seconds. The temperature can be controlled and has a wide range from 225F to 450F. It has a bright and contrasting LCD that displays the temperature. It also has an auto shut down feature that shuts the curling iron after 60 minutes when not in use.
Pros
Auto Power shut off
Has an LCD indicator for temperature
Stylish design and a durable build
Safety insulated tip to prevent scalding and a stand for placing the rod on a surface
Cons
Not suitable for people with long hair
The curling iron by MBHAIR has a narrow 9mm barrel that allows for tight curls on both long and short hair types. It has a wide range of temperature adjustments from 175F to 450F and it takes a mere 5 seconds to heat up. The ceramic coating releases negative ions that help keep the hair moist, shiny and reduce hair damage. With a worldwide dual voltage standard, it automatically identifies the voltage and adjusts to make it an ideal choice for travelers.
Pros
Takes 5 seconds to heat up the barrel
Option to adjust the temperature
Thin barrels allow for tighter curls
360-degree rotatable cable for a tangle-free usage
Auto shut off feature after 60 minutes of inactivity
Cons
The automatic rotating iron is the perfect response to people who constantly burn their hands with the iron barrel. All you need to do is put a section of hair on the teeth end of the barrel and start the motor that rotates the barrel in the direction you want the curl in and hold it there, the iron further has a monotone beep that goes off in a few seconds that ensures you don't over style and damage your hair. The curling iron comes with adjustable temperature ranging from 250F to 450F catering to all types of hair. The thick barrel curling iron is made of ceramic and coated with nanodiamond particles that provide consistent heat for a beautiful finish.
Pros
Has an automatic curling rod
Adjustable heat control
The diamond-coated ceramic barrel provides a smooth finish
Reduces the chances of burning your hand
The beep at the end of a curling process ensure you don't over style
Cons
It doesn't have an indicator to display temperature.
The Bio Ionic curl iron has a 1.25-inch barrel that is coated with nanoionic minerals that
emit negative ions. These ions break down water clusters deep into the hair to give you the result you've always wanted without damaging your hair by retaining the moisture. The bioceramic heaters allow the barrel to evenly heat up to 430F and the temperature could be adjusted based on your needs with a simple press of a button.
Pros
It has a long 9 feet cable that has 360-degree freedom to swivel that reduces the chances of tangling
Has a digital temperature control
Has an auto power shut down feature if not used for 60 minutes
Has a universal voltage making it ideal for travel
Cons
The T3 SinglePass houses an internal microchip that maintains an evenly distributed
temperature across the barrel so you get uniform results. It is an easy way to curl thick hair without exposing the hair to unnecessary heat. It has an adjustable temperature control with a wide range starting from 260F to a maximum temperature of 410F catering to all types of hair.
Pros
Stylish design
Lightweight
Adjustable temperature control
Cons
It has only one twist dial that controls all the function from switching the iron on to changing the temperature settings which may get confusing
Buying Guide – Curling Irons For Thick Hair
Why Do You Need Curling Irons For Thick Hair?
Thick hair does not mean a lot of hair. It means that each strand has a thickness to it when compared to other hair. A lot of women with thick hair have problems with frizzy and untamable hair. It becomes difficult to maintain the frizz and that's where curling irons come into play. With the right device, every woman can have a salon-style experience for their hair and will not have to constantly try to manage their thick hair.
How To Choose The Best Curling Iron For Thick Hair?
With an array of options and features, it becomes a tedious task to choose the best curling iron for thick hair. Don't worry, we've got you covered. Here are a few things to keep in mind while choosing a curling iron for thick hair:
Type of curl – It is important to know what type of curl you desire. Do you want your hair to wind up in tight curls or you've always dreamed of rocking those beachy waves? Either way, the device you choose should be in line with the type of curl you desire.
Hair Length – Depending on the length of your hair, it is important to choose a curling iron with a suitable sized barrel. We recommend that if you have long hair, opt for a curling iron with a longer barrel and if you have short hair, choose one with a smaller barrel.
Temperature control – Thick hair is difficult to style and control. Therefore it is important to choose a curling iron that has a temperature control that can be adjusted based on your preference or what your hair requires.
Barrel material – Since the styling of your hair is contingent on the barrel, the material it is made of is a factor to consider. Most barrels have either of these materials or coating – titanium, ceramic or tourmaline. Depending on the needs of your hair, you can choose the one that suits your hair for the desired effect.
How To Curl Long Thick Wavy Hair?
Now that we've taken you through the buying guide, let's look at a step by step guide on how to curl thick hair using a curling iron.
Step 1: Get your hair ready
Make sure your hair is clean and dry before using a curling iron. Keeping your hair dry minimizes the damage caused by the heat of a curling iron. It is not a must to wash your hair before styling it, however, make sure your hair is clean.
It is also important to prep your hair with a heat protectant spray before using a curling iron. This will prevent potential damage by providing your hair with thermal resistance.
Step 2: Switch on your curling iron
Find the button to activate your curling iron. Let it heat up for 30 seconds before using it. You can adjust the temperature depending on your requirements.
Step 3: Segment your hair
It is important to split your hair into segments to make it an easy process. Divide your hair into sections depending on the number of curls you desire. If you have long hair, divide your hair into upper and lower sections for smooth curling. Make sure your hair is tangle-free after you've made your sections.
Step 4: Curl away
This is a crucial part of the process. Take a section of hair and wrap it around your curling iron. You want to begin at the root of the barrel and work your way upwards. Now, gently pull the iron in the opposite direction of your hair while removing it. During this, use your other hand to rotate the iron while removing it from your hair. We recommend that you do not hold it for more than 5 to 10 seconds depending on the thickness of your hair.
Now, repeat the procedure with each segment until you've covered all of your hair.
Step 5: Spray your hair
To secure your beautiful curls, spray your hair with your favorite hairspray. This will keep your curls in place for a longer time. We recommend that you use a spray that does not have harmful chemicals and is gentle on your hair.
Tips For Curling Long Thick Hair
Here are a few tips and tricks that you can follow to get those beautiful dreamy curls as you've always desired.
While wrapping your hair around the barrel, make sure you avoid twisting it to get the desired curls.
Once you finish wrapping your hair, hold your curled hair up for a few seconds using your other hand to prevent it from stretching.
If you want beachy waves, wrap your hair around the barrel in huge curls and run your fingers through the curls. This will open out your curls and give you those dreamy beach waves.
Tips For Long Lasting Curls For Thick Hair
While curling your hair can be fun and beautiful, the challenge is that it does not last long. However, here are a few tips on how to make them last a little longer:
Wash your hair a day before you use your curling iron.
Avoid running your fingers through your hair once it's curled. Constantly doing this will straighten out your curls and make you lose them.
Spray your hair with a good quality hairspray to keep your curls intact for a longer time.
Why Trust StyleCraze?
Vaishnavi Kothuri has a profound interest in researching and reviewing skin and hair care products to recommend the most sought-after products in the market. She has studied multiple user reviews and product listings to compile this list of the best curling irons for thick hair. Sneha has also shared tips for choosing the right product and a buying guide to help you make an informed choice.
Frequently Asked Questions
Are curling irons or curling wands better for thick hair?
Both of these options are suitable for thick hair. While most people prefer curling wands, a curling iron works just as well if you know how to use it.
What is the best curling iron to create beach waves in thick hair?
Beach waves are curls that are open and do not require a tight twist around the barrel. Therefore, a curling iron with a large barrel works well for beach waves.
Does your hair length affect the curling iron you should choose?
Choosing the right curling iron depends on the length of your hair. Curling iron with a large barrel is ideal for long hair while short hair can be styled with a smaller barrel.
How to maintain and clean my curling iron?
You don't have to clean your curling iron after every use. However, if you feel there is a build-up in your appliance, the best way to clean it is to use warm water and a paper towel to wipe it clean.
Recommended Articles