15 Best Curling Irons For Fine Hair Of 2023 – The Ultimate Buying Guide
Volumize your tresses and easily achieve the beautiful, bouncy curls of your dreams! Those born with straight hair will tell you why they need to own the best curling irons for fine hair. As impressive as sleek natural hair looks, there are several shortcomings. For starters, it will always make your hair look thin, no matter how healthy it is. The easiest way to go about it is to curl your hair to add volume to your hairstyles. Curls also enable you to visually alter your hair length and add hair texture and the peppy look that goes with every kind of attire, and if you have been meaning to own a durable and quality curling rod, we have exactly what your hair needs.
Licensed cosmetologist and master hair stylist, Laura Dale says, "Choosing the right curling iron for your hair type is so important because finer hair types need different heat settings versus thicker hair which can withstand higher temperatures. Look for a curling iron with temperature control and make sure to be wary of using high heat when curling finer tresses."
Using a suitable curling iron will help you change your hairstyle whenever you please without ruining your hair cuticles with the heat. So be it beachy curls or some intense waves, your new hair curler will make sure you look the best the moment you step out of your home. So, are you ready to give your straight hair some bouncy glamorous curls? Go through our carefully curated list with detailed reviews and choose your favorite one from the 15 curling irons crafted for fine hair.
15 Best Curling Irons For Fine Hair Of 2023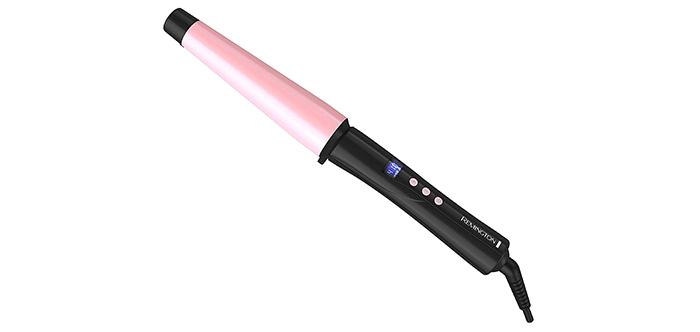 This pastel-pink curling iron for fine hair is not just a treat to the eyes but also one of the best-selling ones. Its barrel ranges from 1-1.5 inches and helps you create voluminous tousled waves. Infused with crushed pearls, the barrels lock up curls without damaging the hair. It is also coated with ceramic, which allows for heat to be distributed evenly and consistently. This popular curling iron comes equipped with digital controls and 10 heat settings and a temperature range that can reach a maximum of 410°F, which makes it easy to select the right temperature for the style you want to achieve. You don't ever have to worry about burning your hands as it comes with a heat-protectant glove. Watch this video for a thorough understanding of the product and the tester's experience of using it.
Pros
The barrel is coated with ceramic which distributes heat evenly
The barrel is infused with crushed pearls
Reduces frizz
10 heat settings
Comes with a heat protectant glove
Automatic shut off
Affordable
Cons
The barrel doesn't come with a clamp
Some may find the barrel slightly large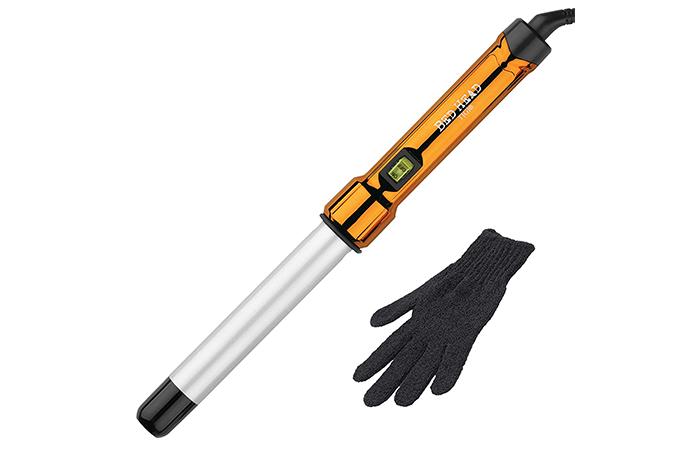 Bed Head doesn't just make haircare products to die for, it also makes extraordinary curling irons taking everything from barrel size to plate materials into consideration. This one specifically claims to help you achieve "loose curls with outrageous body". Perfect for fine or thin hair, the barrel of this iron combines both tourmaline and ceramic technology for reduced frizz and extra shine. It is safe to be used close to the scalp as it comes with a cool tip and the heat can go up to 400°F. It also comes with a tangle-free 6-ft swivel cord for easy hairstyling and the heat protective gloves ensures that you are accident-free when using it.
Pros
Uses both tourmaline and ceramic technology
Designed to help create loose curls
Anti-frizz
Dual-voltage
Comes with a cool tip
Includes a heat protectant glove
Cons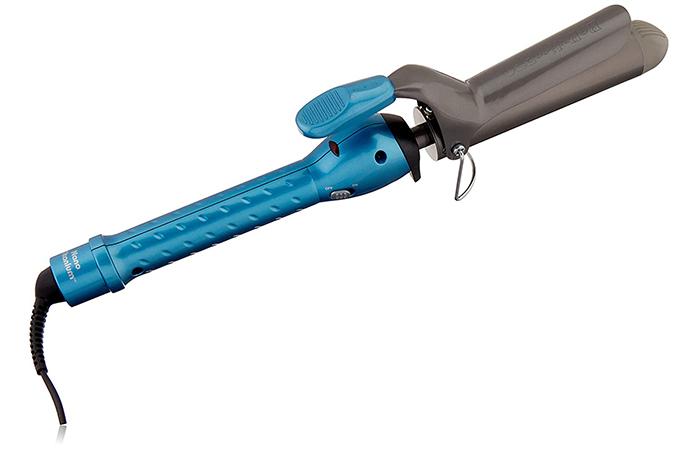 The BaBylissPRO range of hair styling tools are quickly becoming crowd-favorites. This curling iron comes with a nano titanium barrel which produces gentle, far-infrared heat to curl hair without damaging it, while also offering even heat distribution. The negative ion technology fights the positive ions in the hair to lock moisture, leaving it smooth and shiny. You can style your hair in a short span of time and marvel at the voluminous curls that last for days, thanks to its turbo-heat boost feature. The temperature range in this curling wand can go up to 450°F but people with fine hair are advised to use it at a low temperature. Click here to check out this YouTuber's unbiased review.
Pros
Quick heat-up and recovery
Nano titanium barrel
Comes with a clamp to secure hair strands in place
50 heat settings
8-ft tangle-free swivel cord
Cons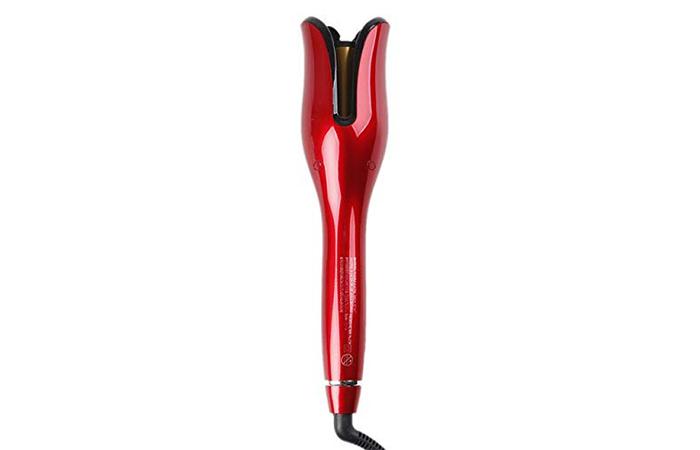 This hair curling tool is one of the most unique curling tools you will ever come across. Simply place the section of hair you want curled in between the two small barrels inside the opening and let it draw in all of your hair. When the section of hair is inside the curling chamber, it gets heated and timed (15-19 seconds) to reveal perfect curls when released. You can also release your hair before the 15 seconds are up. It comes with ceramic rotating barrels, tangle protection, and directional buttons along with beeping alerts. The best part of this rotating curling iron is that it's ideal for all hair types. Here's a personal review video to help you get a better understanding of this curling iron.
Pros
Suitable for all hair types
You don't have to manually twist hair onto the iron
Reduces frizz and static
No heat damage
Ceramic rotating barrels
Cons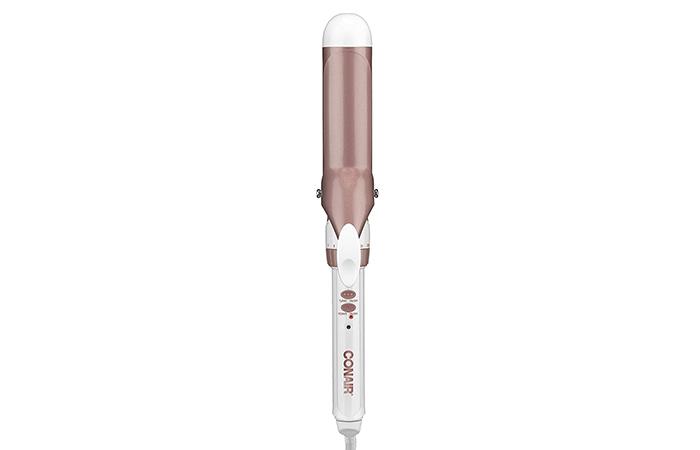 Its petite size, a beautiful rose-gold color, and double ceramic technology aren't the only things that work in this iron's favor. One would be surprised that such a high-quality product could be as affordable as well! The high ceramic content in this curling iron provides even heat for gorgeous, long-lasting curls and eliminates frizz while doing so. It comes with 30 heat settings, taking all types and textures of hair into consideration. It also comes with a unique cool tip for safe and easy handling and is dual-voltage as well. It can reach upto 400°F with its Turbo Boost feature and comes with a heat shield as well.
Pros
Affordable
Its compact size makes it easy to carry during travels
Dual-voltage
Double ceramic power
Auto-off feature
30 heat settings
Cons
The 5-ft cord may be short for some
The clamp may be loose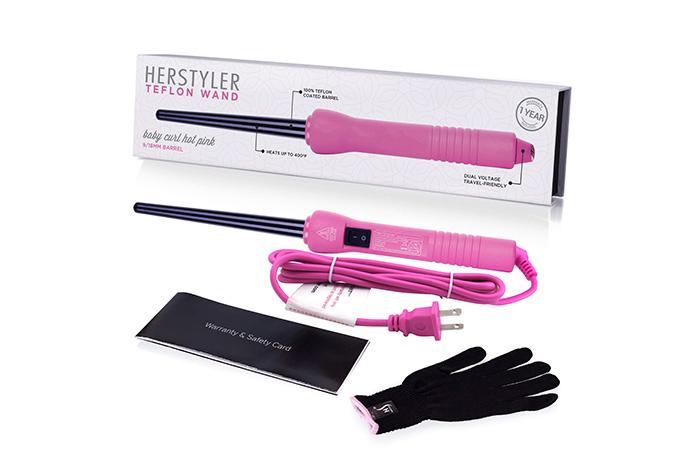 It must be this magical wand that makes Hermione Granger's hair as curly as it is! This lightweight curling iron is designed to give you natural-looking, classic tight, textured curls that will last for more than a day. The tapered ceramic barrel of this wand helps protect your hair while simultaneously releasing negative ions to prevent cuticles from damage or splitting. Its handy ergonomic design allows for easy and safe handling. The curler has an optimum temperature range and can also reach high temperatures quickly for you to achieve salon style tight ringlets in minutes. As it is compact and lightweight, it also makes for a good travel companion to make you look flawless, every day.
Pros
Lightweight and compact
Dual-voltage
Negative ion technology
Clipless Teflon tapered barrel
Suitable for all hair types
Cons
Doesn't come with adjustable heat settings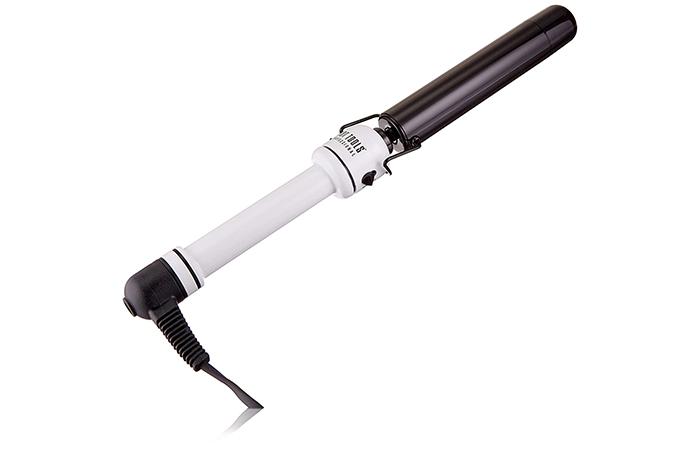 When an establishment wins prestigious awards for more than 25 years, you know that they are doing something right. Hot Tools Professional curling irons help you achieve salon style hair from the comfort of your bedroom. The nano-sized ceramic particles in this iron create a smooth, shiny, and snag-free surface, allowing an effortless glide over your hair. You can easily switch between heat settings by using the rheostat temperature control dial and its proprietary Pulse Technology ensures that the iron heats up quickly and stays hot as well. The extra-long cord also aids in smooth styling your hair with ease.
Pros
Comes with nano ceramic micro-shine plates
Designed to help protect hair from overheating
Reduces frizz
Its proprietary Pulse Technology keeps the iron hot
8-ft swivel cord
Cons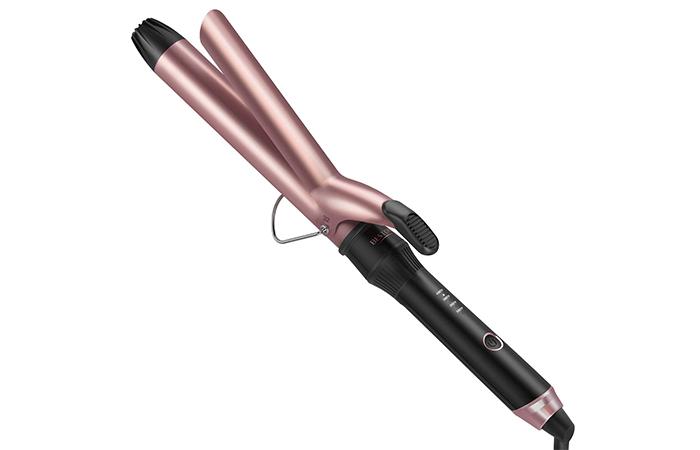 One of the first things you will notice about this curling wand is its comfortable-to-use design. The non-slip silicone handle gives you a snug and comfortable grip and its one-button feature makes this one a joy to use! The 1.25-inch barrel helps you achieve looping and tousled curls, while adding definition to it. The spring clamp ensures that your curls last for more than a day. The splendid combination of ceramic and tourmaline coating makes the barrel smoother and also provides heat even for minimal damage. The wand heats up in less than 60 seconds to reach 430°F and comes with 4 different heat settings. However, women with fine hair are advised to keep the temperature at 320°F – 355°F.
Pros
Smooth 1.25-inch barrel
Ceramic and tourmaline coating
Efficient spring clamp
4 heat settings
No-tangle swivel cord
Cons
May cause minimal heat damage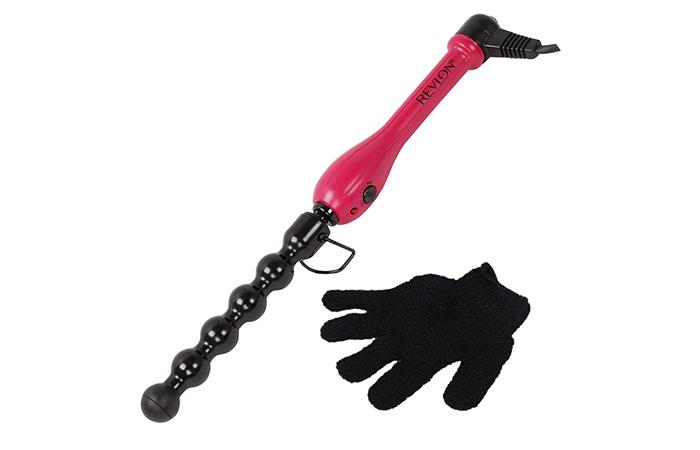 Ideal for all hair types, this unique ball-shaped barrel is perfect for loose and natural-looking curls. A salon-grade curling wand, it can reach upto 420°F heat in 30 seconds and its multiple heat settings provide precise control for all hair types. It also comes with an advanced technology and cool tip for easy grip and is safe to be used near the scalp as well. Coated with tourmaline and ceramic, it helps you create long-lasting curls with close to no heat damage. This ball wand can also help you create two types of curls: classic-tight curls and beachy waves. As Revlon cares about your safety, the wand comes with a heat-protectant glove as well. Check out this video to better understand the functions of this curling iron.
Pros
Unique ball-shaped curling wand
Reaches 420°F in 30 seconds
Coated with tourmaline and ceramic
Helps create two types of curls
Includes a heat-protectant glove
Cons
May cause some heat damage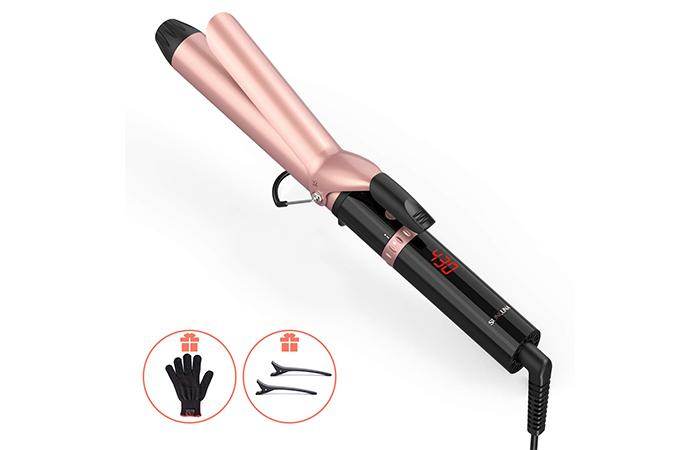 With this sleek curling iron for fine hair, you can fool almost anyone into believing that you have naturally curly hair. It comes with a fast-heating PTC and can reach 430°F in less than a minute. The smooth ceramic and tourmaline coating paves the way for even heat distribution and defined curls. This hair curling iron also includes an insulated tip, an anti-scalding and anti-slip bracket, and a heat-resistant glove for safe handling. It is also dual-voltage, hence it can be used anywhere in the world. Its 1.25-inch curling wand creates beachy waves that look natural and effortless. It's also super easy to switch between the 10 heat settings in this iron, one simply has to rotate the temperature dial in the clockwise direction.
Pros
Affordable
Ideal for all hair types
Comes with an insulated tip
Dual-voltage
10 heat settings
Includes a heat-resistant glove and 2 curl clips
Cons
The curls may not last for a long time for some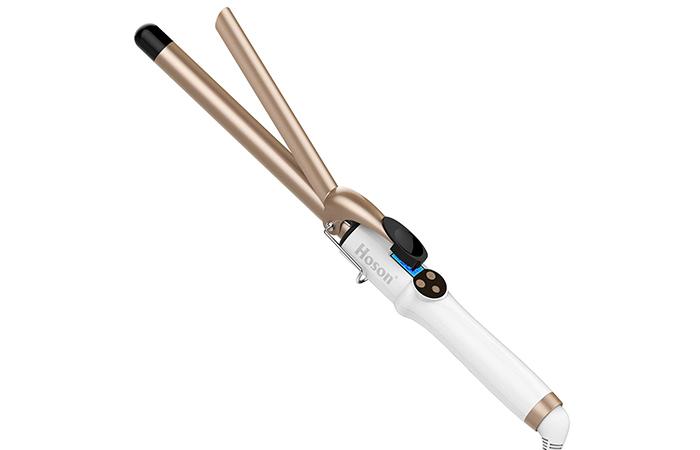 Experience the best of three worlds with this professional salon-grade curling wand. The wand comes with ceramic coating, an anti-rust, and a thermal layer that helps in smoothing your hair out while eliminating frizz and locking in the natural moisture of the hair. The tourmaline in the iron works actively towards reducing damage and the insulated tip prevents scalding. The clamp secures hair in place for bouncy curls and the dual PTC heating provides an even flow of heat. The LCD panel helps in keeping track of the heat settings, while the 360° swivel cord prevents any mishaps.
Pros
Affordable
Ceramic and tourmaline coating
The wand is anti-rust and has a thermal layer
Sturdy clamp
Creates curls that last a whole day
Dual voltage
Cons
The wand may be a little too long
The MINT Professional Extra Long Curling Iron heats up quickly and perfectly glides on your hair to create dreamy and bouncy curls. The extra-long barrel ensures even heat distribution. The barrels are made from ceramic, tourmaline, and ionic technology, which ensures that your hair experiences minimum damage and that your curls remain shinier and frizz-free. This curling iron features variable temperature settings and the temperature range goes from 270° to 430° F, helping you adjust the heat according to your needs. It also features an auto shut-off mechanism and dual voltage facility. The curling iron has a cool tip band that lightens up indicating that the tool has heated up completely. The cool tip also helps you grip the iron comfortably, allowing you to maneuver it safely.
Pros
Dual voltage facility
Auto shutoff mechanism
Adjustable temperature settings
Easy to use
Dual-heater system
Cool tip
Fast and even heating
Cons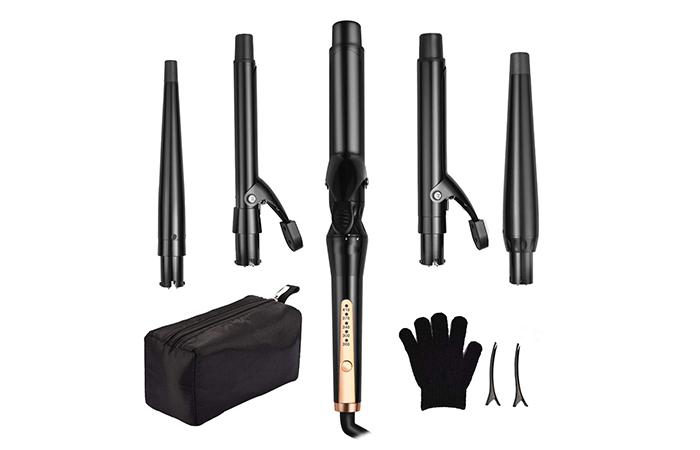 Now here's a curling iron that will make all your hair-curling and styling dreams come true. Unlike the traditional curling iron, this kit comes with 5 interchangeable barrels in different sizes, which will help you create any sort of curls that you desire ( smaller ones for tighter curls and the larger barrel for loose romantic curls). The tourmaline wand emits negative ions to combat the positive ions in the hair, which helps in sealing moisture in the hair and reducing frizz. Every barrel has thermally insulated tips and the wand comes with 5 temperature settings. The one button control also makes this iron set quite an easy one to use.
Pros
Comes with 5 interchangeable barrels in different sizes
Each barrel has thermally insulated tip
Fast ceramic heating
Comes with a firm safety stand
8-ft swivel cord
Includes a protective heat glove and 2 curl clips
Cons
As the handle and wand are of the same color, it may be confusing to note where the wand starts and ends from peripheral vision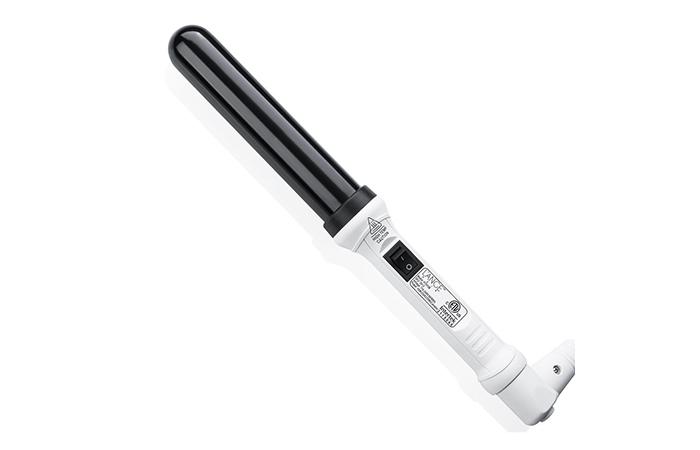 Get your curls on with this compact and handy tourmaline-infused ceramic barrel wand. The ceramic plates with tourmaline and far-infrared heat technology not only helps you create lustrous and smooth curls, but also eliminates frizz while doing so. The negative ion technology also works hard in keeping hair damage to a minimum. It comes in two variants of barrel sizes, so you can create tight curls or loose and wavy ones. Safe for all hair types, the heat in the iron can reach up to 410°F in a short span of time. Its convenient 360° swivel cord allows ease of movement so that you can easily wrap the strands of hair around the barrel.
Pros
Compact, lightweight, and travel-friendly
Comes with a tourmaline-infused ceramic barrel
Uses negative ion technology
360° swivel cord
Cons
Does not come with a clamp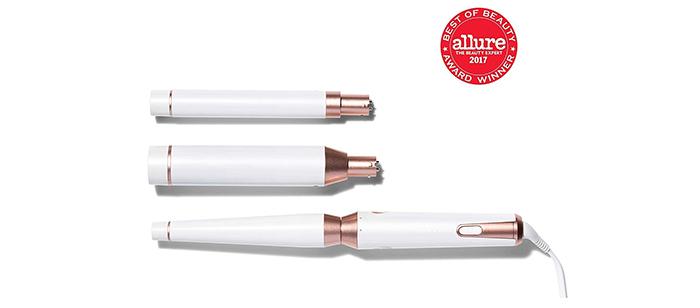 An award-winning curling iron, this one will meet all your wildest expectations! It comes with 3 interchangeable barrels, each that is specifically designed for undone waves, tousled waves, and loose waves. So, with one base you can create infinite styles. It comes with 5 heat settings, making it ideal for all hair types. The smart microchip that is integrated into the curling iron ensures consistent heat distribution. Its T3 Digital Singlepass Technology allows for one-pass styling. Along with these amazing qualities, its rose-gold and white exterior makes it quite a sight for the eyes.
Pros
An award-winning curling iron
Comes with 3 interchangeable barrels
5 heat settings
Smart microchip ensures even heat distribution
Includes a heat-protectant glove
Cons
*The prices provided in this article are based on the latest available information. However, they may vary due to changes in pricing by the seller and/or promotional offers.
As we've reached the end of our list of the 15 best curling irons for fine hair, we will take a look at a few important pointers for selecting one that is best for you.
How To Select A Curling Iron For Fine Hair – A Helpful Buying Guide
Which temperature is best for fine hair?
As most curling irons are designed for all types of hair, they can reach up to 400°F-430°F in a matter of seconds. However, professional stylists suggest that this may not be ideal temperature and may be too harsh for fine hair. If you have fine hair, it is recommended that you keep the iron at around 255°F.
Which is the best barrel type and size for fine hair?
Ceramic barrels that are coated with tourmaline are considered to be ideal for fine hair. The barrel size depends on the type of curl you want. To make fine hair look thick and voluminous, beachy waves can be the best way to go. For that, a 1.25 inch barrel can work wonders for you.
What is nanotechnology?
Nanotechnology that is used in curling irons combine particles from ceramic plates and silver to create fused ions. The ions from these barrel materials help in making your hair shiny, lustrous, and frizz-free.
Now, we will look at some basic steps that will help you use a curling iron better.
How To Curl Fine Hair Using A Curling Iron
Step 1: Heat up the curling iron. For fine hair, keep the iron at low to medium heat or at around 255°F.
Step 2: Brush or comb your hair thoroughly. Make sure that there are no tangles. Air dry or blow dry any damp sections of hair.
Step 3: Although this step is optional, it is wise to apply a heat protectant serum or spray onto your dry hair.
Step 4: Separate your hair into small sections and keep it clipped until you are ready to iron it. The sections should be about 2-3 inches each.
Step 5: Take a section of the hair and wrap it around the barrel of the curling iron.
Step 6: Keep the curls held on the barrel for 10-15 seconds.
Step 7: Repeat the process until all sections are curled.
Step 8: Run your finger or a brush to gently loosen out the curls. This will give it a more natural appearance.
Step 9: Use a setting spray to lock your curls in place.
Step 10: Enjoy your curly hair.
Important Tips to Make Fine Hair Hold Curls That Lasts Longer
Step 1: Once you are done ironing your curls. Use a strong-hold setting spray.
Step 2: Gather all your curls and secure them with bobby pins in the center of your head.
Step 3: Use the cool-shot button on your blow dryer, as it helps in locking the curls better.
Step 4: Open the curls slowly and apply hair-gel on each curl.
Step 5: Let it sit for 15 minutes and let the gel do its work.
Step 6: Once the curls are set, don't keep fiddling with your hair.
Why Trust StyleCraze?
Medha Deb is a hair and makeup enthusiast. She brings you this post on the best curling irons that will give your hair a sleek and natural look. These curling irons were handpicked after thorough research about their efficiency, safety, and user reviews. Sneha has also prepared a buying guide to help you make an informed choice.
Frequently Asked Questions
What size of curling iron is best for fine hair?
Fine can easily break and mostly stay on the shorter side, hence it is recommended to use curling irons with barrels less than 1.5 inches.
Which is better for fine hair – ceramic or titanium curling iron?
A ceramic curling iron is best for coarse and damaged hair types. However, a titanium curling iron can be used when your hair is on the thicker side, but it would not prove to be gentle on thin, fine, or fragile hair.
How do you curl fine hair without damaging it?
Keep in mind these steps while curling fine hair without damaging your tresses.
• Before curling or heat styling your hair, dry the tresses completely. This will prevent electrical accidents and keep your tresses safe from shocks.
• Choose a curling iron that is not too long, and put it on a lower heat setting to prevent hair fall or damage.
• Fine or thin hair is sensitive, so curl your locks for less than seven seconds.
• Allow your curls to set first, and do not use the curling iron while your curls adjust.
How often can you curl your fine hair without damaging it?
It is recommended to curl once a week, depending on your requirements. Curling more than once a week can dry out your tresses and leave them feeling dull.
Recommended Articles