15 Best Ball Of Foot Cushions For High Heels – 2022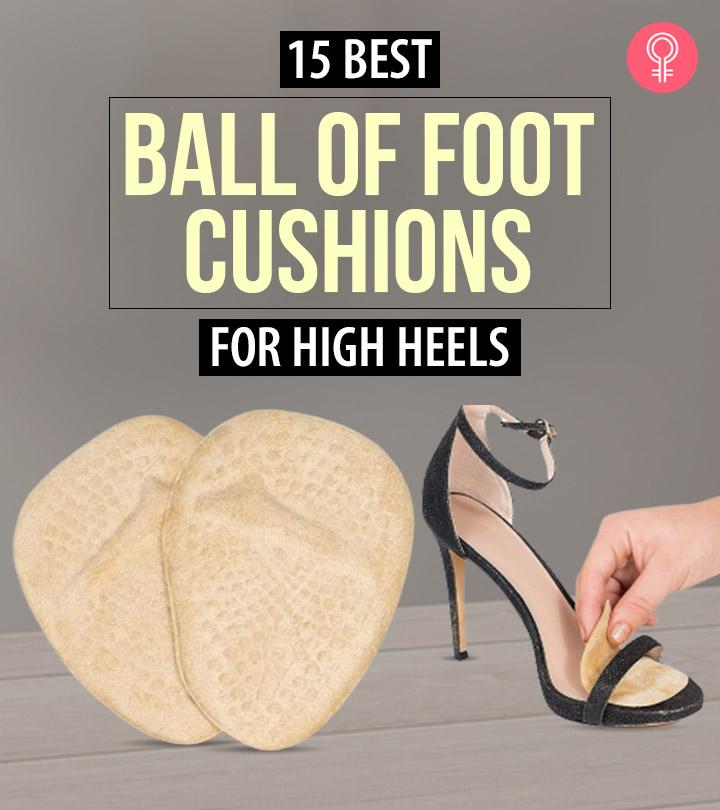 Wearing high pencil heels or strappy stilettos helps exude confidence of a different league. However, it becomes a fight between comfort and fashion at the end of the day as many end up with painful foot blisters that ultimately ruin the good mood. To avoid that, it is crucial to invest in a ball of foot cushions for high heels that leave both the fashionista and lover of comfort in you satisfied. These self-adhesive cushion pads can help keep your feet supported and avoid unnecessary friction. Even after long hours, you can prevent the bottom of your feet from feeling chaffy, developing bunions or blisters, causing cuts by your straps, fastens, or clasps. To help you get your hands (and feet) on the perfect ones, we've listed the best ball of foot cushions for high heels. With multiple options like gel-infused and foamy fabrics, you will be spoilt for choice. Please take a read and make your pick!
15 Best Ball Of Foot Cushions For High Heels
The Walkize Metatarsal Pads help correct the alignment of the toes and metatarsal bones. These soft gel pads can be installed easily by simply sticking them to your footwear. You can keep adjusting the pads until you feel comfortable under your feet. They alleviate pain and stress in your feet caused by ill-fitting shoes. The pads have good adhesion and do not slip while you are walking. This pack comes with a metatarsal foot pain booklet to guide you about metatarsal pain and its remedies.
Material: Polyurethane
Pros
Long-lasting
High elasticity
Non-slippery
Medical-grade gel
Moisture-wicking
Includes a metatarsal guide
Cons
None
These ball of foot cushions by Brison are designed to help you with common chronic foot conditions. The transparent pads are made with medical-grade silicone. The size of these pads is perfect to fit all types and sizes of shoes. They help in absorbing forefoot shock that you experience from wearing high heels. They also ease pain due to callus, bunions, mortars, neuroma, and more.
Material: Silicone
Pros
Removable
Reusable
One size fits all
Durable
Cons
These metatarsal pads are made with high-quality and durable gel that gives you instant relief from forefoot pain. The ball of foot pads not only reduce stress on your feet but also comfort chafed skin. They are non-slip and hold your foot in. These pads can be removed from one footwear and reused in another. They can easily be washed with warm, soapy water.
Material: Gel
Pros
Soft
Reusable
Convenient
Easy adaptability
Washable
Cons
The Pnrskter Women Shoe Insole is designed especially for high heels and pointed shoes to provide comfortable and painless support. It is made with soft, comfortable, breathable, and moisture-wicking foam. This full-feet design provides soft cushioning to the forefoot, minimizing pressure. These insoles can be trimmed according to the size of your shoes.
Material: Foam
Pros
Lightweight
Anti-odor
Removable
Reusable
Cons
This premium pack of 14 pieces includes six pieces of anti-friction pads that easily stick to your shoe without sliding. They are made with soft silicone gel that is highly flexible and does not irritate your skin. The size is universal and can fit most types of shoes.
Material: Silicone gel
Pros
Durable
One size fits all
Reusable
Skin-friendly
High elasticity
Cons
The Ballots Premium High Heel Inserts come in a pack of four soft cushioned pads that are made with durable, medical-grade PU gel. They support your feet naturally. The soft, cushioned design absorbs shock and relieves your feet from stress. The gel massages your feet gently as you walk wearing the inserts. These self-adhesive pads stick firmly and do not slip.
Material: PU gel
Pros
Strong adhesive
Anti-slip
Comfortable
Reusable
Cons
May not be suitable for wide feet
The Mildsun Ball Of Foot Cushions come with a soft and elastic convex design that can fit your feet easily. The non-slip pads are made with high-quality gel material that is breathable and moisture-wicking. They provide relief from callus, bunion, neuromas, and more. The 4D waterdrop design enables them to fit easily inside your pointed shoes. The package includes three pairs of ball of foot cushions and six casual round pads as a bonus.
Material: Gel
Pros
Soft insole
One size fits all
Durable
High-quality gel
Stable glue
Long-lasting
Non-slip
Flexible
Cons
None
These reusable shoe inserts have a humanized design with a comfortable ridge to keep the balls of your feet in position. They are strongly adhesive – they sit comfortably and prevent the feet from sliding forward. These ball of foot cushions are made with premium-quality silicone gel that is durable, soft, flexible, and stretchable and retains its shape even after long-term use. They come in three colors – beige, white, and black.
Material: Silicone gel
Pros
One size fits all
Reusable
Easy to apply
Cons
None
The Temiart Ball Of Foot Cushions are designed to provide relief from metatarsalgia, Morton's neuromas, plantar fasciitis, bunion pain, and many other foot-related issues. The soft gel insoles support your forefoot when worn inside high heels, leather shoes, flats, or pumps. They are made with medical-grade gel material that is adjustable and stretchable. These metatarsal pads are easy to clean and can be reused without losing their adhesion.
Material: Gel
Pros
Soft
Flexible
Anti-slip
Ideal for daily wear
Cons
The Succulent Metatarsal Pads are cushioned inserts that are made with an anti-skid 4D design and soft silicone gel that is breathable, stretchable, and adheres firmly to your shoes. They have therapeutic massage dots to extend maximum comfort while walking. The convex shape blends firmly with different kinds of shoe designs. These pads can be washed easily in water.
Material: Silicone gel
Pros
Skid-proof
Ergonomic design
Suitable for all shoes
Flexible
Cons
The Brison Ball Of Foot Cushions provide perfect cushioning by distributing the pressure on your feet. The transparent pads are made with medical-grade PU gel that is soft, flexible, and stretchable. The grooved surface of these metatarsal pads not only provides soft support but also enhances blood circulation to relieve stress and pain in your foot.
Material: PU gel
Pros
Non-slip
One-size-fits-all
Soft cushion
Strong adhesion
Cons
None
These insoles are specially made for high heels, sandals, and fashionable shoes. They provide great relief from various kinds of foot stress like flat feet, painful arches, shin splints, heel spurs, etc. The high-quality silicone gel inserts are slim, flexible, and easy to use. You can reuse them by simply washing them with water and a mild soap.
Material: Gel
Pros
Comfortable
Skin-friendly
Reusable
Washable
Soft cushion
Non-skid
Cons
These hand-made insoles use only water-based, skin-friendly adhesive. They are designed to relieve pressure and alleviate pain from your feet. The surface of the pad is made with velvet and has a gel-cushioned top to provide maximum comfort. The humanized design of these pads makes them easy to use as they can be trimmed according to your shoe size.
Material: Gel
Pros
Can be trimmed
Washable
Strong adhesion
Comfortable
Cons
These high heel inserts absorb shock and vibration to allow you to walk comfortably and confidently. The elevated toe ridges in the foot pads prevent forward slippage while you are wearing stilettos or pumps. These metatarsal pads are made with moisture-wicking suede fabric with gel-based cushioning that does not add bulk. Enjoy sweat-free feet with these durable and reusable pads.
Material: Suede fabric
Pros
Long-lasting
Moisture-wicking
Non-slip
Cons
None
These self-adhesive gel pads position themselves easily in your shoes. They can be used by both men and women to minimize pain due to wearing ill-fitting footwear. These pads are great for high heels, athletic shoes, and boots. The textured design prevents the inserts from slipping and sliding off their position.
Material: Gel
Pros
Good adhesion
Fits all shoes
Reusable
Textured design
Cons
None
Ball of foot cushions not only minimize the pain and discomfort from wearing high heels but also add confidence to your walk. In the below section, you will learn how to rightly wear and maintain your call of foot cushion.
How Do You Cushion A Ball Of Foot In Heels?
Clean the inside of your shoes.
Remove the cushion from the plastic and place it firmly on the sole of your shoe. Make sure that it aligns rightly with the shape of the shoe and your foot.
Replace the gel after six months or at the first sight of its wearing off.
Here are a few suggestions before you buy the best ball of foot cushions for high heels.
Things To Consider When Buying The Best Ball Of Foot Cushions For High Heels
Material: Most ball of foot cushions are made of silicone. They provide great flexibility. The ones made of foams are lightweight and soft. Some are made with fabric as well, which is good for moisture-wicking.
Support: The primary purpose of ball of foot cushions is to absorb shock for ease of walking. The cushions you chose must be able to alleviate pain and pressure from your feet arising due to wearing difficult or ill-fitting footwear.
Adhesion: The adhesion of these cushions must be strong so that they stay in place. If they shift their positions while you walk, it can become uncomfortable and aggravate your condition.
Reusability: Ensure that the cushions are reusable and easy to clean and maintain. Check the reviews to get an idea of their durability before you make a purchase.
Why Trust StyleCraze?
The author Baishali Bhattacharya is a fitness and fashion enthusiast. That's why her opinion and recommendations on this list of ball foot cushions for high heels are well-researched. It will help users make the right decision. This list is curated after taking users' reviews on various trusted online platforms. Ball foot cushions keep the feet protected, reduce the risk of pain and swelling, and make wearing high heels comfortable.
Recommended Articles