7 Best Detox Foot Pads For Removing Toxins From The Skin – 2023
Discover the best foot pads for removing toxins and heavy metals from your body overnight.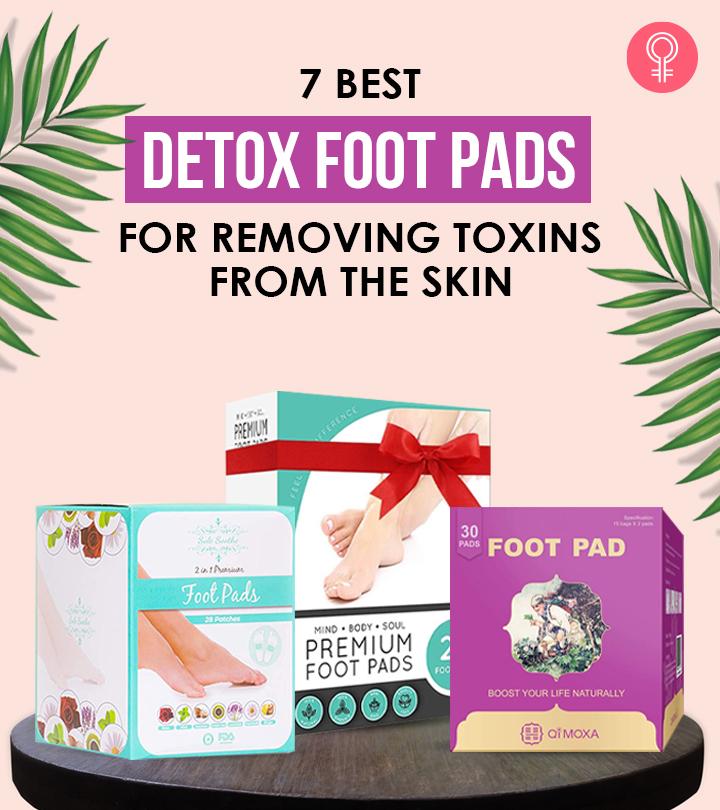 Detox foot pads have gained popularity recently for their toxin removal properties. Using the best detox foot pads can help draw out toxins, waste, and heavy metals from your body overnight. Once you peel off the detox pad from your feet, you can observe the change in color of the pad, which signifies the toxins that have been removed from the skin. With regular use and detoxification, you will see the pads changing colors less frequently.
Detox foot pads may help prevent high blood pressure, insomnia, depression, weight gain, and cellulitis. In this article, we have listed the 7 best food pads for removing toxins from the skin. Scroll down and check them out.
7 Best Detox Foot Pads For Removing Toxins From The Skin
Treat your feet to the ultimate pampering experience with Verseo's Overnight Cleansing Foot Pads! These foot pads are a natural and effective way to detoxify and revitalize your feet while you sleep, leaving them feeling refreshed and rejuvenated. They are infused with a powerful blend of natural ingredients, including bamboo vinegar, tourmaline, and eucalyptus, that draw out toxins and impurities from your feet, leaving them feeling clean and refreshed. Bamboo vinegar helps to eliminate odor and moisture, while tourmaline helps to promote healthy circulation and energize the feet. Eucalyptus provides a soothing and refreshing scent, helping you to relax and unwind as you drift off to sleep.
Pros
Safe formula
Fragrance-free
Non-toxic
Fit all sizes
Versatile
Easy to use
Cons
None
Price at the time of publication: $14.99
When it comes to relieving foot pain, the Samsali Foot Pads are a great choice. These pads are designed to provide maximum support and cushioning for your feet while improving their efficiency in everyday activities. The material used in these pads is also very durable and breathable, so you won't have any problems when using them over long periods. They feature an anti-slip layer which helps keep them securely in place as well as helps reduce friction between your skin and the shoe. You can wear them overnight or for several hours during the day. If you're looking for a natural way to promote better foot health and overall wellness, the Samsali Foot Pads are the perfect solution.
Pros
Relieves stress
Fit all sizes
Versatile
Easy to use
Safe and effective
Non-messy
Cons
Price at the time of publication: $17.99
The Naksiz 2-in-1 foot pads are made of fine quality natural materials to boost energy and vitality. These foot detox pads promote blood circulation to cleanse the body and skin. They contain bamboo vinegar, rose oil, and lavender oil to offer soothing and relaxing effects while you sleep.
These natural foot detox pads improve metabolism and their aromatic fragrance is derived from natural ingredients like rose, ginger, and lavender. They contain plant fiber, dextrin, vitamin C, tourmaline, and onion powder to revive your skin. These detox pads are equipped with strong adhesive to help relieve stress and pains while preventing weight gain and sleeplessness.
Pros
Five different aromas
Easy to use
Stick firmly
Money-back guarantee
Cons
None

Price at the time of publication: $17.99
The Cleansing Detox Foot Pads by Kinoki can be used on body parts, such as the back, elbows, and knees, apart from the feet to remove toxins. They contain ingredients like wood vinegar, vegetable fiber, vitamin C, dextrin, tourmaline, bamboo vinegar, do kudami, chitosan, and loquat leaf. These potent detox pads work by absorbing the toxins all night while you sleep. The patches become cleaner with each use, indicating that the toxins have already been released from your body.
Pros
Fit all sizes
Versatile
Easy to use
Stick well
Comfortable wear
Cons
Become messy while removing.
Price at the time of publication: $9.99
The Positivia Premium Foot Pads work by absorbing toxins from the skin to purify it. These bamboo vinegar detox pads are crafted using smart technology and all-natural ingredients. The safe formula promotes sleep and health by improving blood circulation and boosting energy.
The strong adhesive power of these pads allows them to stick properly to carry out an effective toxin removal process. They are easy to use and dependable and made of organic ingredients like bamboo vinegar extracts and tourmaline to fight stress and increase alertness. The dextrin infused in this pad binds together all the essential components to ensure optimal results.
Pros
Mess-free
Individual packaging
Safe formula
Fragrance-free
Non-toxic
Preservative-free
Extra-large size
Cons
Price at the time of publication: $21.99
The Qimoxa Foot Pads box contains 30 detox foot pads made with natural and organic ingredients like mugwort and bamboo vinegar. These active ingredients have healing benefits and are equipped with modern technology to detox the skin. The bamboo vinegar prevents foot odor and relieves swelling. Moxa, on the other hand, boosts energy and vitality and leaves you feeling invigorated the next morning.
These detox foot pads work on the grounds of reflexology and meridians. They increase the kidney's natural functions to improve its longevity. The pads can be used on other affected or aching body parts to relieve minor muscle pains and joint pains. These pads work by improving liver, kidney, and spleen functions to provide a good night's sleep. You can use them on your stomach area to increase energy and improve blood circulation. They also improve brain clarity, relieve fatigue, and brighten the skin.
Pros
Easy to use
Stick firmly
Comfortable wear
Multipurpose
Wide
Cons
A little difficult to remove.
Price at the time of publication: $22.22
The Rewind Food Pads offer relief from pain, stress, and constipation while promoting natural sleep. They boost energy and metabolism levels by using the reflex points at the bottom of your feet to remove toxins from the body and the skin.
The foot patches follow the osmotic principle for enhanced effectiveness. The carbon titanium adhesive improves blood circulation to prevent illnesses. These rejuvenating pure bamboo vinegar detox pads are enriched with all-natural ingredients that make the feet healthy by cleansing and eliminating odor.
Pros
Safe and effective
Non-messy
Easy to use
Disposable
Stick firmly
Cons
None
Price at the time of publication: $19.9
An effective detox foot pads can easily draw away impurities, dirt, and toxins from your body overnight. In order to choose the best detox foot pads, keep the following factors in mind. .
How To Choose The Best Detox Foot Pads For Removing Toxins
Always check the ingredients list to look for nourishing ingredients and avoid the harmful ones. Choose natural formulas that are enriched with vinegar, vitamin C, and other organic ingredients which revive your skin. You can also opt for foot pads which contain essential oils like chamomile, coconut, ginger, green tea, and rose oil, which combat stress and rejuvenate your senses. Pick non-toxic, non-GMO products that offer effective results without harming your skin and health.
Most detox foot pads are required to be worn overnight for optimal results. This is why it is ideal that you make sure the adhesive sticks to your feet for at least eight hours, and is comfortable to wear. At the same time, the adhesive should also come out painlessly, when removing the detox foot pad.
Most foot pads in the market come in various sizes, and if you have wide feet, pick one which is extra-large in size. This ensures that the product covers your feet properly and you get the best experience.
Always look for a combination of detox foot pads, as you can only witness the changes if you use them on a regular basis. While there are single packs available, there are packs of 20 or 30 foot pads too. You can also find combo packages with multiple scents and formulas.
Apart from removing toxins, detox foot pads offer a variety of uses like improving sleep, releasing stress, preventing weight gain, reducing swelling, and enhancing blood circulation. Some foot pads, and also enriched with vinegar that eliminates foot odor and reduces sweating.
Choose a foot pad which is within your budget but provides optimal results. Don't cheap out and choose a low costing foot pads as they might not be dependable, and give you the necessary result. It is not always necessary to opt for high-end products as several mid-range products offer effective results too.
Frequently Asked Questions
Do foot detox pads really work?
Yes. Detox foot pads draw toxins out of your body while sleeping. They also help treat headaches, high blood pressure, and depression, and aid in weight loss, cellulite, insomnia, and diabetes.
What do the colors mean on detox foot pads?
Detox pads change color due to wood vinegar, which reacts when exposed to steam, tap water, warmth, and moisture. The color of the pad changes to brown or black due to toxins like parasites and heavy metals removed during detoxification when exposed to warmth and sweat from the feet.
How often should you use foot detox pads?
To relax your feet and have a refreshing experience you can use detox foot pads once a week for 30 to 60 minutes.
Can a foot detox make you sick?
Excessive usage of foot detox pads can cause potential side effects like dizziness, nausea, or vomiting. People with diabetes should consult their doctor before using a foot detox as the process may affect their blood sugar levels.
How can I cleanse my body of toxins naturally?
Here are a few natural methods to cleanse your body's toxins
•  Drinking lukewarm water with lemon
•  Avoid coffee and adopt green tea
•  Avoid preserved fruit juices
•  Drinking abundant water
•  Get adequate sleep
•  Include probiotics in your diet
Recommended Articles