11 Best Selling Non-Comedogenic Primers Of 2022 For Acne-Prone Skin
Get fthe flawless, even-toned base for all your makeup looks without any breakouts.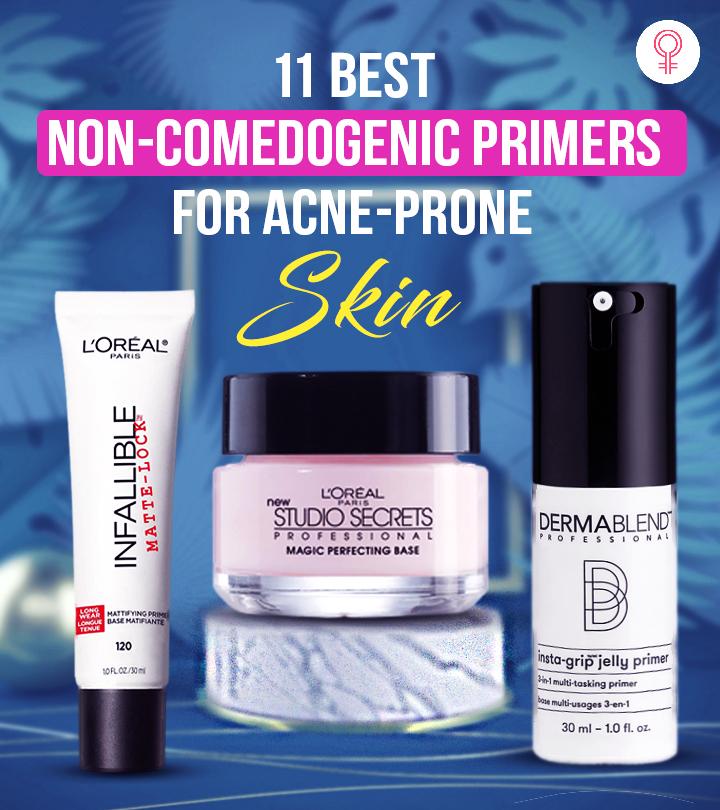 The best non-comedogenic primers do more than soothe skin and close large pores. They help prevent acne breakouts, moisturize your skin, and help reduce dark spots, wrinkles, blemishes, dark circles, and several other visible signs of aging. They are ideal for people who wear makeup daily. To help you come to a decision, we have listed some of our top picks of non-comedogenic primers, particularly formulated for acne-prone skin. These primers form a fantastic base beneath makeup products, leaving the skin ready for makeup. They also help the cosmetic products last longer on the face. Take your pick from the list below!
11 Best Selling Non-Comedogenic PrimersOf 2022 For Acne-Prone Skin
This perfecting base face primer from L'Oreal Paris is suitable for all skin types. It instantly smoothens facial fine lines, hides pores, and leaves your skin mattified. The formula has a silky texture and a light consistency that glide across the skin and give full coverage on your face and under the eyes. It is gentle and mild on the skin. The rich primer formula blends well with the skin tone and enables you to create the look that you want. With this primer as the base, your makeup stays in place and looks fresh for several hours. The pack is available in a count of 2 compact bottles.
Pros
Compact container
Lasts longer
Total coverage
All-day wear
Cons
May form makeup creases in some
The Infallible Matte Lock primer from L'Oreal Paris prepares your face for makeup. It lasts longer and leaves a smooth and refreshing look. When applied directly to the skin, it blurs out imperfections such as blemishes, fine lines, pimples, acne, crow's feet, wrinkled skin, dark circles, spots, and other signs of aging. With this Infallible Matte Lock, you will be able to create the right complexion and prime up your face for makeup. The formula balances the skin pH levels and keeps excess skin oils at bay. It also gives you matte coverage. Your natural sebum and moisture stay sealed in the skin and form a protective barrier over the skin.
Pros
Shine-free
Non-greasy
Breathable
Long-lasting
Cons
This primer also contains broad-spectrum SPF sunscreen that keeps your skin well protected from the harsh ultraviolet rays of the sun. It is compatible with all adult skin types and suits sensitive skin as well. Its perfect blend of ingredients gets absorbed deep into the layers of the skin. This non-greasy formula diffuses light to reduce the visibility of aging signs like fine lines, blemishes, open pores, wrinkles, etc. This non-comedogenic primer comes in a squeeze tube that is easy to carry in your purse or makeup kit.
Pros
Oil-free formula
Fragrance-free
Reduces pores
Hides fine lines
Dermatologically-tested
Gentle on sensitive skin
SPF 15
Cons
The Insta-Grip Jelly Primer is a 3-in-1 multi-tasking primer from Dermablend Professional. It acts as a primer that hydrates the skin deeply and makes the skin firmer. The primer has a sticky jelly texture that is safe and mild on dry skin. This silicone-free primer has high-performance pigments that stay on for long hours and gradually minimize skin pore size.
This primer is compatible for application on dry, aging, sensitive, and acne-prone skin. It feels light on your skin and leaves a clear canvas on which you can apply makeup. The primer meets dermatologist standards and allows your makeup to last for up to 24 hours. It is available in a spray bottle.
Pros
Long-lasting effects
Moisturizing formula
Spray application
Allergy-tested
Vegan
Ideal for sensitive skin
Lightweight
Silicone-free
Fragrance-free
SLS-free
Phthalate-free
Triclosan-free
Cruelty-free
Dermatologically-tested
Cons
This mattifying base primer from Rimmel London smoothens skin and evens out its tone. It makes your makeup look flawless, radiant, and lasts for up to 9 hours. The product comes in a squeeze tube for easy application, anytime and anywhere. This primer can be used to make your face radiant with or without makeup. It also gives you a fresh look all day. It has a non-greasy and light texture, and keeps your skin hydrated, moisturized, and breathable.
Pros
Instantly mattifies
Lightweight
Non-greasy
Value for money
Cons
None
The Marshmallow Primer from NYX ensures a professional makeup experience each time. It soothes your skin and prepares it for makeup. Your skin feels soft as it blurs the fine lines, evens the tone, and keeps it hydrated. This primer is infused with honeydew and papaya extract that add a soft-focus finish to your face. It creates a unique effect with its marshmallow root extract. Its blend of organic ingredients makes the skin brighter and dewy.
Pros
Vegan
Dermatologist-tested
Blurs fine lines
Cruelty-free
Silicone-free
Cons
The Fifth & Skin Mineral Primer is loaded with essential minerals for your skin. It keeps your skin nourished with natural and organic ingredients like aloe vera, lavender, rosemary, and oregano. The primer is mild and suitable for all skin types. Its botanical contents enable your skin to look and feel its best. It controls excess oil and shine and allows your makeup and other cosmetic products to stay on for up to 8 to 12 hours.
This uniquely-prepared formula is non-comedogenic and hypoallergenic. It is extremely safe to apply on skin and causes no irritation, redness, rashes, or other skin issues. It does not clog pores. All it takes is just one pump for full coverage.
Pros
Certified organic
Chemical-free
Cruelty-free
Lightweight
Hypoallergenic
Non-greasy
Paraben-free
Gluten-free
Fragrance-free
Non-GMO
Anti-aging primer
Balances skin pH
Cons
The Murad Hydration Skin Primer is a 3-in-1 primer that blurs, primes, and protects the skin. It comes with SPF 30 sunscreen that forms a broad spectrum shield on your skin and protects against sun rays. The gel formula takes care of your skin and ensures your makeup lasts longer. It is suitable for all skin types, including normal, combination, sensitive, dry, or acne-prone skin.
The primer is infused with mushroom peptides that repair and restore skin cells and improve skin elasticity. It is free of parabens, sulfates, gluten, animal-derived ingredients, mineral oils, formaldehyde, oxybenzone, and petroleum.
Pros
Soft focus complex
Blurs signs of aging
Cruelty-free
Paraben-free
Sulfate-free
Gluten-free
Mineral-oil
Vegan
Formaldehyde-free
Oxybenzone-free
Petroleum-free
SPF 30 sunscreen
Cons
The Seraphine Botanicals Luminizing Primer is formulated with enriching camelina seed oil and hydrating rose hydrosol. The primer boosts skin elasticity and preps it for makeup. It creates a smooth and lustrous base and leaves your skin glowing and radiant. This product also balances the skin pH levels. It comes in an easy-to-apply squeeze tube.
Pros
Vegan
Paraben-free
Mineral oil-free
Phthalate-free
Gluten-free
Hypoallergenic
Cruelty-free
Non-GMO
Cons
This base formula from Algenist is highly hydrating and nourishing. It is not just a primer but also a pore corrector and an anti-aging product. It is infused with alguronic acid prepared from live algae. This primer improves skin texture and gives it a satin-soft finish. It also contains hibiscus flower extract, willow bark, salicylic acid, and squalane. It is created with advanced biotechnology, and is safe on the skin. It does not clog pores. It helps reduce fine lines, wrinkles, pores, blemishes, and improves skin tone. The aqueous primer spreads over the skin and ensures your makeup lasts longer.
Pros
Hypoallergenic
Lightweight
Suitable for all skin types
Paraben-free
Phthalate-free
Mineral oil-free
Paraffin-free
Sulfate-free
Formaldehyde-free
Cons
Might cause rashes in some
Expensive
This is the first radiance boosting foundation primer from Yves Saint Laurent. It comes with a blend of 4 nourishing oils and the light of ToucheEclat. This primer makes your skin feel incredibly soft and smooth. It does not leave a greasy residue behind. It helps reduce the skin pore size.
The formula enhances skin texture and gives a luminous glow that blurs out blemishes, tan, fine lines, wrinkles, and other aging signs. The product is suitable for all skin types and has a transparent texture in a universal shade with subtle sparkles of golden light.
Pros
Cruelty-free
Mild on skin
Has light gold glitter
No greasy residue
Cons
These are the top 11 non-comedogenic makeup primers available on the market. In the following section, we will look at what you need to consider before buying one.
What To Consider Before Buying A Non-Comedogenic Primer?

Non-comedogenic primers come with different textures that meet the makeup needs of women from all walks of life. Most of them contain active ingredients that bring about visibly instant effects – like hyaluronic acid that is extracted from algae and used in skincare. These ingredients are infused in the formulas to reduce the visibility of aging signs like fine lines, marks, scars, blemishes, wrinkles, and crow's feet.
Since a skin care routine requires a wide range of products, it would be a wise choice to choose primers that are multi-functional. Pick products that not only prime your skin but also keep it hydrated, moisturized, nourished, and protected from the harsh rays of the sun with an SPF.
While some primers are created for all skin types, others are meant only for specific applications. Choose a good primer that is gentle and soothing to sensitive and acne-prone skin. This prevents pimple and acne breakouts, redness, rashes, and irritation.
Vegan And Botanical Ingredients
It is good to choose primers that are formulated from naturally sourced ingredients. Primers with 100% vegan and cruelty-free ingredients are ideal. Go for primers that are free of mineral oils, sulfates, phthalates, parabens, silicones, dyes, fragrances, and other harmful substances that can damage your skin.
There is a specific trademark finish to every primer. The hydrating primer can give your skin a dewy, moist, and radiant finish. It is ideal for dry skin types and keeps your skin hydrated as well. The mattifying primer, on the other hand, evens out the skin tone and texture. It works well on oily and combination skin types.
Purchasing a primer from a reputed brand ensures your skincare regime is in good hands. The products are reliably used and trusted by many other women around the world.
Why Trust StyleCraze?
The author, Baishali Bhattacharya, is certified in makeup artistry and gives you an insider's perspective on the best non-comedogenic primers for acne-prone skin that you should have in your makeup collection. She believes these primers are ideal for people who wear makeup daily. She checked user feedback, reviews, ingredients, and other specifications provided on the brand websites to pick the best products available on the market.
Frequently Asked Questions
Do primers clog your pores?
While certain primers may clog pores, non-comedogenic primers do not. Large, visible pores on your face can be an aesthetic concern as they trap dirt, dead cells, and accumulated sebum. These pores can cause skin infections, redness, itchiness, and rashes. Non-comedogenic primers can help resolve these concerns.
Can you wear a primer every day?
It is not necessary to wear a primer every day. But there is no harm wearing it every day. If you want that poly-filler matte finish effect on your skin, a primer sure can do wonders!
Is a primer necessary before makeup?
If you have large pores, oily skin, marks, scars, or wish to blur signs of aging such as wrinkles, fine lines, crow's feet, and skin creases, a good primer can do the trick. The primer should be applied directly onto the skin before applying the makeup.
What ingredients should you avoid in makeup primers?
Avoid using non-comedogenic primers that contain bismuth oxychloride and latex. These ingredients can irritate sensitive and acne-prone skin, leading to more breakouts. On the other hand, latex can trigger allergic reactions on your skin. Check the product labels before making a purchase.
Recommended Articles