10 Best Primers For Acne-Prone Skin That Work Wonders
Use these excellent products to cover up your pimples and achieve a flawless makeup look.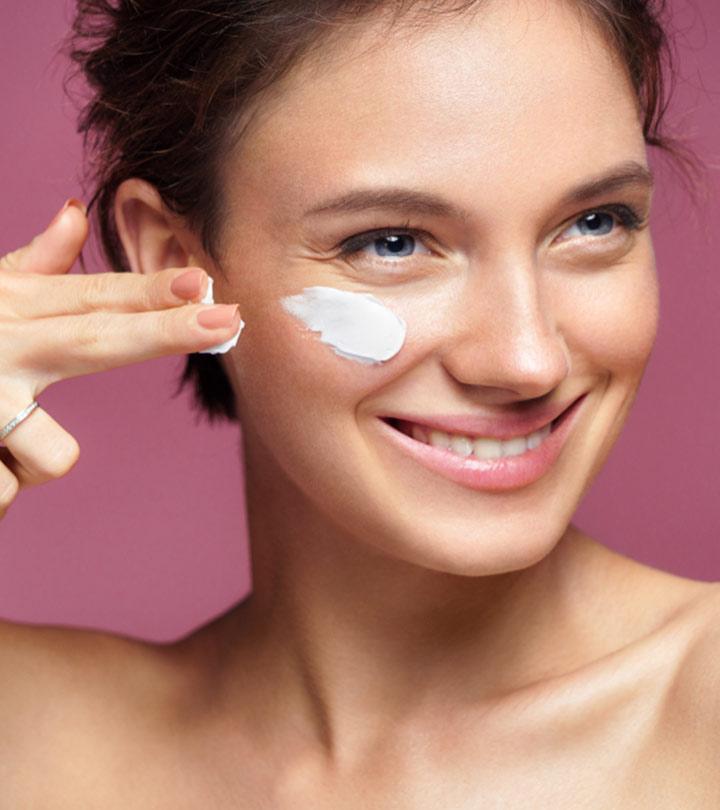 A primer smooths your skin and gives you an even skin tone. It controls acne, covers enlarged pores, fine lines, wrinkles, and controls excess oil. The best primer for acne-prone skin doesn't clog pore or break out the skin but provides a matte base and exceptional results for your makeup. It absorbs excess oil and retains a flawless makeup finish.
A primer is usually applied before using foundation, tinted moisturizer and enhances makeup coverage. The primer can also be an alternative to moisturizer. If you apply makeup directly to your oily or acne-prone skin, makeup may melt or shade. Oily skin or acne-prone skin may make you appear greasy, resulting in breakouts. So, applying primer is a necessary step before applying makeup on the skin.
However, choosing the ideal primer for acne-prone skin can be tricky when there are numerous products available in the market. So, take a look at our list of the 10 best primers for acne-prone skin that eliminate unwanted shine and ease your makeup application. We have selected these primers after going through honest reviews from users online.
10 Best Primers For Acne-Prone Skin To Blur Away Imperfections
Create a smooth canvas for your foundation with this primer and get an instant flawless matte finish. Be it subtle or bold makeup; this flawless primer preps the skin by blending evenly to create an ideal base for other products that follow and is hardly noticeable. This blemish-control primer for acne-prone skin prevents breakouts with the help of ingredients like salicylic acid, vitamin E, and tea tree oil. It also helps the makeup last impressively long irrespective of the skin type. The brand takes pride in being cruelty-free and vegan and hydroquinone and paraben-free, which add more awesomeness to this long-lasting primer for acne-prone skin. Watch this video featuring a tester's experience of using the product for a thorough understanding.
Pros
Controls breakouts and blemishes
Free of phthalates
Ethoxylate and triclosan-free
Suitable for all skin types
Vegan
Not tested on animals
Cons
May not cancel out redness
Want to hide your enlarged pores and reduce the excess oil on your skin? Grab the Jouer Anti-Blemish Matte Primer today and end all your acne woes. This magical dermatologist-tested formula contains salicylic acid that controls sebum production and evens out uneven complexion by fading blemishes and minimizing the appearance of pores. This vegan primer is also packed with vitamin E, ginseng, and ginkgo bilboba extracts that treat skin inflammation and reduce redness. Layer this dermatologist-recommended primer under your foundation and achieve a smooth and even skin tone.
Pros
Long-lasting
Suitable for sensitive skin
Fragrance-free
Vegan
Silicon-free
Oil-free
Paraben-free
Dermatologist-tested
Cons
Bid goodbye to pores with this Pores No More Refiner primer from dr. brandt. It helps your makeup stay put for hours as it is resistant to sweat and humidity. The dermatologist-tested pore filling primer for acne-prone skin creates an ideal canvas for makeup with a velvety formula made with lavender oil, linseed extracts, and tea tree leaf oil. It absorbs excess oil and covers the pores, thus preventing makeup from moving and sliding. You can also replace your moisturizer with it. For a quick fix when you're going makeup-free, pat and blend it gently to minimize the appearance of pores, and you'll witness a beautiful matte effect with a healthy dose of hydration. Click here to check out this YouTuber's unbiased review and the reviewer's experience with the product.
Pros
Quick fix for pores
Makes skin smooth
Suitable for everyday application
Sweat-resistant
Dermatologist-tested
Cons
May not be suitable for extremely dry skin
A moisturizer that doubles as makeup primer is what every girl needs to make her life easier. This non-comedogenic primer is your one-stop-solution for moisturizing, mattifying, and minimizing the appearance of pores. Slide this bottle into your bag, and you won't need to splurge on multiple skincare products for your face. This acne-fighting primer is blessed with ingredients like salicylic and lactic acids, cinnamon, tea tree oil, witch hazel, pine tree extract, and lemon peel. It is also infused with copper and peptides that help boost the growth of anti-aging building blocks of the skin like collagen and elastin. It is ideal for oily and acne-prone skin as it controls the production of sebum, which is a mixture of lipids that make your skin extremely oily. However, the brand still recommends a patch test on a small area to avoid potential reactions. Give this moisturizer cum water-based primer a try, and you'll never want to run out of it.
Pros
Restores pH balance
Controls breakouts
Non-greasy formula
Dries fast
Rich in antioxidants
Cons
May not be suitable for dry skin
Tired of trying countless primers that won't stop irritating your skin? Try this dermatologist-tested, non-comedogenic priming balm to add a silky-smooth and even base for long-lasting makeup. Daniel Martin, a professional makeup artist, also uses this flawless primer because it not only makes your makeup last longer but also keeps breakouts at bay. It can be used as a primer for your face, eyes, and lips. It helps reduce clogging in pores and breakouts and fights the harmful effects of environmental stressors. The ingredients such as Hadasei-3, a trinity of Japanese superfoods, green tea, rice, and algae that help reduce wrinkles and dullness makes it a perfect primer for aging acne-prone skin. If you're looking for a cruelty-free makeup-artist-approved primer that offers maximum shine control, smoothes the skin, and nourishes, this is an ideal pick. Click here to check out a detailed personal review of this product along with the tester's experience of using it.
Pros
Protects the skin barrier
Evens out the skin tone
Anti-aging
Paraben and sulfate-free
Cruelty-free
Dermatologist-tested
Cons
Some may find the consistency too thick.
We know how aging skin demands products that address this skin issue; so, we bring you this primer for aging, acne-prone skin. It arms your skin against wrinkles and fine lines and helps reduce pores. This pore minimizer primer is a healthy blend of vitamin C and hyaluronic acid. These ingredients fight the damage caused by UV radiation to give you brighter skin while restoring the youthfulness of your skin. Pat it onto your skin and massage gently for a hydrated face and long-lasting makeup that stays intact for a whole day.
Pros
Minimizes pores
Prevents wrinkles
Matte finish
Brightens your skin
Free from parabens and sulfates
Cruelty-free
Cons
May not be suitable for sensitive skin
If you're looking for a makeup primer that can conveniently replace your foundation on days when you're too lazy for makeup, your hunt might end here. This pore-filling primer for acne-prone skin is a healthy blend of skin-loving ingredients like orange flower, magnolia flower, tea tree, oats, rose flower, and lily extracts. It minimizes pores and sets a flawless base for your foundation while nourishing and caring for your skin. The lightweight primer also helps keep skin dullness at bay while repairing blemishes. As a plus, it also offers protection from UV radiation and environmental aggressors.
Pros
Covers pores
Improves skin texture
Reduces fine lines
Brightens the skin tone
Cons
Some may find the smell chemical-like.
If you're on the lookout for a primer with exceptional results to primarily rid your skin of that added shine from oiliness, give this one a try. This oil-free, water-based primer for acne-prone skin absorbs excess oils to diminish the oil-induced gleam while making the skin visibly smoother. What makes this primer stand out is its unique microsponge technology that renders it 6-hour oil control to prevent your makeup from melting or moving. It is a lightweight formula that dries quickly to leave behind a powder-like matte finish with a silky smooth texture. Invest in this thoughtfully formulated fragrance-free primer for all-day shine control.
Pros
Lightweight
Matte-finish
Paraben-free
Fragrance-free
Cruelty-free
Cons
The Cover FX primer is formulated to treat acne and fade acne scars to reveal blemish-free skin. This makeup primer reduces visible pores, conceals blemishes, improves uneven complexion, and fights acne with its weightless, 1% salicylic acid formula. You can either wear it under your makeup for shine control or use it as a moisturizer if you like a final matte finish. Among other ingredients that make it a restorative potion for acne are ancient African tree bark, sugar maple, bilberry, lemon, sugarcane, and orange fruit extracts for a healthy-looking, rejuvenated skin.
Pros
Free of harsh chemicals
Reduces the size of pores
Fades blemishes
Matte-effect
Vegan
Gluten-free
Not tested on animals
Cons
May not be suitable for oily skin
If your makeup moves or seems to fade within a few hours, it is time for you to switch to the Tarte makeup primer for acne-prone skin. Designed with optical matte-blur technology, this Tarte waterproof face primer creates a perfect matte-finish canvas for your makeup. It contains safflower seed oil, avocado, grape seed oil, rosemary leaf extract, and several fruit extracts that nutrify the skin while resulting in an even tone over time and making it visibly smoother. The mattifying primer for acne-prone skin controls shine and filters out the pores, fine lines, and other imperfections for a healthy glow. Apply it before your foundation and stay fret-free as it holds makeup and delivers a lasting impact of 12 hours.
Pros
Waterproof
Hides acne scars
Long-lasting
Heals dry patches
Cons
*The prices provided in this article are based on the latest available information. However, they may vary due to changes in pricing by the seller and/or promotional offers.
These are some of the best primers for acne-prone skin. If you are wondering how you can pick one that's best for you, here's how you can choose the right one based on your skin issues.
How To Choose A Good Primer For Acne-Prone Skin
Choose a primer that is non-comedogenic because such primers are specifically formulated to prevent your pores from clogging. You can check if the product is comedogenic by reading the product label and the online reviews from its users. Many websites also rank skincare products based on the comedogenicity scale— the lower the number, the lesser the chances of the ingredients to clog your pores. Primers with elements in the range of 0-2 are considered non-comedogenic.
Salicylic acid is usually used to treat acne and hyperpigmentation. So, primers with salicylic acid can double as a treatment for acne-prone skin as they not just cover acne up but also repair breakouts.
Look for oil-free and oil-absorbing primers as they can help you avoid excessive shine on your face and lock your makeup. Such primers are made from ingredients that absorb oil to control makeup-meltdown.
Ingredients like vitamin A and E can help hydrate and heal your skin. Vitamin E is an antioxidant and helps fight skin damage from sun exposure. Vitamin A prevents breakouts and speeds up the healing process of the skin. Other noteworthy ingredients to look for are tea tree oil that fights dryness, and aloe vera that prevents skin irritation.
If a primer has dimethicone, a silicone-based polymer, it can help control excess oil leading to acne problems. It is used in skin care and makeup products to render soft, smooth, and velvety skin. However, we recommend you patch test the product with such an ingredient before use.
We recommend you keep an eye for these ingredients while choosing any high-end primer or drugstore primer for your skin. It is best to gain some insights from a board-certified dermatologist before making a buying decision. Now, here's how you should apply primer for the best results. You can also seek help from a professional makeup artist for appropriate application techniques.
How To Use A Primer For Acne-Prone Skin
Dab a pea-sized amount of the primer on your face and massage to even out the primer.
Give it a couple of minutes to dry completely before applying foundation.
You can also gently dab it over the foundation for shine control due to excess oil.
Based on your preference, you can apply only a primer on your face to cover the imperfections to achieve a fresh, no-makeup look.
Why Trust Stylecraze?
Kirtana Divakar, our skincare expert, has a knack for researching and reviewing the best makeup products available. A good base can help you get a flawless makeup look, and hence, for this post on best primers for acne-prone skin, she has researched multiple sites and analyzed various reviews from existing users. In addition, an elaborate explanation of the pros and cons of these primers based on user reviews will help you pick the most suitable primer for your skin type.
Frequently Asked Questions
Is a primer good for acne-prone skin?
Primers are good for acne-prone skin if they are non-comedogenic. They prevent the pores from clogging; hence, lower the chances of developing acne. They also help your makeup stay longer.
Can we use primers every day?
While it is not necessary to use a primer every day, it helps define the makeup and keeps it in place for longer hours. And a primer with several natural ingredients can also benefit your skin.
Can primers cause acne?
Primers help with oil control but can, under rare circumstances, clog your pores leading to breakouts, especially if you have highly sensitive skin. However, if you pick a hypoallergenic primer formulated for acne-prone skin, it saves you from breakouts.
Can I use a moisturizer instead of a primer?
Moisturizers do not act as a substitute for primers. If you have dry skin, you can use a hydrating primer so that it does not make your skin feel dry.
Does a primer protect the skin?
This depends on the formulation of the primer. If your primer is infused with ingredients known to protect the skin from pollutants, acne-causing agents, signs of aging, etc., you may expect it to offer skin protection. Choose an SPF-infused primer, if you want protection against harmful UV rays.
Are primers bad for oily skin?
No. Most primers not only help keep the makeup intact for long hours but also absorb excess oil generally. A good mattifying primer will also moisturize your skin without clogging your pores or causing excess oil secretion.
Is a primer really necessary?
Primer is an essential step that precedes makeup, especially for acne-prone skin, as it saves your pores from being clogged and further worsening your acne.
Should you use a primer if you have acne?
Yes. Primers can be used even if you have acne, provided that there are no comedogenic ingredients in the formula. Comedogenic ingredients like silicones can clog the pores and worsen acne conditions. Instead, try acne-friendly primers that will simply blur the imperfections without aggravating your pimples.
What are the side effects of using primer on the face?
Primers that are free from harsh chemicals will not have any side effects. But, those with harsh irritants like silicone can clog your pores, and develop pimples, blackheads, and whiteheads. Plus, such primers are not lightweight and cause excessive sweating.
Can you sleep with a primer on?
No. Sleeping with a primer on is very damaging to your skin especially if you have worn your makeup for the full day. Primers can clog your pores and attract dirt and grime to your face. Plus, residues from primers can hinder the natural renewal of your skin and make way for developing wrinkles.
Should I use a primer if I have oily skin?
Yes. Use a mattifying primer that is specifically formulated for oily skin. Such a primer controls excessive sebum production and is effective in controlling the shine. Plus, primers for oily skin also hydrate the skin without clogging the pores.
Related Articles
Best Primers For Oily Skin
Best Primers For Textured Skin To Minimize Pores
Best Water-Based Primers
Best Setting Sprays For Acne-Prone Skin