The 14 Best Goat Milk Soaps Of 2022 For Every Skin Type
Get that hydrated, youthful-looking skin with these nourishing formulations.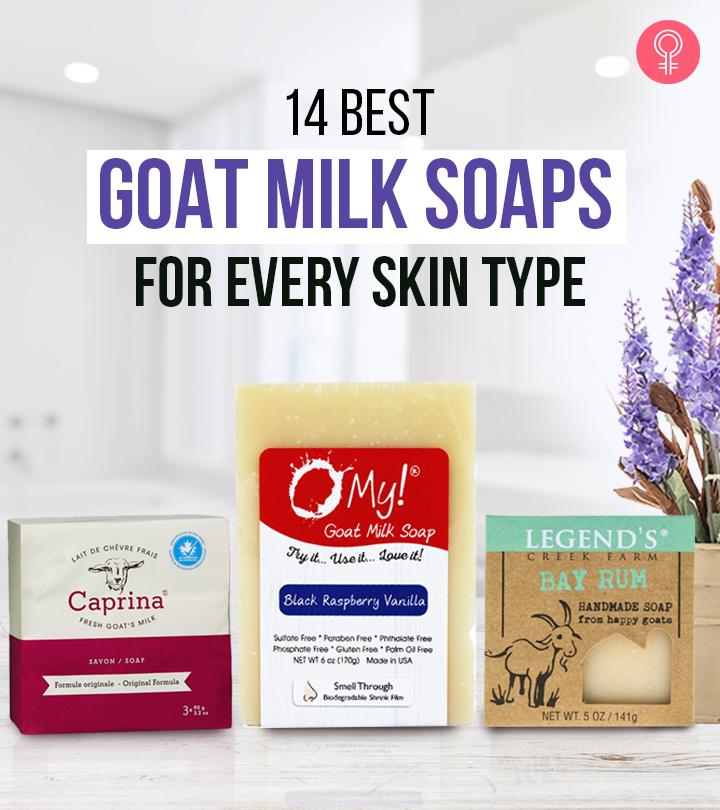 Using regular soaps can negatively impact the health of the skin because of the chemicals they contain. Therefore, you should go for the best goat milk for your skin as it is an age-old remedy approved by many dermatologists for its soothing action. It is mild and can manage skin issues like dermatitis, psoriasis, and eczema. It also has a moisturizing effect on the skin as it has high amounts of lactic acid and a decent amount of AHA. This soap exhibits a mild exfoliating action and does not irritate the skin.
With so many options available out there, picking the best goat milk soap can be difficult. So, we have compiled a list of the 14 best goat milk soaps for you to choose from based on your skin's needs. Check them out!

The Top 14 Goat Milk Soaps Of 2022
If you prefer unscented soap, try the Our Earth's Secret Goat's Milk Melt And Pour Soap Base that contains 10% goat's milk. You can cut the soap base and use it as it is or add color and essential oils to make your soap variants. This soap base is extremely hydrating and contains coconut, palm, safflower oils, oat proteins, and glycerine. This product is best for dry and sensitive skin and skin issues like eczema, psoriasis, and dermatitis.
Pros
Natural ingredients
Skin-soothing hydrating
Great for sensitive skin
Soy-free
Cons
The Indigo Wild Zum Bar Goat's Milk Soap contains 100% natural ingredients. This is a set of five bar soaps with a deep earthy and musky patchouli fragrance.  It is a mildly exfoliating soap that cleanses your skin without drying it. The soap contains plant extracts that further nourish the skin and protect its natural moisture barrier. It is suitable for all skin types, especially sensitive, dry, and irritated skin.
Pros
100% natural
Lathers quickly
Non-irritating
Synthetic fragrance-free
Cons
The Caprina Fresh Goat's Milk Soap is made from freshly sourced goat's milk and is excellent for compromised skin. This soap does not dry your skin – it keeps it moisturized and protects the skin's natural moisture barrier. It is non-comedogenic and is reviewed by dermatologists. This soap is suitable for all skin types, especially sensitive and irritated skin. For a detailed review of this product, go through this YouTube video.
Pros
Natural moisturizer
Pleasant fragrance
Non-comedogenic
Dermatologist recommended
Affordable
Cons
The Horse 'O Peace Ranch Oatmeal 'n Honey Goat Milk Soap is an unscented raw goat milk soap. It has a pH of 7.0 and is best for those sensitive to fragrances and have acne-prone and compromised skin. This soap contains raw honey enzymes and organic oatmeal extracts that moisturize the skin and prevent acne, itching, redness, and irritation. It is handmade, hand-cut, and does not contain water. To find out more about this product, check out this YouTube video.
Pros
100% goat milk soap
Moisturizing
Handmade in the USA
Not tested on animals
Cons
The Sunaroma Conditioning Goat's Milk Soap is a deep conditioning and skin-soothing soap, especially for dry skin. It is pH-balanced and does not upset the natural balance of your skin. This soap contains hydrating ingredients like organic shea butter and manuka honey for additional hydration, nourishment, and moisturization. Goat's milk contains vitamins A and E, fatty acids, and triglycerides that improve skin texture, promote collagen development, and keep the skin soft. This soap has a 100% vegetable base and is suitable for all skin types.
Pros
Prevents inflammation
Provides deep hydration
100% natural
Non-irritating
Pleasant fragrance
Cons
The Southern Natural Rosemary Mint Goat Milk Soap contains the finest quality ingredients, devoid of any chemicals. This goat milk soap is infused with coconut, olive, palm oils, rosemary and spearmint essential oils, and goat's milk.  It is great for dry and sensitive skin and can be used on both face and body. This soap soothes irritated, itchy skin and protects the natural moisture barrier.  You will also get a bonus soap sock with this soap.
Pros
100% natural
Sulfate-free
Paraben-free
Non-GMO
Free soap sock
Affordable
100% satisfaction guarantee
Cons
The Beekman 1802 Goat Milk Soap is a high-quality goat milk soap enriched with aloe vera, kukui nut oil, and shea butter. All these ingredients keep the skin soft, hydrated, and moisturized. This soap has a sweet vanilla scent and a 100% vegetable base. It is triple-milled, meaning it contains less water and more soap and is long-lasting. The soap is perfect for dry and sensitive skin and is suitable for all skin types. To learn more about the benefits of the product, check out this YouTubers video.
Pros
100% natural
Cruelty-free
Sulfate-free
No residue
Gentle
Cons
This soap from the brand Goat (Greatest Of All Time) is a handcrafted soap with natural goat milk and 8 organic ingredients. It cleanses deeply, removes dead skin cells, leaving your skin moisturized, smooth, and soft. It is formulated with essential oils and lemongrass that cleanse and nourish the skin while vitamins and minerals repair and hydrate it. The lemongrass and orange blossom notes release a refreshing fragrance that lingers and enriches your overall shower experience.
Pros
 Handcrafted
 Natural goat milk
 Organic ingredients
 Pleasant scent
 Cruelty-free
Cons
None
The Legend's Creek Farm Handmade Soap is made using superior quality goat's milk. This soap contains olive, coconut, and hemp oils, along with oatmeal. It also contains a special ingredient – Dragon's Blood resin. This resin has natural healing properties and has been used for thousands of years to calm irritated skin and maintain its health. This soap has a luxurious earthy and fruity scent that pleases your senses. It is suitable for all skin types and is available in six fragrances.
Pros
100% organic
Biodegradable
Perfect for sensitive skin
Fragrance-free
Paraben-free
Cruelty-free
Cons
Small soap bar
Melts quickly
The Nubian Heritage Goat's Milk & Chai Soap is a soothing and hydrating soap. It contains honey and shea butter to hydrate and condition the skin, and rose petals for gentle scrubbing. Together with the fatty acids of goat's milk, all the ingredients keep your skin feel smooth, plump, and nourished. This soap has a pleasing scent of roses and chai and is suitable for all skin types.
Pros
Affordable
Certified organic ingredients
Deep cleansing
Ideal for sensitive skin
No harmful chemicals
Cons
The Falls River Soap Company Goat Milk Soap is beautifully crafted and has a light fragrance of fresh-cut English rose and essential oils. It contains goat milk, she a butter, coconut oil, glycerin, and other natural oils that keep your skin hydrated, moisturized, soft, and supple. This soap helps draw out impurities, gives you a squeaky-clean feeling, and invigorates your senses. It is suitable for all skin types. These handmade soaps are made in small batches to ensure quality and use only certified organic ingredients.
Pros
Handcrafted
Certified organic
100% chemical-free
Great for sensitive skin
Cons
The Natural Handcrafted Soap Company Goat's Milk Soap is an artisan soap made of high-quality ingredients. The company uses fresh milk from local farms for manufacturing these soaps. This soap contains a blend of milk, olive oil, and other natural oils and is extremely gentle on the skin. It is unscented and has the same pH as your skin.  This soap keeps the skin soft and moisturized and is especially suitable for dry and problematic skin. The natural exfoliating properties of goat's milk gently slough away the dead skin cells, improving your skin texture.
Pros
100% natural
Unscented
No synthetic chemicals
Great on sensitive skin
Cons
Does not last long
Expensive
The Pacific North West Collective Goat Milk Soap comes in a pack of four tropical scented soap bars – Coconut, Tropical Storm, Mango-Papaya, and Plumeria. These soaps are made of 100% goat's milk and are prepared in small batches to maintain their quality. They contain organic palm oil and are extremely nourishing, hydrating, and cleansing. These soaps feel creamy on your skin and do not irritate it. They are hand-cut and suitable for all skin types.
Pros
100% natural ingredients
Handmade
Four tropical flavors
No artificial fragrances
No artificial colors
Sensitive skin-friendly
Cons
The O My! Goat Milk Soap is a premium blend of fresh Nubian goat milk, olive oil, coconut oil, cocoa butter, shea butter, and essential oils. This lightly scented, cruelty-free soap
moisturizes your skin and prevents dryness and flakiness. It efficiently cleans dirt, dust, and impurities from your skin without upsetting its natural oil balance. This soap is great for all skin types, especially dry, irritated, acne-prone, and sensitive skin.
Pros
Soothes acne and eczema
Hydrating
Lathers fast
Biodegradable packaging
Sulfate-free
Paraben-free
Phthalate-free
Gluten-free
Palm oil-free
Phosphate-free
Improves overall skin health
Cons
How To Choose The Right Goat Milk Soap For Your Skin
A lot of brands use powdered goat milk for producing soaps. Some even mix water with goat milk for soap making. Try to avoid such brands. Look for a brand that uses 100% farm-fresh goat's milk for their soaps.
Goat milk may contain a blend of essential oils, butters, and other natural oils. Check if you are allergic to any of those before buying. Handmade soaps usually do not contain harmful chemicals and preservatives like regular soaps.
Check The Soap Making Process
Manufacturers usually follow either hot-processing or cold-processing for making soap. Cold-processing is popular for milk-based soaps as it prevents milk curdling. Although both the processes are almost the same, some say the cold-processing is the authentic way of soap making.
Goat milk soap has multiple benefits. Let's take a look.
Benefits Of Goat Milk Soap
Natural Exfoliator:  Goat milk contains lactic acid, a mild alpha-hydroxy acid that gently exfoliates the dead skin cells, improves the skin texture, and brightens it.
pH-balanced: The pH level of goat milk is between 6.3 and 6.7, close to our skin's-b pH levels. As a result, this soap does not upset the skin's natural moisture balance, soothes it, and keeps it hydrated and calm. This is excellent for those who have skin issues like eczema, dermatitis, and psoriasis.
Enriched In Vitamins: Goat milk contains essential vitamins and nutrients that help fight signs of aging like wrinkles, spots, and fine lines and boost collagen development to keep your skin youthful and refreshed.
Goat milk soap loves your skin as much as you do! And we hope you have now understood why goat milk is your skin's best friend. So without any delay, pick your soap today!
Why Trust StyleCraze?
Shiboli Chakraborti, the author of this article, is a certified skin care coach who provides well-researched products for her readers. She conducted in-depth research by analyzing the product specifications of various goat milk soaps and reading hundreds of reviews. Besides cleansing your skin, the best goat milk soaps also exfoliate your skin. These milk soaps are non-irritating, skin-friendly, and also moisturize the skin.
Frequently Asked Questions
How long does goat milk soap last?
It depends on how you use and store it. It typically lasts for 3-4 weeks. However, it might melt fast when exposed to moisture.
Is goat milk soap good for keratosis pilaris?
Yes. It may not cure the condition, but it can keep the area hydrated and soft to make it manageable.
Is goat milk soap organic?
Yes, all the top-rated goat milk soaps are organic and made of plant-based ingredients.
Is goat milk soap good for mature skin?
Yes, goat milk soap is good for mature skin as it deeply moisturizes and keeps the skin soft and supple for a youthful glow. It also offers other anti-aging benefits like diminishing wrinkles, fine lines, and blemishes.
Can you use goat milk soap on your hair?
Organic goat milk soap is very mild and does not damage the hair or scalp. It helps regulate the production of oils in oily scalps and promotes hair growth.
Is goat milk soap better for acne than sulfur soap?
No. Both the soaps work equally well for preventing acne. While sulfur soaps dry out the skin to control sebum production and acne breakouts, goat milk soap is gentle on the skin and contains lactic acid, a natural exfoliant.
Recommended Articles