10 Best Medicated Shampoos To Buy In 2023
Combat dandruff and fungal scalp problems to flaunt healthy hair with every wash.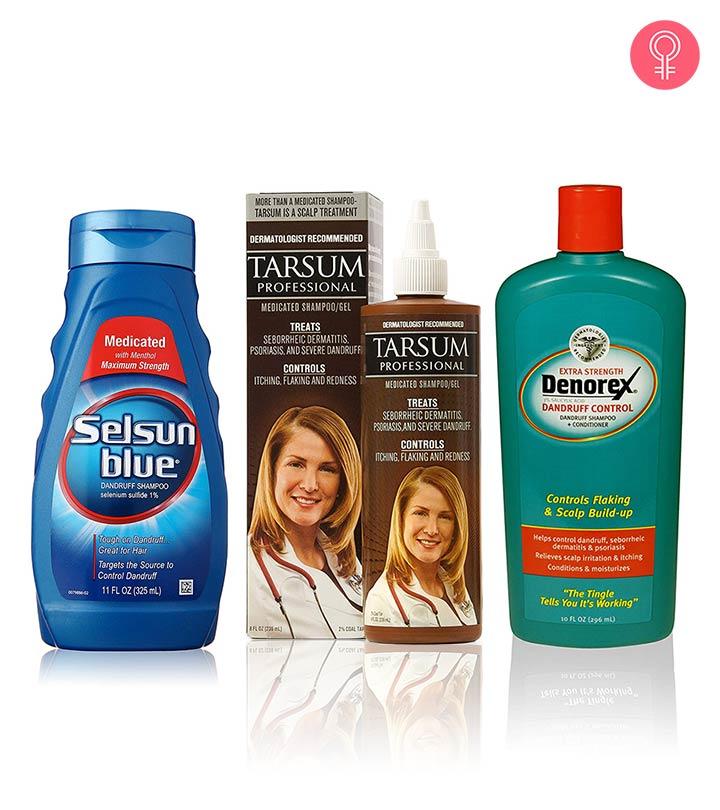 We're bombarded with shampoo options every day. However, they might not be equipped to deal with conditions like scalp itches and psoriasis. If you require a solution for such problems along with one that firmly removes impurities, it may be time to swap your current shampoo with the best medicated shampoo available in the market. These shampoos include healing and effective ingredients that cleanse your scalp while soothing scalp conditions. They also leave tresses smooth and silky. To find the perfect one for your hair, please skim through our list of the top medicated shampoos below.
Top Picks
*The shampoos listed below are unlike normal hair cleansers. They need to be tested before using. It is recommended that you consult a dermatologist before using any of these products and find out how to use them exactly.
Top 10 Medicated Shampoos
Pros
True to its claims
Suitable for all hair types
Rich lather
Safe for color-treated and chemically-processed hair.
Cons
Rating
4.7/5

Price at the time of publication: $26.83
Pros
Reduces scalp inflammation
Quick results
A little product goes a long way
Affordable
Cons
Extremely strong fragrance
Rating
4.6/5
Price at the time of publication: $33.99
This highly acclaimed medicated shampoo contains an active ingredient called selenium sulfide that instantly treats dandruff and scalp infection. This shampoo is formulated with menthol that treats inflammation and prevents redness. It creates a rich lather that softens your hair. Besides disinfecting, this shampoo keeps your hair silky and shiny. It is ideal for treating mild seborrheic dermatitis.

Pros
Ideal for sensitive scalp
Quick results
A little product goes a long way
Suitable for all hair types
Cons
Extremely blue pigmented color
Rating
4.5/5
Price at the time of publication: $7.48
Pros
Lathers well
A little product goes a long way
Suitable for all hair types
Comes with an applicator
Cons
Rating
4.5/5

Price at the time of publication: $26.9
Pros
Sodium Lauryl-free
Laureth Sulfate-free
GMO-free
Fragrance-free
Synthetic colors-free
Cons
May not be suitable for sensitive scalp
Rating
4.3/5
Price at the time of publication: $10.99
Pros
Suitable for all hair types
Ideal for all age groups
Promotes hair growth
Affordable
Cons
Rating
4.4/5
Price at the time of publication: $12.75
Pros
Free of parabens
Does not weigh your hair down
Mild fragrance
Cruelty-free
Cons
Rating
4.3/5
Price at the time of publication: $19.99
Pros
Dye-free
Fragrance-free
Lanolin-free
Paraben-free
Formaldehyde-free
Cocamidopropyl Betaine-free
Botanical extract-free
Sulfate-free
Protein-free
Gluten-free
Dermatologist tested
Cons
Rating
4.5/ 5
Pros
Treats inflammation
Safe for color-treated hair
Adds volume to your hair
Suitable for all hair types
Cons
Takes time to show results
Rating
4.2/5

Price at the time of publication: $11.65
This shampoo is recommended for chronic scalp conditions only. It contains anti-itching, anti-flaking, and antifungal agents that quickly reduce discomfort. It is recommended to be used only for 14 days. Beyond that, its usage is strictly prohibited. It contains micronized clobetasol propionate (MCP), an active ingredient that cleanses your scalp instantly.

Pros
Lathers well
Quick results
True to its claims
A little product goes a long way
Cons
Highly concentrated formula
Rating
4.2/5
Price at the time of publication: $17.01
Washing our hair with shampoo is no longer only about cleansing. Nowadays, some shampoos also take care of hair and scalp health. For example, medicated shampoos can effectively control dandruff, dermatitis, and psoriasis. However, you must be careful before buying one. Therefore, we have curated a list of points to consider while purchasing a medicated shampoo so that your hair looks beautiful and remains healthy and safe.
Buying Guide For Medicated Shampoos
Consider particular ingredients if you have specific scalp issues like flaking, dandruff, hair-thinning, frizz, flyaways, etc.
Dandruff/Psoriasis: Ingredients like ketoconazole, selenium sulfide, zinc, natural proteins, and salicylic acid are antifungal chemicals that help alleviate dandruff. Natural ingredients like aloe vera complex, natural oils, vitamin B5, and vitamin e keep the scalp moisturized and non-flaky.
Scalp infections: Salicylic acid prevents new flakes and conditions, while active ingredients like selenium sulfide and LCD heal infections rapidly.
Inflammations and redness: Menthol and aloe vera are cooling agents that instantly reduce redness and inflammation.
Bacterial contamination: Ingredients like triclosan and sulfur and MCP cleanse the hair effectively and avoid bacterial growth. They remove dead cells and accumulated dirt, open up the pores of the hair follicles and maintain the scalp's natural pH balance.
Lifeless, dull hair: Natural moisturizers and botanical oils make the hair soft and lustrous, offering conditioning and life to dull hair.
Soft and silky, frizzy, rough, dry, limp, and thick are various types of hair. Similarly, the scalp may be dry, oily, or sensitive. Some medicated shampoos may be generic for reducing certain scalp conditions but may damage the hair follicles on some. As a result, hair may become brittle and dull, and you may suffer hair loss. Therefore, the medicated shampoo must suit your hair type while repairing your hair and scalp condition.
OTC Or Doctor-recommended
There are many medicated shampoos available in the market as over-the-counter products. In addition, some botanical, ayurvedic, plant-based, or organic products may be mild and hypo-allergenic. These may be used for mild issues like frizzy or limp hair or extra cleansing and conditioning. However, if you have medium to severe skin issues like dandruff, psoriasis, dermatitis, and other allergic or bacterial infections, refer to a dermatologist and use a medicated shampoo recommended by the doctor.
Why Trust StyleCraze?
The author of this article, Pooja Karkala, is passionate about hair care which drives her to craft articles consisting of high-quality products. She has searched through numerous product reviews from trusted sources to curate this list of the best-medicated shampoos for you. These shampoos are specifically formulated with ingredients to heal various scalp problems. To help you pick the right one, she has included details of each product along with a pros and cons list.
Frequently Asked Questions
What does a medicated shampoo do?
Medicated shampoos help keep your scalp free of dandruff and other underlying problems. They can prevent fungal and bacterial infections while keeping your tresses healthy.
Is medicated shampoo good for hair?
Yes, medicated shampoos often treat hair loss and strengthen your hair follicles. They also prevent itchiness on the scalp.
Can I use medicated shampoo every day?
It is recommended to use medicated shampoos two to three times a week. Sometimes, washing your hair regularly, even if it is with a medicated shampoo, can lead to scalp dryness due to the removal of sebum. This can make your oil glands compensate by producing more sebum, making your tresses turn too oily too fast. Thus, it can also result in an oily buildup on your scalp.
Can medicated shampoo cause hair loss?
No, medicated shampoos do not cause hair loss. Use them generously to keep your hair from falling off unnecessarily.
Can I use medicated shampoo while pregnant?
While there are no rules against using medicated shampoos during pregnancy, it's better to consult your doctor before using them to rule out the risk of any ingredients hurting your or your baby's health.
Does medicated shampoo kill lice?
Yes, medicated shampoos formulated to kill lice and other infestations on your hair can do so effectively. These shampoos are used to treat unpleasant scalp conditions as well.