15 Best Japanese Moisturizers To Buy Online – Reviews And Buying Guide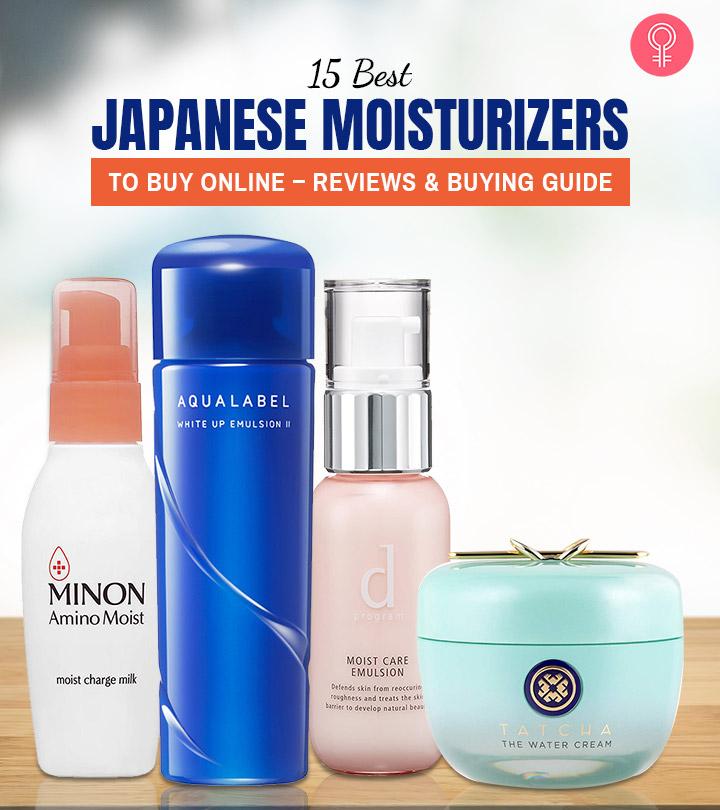 Japanese skin care products are known for their effective and nourishing formulas. And when it comes to a skin care routine, moisturizer is essential. Japanese moisturizers hydrate and brighten your dull skin and leave it with a luminous and healthy glow. When buying a Japanese moisturizer, you need to consider some important points like its formula and ingredients. We have discussed these in the buying guide at the end of this article. But first, check out the 15 best Japanese moisturizers available right now. Swipe up!
15 Best Japanese Moisturizers
Curel Kao Intensive Moisture Cream is an affordable moisturizer for dry, sensitive skin. It is enriched with eucalyptus, ceramide, and allantonin that hydrate and soothe your skin. This lightweight moisturizer is formulated with Ceramide Care Technology that improves the skin's natural barrier function. It gets absorbed instantly and leaves your skin with a luminous and healthy glow. Eucalyptus is known for its antibacterial and antiseptic properties that reduce redness. Ceramide keeps your skin hydrated, and allantonin protects and soothes your dry and sensitive skin.
Pros
Lightweight
Gets absorbed instantly
Hypoallergenic
Alcohol-free
Fragrance-free
Suitable for dry, sensitive skin
Cons
Not suitable for combination skin
DHC Super Collagen Cream is a collagen-boosting moisturizer for all skin types. It is a deeply nourishing face moisturizer that is formulated with Dipeptide-8, a skin-firming collagen that delivers a high concentration of collagen to your skin's top layer. This collagen-rich cream is also enriched with olive oil, rapeseed oil, and jojoba oil that deeply moisturize your skin, and vitamin C and E derivatives that brighten and protect your skin with their antioxidant properties. It prevents the free radical damage that accelerates the signs of aging.
Pros
Brightens the complexion
Prevents skin damage
Anti-aging formula
Fragrance-free
Paraben-free
Colorant-free
No mineral oil
Cons
Greasy formula
Not suitable for combination skin
d Program Moist Care Emulsion R is a medicated lotion for rough and flaky skin. This lightweight cream is infused with plant oils and extracts that get absorbed quickly without leaving a greasy residue on your skin. It penetrates and moisturizes every corner of your skin. This emulsion is suitable for sensitive skin as it effectively reduces redness and irritation and accelerates skin recovery. The medicated formula of this milky emulsion fights acne and skin inflammation. It defends your skin from reoccurring roughness and treats the skin barrier.
Pros
Long-lasting
Prevents dryness and flaking
Reduces irritation and redness
Alcohol-free
Fragrance-free
Preservative-free
Suitable for sensitive skin
Cons
Minon Amino Moist Charge Milk is a hypoallergenic skin care product. This moisturizing emulsion is enriched with nine amino acids that hydrate, soothe, and tighten your skin. These amino acids are essential for healthy skin. This rich and creamy lotion strengthens and fills your skin with moisture. It gives a radiant look to your skin and improves its elasticity. Its hypoallergenic formula is suitable for sensitive and dry skin. Ingredients like glycerin and butylene glycol help in moisturizing and penetrating deep into the skin.
Pros
Hypoallergenic
Gets absorbed quickly
No color additives
Fragrance-free
Alcohol-free
Paraben-free
Suitable for dry and sensitive skin
Cons
None
Hada Labo Rohto Goku-jun Hyaluronic Hydrating Milk is a lightweight moisturizer. This unique facial moisturizer is enriched with hyaluronic acid that hydrates your skin. It is a good antibacterial agent that heals skin burns. This hydrating milk moisturizes deeply and offers nourishing hydration. It hydrates your skin and imparts a natural, healthy-looking glow to it. It also improves its elasticity and makes it appear healthy and soft.
Pros
pH-balanced formula
Lightweight
Deep hydration
Imparts a healthy-looking glow
Improves elasticity
Fragrance-free
Alcohol-free
No mineral oil
Colorant-free
Cons
Not suitable for all skin types
Tatcha The Water Cream is an oil-free anti-aging moisturizer. This moisturizer is infused with skin-improving Japanese nutrients and powerful botanicals that provide optimal hydration to your skin. Ingredients like Japanese leopard lily and wild rose extracts help control excess oil and visibly tighten the pores. This moisturizer refines, clarifies, and smoothens the skin texture. The anti-aging formula of this cream imparts a shine-free and subtle glow to your skin.
Pros
Dermatologist-tested
Smoothens the skin
Lightweight
Oil-free
Non-comedogenic
Non-irritating
No synthetic fragrances
Cruelty-free
Paraben-free
Sulfate-free
Cons
Not suitable for sensitive skin
[ Read – Tatcha The Water Cream Reviews ]
Hada Labo Gokujyun Hyaluronic Perfect Gel is a multifunctional moisturizer. This 3-in-1 facial moisturizer is enriched with ceramides to infuse moisture and collagen into your skin and restore its elasticity and firmness. It contains three types of hyaluronic acid to improve the moisture-retention abilities of your skin. It works as a hydrating and nourishing sleeping mask. This hyaluronic acid-based gel hydrates your skin deeply without making it feel sticky. The other moisturizing ingredients like vitamin A and collagen helps improve skin elasticity and smoothen out wrinkles and fine lines.
Pros
Improves skin elasticity
Non-irritating
Non-sticky
Suitable for acne-prone skin
Cons
Kikumasamune Sake Milk Skin Care Emulsion is formulated with kojic acid that hydrates, brightens, and soothes your skin. This acidic sake emulsion moisturizes and nourishes your skin. The mineral oil in it is a great emollient. Glycerin moisturizes severely dry skin. This emulsion also contains arbutin, placenta extract, and amino acids to protect your skin against moisture loss.
Pros
Brightens your skin
Gets absorbed quickly
Pleasant fragrance
Suitable for sensitive skin
Cons
Yu-Be Moisturizing Skin Cream is a glycerin-based moisturizer. This cream is enriched with vitamin E, vitamin B2, and camphor. Glycerin is known for its skin-replenishing qualities; vitamin E is a powerful antioxidant and acts as a natural anti-aging ingredient; vitamin B2 enhances the collagen levels; and camphor imparts a fresh scent and smooth finish to your skin. This non-greasy moisturized gets absorbed quickly and retains moisture.
Pros
Intense hydration
Gets absorbed quickly
Instant results
Non-greasy
Non-comedogenic
Cruelty-free
No artificial colors
Fragrance-free
Paraben-free
Suitable for all skin types
Cons
Nameraka Honpo Isoflavone Sana Facial Cream is a skin-firming moisturizer. This moisturizing cream is enriched with double soy milk extract that intensely moisturizes and tightens the skin. It has a high penetrating ability and provides continuous moisture. Soy isoflavones provide triple moisturizing and firming effects to your skin. Hyaluronic acid is another ingredient in this facial cream that provides antioxidant and skin-brightening properties.
Pros
Tightens your skin
Skin-brightening formula
Lightweight
Fragrance-free
Colorant-free
No mineral oil
Suitable for dry, sensitive skin
Cons
Elixir Of Seal Balancing Oshiroi Milk is a great morning moisturizer and makeup base. The setting powder effect of this balancing lotion leaves your skin free from visible pores. Its anti-aging formula helps diminish the signs of aging. It helps in balancing the skin's water and oil content, giving you a smooth, moisturized, and poreless complexion. Also, it is formulated with SPF 50+ sunburn protection.
Pros
Anti-aging formula
SPF 50+
Smoothens the skin
Minimizes pores
Cons
None
Naturie I-Mju Hatomugi Skin Conditioning Gel is a multipurpose non-sticky moisturizer. It is formulated with Job's Tears (Hatomugi), a plant ingredient that helps in deeply hydrating your skin while locking in moisture. This lightweight and refreshing gel dissolves quickly into the skin. It improves the skin condition and is suitable for acne-prone and sensitive skin.
Pros
Lightweight
Non-sticky
Non-comedogenic
Alcohol-free
Fragrance-free
Colorant-free
Cons
Not suitable for combination skin
AQUALABEL White-Up Emulsion II is a Japanese brightening skin moisturizer. It is infused with tranexamic acid as an active ingredient for skin brightening and preventing roughness. It also moisturizes your skin and prevents hyperpigmentation. The active ingredients in this cream suppress the production of melanin to prevent freckles and blemishes. It gets absorbed within seconds with zero stickiness.
Pros
Prevents freckles
Hypoallergenic
Reduces pigmentation
Alcohol-free
Ammonia-free
Colorant-free
Cons
None
FANCL Moist Refine Lotion II is a revitalizing lotion for normal to dry skin. It hydrates and calms the most sensitive skin while delivering multiple benefits. It is infused with active ceramides, tachibana citrus extract, and moisture-charging collagen. These ingredients help maintain moisture, minimize visible pores, and boost your skin's natural hydration. It also protects the skin barrier function, which helps lock in moisture for healthier skin.
Pros
Minimizes pores
Deep hydration
Paraben-free
Fragrance-free
No artificial colors
Petrolatum-free
Suitable for sensitive skin
Cons
None
Arouge Moist Treatment Gel is the best medicated moisturizer for sensitive, dry, and unstable skin. It is formulated with ceramides to moisturize your skin. Its ultra-fine nanoparticles penetrate deep into your skin for long-lasting moisture.
Pros
Long-lasting
Fragrance-free
Additive-free
No mineral oil
Surfactant-free
Paraben-free
Cons
None
Japanese moisturizers are the best skin care products to hydrate and brighten your skin. But, there are a few factors that you need to consider before you buy one. Check them out in the buying guide below!
How To Choose The Right Japanese Moisturizer
Form: Japanese moisturizers are available in different forms like lotions, gels, emulsions, balms, and creams. Generally, emulsions and milky lotions are suitable to use on hot summer days and are ideal for sensitive, oily, and dehydrated skin types. Creams are perfect for mature and aging skin. Balms have a thicker texture and are used specifically for targeted areas. Gels are best for dehydrated and oily skin. So, pick the one that is appropriate for your skin type.
Ingredients: Ingredients are another important point to consider when buying a Japanese moisturizer. Always look for organic and pure ingredients in the moisturizers. Ingredients like hyaluronic acid, vitamins, glycerin, and plant extracts are good for your skin. Look out for potential aggressors in the ingredients list that might trigger allergic reactions and inflammation. Avoid moisturizers with harsh chemicals.
Reviews: With the number of options available in the market, you may have no clue which one is the best to buy. So, check out the reviews and learn from the experiences of previous users to get an idea about the products.
That was our list of the 15 best Japanese moisturizers available right now. We hope this article helps you find a Japanese moisturizer to nourish and hydrate your skin. Pick one from this list and try it out to keep your skin looking fresh.
Recommended Articles
The following two tabs change content below.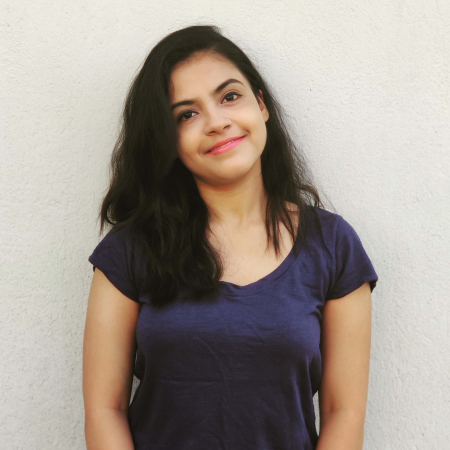 Oyendrila Kanjilal has a Master's Degree in English Literature. As a Beauty and Lifestyle writer, she writes about everything that the modern woman needs to know about grooming and self-care. She also reviews makeup, skin care, and lifestyle products to help readers make the best purchase. She is a trained classical dancer and loves binge-watching web series of different genres.