15 Best Lip Treatments For Anti-Aging, Soothing, & Detoxing – 2023
Treat your lips with the very best to maintain their youthful, silky texture, and color.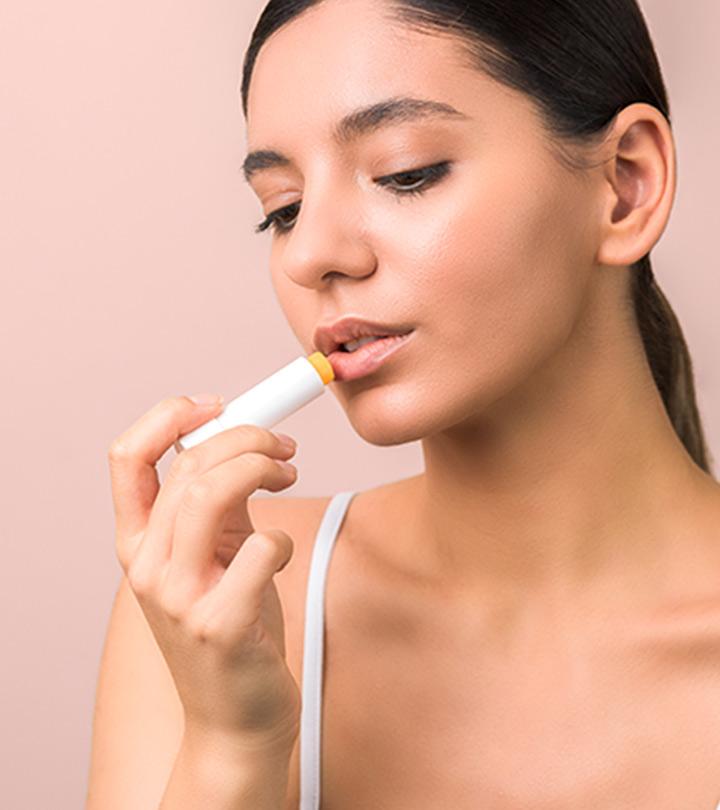 Dry, chapped, or flaky lips, if you are facing any of these, your lips need a lot of pampering and you should opt for some of the best lip treatments. These issues are not just painful to experience but might affect one's confidence as well. It is also a matter of hygiene. No one wants to see the tiny spot of blood wounding your lips. A mere lip balm is not always the answer. Plan out a proper lip-care regime that will not only protect your lip's skin but will also make sure that your lips remain smooth and soft without any hassles. Sometimes, products don't affect everybody's lips the same way. So you might need something more moisturizing, while someone else needs a product that cleanses and exfoliates more deeply. Did you know that lip issues can be caused by various reasons? From climatic changes to a chronic medical conditions. So, it shouldn't be taken lightly.
Go ahead and scan our list of 15 lip treatments. Find all the pros and cons mentioned too.
Treat Chapped, Dry, And Flaky Lips With The 15 Best Lip Treatments Of 2023
 Hanalei is a Hawaiian brand that represents a spiritual connection between beauty and nature. So it's no wonder that the ingredients that make up this essential lip hydration treatment are natural, local organic Hawaiian botanicals. Kukui nut oil is known for its deeply moisturizing properties, as well as calming and reducing inflammation. With fatty acids, and vitamins A, C, and E, it gets deeply absorbed into the skin and forms a protective barrier against environmental irritants and damage. This is the best lip treatment to reduce dryness and restore hydration to your lips. It can also be used as an eczema lip treatment and is suitable for sensitive skin. The antioxidants in agave nectar and grape seed oil further protect your lips from harmful free radicals. This video takes you through this product's details.
Pros
Deeply moisturizing
Cruelty-free
Rich in antioxidants
Free of paraben, sulfate, talc, and silica
Ideal for dry skin
Available in various shades
Cons
Tube mouth applicator may not ideal for some
Price at the time of publication: $15
After a long day of being assaulted by pollutants, weather, and irritants in the environment, it's no wonder that your skin feels weatherbeaten and frayed. What you need is a night regime that treats your lips for the wear and tears it experiences every day. O'Keeffe's Lip Repair Night Treatment Lip Balm is the best overnight lip treatment for parched, cracked lips. This intense, restorative balm heals, repairs, and rejuvenates your lips while you sleep. The sweet almond oil soothes dry lips and helps even out lip color by removing blemishes or dark patches. Beeswax is an emulsifier that not only moisturizes but also protects your lips against the sun's harmful UV rays by locking in the moisture. Wake up to fuller, fresher, and healthier lips every morning!
Pros
Ideal for extremely dry, cracked lips
Deeply conditions
Visible results overnight
Hypoallergenic
Cons
Price at the time of publication: $4.99
 Whoever said you cannot have a spa treatment for your lips? YuGlo's BeauteHacks All Natural Lip Mask is the best dry lip treatment for when you just want to pamper your body and relax. Try this collagen-boosting lip mask on your day off, and say goodbye to dry, chapped lips! It contains coconut oil, which acts as an antimicrobial, anti-inflammatory, disinfectant. Jojoba oil is rich in vitamins, and minerals, which soothe and repair dry, chapped skin. It absorbs well, so you won't have to worry about greasy lips, either! Peach extract helps fight dark spots, and blemishes, caused by free radicals, and leaves your lips evenly toned and younger-looking.
Pros
Ideal for dry, chapped, and ageing lips
Intense hydration and nourishing formula
Leaves lips soft and moisturized
100% organic ingredients
Cons
Fragrance might not suit everyone
Price at the time of publication: $12.97
C.O. Bigelow's My Favorite Night Balm is the best lip treatment for people with severely dry lips. We know how unbelievably uncomfortable it can get when your lips dry up like you're in a desert, no matter how much water you drink. You can use this overnight lip treatment just before your sleep and let it take effect after just 8 hours of application! It contains shea butter, whose composition of natural vitamins and fatty acids offer deep nourishment and moisture to your delicate lips. It also serves as a protective barrier for your skin against free radicals. Lanolin oil helps your skin stay hydrated by securing the water content in your lips. So you can rest assured that, after a good night's sleep, you'll have fresher, moist, happier lips to smile with!
Pros
8-hour overnight recovery
100% natural flavor
Cruelty-free and gluten-free
Suitable for regular use
Cons
May feel sticky after application
Price at the time of publication: $9.97
If you want the best lip treatment for your tired, weathered, and irritated lips, you need something special, something with a little extra magic. That's what you get with IT Cosmetics Je Ne Sais Quoi Hydrating Lip Balm Treatment. With its patented Vitality Lip Flush Technology, this moisturizing lip balm activates your body heat and creates a pop of lasting color on your kissers! The hyaluronic filling spheres deeply hydrate your skin, and beeswax helps lock in the moisture. This lip treatment is ideal for anti-aging, soothing, and detoxing lip care. What's more, you can even use the Je Ne Sais Quoi Hydrating Lip Balm Treatment as a base for makeup. And if you don't have any makeup on you, the balm itself comes in 4 pretty shades (Honey, Love, Your Perfect Pink, and Rose) that'll give your pout that extra oomph!
Pros
Vitality lip flush technology
Contains essential oils, hyaluronic filling spheres, and antioxidants
Anti-ageing and hydrating
Can pair with other IT Cosmetics lip products
Cons
Price at the time of publication: $25
Dr. PAWPAW's Original Balm brings the best natural ingredients together to fight lip inflammation, irritation, dryness, and flakes. The pawpaw or papaya fruit contains enzymes that have anti-inflammatory properties and also help with exfoliation. Other ingredients in this hydrating lip balm include the ever-soothing, supercool aloe vera leaf extract, famous for adding moisture to your delicate lips, fighting irritation, and treating wrinkles and fine lines. Rosemary leaf extract helps treat aging, sagging, and loose skin. Olive oil deeply hydrates, offers relief from cracked and chapped lips, and natural SPF protection from the sun! The 25ml tube is lightweight and easy to carry around and use. What we love about this balm is that it's multi-functional, too! You can squeeze a bit of this balm on your fingers and use them all over your face, body, and hair for deep conditioning and skin repair!
Pros
Fragrance-free
Natural ingredients
Cruelty-free
Multifunctional
Papaya soothes and heals irritated skin
Rich in vitamins and antioxidants
Cons
Not suitable for people with soy allergies
Price at the time of publication: $11.99
Everybody loves that berrylicious pink pout you get with full, fresh, and super healthy lips! So treat yourself to a delicious overnight lip mask while you sleep! Laneige's Lip Sleeping Mask gently melts away dead skin cells, repairing your dry, and chapped lips at night, while giving your body and mind a break from daily stressors. This Berry Balm contains a berry mix complex, which is rich in vitamin C, and antioxidants. The hyaluronic acid content takes care of deep hydration for your tired skin cells and creates a moisturizing layer that protects your skin from dryness. If you're someone who wears makeup every morning, you need something to restore the natural balance of skin at night. Laneige's Lip Sleeping Mask is the best overnight lip treatment for pre-makeup conditioning and fortification. And that berry flavor just smells so yummy!
Pros
Berry Mix Complex soothes dry and chapped lips
Deeply moisturizes
Sweet, fruity berry fragrance
Rich in vitamin C
Cons
Product may vary from different sellers
Price at the time of publication: $15
This lip-smacker is an all-in-one lip care solution, whether you are looking for lip repair, plumping, glossing, or just daily moisturizing. VIEW92 Multi Lip Milk Moisturizer is an anti-aging lip treatment, which gives your lips a smooth, and creamy texture all day long, letting your smile as wide as you like, without flaking, tearing, or damaging your delicate lips in any way. Argan oil helps seal moisture in your skin cells, ensuring that you no longer have to worry about your lips drying up! But the star in this mix is the avocado oil, whose anti-aging natural peptides stimulate collagen production, aid in keeping your lips luscious and firm. They even out wrinkles and deeply hydrate your skin cells, giving you a plumper, fuller, natural lippy pout. Who said you need only needles, injections, nips, and tucks, to get that beautifully luscious pair of lips?
Pros
Heals mildly dry to cracked lips
Moisturizes and soothes irritated skin
Contains argan, and avocado oils, and shea butter
Visibly smoother, plumper skin in minutes
Cons
May not help with long-term lip treatment
Price at the time of publication: $17.43
Sometimes all you need is a little pick-me-up to keep going about your daily routine. So, give yourself a lift with Tata Harper's Be True anti-aging Neuropeptide Lip Treatment. This is the best lip treatment to attain nourished, hydrated, and visibly plump lips. Make this your go-to favorite lip balm because it delivers on softer, fuller lips with visibly minimal lines or wrinkles. With 100% natural ingredients like olive oil, green tea, cocoa butter, avocado oil, acai fruit oil, and beeswax, your lips are left deeply moisturized and fortified against environmental irritants and free radicals.
What's more, the date seed extract is a vitamin concentrate for the skin. Calendula oil provides antifungal, anti-inflammatory, and anti-bacterial protection. The concentration of vitamins and minerals in the alfalfa extract combats skin irritation and redness.
Pros
Suitable for anti-ageing treatment
Results in naturally plump lips
Deeply hydrating
Adds volume to lips
100% natural, non-toxic ingredients
Cons
Price at the time of publication: $34
When you want to simply skip the queue and just go for the very best, then you need to pick up the award-winning The Kissu Lip Mask by Tatcha. This classic formula contains peach leaf extract, a natural antioxidant that soothes irritated lips, evens out dark spots, blemishes, and diminishes inflammations. This is a leave-on treatment that absorbs your delicate lips and leaves them feeling fuller and juicier. Other ingredients include Japanese camellia oil, rich in oleic acid, vitamins, and omegas 3, 6, and 9, all of which help lock in moisture. And finally, squalane is an emollient that helps moisturize, improve the healthy skin barrier, and minimize dryness. It is dermatologist tested and recommended.
Pros
Restores and plumps lips
Non-sticky
Ideal for flaky, parched lips
Proceeds go toward funding girls' education
Cons
Price at the time of publication: $28
 For your skin to remain healthy, firm yet elastic, soft, and strong, moisture is the most important thing it requires. So it would help if you had an intensely hydrating lip balm. Enter PCA Skin's Hyaluronic Acid Lip Booster. This is the best lip treatment out there for deep and instant hydration. Plump up your lips with palmitoyl tripeptide-1, which helps the production of collagen and glycosaminoglycans. It also contains a healthy dose of vitamin E, the antioxidant that also promotes cell regeneration. You can use this as a night lip spa treatment, or use it for daily wear, too.
Pros
Long-term lip hydration
Increases volume, and softness of lips
Deeply moisturizes
Reduces appearance of fine lip lines
Suitable for all skin types
Cons
Price at the time of publication: $152.1
 Why worry about wrinkles, lines, and dry lips, when you can look and feel your best every single day with Almay's Age Essentials Lip Treatment? Reverse the aging clock with this stick of lip-loving goodness. With cruelty-free, fragrance-free, and dermatologically tested ingredients, you can spend your day out and about with the best lip treatment widening your smile. This multi-purpose natural lip balm stick contains collagen, peptides, and hyaluronic acid, aiding in sun protection, deep moisturization, and anti-aging treatment for your delicate skin. You will see visibly reduced fine lines and wrinkles in a brief period. And it can be applied quickly and luxuriously, just like regular lipstick. It's also hypoallergenic, so sensitive lips can also benefit from its usage. Pucker up because the sun is shining, and so are you!
Pros
Ideal for anti-aging treatment
Contains SPF 30
Moisturizes and conditions
Dermatologist tested
Hypoallergenic
Cruelty-free
Cons
May have an unpleasant aftertaste
Price at the time of publication: $10.68
Neutrogena has been synonymous with quality skincare products for ages. So it's no wonder that they'd come up with their best lip treatment for hydration, and it would be worth a sample. Neutrogena's Hydro Boost Hydrating Lip Treatment provides instant results with visibly plump, soft, and beautifully textured lips. The purified hyaluronic acid works like a sponge, absorbing moisture into the skin. This hydrating lip balm offers 24-hour skin hydration, leaving your lips deeply conditioned, plump, and free from dryness. The solution is highly absorbent, so it does not leave a thick, waxy layer on your skin when you apply it to your lips. Although available in one neutral shade, this lip treatment can also be used as a moisturizing primer and base for lip colors, lipsticks, lip glosses, and make-up, in general. 
Pros
Deeply conditions, and moisturizes
Instantly plumping
Helps lock in moisture
Ideal for chapped, dry, or cracked lips
Easy to carry on-the-go
Cons
May require more than one application at a time
Price at the time of publication: $9.99
Cold weather may take a toll on your skin, especially your fragile lips. What you need is a lip repair treatment that'll heal your dry, chapped, dehydrated lips with love and care. SkinCeuticals provides the best lip treatment for your weatherbeaten mouth with the Antioxidant Lip repair. With 2 powerful antioxidants like vitamin E, and silymarin, this lip care treatment helps relieve environmental damage and irritation. It also treats your lips for dryness. Peptides like palmitoyl oligopeptide also help with collagen production and skin cell regeneration. This is also the best lip repair treatment to help you recuperate from any lip enhancement procedures you may have undergone.
Pros
Suitable for dry and sensitive skin
Helps retain moisture
Treats dryness, and tightness
Fortifies lips against environmental irritants
Cons
Price at the time of publication: $40.39
Self-love begins with self-care. And if you're an independent, on-the-go, hands-on kind of gal, you have to take time to wind down and let your body recuperate. Patchalogy's Flashpatch Hydrating Lip Gels are the best lip treatments before, during, or after a long, hard day of hustling. What we love about these patches of self-love is that they take only 5 minutes to work their magic. So you can literally have these on during your lunch break and then be ready to mouth off on your next conference meeting with confidence and comfort. Peptides and green tea extract soothe your skin, relieve dryness, and provide antioxidant protection. Niacinamide helps increase ceramides, which, in turn, strengthen the skin barrier. Hyaluronic acid locks in moisture and helps diminish the overall appearance of vertical lines. So firm up, freshen up, pucker up, and nail that presentation!
Pros
Hydrates and revitalizes
Hyaluronic acid help retain moisture
Can use to prime lips for make-up
Peptides and green tea extract protect lips
Niacinamide helps with anti-ageing
Cons
Sheets may require assistance in staying in place
Price at the time of publication: $15
Before you buy the best lip care treatment for your best pout, read our buying guide for some helpful tips!
What To Look For In Lip Treatment Products

In order to get the best lip treatment for your skin, it's important to know what goes into the products you are about to buy. So always look at the fine print, and also be aware of what the purpose of each ingredient is.
Some of the common ingredients you'll find in your lip care product are:
Petroleum jelly: Locks in the moisture, and works a protective barrier against pollutants
Lanolin: Prevents water from evaporating from skin, and leaves a softer texture
Honey: Heals damaged skin
Beeswax: Helps provide structure, and texture in lip balms
Shea, and cocoa butters: Shea is rich in fatty acids, which helps heal wounds. Cocoa butter is rich in vitamins, iron, and magnesium
Natural oils like olive, marula, coconut, jojoba, almond, sunflower, and hemp seed: Great source of antioxidants and natural moisturizing
Zinc oxide, and titanium oxide: Immediate sun protection
Nothing should come in the way of your happiness, especially your ability to smile, pout, pucker, or kiss! Give your lips the same special care you give the rest of your skin and body. There are so many options available to get your desired skincare regime in place. All you need to do is give yourself time, patience, and a lot of love. Remember, paying attention to your skincare needs is a great step in maintaining a healthy, happy, and peaceful lifestyle. Pamper yourself with the best lip treatments on offer, and reap the benefits of regular self-love. Kiss your lip problems goodbye, and get that selfie stick ready!
Why Trust Stylecraze
We exhaustively researched various lip treatment options available to treat different issues with lips. We also took into consideration unbiased and detailed customer reviews on trusted platforms before compiling this list of the best lip treatment options that you can avail yourself. The shortlisted products are expertly formulated with highly effective and safe ingredients to resolve various lip issues and provide the necessary tender loving care.
Frequently Asked Questions
How can I make my lips soft and smooth?
You can keep your lips by keeping it moisturized and hydrated from time to time and before going to bed. Try to choose a lip balm with SPF 30. Scrub your lips at least 2 times a week.
What are the benefits of using lip treatment products?
Lip treatment products will help you get moisturized and hydrated plump lips.
How often should we use the lip treatment products?
You can use lip treatment products once or twice every week to keep your lips moisturized and hydrated.
Is coconut oil good for the lips?
Yes, coconut oil is good for your lips. A good coconut oil massage on your lips will help get blood flow back into your lips and make them naturally pink.
How long does lip treatment last?
Lip treatment usually lasts for six months.