15 Best Anti-Aging Devices Of 2022 That Really Deliver Results
Ring in a more youthful you with the help of the most suitable skincare essentials.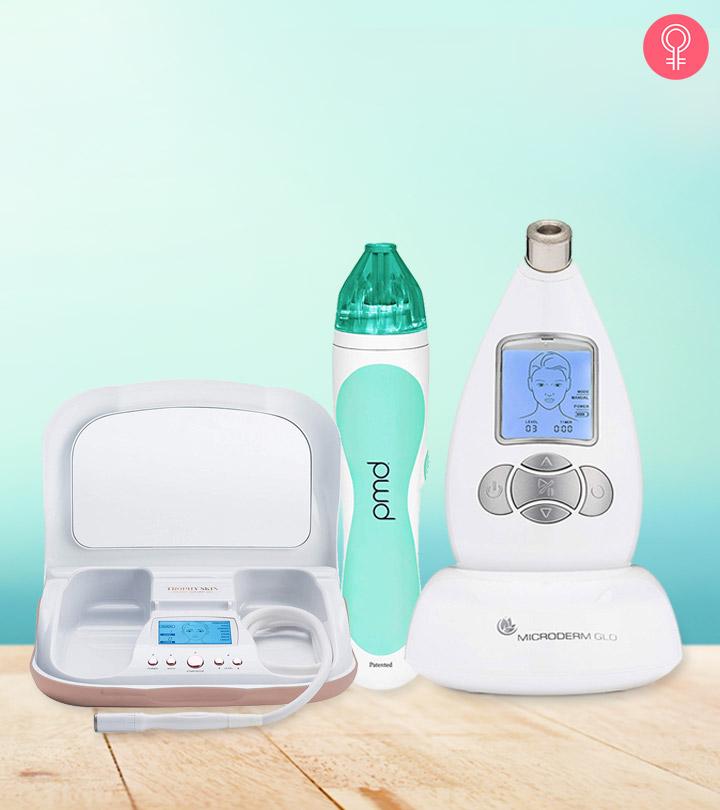 It is sometimes hard to solely rely on anti-aging skincare because the results are either very slow or hardly distinguishable. But investing in the best anti-aging devices can make all the difference. Anti-aging machines such as microdermabrasion, photon devices, or LED photon masks are the tech upgrades you never knew you needed. It is a lie to say that people don't secretly wish they looked younger than their actual age. It is nice to be mature, but even better if the wisdom gained be retained along with youthful skin.
Instead of spending a fortune in salons and other beauty and skincare treatments, think about investing in these advanced technologies that will get you quick results along with a healing experience. Take a look at these 15 anti-aging devices!
Types Of Anti-Aging Devices
In this article, we are giving you the lowdown on three major types of beauty devices that provide anti-aging benefits for your skin. These are as follows:
1. Microdermabrasion
Microdermabrasion is an excellent way to rejuvenate the skin. This process uses tiny crystals to exfoliate the skin, followed by a suction process to eliminate dead skin and impurities. It boosts collagen production, which dramatically improves your skin tone and texture. Your skin elasticity also improves, and age spots, fine lines, and wrinkles are reduced. Microdermabrasion is a low-risk, non-invasive procedure that is suitable for all skin types.
2. Low-Level Light Therapy
These are anti-aging devices that make use of low-level light therapy. These come in the shape of wands as well as masks. Light therapy stimulates cell production, which helps your skin heal faster. These devices work by emitting wavelengths of different colors that stimulate facial cells in different ways. Red and blue lights boost the circulation of oxygen deep within the innermost layers of your skin. These LED devices enhance the cell's ability to make collagen and elastin to reduce the appearance of fine lines and wrinkles.
3. Radiofrequency Skin Tightening
RF machines are the next big thing in the anti-aging market. A radiofrequency machine is a heating device that emits RF waves that heat up your skin tissues. It tricks your body into thinking you are injured, making it send collagen and growth factors to the "injured" tissues. When used on the face, your skin becomes tighter and the wrinkles disappear due to increased collagen production.
Now, let's check out the best anti-aging devices available on the market right now!
Top 15 Anti-Aging Devices Of 2021
I. Microdermabrasion (Microcurrent) Anti-Aging Devices
Microderm GLO Diamond Microdermabrasion Machine uses Diamond Safe3D technology to get rid of the outer layer of your skin gently. This light abrasion process boosts the growth of new and healthy skin cells. This dual-action therapy also stimulates blood circulation to the skin's upper layers, helping regenerate elastin and collagen. Use the Microderm Glo every week to reduce wrinkles, fine lines, sun damage, and blemishes on your complexion. With regular use, you will notice a radiant and youthful glow that is sure to fetch you compliments everywhere! Learn about the benefits and features of this product in this review video.
Pros
Suitable for all skin types
Gentle on sensitive skin
Treatment takes just 4 minutes
Non-invasive
Choice of auto and manual mode
Travel-friendly
Safe and easy to use
Dermatologist-recommended
Cons
None 
The Neutrogena Complete Microdermabrasion System includes a microdermabrasion applicator and 12 rejuvenation single-use puffs. It provides the short-term benefit of luminous skin after first use. This device helps reveal firm, luminous, and healthy-looking skin.
The single-use puffs feature pre-dosed ultra-fine crystals and mild purifiers that gently exfoliate your skin. The at-home massaging applicator uses micro-vibrations to boost skin cell renewal and microcirculation. This product claims to visibly reduce the appearance of wrinkles and age spots in 12 uses. Watch this honest review of the product in this video.
Pros
Easy to use
Clinically proven
Shows quick results
Dermatologist recommended
Suitable for beginners
Cons
The puffs contain SLS
Not suitable for sensitive skin types
The NewWay High-Frequency Wand is a high-frequency facial wand that reduces wrinkles, tightens your skin, and minimizes the appearance of dark circles. It includes multifunctional tubes – a mushroom tube to reduce wrinkles and fine lines, a bent tube for spot treatment, a tongue tube for sensitive areas and to reduce dark circles, and a comb tube to stimulate blood circulation. The device also improves the appearance of scars and reduces age spots, neck wrinkles, sagging skin, and signs of aging.
Pros
Easy to use
Portable
Includes multifunctional tubes
Cons
None
Kendal Professional Diamond Microdermabrasion Machine uses a diamond tip instead of micro-crystals to get rid of dead skin cells. Your skin feels rejuvenated and looks brighter after a single treatment. It also maximizes the benefits of your skincare products after use because the products penetrate deeper into your skin. This machine is highly recommended even by spa professionals as it is the closest you can get to a professional dermabrasion machine.
Pros
Non-surgical treatment
9 interchangeable diamond tips
Easy-to-use
Adjustable intensity levels
Helps heal acne scars
Suitable for all skin types
Helps reduce wrinkles 
Cons
Trophy Skin Microderm MD Microdermabrasion Machine helps buff away dead skin and boost the regeneration of healthy skin cells. This product from Trophy Skin is a complete skin care kit that also includes a deep skin exfoliating tool. The sensitive mode is a unique feature that makes this machine entirely safe for people with extra sensitive skin. It is an excellent tool that helps reduce blemishes, wrinkles, fine lines, and dark spots while giving you a smooth and radiant complexion. 
Pros
Suitable for all skin types
Gentle on sensitive skin
3 operation modes
6 intensity levels
Dermatologist-recommended
Clinically proven
FDA-cleared
Cons
Expensive
May have quality control issues 
II.Low-Level Light Therapy Anti-Aging Devices
The Project E Beauty Skin Rejuvenation Photon Mask provides seven different colored lights that treat various skin problems. The UV-free non-heat LEDs penetrate your facial tissue to boost collagen, clear and tighten the skin, reduce aging signs, improve your skin tone. This photon mask features In-light Irradiation Technology and 102+40 LEDs that enable the skin to absorb the light energy and treat your skin depending on its color.
The red light enhances blood flow and collagen production, and blue light calms and tightens the skin. The green light reduces pigmentation and fine lines, and yellow light smoothens the skin, reducing redness. The purple light improves lymph metabolism, light blue light treats allergies, and white light accelerates tissue metabolism.
Pros
UV-free
Wireless
Reusable
Comfortable to wear
Cons
Pure Daily Care Luma LED Light Machine offers skin therapy in the form of 4 modes: wave penetrating cell stimulation, LED light therapy, ionic/galvanic channeling, and massage therapy. The LED light therapy mode features powerful blue, red, and green LEDs that help your skin fight the various signs of aging, soothe inflammation and improve your complexion. Wave penetration boosts elastin and collagen production to lift and firm sagging skin. Here's a detailed video review of this product. 
Pros
4 skin therapy modes
Travel-friendly design
Easy to use
LED-display
Ergonomic design
Built-in timer
Hygienic metal applicator
2 vibrating massage modes 
Cons
Not enough value for money 
Reduce fine lines and dark spots with the AOGNY High Frequency Facial Machine. This facial machine comes with three power control buttons for safe and effective therapy. It is also equipped with a timer( 10, 20, 30 mins), probe wand, body probe, and facial probe. The machine works with RF technology that revitalizes skin cells, stimulates the production of elastin and collagen. This machine eliminates wrinkles and fine lines, firms and tightens the skin, rejuvenates the skin, brightens your skin, and lightens dark spots.
Pros
 In-built automatic energy adjustment
 Easy to use
Cons
None
Amazing2015 PDT LED 4-in-1 Photon Treatment provides light therapy for your skin in colors of 4 wavelengths: red, blue, yellow, and green. Red light has the most penetrating powers and offers maximum benefits for the skin. It promotes the regeneration of skin cells and boosts oxygen content in the blood to help improve blood circulation. Blue light purifies your skin by killing bacteria, sterilizing acne-prone skin, and preventing infection in wounds. Green light reduces melanin, pigmentation, and grease, and provides stability to sensitive skin. Yellow light helps in lymphatic drainage, reducing red spots, and boosting micro-circulation.
Pros
Easy to use
4-color light therapy
Goggles included for eye protection
Easy to assemble
Reduces under-eye dark circles
Aids in relaxation 
Cons
Expensive
Not recommended for amateur users 
Lift Care Fusion Facial Massager is a premium anti-aging skin care device that gives you four types of skin therapy benefits in one compact device. The different modes are red/blue light therapy, sonic vibration massage, heat therapy, and cold therapy. The red and blue light treatment boosts blood circulation and regeneration of collagen to improve the elasticity of aging skin. It also helps repair skin damage and reduces the appearance of wrinkles and fine lines. Heat therapy opens up clogged pores for deep cleansing, and cold therapy detoxifies and shrinks them.
Pros
Suitable for all skin types
4 skin therapy modes
Compact and lightweight
Travel-friendly design
Rechargeable
Easy to use 
Cons
Not enough value for money
Quality control issues 
III. Radiofrequency Skin Tightening Anti-Aging Devices
Pure Daily Care NuDerma Skin Therapy System uses radiofrequency to boost the production of adenosine triphosphate (ATP). ATP production slows down as we age and is visible in the form of external signs of aging, such as wrinkles, sagging skin, age spots, and hair loss. The NuDerma Skin Wand enhances cell regeneration by supercharging ATP synthesis to slow down, pause, and eventually reverse the aging process to leave you with younger and firmer skin. 
Pros
4 wand attachments
Visible results in 4 weeks
Boosts ATP synthesis
Reduces fine lines and wrinkles
Spot treatment for acne
Energizes hair follicles
Affordable
Portable 
Cons
None 
The NIRA Skincare Laser uses advanced anti-aging laser technology that works great for all skin types. It visibly reduces the appearance of fine lines and wrinkles, revealing firmer and smoother skin. It also stimulates the natural collagen production to reverse premature signs of aging without causing any pain or redness.
Pros
 Smoothes wrinkles
 Reduces fine lines
 Reverses signs of aging
 Safe for all skin types
 Easy to use
 Portable
 5 treatment levels
Cons
Risiya High-Frequency Skin Therapy oxygenates the inner layers of your skin and improves cell turnover using radiofrequency. It adds elasticity to aging skin and helps reduce the appearance of fine lines and wrinkles. Your creams, serums, and other beauty products are better absorbed into your skin after RF treatment. The package includes 3 neon gas (orange-red) and 2 argon gas (violet) electrodes or attachments. The neon-powered comb tube prevents hair fall by improving hair follicle health. The Y-shaped wand is meant for use on sagging skin on the arms and legs.
Pros
Suitable for all skin types
Neon and argon wands
5 replaceable heads
Adjustable strength knob
Non-slip design
Easy to use
Value for money 
Cons
Not suitable for amateur users 
Mlay Radio Frequency Skin Tightening Machine provides anti-aging and anti-wrinkle treatment to mature, aging skin without any damaging side effects. The RF waves penetrate your skin tissues and boost collagen and elastin production. The device produces gentle heat that does not feel uncomfortable on your skin. The built-in safety system is particularly reliable. It adjusts the energy levels automatically by judging the temperature of your skin. If your body temperature is high, you will be able to feel the device adjusting its level from hot to warm.
Pros
Built-in safety system
Painless procedure
60 days money-back guarantee
1-year warranty
Non-surgical
Provides long-lasting results 
Cons
Expensive
May not work on all skin types 
The Silk'n Titan Anti Aging Skin Tightening Device is a sleek and effective device that provides anti-aging treatment for mature skin. It uses Collagen and Elastin Remodelling Energy to repair the skin, improve elasticity, and strengthen its layers for a firmer skin appearance. In addition, it effectively reduces fine lines and sunspots, clearing the skin and brightening it. It is great for treating facial and jawline areas.
Pros
Lightweight
Portable
Immediate results
Reduces lines and sunspots
Improves skin elasticity
Easy and safe to use
Cons
Why Trust Stylecraze?
The author of this article, Sakhsi Bahal, is a health and fitness enthusiast and loves reviewing related products and innovations to help her readers. She has curated this list of the best anti-aging devices after conducting thorough research. She has browsed through several forums for user feedback. She has also checked the product specifications and considered the necessary parameters, safety requirements, and additional features.
Frequently Asked Questions
Do home skin tightening devices work?
Yes, home skin tightening devices work and are proven to show great results with regular use.
How often do you use revive light therapy?
You can use this device regularly, but do not spend more than three minutes in one area on the face.
Can you overdo LED light therapy?
Although it is generally safe, you can overdo the LED light therapy. If you use it too much and for too long each time your skin may be affected.
Should I put anything on my skin before red light therapy?
No, you can use the red light therapy device on cleansed skin and then follow it up with a serum and moisturizer.
How many sessions of red light therapy does it take to see results?
Roughly, it takes 8-10 sessions of red light therapy to start showing positive results on your skin.
How long does it take for red light therapy to work on wrinkles?
It takes 4-6 weeks for red light therapy to start working on wrinkles.
Recommended Articles