15 Best Anti-Aging Devices Of 2023 That Really Deliver Results
Ring in a more youthful you with the help of the most suitable skincare essentials.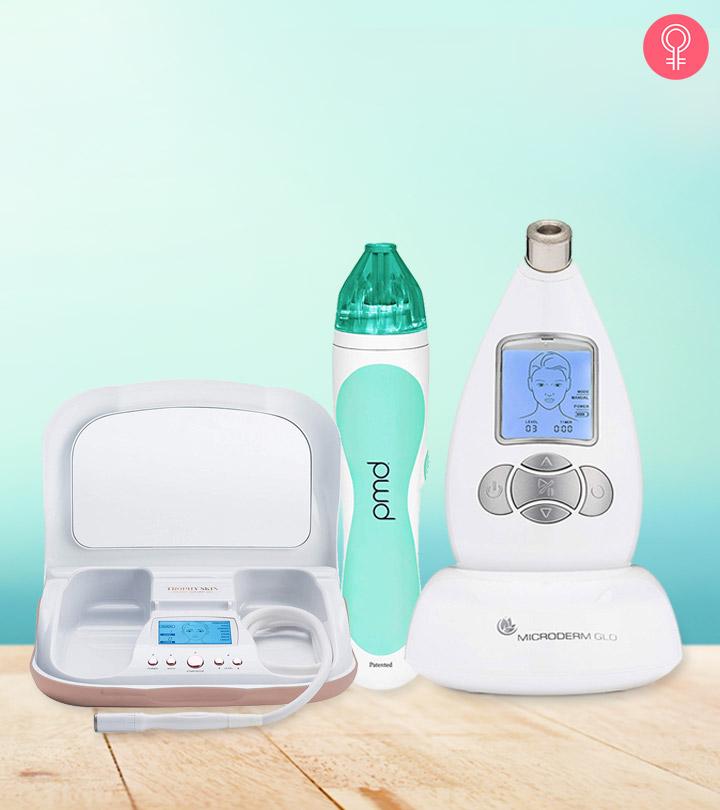 It is sometimes hard to solely rely on anti-aging skincare because the results are either very slow or hardly distinguishable. But investing in the best anti-aging devices can make all the difference. Anti-aging machines such as microdermabrasion, photon devices, or LED photon masks are the tech upgrades you never knew you needed. It is a lie to say that people don't secretly wish they looked younger than their actual age. It is nice to be mature, but even better if the wisdom gained is retained along with youthful skin.
Instead of spending a fortune in salons and other beauty and skincare treatments, think about investing in these advanced technologies that will get you quick results along with a healing experience. Take a look at these 15 anti-aging devices!
Top Picks
Types Of Anti-Aging Devices
In this article, we are giving you the lowdown on three major types of beauty devices that provide anti-aging benefits for your skin. These are as follows:
1. Microdermabrasion
Microdermabrasion is an excellent way to rejuvenate the skin. This process uses tiny crystals to exfoliate the skin, followed by a suction process to eliminate dead skin and impurities. It boosts collagen production, which dramatically improves your skin tone and texture. Your skin elasticity also improves, and age spots, fine lines, and wrinkles are reduced. Microdermabrasion is a low-risk, non-invasive procedure that is suitable for all skin types.
2. Low-Level Light Therapy
These are anti-aging devices that make use of low-level light therapy. These come in the shape of wands as well as masks. Light therapy stimulates cell production, which helps your skin heal faster. These devices work by emitting wavelengths of different colors that stimulate facial cells in different ways. Red and blue lights boost the circulation of oxygen deep within the innermost layers of your skin. These LED devices enhance the cell's ability to make collagen and elastin to reduce the appearance of fine lines and wrinkles.
3. Radiofrequency Skin Tightening
RF machines are the next big thing in the anti-aging market. A radiofrequency machine is a heating device that emits RF waves that heat up your skin tissues. It tricks your body into thinking you are injured, making it send collagen and growth factors to the "injured" tissues. When used on the face, your skin becomes tighter and the wrinkles disappear due to increased collagen production.
Now, let's check out the best anti-aging devices available on the market right now!
Top 15 Anti-Aging Devices Of 2023
I. Microdermabrasion (Microcurrent) Anti-Aging Devices
Pros
Suitable for all skin types
Gentle on sensitive skin
Treatment takes just 4 minutes
Non-invasive
Choice of auto and manual mode
Travel-friendly
Safe and easy to use
Dermatologist-recommended
Cons
None 
Price at the time of publication: $199.99
Pros
Travel-friendly
Vegan
Cruelty-free
Easy to use
Portable
Clinically proven
Backed by science
Cons
Price at the time of publication: $139.99
The NewWay High-Frequency Wand is a high-frequency facial wand that reduces wrinkles, tightens your skin, and minimizes the appearance of dark circles. It includes multifunctional tubes – a mushroom tube to reduce wrinkles and fine lines, a bent tube for spot treatment, a tongue tube for sensitive areas and to reduce dark circles, and a comb tube to stimulate blood circulation. The device also improves the appearance of scars and reduces age spots, neck wrinkles, sagging skin, and signs of aging.
Pros
Easy to use
Portable
Includes multifunctional tubes
Cons
None
Price at the time of publication: $42.99
Pros
Relaxes skin muscles
Uplifts the face
Improves skin tone
Enhances elasticity
Easy to use
Relieves tension
Cons
Using it too frequently can lead to skin irritation
Price at the time of publication: $36.99
Pros
Suitable for all skin types
Gentle on sensitive skin
3 operation modes
6 intensity levels
Dermatologist-recommended
Clinically proven
FDA-cleared
Cons
Expensive
May have quality control issues
Price at the time of publication: $199.0
II.Low-Level Light Therapy Anti-Aging Devices
Pros
UV-free
Wireless
Reusable
Comfortable to wear
Cons
Price at the time of publication: $199.0
Pros
Tones, lifts and contours
FDA cleared
Interchangeable attachments
Portable
Cruelty-free
Aesthetician-created
Clinically tested
Cons
Price at the time of publication: $339
Reduce fine lines and dark spots with the AOGNY High Frequency Facial Machine. This facial machine comes with three power control buttons for safe and effective therapy. It is also equipped with a timer( 10, 20, 30 mins), probe wand, body probe, and facial probe. The machine works with RF technology that revitalizes skin cells, stimulates the production of elastin and collagen. This machine eliminates wrinkles and fine lines, firms and tightens the skin, rejuvenates the skin, brightens your skin, and lightens dark spots.
Pros
 In-built automatic energy adjustment
 Easy to use
Cons
None
Price at the time of publication: $369
Pros
FDA approved
Easy to use
Effective
Versatile and functional
Non-invasive anti-aging treatment
Rechargeable battery
Cons
Price at the time of publication: $124.99
Pros
Suitable for all skin types
4 skin therapy modes
Compact and lightweight
Travel-friendly design
Rechargeable
Easy to use
Cons
Not enough value for money
Quality control issues
Price at the time of publication: $49.0
III. Radiofrequency Skin Tightening Anti-Aging Devices
Pros
4 wand attachments
Visible results in 4 weeks
Boosts ATP synthesis
Reduces fine lines and wrinkles
Spot treatment for acne
Energizes hair follicles
Affordable
Portable
Cons
None 
Price at the time of publication: $69.95
The NIRA Skincare Laser uses advanced anti-aging laser technology that works great for all skin types. It visibly reduces the appearance of fine lines and wrinkles, revealing firmer and smoother skin. It also stimulates the natural collagen production to reverse premature signs of aging without causing any pain or redness.
Pros
 Smoothes wrinkles
 Reduces fine lines
 Reverses signs of aging
 Safe for all skin types
 Easy to use
 Portable
 5 treatment levels
Cons
Price at the time of publication: $399
Pros
Two detachable probes
Portable
Preset timer
Adjustable energy levels
Tightens the skin
Shrinks pores
Reduces wrinkles
Cons
Price at the time of publication: $369.99
Mlay Radio Frequency Skin Tightening Machine provides anti-aging and anti-wrinkle treatment to mature, aging skin without any damaging side effects. The RF waves penetrate your skin tissues and boost collagen and elastin production. The device produces gentle heat that does not feel uncomfortable on your skin. The built-in safety system is particularly reliable. It adjusts the energy levels automatically by judging the temperature of your skin. If your body temperature is high, you will be able to feel the device adjusting its level from hot to warm.
Pros
Built-in safety system
Painless procedure
60 days money-back guarantee
1-year warranty
Non-surgical
Provides long-lasting results
Cons
Expensive
May not work on all skin types
Price at the time of publication: $369.99
Pros
Lightweight
Portable
Immediate results
Reduces lines and sunspots
Improves skin elasticity
Easy and safe to use
Cons
Price at the time of publication: $228.65
Anti-aging machines are a great way to complement your skin care efforts. They help target multiple skin concerns while keeping the youthful glow alive. But, choosing the right one for your skin concerns and skin type can pose quite the challenge at times. To make that decision easier, here, we discuss a few factors you can consider before making your purchase.
How To Choose The Best Anti-Aging Devices
Although most anti-aging devices work for all skin types, it is advised to be on the lookout for any that may not suit your particular skin type. For instance, certain microdermabrasion and massager tools may not suit people with sensitive skin as they may trigger redness, inflammation, or eczema. Similarly, those with dry skin must look at non-abrasive tools like LED light masks that do not irritate drier skin types.
Invest in devices or tools with multiple modes of use and intensity settings. Look for products that offer exfoliation, anti-aging benefits, reduction of redness and puffiness, brighten the skin, and boost collagen and elastin production. A device with multiple intensity settings makes it easier to use on all skin types and get used to the process.
Portability plays a big role in finding the right anti-aging device, especially if you travel frequently. Bigger LED masks and microdermabrasion devices are difficult to carry with you everywhere. Look for lightweight and compact devices that you can easily have with you at all times, whenever needed.
Look for additional features like LED-display, built-in timer, metal applicator, and automatic energy adjustment options in tools like the facial machines. Choose a device with easy-to-use, non-slip design that ensures a smooth experience.
Why Trust Stylecraze?
The author of this article, Sakhsi Bahal, is a health and fitness enthusiast and loves reviewing related products and innovations to help her readers. She has curated this list of the best anti-aging devices after conducting thorough research. She has browsed through several forums for user feedback. She has also checked the product specifications and considered the necessary parameters, safety requirements, and additional features.
Frequently Asked Questions
Do home skin tightening devices work?
Yes, home skin tightening devices work and are proven to show great results with regular use.
How often do you use revive light therapy?
You can use this device regularly, but do not spend more than three minutes in one area on the face.
Can you overdo LED light therapy?
Although it is generally safe, you can overdo the LED light therapy. If you use it too much and for too long each time, your skin may be affected. Look for FDA "safe" or "approved" devices.
Should I put anything on my skin before red light therapy?
No, you can use the red light therapy device on cleansed skin and then follow it up with a serum and moisturizer.
How many sessions of red light therapy does it take to see results?
Roughly, it takes 8-10 sessions of red light therapy to start showing positive results on your skin.
How long does it take for red light therapy to work on wrinkles?
It takes 4-6 weeks for red light therapy to start working on wrinkles.