10 Best Vitamin C Night Creams To Get Rid Of Skin Issues
The best time to use vitamin C and make the most of its antioxidant properties is at night!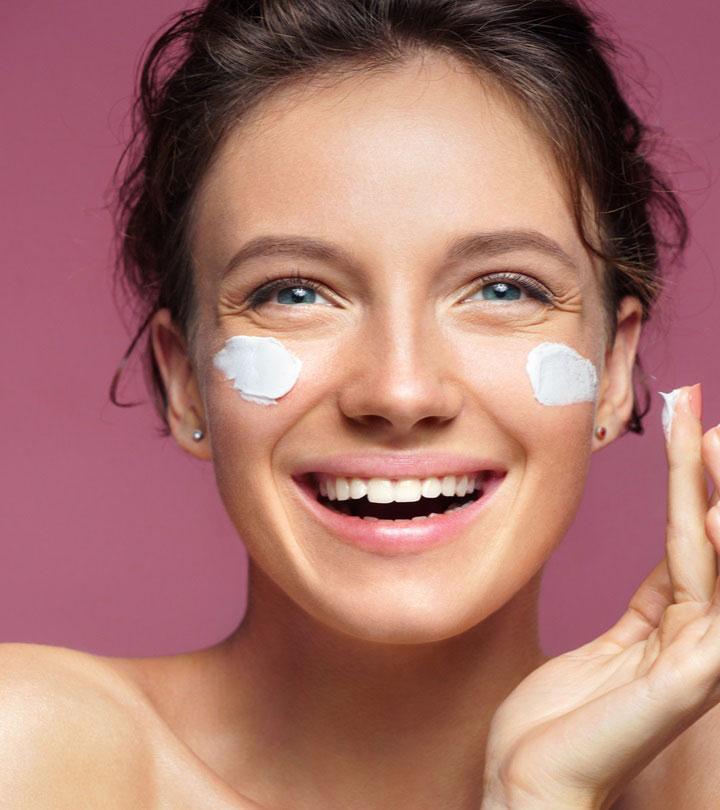 The ultimate skincare ingredient, Vitamin C is increasingly becoming the answer to many common skin issues. Unfortunately, using vitamin C can increase skin sensitivity during the day, forcing you to layer multiple products for sun protection. To avoid this pesky problem, all you need to do is purchase the best vitamin C night cream that will ensure you wake up to glowing, bright skin. Vitamin C is not only an excellent antioxidant that can repair fine lines, dark spots, deep suntan, or other such skin irritants. It is also compliant with all skin types, whether one has dry, oily, or combination skin. You will find many brands advocating the benefits of this ingredient in almost all of their products, so we have narrowed it down to a few that you will definitely love spending your bucks on. The results are guaranteed as these have been formulated with proper research. So go ahead and read our list of the 10 best Vitamin C night creams and solve all your skin problems.
10 Best Vitamin C Night Cream Reviews Of 2023 For Soft, Supple Skin
Neutrogena Triple Age Repair Night Moisturizer is the perfect product for handling aging and skin nourishment issues. Infused with vitamin C and glycerin, it serves as an excellent moisturizer that helps in reducing the common signs of aging, i.e. loose skin, wrinkles and uneven skin tone. The anti-wrinkle Hexinol technology used in this night cream works beyond expectations in improving skin's elasticity, firmness and overall appearance. Vitamin C content helps in brightening the skin, whereas glycerine hydrates the skin deeply. Altogether, this product does a pretty decent job at reviving the skin at home.
Pros
Light-weight
Reduces dark spots
Does not clog pores
Has a soothing fragrance
Cons
Slightly thin consistency
Price at the time of publication: $18.69
When a luxurious feel, effectiveness and eco-friendliness is what you wish for in a night cream, then you should give this Derma E vitamin C intense night cream a try. This antioxidant-rich skin moisturizer is suitable for restoring overnight hydration and enhancing skin health. The formula contains vitamin C, rooibos and probiotics that regulates skin's natural moisture and soothes the skin. Vitamin C rejuvenates the skin, brightens it and helps support collagen health. The formula works great for sun damaged skin and skin aging. Tackling the appearance of fine lines, age spots and wrinkles is also great with the consistent use of this night cream. Watch this video to gain insights into the usage and benefits of this product.
Pros
Lanolin-free
Vegan formula
Firms skin
Gluten-free formula
Suitable for combination skin
Cons
Price at the time of publication: $19.97
Vichy Liftactiv supreme night cream has an unique formula which is loaded with vitamin C and exceptional components like rhamnose, adenosine, hepes and vichy volcanic water. Rhamnose, a plant sugar that helps deal with skin firmness, is an essential component of this cream. Adenosine, another key ingredient of this cream, has a dermo-relaxing effect which helps fight fine lines and wrinkles. Hepes has exfoliating properties that improves the skin quality, whereas vitamin C helps in improving skin structure and rejuvenates the skin. The skin is revived, and feels more youthful and smoother with this remarkable formula. Being a 24 hr moisturizer, the cream hydrates the skin well and keeps you ahead in the skin game.
Pros
Allergy-tested
Paraben-free
Non-greasy formula
Suitable for sensitive skin
Cons
Might feel slightly heavy to some
Price at the time of publication: $50.0
 InstaNatural's Collagen Night Cream supports collagen III synthesis which lifts the skin and makes it feel supple. The cream also encourages healthy cell renewal, which eventually helps in reducing the signs of aging. Rose-hip seed oil, vitamin C, hyaluronic acid, glycerin, she a butter and sunflower seed oil are the key components of this brightening night cream. The rose hip seed oil, she a butter helps in the deep nourishment of the skin. It can be used as a daily moisturizer because of its rejuvenating quality. Vitamin C keeps the skin bright and fresh. Hyaluronic acid, on the other hand, keeps the skin nourished and reduces the appearance of lines and wrinkles. Altogether, these natural ingredients make the skin beautiful and radiant.
Pros
No dyes
No synthetics
Clean ingredients
Light-weight cream
Cons
Price at the time of publication: $18.97
Composed with avocado oil, green tea, cocoa butter, vitamin b5, organic aloe, organic shea, and vitamin C, this repair cream is great for all skin types. This all-natural night cream targets damaged skin, uneven skin tone and the appearance of the spots. Free from harmful chemicals, it serves as a natural collagen cream that restores skin health. This powerful formula infused with vitamin C counters the formation of free radicals in the skin and reduces the appearance of fine lines and wrinkles. If uneven skin tone is a major problem for you, then this is the product for you.
Pros
No phthalates
No parabens
No sulfates
Cruelty-free
Improves skin resilience
Naturally derived ingredients
Cons
Slightly thick consistency
Price at the time of publication: $25.99
Lumene vitamin C night cream is the ultimate skin rejuvenator. With the powerful combination of wild Arctic cloudberry extract, vitamins A, B3, C and E, and pure arctic spring water, you get to take care of your skin naturally. It helps promote the good health of the skin and reduces the appearance of signs of aging like dark spots, fine lines and sagging skin. The cream serves as the natural overnight treatment that nourishes the skin while you sleep and makes your skin beautiful by morning. Infused with hyaluronic acid, the cream hydrates the skin and helps you retain the moisture levels of your skin.
Pros
Non-greasy
Cruelty-free
Leaves the skin smooth
Provides radiant complexion
Cons
Price at the time of publication: $21.98
As the title states, this hydrating cream is not just a night cream. It works perfectly well all round the day and can be used just like a morning cream. Infused with natural probiotics, water-melon fruit extract and rice nutri-peptides, the cream is truly a skin's friend. The formula works at nourishing the skin and revives dull skin. It suits all types of skin and all ages and revitalizes tired looking skin. With consistent use, you can handle all the signs of aging like wrinkles, dark spots and fine lines, and attain a youthful-looking complexion. Go through this honest review by this YouTuber to gain a better understanding of the product.
Pros
Paraben-free
Cruelty-free
No retinol
No formaldehyde
Heals distressed skin
Improves skin's suppleness
Cons
Price at the time of publication: $22.1
For people who have dry skin and are concerned with acne scars or hyperpigmentation, this has to be the top choice. Andalou Naturals cream makes the skin hydrated and feel refreshed. The cream also brightens the skin and enhances the skin's vitality. With the goodness of sunflower oil, vitamin E, vitamin C and aloe vera, this intensive night cream nourishes the skin. It activates cellular renewal and improves skin's elasticity. Another advantage of using this product is its ability to defend skin from UV damage. Andalou Purple Carrot + C Luminous Night Cream is the absolute product that you need for skin's vitality and firmness.
Pros
Boosts elastin
Lends luminous complexion
Protects skin from premature aging
Suitable for normal and combination skin
Cons
Slightly strong fruity scent
Price at the time of publication: $16
If you want a vitamin C Cream that feels luxurious, does an amazing job at taking care of your aging skin and doesn't rip off your pockets, then this cream is for you. It feels light as a feather and smells wonderful like lemon. The cream gets easily absorbed and balances skin oils. It is a combination of vitamin C, argan oil and collagen which works towards replenishing the skin. Collagen handles the sagging skin and reduces signs of aging, whereas argan oil deeply moisturizes the skin and makes the skin youthful. Vitamin C helps in repairing the skin and keeps the skin free from radicals. All three components of this night cream help in preserving your beauty and make you look your very best.
Pros
Improves skin texture
Light-weight formula
Stimulates skin tissue
Repairs sun damage
Cons
Takes time in getting absorbed
Price at the time of publication: $8.99
Shea Moisture is a brand that is known for its wonderful skincare products. One of the best products from this brand is this papaya and vitamin C skin moisturizer. With papaya, vitamin C and yuzu lemon extracts in it, this night cream lotion transforms dull skin and rejuvenates it. The moisturizer is great for hydrating the skin and keeping it radiant. If you are someone who hates thick, sticky skin creams, then this is the most appropriate skincare product for you. Just apply the cream in upward motions after cleansing the skin and leave the cream overnight for soft supple skin.
Pros
No paraben
No sulfates
No Mineral oils
Cruelty-free
Cons
Fragrance might be slightly strong for some
Price at the time of publication: $22.99
Having known about these top vitamin C anti-aging creams, you might want to try out one yourself. But before that take a look at the pointers given below that might help you in choosing a good night cream.
How To Choose The Best Vitamin C Night Cream?
Look for the following points while choosing the best vitamin C nourishing night cream-
Skin Type
A good quality vitamin C cream is generally non-greasy and light in texture. Such creams are ideal for people with oily and combination skin.
For people with sensitive skin, vitamin C facial creams with plant-derived ingredients like aloe, rhamnose are excellent.
If you are someone who has dry skin, then vitamin C creams enriched with seed oils, fruit extracts and glycerine are great.
Ingredients
It is always a great option to invest in a vitamin C face cream without any harmful chemicals like sulfates, parabens and phthalates.
If you are concerned with scars or aging spots, ingredients like aloe, probiotics work well with vitamin C for your skin.
When dealing with dry skin and dullness, ingredients like shea butter, cocoa butter, glycerine, sunflower oils along with vitamin c are suitable.
New and modern anti-wrinkle Hexinol technology, collagen, hyaluronic acid combined with vitamin c work really well on aging issues like wrinkles, sagging skin, fine lines.
Vitamin C is a key component of many skin care products for a reason. It heals the skin, protects it and counters many skin issues with constant use. Adding night creams with vitamin C as a major ingredient can help you look better over time. It boosts collagen production and improves skin's elasticity. It is altogether that ingredient which has everything good to offer for your skin. Dermatologists suggest using vitamin C creams and the reasons can't be stressed enough. Your skin is totally in safe hands when you invest in a good vitamin C night cream. Times are changing and so is the need to change your skin care regimen. Hope this article gives you complete insight about the best night creams with vitamin C in them and helps you choose better.
Why Trust Stylecraze
Kirtana Divakar, the author of this article, is a skin care enthusiast. She loves to explore various beauty products and keeps a constant check on them to bring the best to the readers. The list of best vitamin C night creams is compiled by her after thorough research and reading many online reviews on trusted forums. These night creams allow skin renewal and slow down the signs of aging.
Frequently Asked Questions
Can Vitamin C Creams Be Used Overnight?
Yes, vitamin C creams can be used overnight.
How To Use Vitamin C Cream On Your Face At Night?
• Clean your face properly.
• Dab a little cream all over your face with your finger.
• Rub the cream in upward motions until the cream gets completely absorbed.
How often should you use a vitamin C night cream?
Apply a vitamin C night cream a couple of times daily to rejuvenate and nourish your skin.
Can you use vitamin C night cream with serum?
If your serum contains retinol, benzoyl peroxide, niacinamide, AHAs and BHAs, do not use vitamin C night creams.
How do I use vitamin C night cream?
•  Wash your face and pat it dry.
•  Tone your skin and apply a hydrating serum.
•  Apply vitamin C night cream all over your face and neck.
•  Leave it on overnight.
•  Wash your face in the morning.
How long does it take for vitamin C night cream to work?
If you use a vitamin C night cream regularly, it will show visible changes within a month; you'll find your skin more refreshed and glowing.
How long does vitamin C night cream last?
If used hygienically and stored correctly, a vitamin C night cream can last up to 6 months from the date of opening.
Recommended Articles