15 Best Make P:rem Products For 2022
The all-in-one solution for your skin problems lies in these products from Make P: Rem.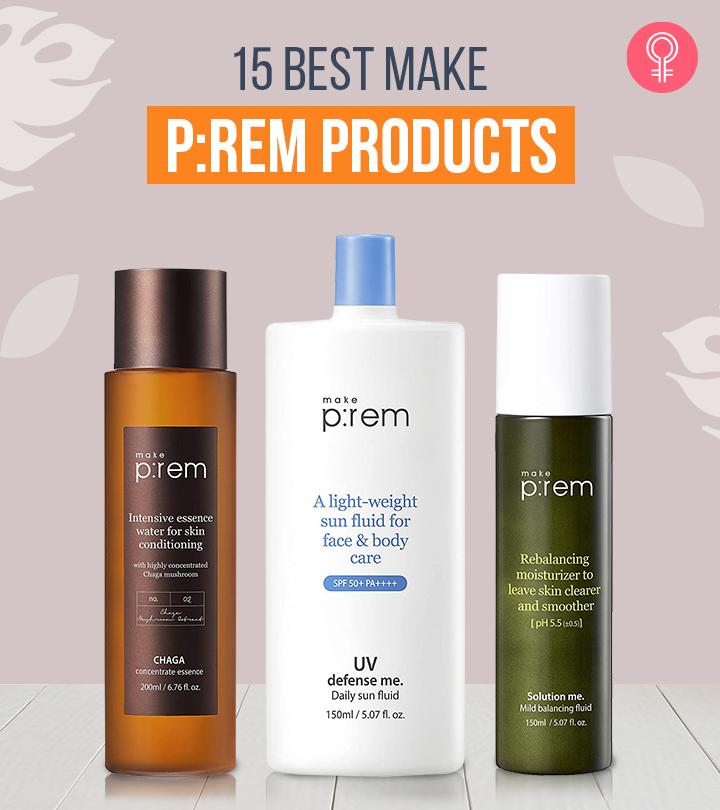 Make P: rem stands for Make Pragmatic Remedies. Your skincare routine need not be complex, and with minimal products, you can have healthy and glowing skin. Having the best Make P: rem products in your regimen can solve many skin concerns. The brand designs its products by blending Korean formulations and Nordic philosophy that helps create simple solutions. They are formulated with carefully chosen effective ingredients, which are gentle on the skin. In this article, we have listed the 15 best Make P: rem products. Scroll down and check them out.
15 Best Make P:rem Skincare Products For 2022
The Make P:rem UV Defense Me Blue Ray Sun Fluid provides superior sun protection up to SPF 50+. It prevents damage from infrared rays and radiation. It contains the stem cells of Rubus Arcticus, a wild berry from Finland that improves skin conditions with an antioxidant substance. It has chia seed extracts loaded with antioxidants and omega-3 fatty acids that are great to soothe the skin, reduce scars, and keep skin youthful. It also contains centella extracts, a powerhouse of amino acids and fatty acids that speed up wound healing and collagen growth. The slippery texture of this sun fluid allows for easy application. It can be worn under makeup too.
Key Ingredients: Chia seeds extracts, centella extracts, and Rubus Arcticus
Pros
No white cast
Doesn't feel sticky
UVA protection
Easy to apply
Cons
May cause pigmentation
May dry the skin out
The Make P:rem Hydrate Me Micro Tension Cream is powered by the Micro Trans Moisture Technology that lets moisture seep into the skin deeply, giving it a fresh and radiant look. The cream is formulated with natural raspberry extracts, 3 types of hyaluronic acids, and deeply hydrating ingredients. It provides hydration all day long. It also helps reduce fine lines and it is proven to increase moisture levels. Its jelly-like cream texture is designed to be absorbed rapidly into the skin, leaving it visibly moisturized and feeling firmer.
Key Ingredients: Raspberry extracts, birch extract, and hyaluronic acid
Pros
Fragrance-free
Suitable for all skin types
Non-comedogenic
Cons
May cause skin irritation in some
The Make P:Rem UV Defense Me Blue Ray Sun Gel is milky and lightweight. It provides SPF 50+ protection while keeping the skin cool. It contains niacinamide and adenosine that have anti-aging and anti-inflammatory properties that speed up cell growth and help with wound healing. The centella asiatica extract soothes redness due to sunburns. The houttuynia cordata extract is flavonoid-rich, known for its soothing and antioxidant properties.
This Make P:rem skincare product has many more blended plant extracts, including birch and lotus that help make your skin feel youthful and radiant. You can use this sun gel right before you put on makeup to protect your skin from the harmful rays of the sun. Learn more about the product in this video.
Key Ingredients: Niacinamide, centella asiatica extract, houttuynia cordata extract, and adenosine
Pros
No clumping
No white cast
UV protection
Fights wrinkles
Cons
The Make P:rem Solution Me Mild Balancing Fluid is a moisturizer that balances the skin's sebum levels, making the skin smoother and clearer. The green propolis and ceramide help strengthen the skin's barrier and boost moisture retention. Propolis retains your skin's moisture and oil balance while ceramide protects the skin from external harmful substances. The agrimony flower extract and the evermat extract help regulate sebum levels and heal wounds and scars. This Make P:rem cruelty-free product does not leave any residue. You can apply it in a circular motion for the best results.
Key Ingredients: Green propolis and ceramide, agrimony flower extract, and evermat extract
Pros
Non-comedogenic
Non-greasy
Lightweight
Cons
The Make P:rem Safe Me Relief Moisture Green Ampoule Serum is great for sensitive skin. It is enriched with 18 kinds of EWG-verified ingredients, and has a low pH of 5.5 that helps heal damaged skin and calm skin irritation. The main ingredient being the Brazilian Green Propolis extract, which contains Artepillin-C, whose antioxidant properties soothe irritated skin. It improves blemishes and strengthens the skin's protective barrier. The propanediol content of the serum helps moisturize the skin. You can apply this serum to your skin twice a day after cleansing and toning. Remember to follow up with a moisturizer or sunscreen.
Key Ingredients: Brazilian Green Propolis extract and propanediol
Pros
Non-sticky
Artificial fragrance-free
Suits sensitive skin
Cons
The Make P:rem Safe Me Relief Moisture Cream works very effectively on dry and sensitive skin. Enriched with 12 gentle and safe ingredients, it leaves the skin hydrated and supple for a long time. It contains squalene, a natural moisturizer that leaves the skin feeling non-greasy and non-heavy. It also contains bergamot oil, an essential oil derived from the bergamot orange that has antibacterial and anti-inflammatory properties and helps soothe acne. The raspberry extract is high in vitamin C and antioxidants that keep the skin healthy and rejuvenated.
Key Ingredients: Squalene, bergamot oil, and raspberry extract
Pros
Artificial fragrance-free
Suits sensitive
Long-lasting hydration
Cons
May not work with a foundation
The Make P:rem Safe Me Relief Moisture Cleansing Foam works wonderfully on dry and sensitive skin to remove all makeup without stripping it dry. This mild and gentle cleanser has a powerhouse of ingredients to help skin maintain its natural glow. The coconut extract provides soothing properties without impacting the skin's barrier. The potassium cocoyl glycinate is an amino acid-based cleansing agent, whose micro-foaming capabilities can help reduce the harshness of any pollutants or other chemicals that may have gotten deposited on the skin surface. Sodium hyaluronate is a natural moisturizer and can keep the skin moisturized after a cleansing session. The other rich plant extracts from raspberry, lavender, and glycerin help the skin maintain its vigor and balance. All you have to do is just lather and massage this Make P:rem product into your skin and rinse with water.
Key Ingredients: Coconut extract, potassium cocoyl glycinate, and sodium hyaluronate
Pros
Gentle action
Suits all skin types
Cruelty-free
Cons
May be difficult to squeeze out
The Make P:rem Creamy Essence Tamanu Calming Serum is formulated using the best natural ingredients that are known to increase skin moisture by 60%. With the cold-pressed tamanu oil as its key ingredient, this serum calms the skin and heals the scars and other blemishes. This opaque, thick, avocado green serum helps with the regeneration of new skin cells. It also soothes skin, and repairs irritation, itchiness, and stretch marks. It also contains hyaluronic acid that can bind up to 1000 times its weight in water, making it a fantastic hydrating agent.
The ginkgo biloba leaf extract has anti-aging benefits and also alleviates irritated skin. The green tea extract has powerful antioxidants that reduce inflammation. This Make P:rem product is best used after a toner and before a moisturizer.
Key Ingredients: Tamanu oil, hyaluronic acid, ginkgo biloba leaf extract, and green tea extracts
Pros
Non-sticky serum
Suits most skin types
Artificial fragrance-free
Hypoallergernic
Non-comedogenic
Cons
The Make P:rem UV Defense Calamine Sun Milk provides powerful SPF 50+ PA+++ protection to those with sensitive or oily skin. This Make P:rem sunscreen has a unique pinkish hue and milky consistency. It keeps dust and impurities away from the skin. It has panthenol/pro-vitamin B5 that has anti-inflammatory and healing properties that protect the skin and keep it hydrated.
It also has calamine, which, by itself, is a very soothing agent and has been used to relieve the skin of any irritation or discomfort. The green tea extract is high in catechins and has proven antioxidant and anti-microbial properties that repair, exfoliate, and refresh the skin. This sunscreen can be applied after your skincare regime and can be used on both the face and body.
Key Ingredients: Panthenol/pro-vitamin B5, calamine, and green tea extracts
Pros
Includes UV blockers
Sweat-proof
Cons
May dry the skin out in some cases
The Make P:rem Chaga Concentrate Essence is a high-nutrient essence water that has 100% Chaga mushroom extracts. Chaga mushrooms are naturally a great source of antioxidants and have strong anti-inflammatory properties that leave skin smoother and irritation-free. Its intensely hydrating formula strengthens the skin and gives a healthy-looking complexion. This Make P:rem product is low in pH and nourishes the skin from within. The propanediol in this essence can be used to improve skin moisturization. You can apply it evenly to your face after toner for best results.
Key Ingredients: Chaga mushroom extract and propanediol
Pros
Non-greasy
Suits all skin types
Suits sensitive skin
Paraben-free
Synthetic fragrance-free
Synthetic colorant-free
Mineral oil-free
Cons
The Make P:rem CICAPRO Revitalizing Cream works like magic on damaged, irritated, and sensitive skin. It provides relief and deep hydration. Its main ingredient is madecassoside, one of the main active components of the famous medicinal plant gotu kola. It has high wound-healing, skin-soothing, and antioxidant properties. The lactic acid protects the skin against environmental threats. It also has anti-acne and anti-inflammatory properties. Other plant extracts like fig extract, turmeric extract, and algae extract help moisturize the skin. They also help reduce skin irritation. You can apply this cream to clean, dry skin once or twice a day.
Key Ingredients: Madecassoside, lactic acid, fig extract, turmeric extract, and algae extract
Pros
Suits severely dry, damaged skin
Reduces fine lines and marks
Cons
May not suit all skin types
The Make P:rem Comfort Me Barrier Hole Mask acts as a great revitalizer for fatigued skin. This skin-fitting mask is lightweight and seals moisture, thereby hydrating and rejuvenating the skin. It has wheat sprout extracts rich in vitamins and minerals that restore the skin's vigor. It is also packed with vitamins C and B5 derivatives that lend protection and health and keep your skin firm and hydrated. The niacinamide in the mask successfully helps repair any skin damage. Its anti-inflammatory properties soothe the skin from any redness. Apply this mask to your face after you cleanse and tone, and leave it on for 10 to 20 minutes. Remove and pat the excess into your face and feel the difference.
Key Ingredients: Wheat sprout extracts, vitamin C, vitamin B5, and niacinamide
Pros
Long-lasting hydration
Easy to use
Cons
May not work on skin pores
The Make P:rem Solution Me Mild Bubble Foam is a non-comedogenic cleansing foam that acts effectively on acne. It has salicylic acid, which is the best remedy for treating acne and minimizing pore size. The ceramides and hyaluronic acid in this product help maintain skin health and offer optimal hydration. They help retain skin moisture too. The Agrimonia pilosa extracts help treat wounds and also may diminish wrinkles and hyperpigmentation. This Make P:rem product has a soft consistency.
Key Ingredients: Salicylic acid, ceramides and hyaluronic acid, and Agrimonia pilosa extracts
Pros
Non-comedogenic
Great for acne-prone skin
Soft consistency
Cons
May dry skin out in some cases
The Make P:rem Safe Me Relief Moisture Cleansing Milk is a slightly acidic, hypoallergenic cleansing milk formulated with bean proteins and plant-derived ingredients. It leaves skin soft, supple, and moisturized while effectively removing makeup and dust particles. The patented Derma-Cleara formula contains soybean that helps boost collagen production, reduces wrinkles, and instantly soothes sensitive skin. The meadowfoam seed oil nourishes and protects the skin. This Make P:rem cleanser also has olive fruit extract and safflower seed oil that promote healthy skin and balance the sebum levels. You may massage this product into your skin and rinse with lukewarm water for best results.
Key Ingredients: Soybean, meadowfoam seed oil, olive fruit extract, and safflower seed oil
Pros
Safe for sensitive skin
Mild action
Cons
May cause occasional breakouts
The Make P:rem Safe Me Relief Moisture Cleansing Oil is great to clean makeup residue, blackheads, and sebum. It contains sunflower seed oil that is a great source of vitamin E. It is also rich in other nutrients and antioxidants and retains skin moisture. Apricot and jojoba seed oils have antioxidants that tone and tighten facial tissues and also help reduce acne and breakouts. It is also infused with black willow bark extract to reduce blackheads, castor oil to moisturize skin, and frankincense tree oil for imparting a mild, soothing scent that provides a relaxing sensation. Mix this cleansing oil with some water and use it to remove all makeup.
Key Ingredients: Sunflower seed oil, apricot and jojoba seed oils, frankincense tree oil, and black willow bark extract
Pros
Mild action
Non-greasy
Gentle fragrance
Mineral oil-free
Cons
Double cleansing is required for waterproof makeup
Conclusion
Why Trust Stylecraze?
Shiboli Chakraborti, the author, is a certified skin care coach who understands that choosing a good product for your skin begins with selecting a reliable brand. Make P: rem is a skin care brand devoted to making effective products that answer your skin needs. So, she conducted extensive research on their products and reviews across forums to make this handpicked list. Each of these products offers skin-improving benefits such as UV protection, enriching ingredients, anti-aging properties, and more.
Frequently Asked Questions
Is Make P:rem cruelty-free?
Yes. Make P:Rem is cruelty-free.
Is Make P:rem vegan?
Yes. Make P:rem is a vegan brand.
How do I get Korean glass-looking skin?
Koreans maintain a strict skincare routine to achieve glass-like skin. Here's a general routine:
• Double cleanse with an oil-based cleanser and a foaming cleanser.
• Exfoliate the skin with a physical or chemical exfoliator.
• Balance the pH level of your skin with a toner.
• Increase the moisture retention potency of the skin with an essence.
• Use a serum or facial oil to treat skin issues.
• Hydrate your skin with a moisturizer.
• Apply eye cream.
• Protect your skin from UV rays with sunscreen.
• Use sheet masks occasionally to heal skin damage.
How do Koreans get crystal-clear skin?
Koreans use natural and organic products for their skin. These products are free of harsh chemicals and preservatives that develop dark spots and blemishes on the skin. Therefore, the majority of Koreans have crystal-clear skin.
What is the secret of Korean white skin?
Many Koreans prepare and use fermented rice face masks, rice flour, aloe vera face masks, and green tea facial rinse at home to enhance their skin tone.
Recommended Articles