20 Best Makeup Removers For Sensitive Skin – 2023
Get makeup-free clean skin at the end of the day without irritating your skin.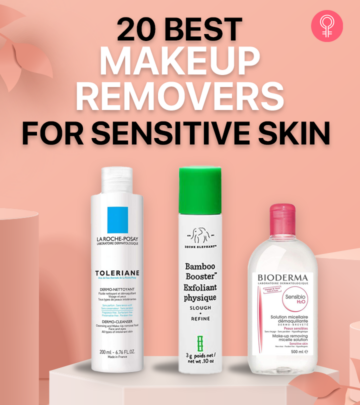 Sensitive skin needs that additional TLC to keep it well-nourished, clean, and clear. While you may be using makeup products that are sensitive-skin friendly, opting for the best makeup remover for sensitive skin is important as well. We all know how much time and effort it takes to get makeup off at the end of a tiring day. But, it is an essential step in your skincare routine nonetheless. Makeup artist and founder of Ouli's Ointment, Stephanie G-M shares her view with us. "Cleansers that work well to break down the dirt and makeup of the day without you needing to excessively rub your skin means you avoid dragging your skin and creating unnecessary wrinkles and increase the likelihood of you washing your face every night which reduces your skin's sensitivities." Along with being gentle and non-abrasive, a makeup remover formulated for sensitive skin should help cleanse your skin with minimal effort and balance its natural oils. Scroll down to take your pick amongst the best options enlisted below.
20 Best Makeup Removers For Sensitive Skin
If your favorite makeup artist uses micellar water and credits her smooth and glowing skin to it, you should believe her. The Bioderma Face And Eyes Sensibio H2O Make-Up Removing Micelle Solution contains a blend of ingredients like purified water, glycerin, and mild surfactants, which gets rid of dirt, makeup, and oils from your pores.

This is the best makeup remover for sensitive skin that gets rid of 99% of makeup and 98% of fine particles. The fatty acid ester micelles in the product cleanse and soothe your skin without drying or irritating it. The DAF (Dermal Advanced Formulation) soothes the skin and raises its tolerance levels. Have a look at this video to learn more about the product.



Pros
Hypoallergenic
Gentle on the eyes
Paraben-free
Fragrance-free
Oil-free
Value for money
Cons
None


Quick Tip
After use, do not rub your skin to remove the remaining micellar water from it. Instead, gently pat the skin until it is dry to keep it soft and supple.
Price at the time of publication: $10.99
Finding a makeup remover or cleanser that works wonders for you can be life-changing. It saves you a ton of time and makes you look forward to removing your makeup each night. This makeup melting butter can be that cleanser for you. It is a cleansing balm that wipes off dirt, stubborn makeup, sunscreen, and waterproof formulations from your face with ease.
This makeup remover is infused with a refreshing blend of kiwi, blueberry, and strawberry extracts, along with cranberry, marula, Kalahari melon, and Ximena oils, among others, to keep your skin nourished, moisturized, and protected. Adding water turns it into a milk that cleanses your skin without drying it out. Here is an informative video that tells you more about the product.
Pros
Non-drying
Essential oil-free
Silicone-free
Paraben-free
SLS-free
Fragrance-free
Alcohol-free
Dye-free
Cruelty-free
Cons

Pro Tip
Use dry fingertips to massage the product all over your face. Rinse the face with lukewarm water and use an exfoliating product to remove dead skin cells from the face.
Price at the time of publication: $30.6
If you prefer creamy and milky facial cleansers instead of liquid formulas, give this one a shot. It clears all traces of makeup and other pollutants from your face in one quick swipe without drying or irritating your skin.
The formula contains glycerin that prevents overdrying of the skin and La Roche-Posay thermal spring water that soothes the skin. This makeup remover can be wiped away using a cotton pad or rinsed off. It is also safe for removing makeup from the eyes.
Pros
Non-comedogenic
Fragrance-free
Paraben-free
Allergy tested
Dermatologist-tested
Cons
None


Pro Tip
People with sensitive skin or rosacea-prone skin should not use hot water to remove the cleanser from their faces. Instead, use cool or slightly warm water to wash the face and avoid facial flushing.
Price at the time of publication: $25.99
The Farmacy Green's Clean Makeup Meltaway Cleansing Balm is enriched with sunflower and ginger root oils, which remove heavy and waterproof makeup effortlessly, along with dirt, grime, and other impurities. It also contains papaya extracts that exfoliate the skin and keep it smooth and soft. The moringa extracts and turmeric in the formula help remove pollutants and sunscreen residue. This cleansing balm's pleasant fragrance is attributed to a blend of lime, orange, and bergamot oils.
Pros
Non-drying
Gentle
Paraben-free
Sulfate-free
Cruelty-free
Value for money
Cons
None
Price at the time of publication: $12.0
This makeup remover lotion by Estee Lauder is an excellent choice to wipe away long-wearing and waterproof makeup products without leaving a greasy or oily feeling on the skin. It has a water-based formula that is safe for daily use. This product has a refreshing citrus scent that makes your skin feel awakened and revitalized. For more information about the product, click this video.
Pros
Lightweight
Dermatologist-tested
Ophthalmologist-tested
Cons
Price at the time of publication: $25.99
Are you looking for added anti-aging benefits in your makeup remover? Try out this cleanser from Algenist. The unique and luxurious formula of this cleanser offers an excellent sensory experience.
It is enriched with alguronic acid and microalgae oil that minimize the appearance of aging signs while effectively removing all traces of long-wear makeup. This gel-based cleanser feels like a luxurious oil on massaging and then turns into a milky emulsion on adding water. It gently pulls away all the impurities, leaving the skin soft, hydrated, and radiant.
Pros
Lightweight
Vegan
Non-comedogenic
Hypoallergenic
Clinically proven
Cons
None
Price at the time of publication: $38.0
The First Aid Beauty Pure Skin Face Cleanser helps get rid of all dirt, grime, and makeup from your face without stripping it off moisture. It has a whipped formula that transforms into a cream when mixed with water.
This facial cleanser is infused with a powerful blend of aloe vera and allantoin, which soothes your skin and keeps it hydrated. It also contains licorice root, feverfew, and white tea extracts to protect your skin from environmental pollutants. The product is devoid of harsh chemicals, making it a great choice for sensitive, acne-prone skin.
Pros
pH-balanced
Dermatologist-tested
Allergy-friendly
Sulfate-free
Paraben-free
Phthalate-free
Mineral oil-free
Artificial fragrance-free
Vegan
Cruelty-free
Cons
Price at the time of publication: $12
The CeraVe Foaming Facial Cleanser has a gentle formula that effectively removes excess oil, dirt, and makeup in one go. It does not disrupt the natural protective barrier of your skin and helps in restoring moisture. This cleanser is enriched with ceramides that restore and maintain the skin's natural barrier, hyaluronic acid that locks in moisture, and niacinamide that improves your skin's overall appearance. This product is developed by dermatologists to deeply cleanse your skin without stripping its natural oils.
Pros
Non-drying
Non-comedogenic
Non-irritating
Gentle
Fragrance-free
Cons
None
Price at the time of publication: $20.77
The Neutrogena Makeup Remover Cleansing Towelettes are ultra-soft and gentle. They help cleanse and refresh your skin in just one simple step. They effectively dissolve all traces of dirt, oil, and stubborn makeup, including waterproof formulations. The wipes are also safe for those who wear contact lenses. They come in a convenient and travel-friendly resealable package. These wipes thoroughly cleanse your skin without leaving any heavy residue.
Pros
Travel-friendly
Safe for contact lens wearers
Dermatologist-tested
Alcohol-free
Ophthalmologist-tested
Allergy tested
Cons
Price at the time of publication: $5.42
This gentle waterproof eye makeup remover can also be used to remove facial makeup. It has a Biphase formula, which is a mix of mild oils and poloxamer, a water-based cleanser. Poloxamer is also used in contact lens solutions for its gentle and non-irritating nature. This product not only removes stubborn makeup but also softens the skin and enhances its texture.
Pros
Non-comedogenic
Paraben-free
Fragrance-free
Allergy tested
Dermatologist-tested
Value for money
Cons
None
Price at the time of publication: $21
Want a non-toxic makeup remover that also offers anti-aging and anti-acne effects? Go for Era Organic's Cleansing Oil that also doubles up as a face wash. The oil is enriched with a blend of organic ingredients like argan oil, apricot kernel oil, sunflower seed oil, jojoba seed oil, and rosemary leaf extract that remove makeup without affecting your skin's texture.
This formula helps remove all stubborn and waterproof makeup while restoring the skin's moisture content and fighting the signs of premature aging. The jojoba oil and rosemary extract in the cleansing oil also help reduce inflammation and treat acne. This makeup remover does not strip your skin of its natural oils and leaves it soft and smooth.
Pros
Non-drying
Smells good
Organic
Cruelty-free
Sulfate-free
Paraben-free
Alcohol-free
Mineral oil-free
Cons
None
Price at the time of publication: $17.19
The La Roche-Posay Effaclar Micellar Water removes all traces of makeup and oil, leaving your skin refreshed and hydrated. The formula is exclusively crafted for sensitive, oily, and blemish-prone skin types.
It contains dirt-loving molecules (micelles) that naturally lift all the oil and makeup from the pores without any harsh rubbing. The micellar water also has poloxamer, a mild cleanser used in contact lens solution. The thermal spring water in the formula soothes your skin, glycerin provides hydration, and zinc removes excess oil.
Pros
Doubles up as a toner
Paraben-free
Oil-free
Non-comedogenic
Soap-free
Dermatologist-tested
Allergy tested
Value for money
Cons
None
Price at the time of publication: $15.19
This cleansing oil is a wonderful product for people with dehydrated, itchy skin and atopic eczema. It has the trademark Avene thermal spring water as its core ingredient. This water soothes and softens the skin's barrier. I-modulia, a patented complex derived from this water, boosts the skin's defense system and maintains its healthy environment.
This cleansing oil also contains ceramide and omega-6 derived from evening primrose that infuse moisture into the skin while protecting its natural barrier. The product has been clinically proven to calm and nourish sensitive and allergy-prone skin. It can be used all over the body and is also suitable for kids and infants.
Pros
pH-balanced
Hypoallergenic
Non-comedogenic
Paraben-free
Steroid-free
Fragrance-free
Added preservative-free
Cons
None
Price at the time of publication: $32.0
This 3-in-1 daily gentle cleanser hydrates and revitalizes dry and sensitive skin. It naturally removes all traces of makeup, along with the bacteria and impurities, without stripping off your skin's natural moisture barrier. The formula is enriched with hyaluronic acid, aloe vera, and vitamins C and E that works wonders to remove pollutants from the skin while retaining its moisture content. It also features 10 SuperBerry antioxidant extracts that improve visible signs of aging and fight environmental stressors to make your skin look youthful, bright, and glowing.
Pros
Non-comedogenic
Paraben-free
Sulfate-free
Dye-free
Silicone-free
Fragrance-free
Phthalate-free
Vegan
Soap-free
Cruelty-free
Cons
None
Price at the time of publication: $16.95
This facial wash has a creamy gel texture, and it not only removes all traces of makeup, dirt, and other impurities but also soothes the skin with its five natural conditioning agents. It contains rosewater that is an excellent calming ingredient while provitamin B5 has exceptional moisturizing properties.
The comfrey root extracts contain allantoin that soothes dry skin and makes it soft. This face wash is suitable for all skin types and glides on your skin like butter without feeling sticky or greasy. It also retains the natural pH of your skin. As it contains poloxamer, a cleansing ingredient you would generally find in contact lens solutions, it is safe for the eye area.
Pros
Non-comedogenic
pH-balanced
Vegan
Cruelty-free
Dermatologist-tested
Ophthalmologist-tested
Cons
None
Price at the time of publication: $33.59
These soft facial cleansing wipes from Burt's Bees revitalize and rejuvenate your skin to remove excess oil, dirt, and makeup. They are enriched with cotton, rice, and aloe extracts that gently unclog your pores to remove impurities without drying your skin. The cotton extract in the sheets replenishes the skin's outer layer and reduces the effects of irritants on the skin.
Pros
Approved by dermatologists
Hypoallergenic
Travel-friendly
Fragrance-free
Paraben-free
Phthalate-free
SLS-free
Petrolatum-free
Cruelty-free
Cons
Price at the time of publication: $16.41
If you are in a rush and do not have the time to complete your skin care steps, the Olay Daily Facials Dry Cloths can come in handy. They help cleanse, tone, exfoliate, and hydrate your skin and also work as a mask. The specially textured cleansing cloths are velvety soft and perfect for days when you have heavy makeup on or just after a sweaty gym session. They are enriched with aloe leaf extract, which is gentle on sensitive skin. You need to moisten the cloth with water before using them.
Pros
Gentle
Dermatologist-tested
Soap-free
Travel-friendly
Cons
None
Price at the time of publication: $23.94
The Aveeno Ultra-Calming Makeup Removing Wipes are oil-free and cleanse your skin of excess oil, dirt, and makeup, including waterproof mascara. These wipes are specially crafted to balance sensitive skin, soothe dryness and redness, and calm irritated skin. They contain feverfew extract that soothes and calms the skin and cucumber and aloe extracts that hydrate the skin. These wipes do not leave any residue on the face and are great for everyday use.
Pros
Non-comedogenic
Dermatologist-tested
Ophthalmologist-tested
Suitable for contact lens wearers
Cons
Price at the time of publication: $11.84
One can't deny how therapeutic it is to take makeup off, especially with a gentle yet highly effective cleanser or makeup remover. Aveeno's foaming cleanser comes with calming feverfew, which leaves your face feeling refreshed and removes signs of redness. This facial cleanser removes dirt, oil, and makeup without drying your skin. For best results, wash it off with lukewarm water and pat your face dry with a soft cotton towel.
Pros
Non-oily
Non-comedogenic
Hypoallergenic
Fragrance-free
Soap-free
Cons
Price at the time of publication: $29.6
These wipes are perfect for travel or as a quick fix to wipe off makeup and dirt when you are on the go. They are infused with raw coconut cream that melts makeup in seconds for a pure cleansing experience. It also softens and moisturizes your skin and has incredible radiance-boosting qualities. These nourishing and conditioning wipes are safe to use on the eye area and wipe off mascara from the lashes. They help soothe rashes and sunburn and are safe for infants.
Pros
100% eco-friendly
Paraben-free
Sulfate-free
Phthalate-free
Silicone-free
Non-GMO
Soy-free
Gluten-free
Cruelty-free
Cons
Price at the time of publication: $16
Before purchasing a makeup remover or cleanser that's best for you, look at these helpful pointers.
How To Choose A Makeup Remover For Sensitive Skin
Check The List Of Ingredients
Go for makeup removers with gentle formulas that contain aloe, oatmeal, honey, pro-vitamin B5, rosemary, glycerin, and allantoin to keep your skin safe. Avoid harsh ingredients like drying alcohols, fragrances, dyes, and sulfates that can cause skin irritation.
Choose A Product That Can Soothe Irritation
Ceramides, non-fragrant plant oils, antioxidants, and fatty acids are a great addition to makeup cleansers. Not only do they soothe and moisturize your skin, but they also boost the cleansing abilities of a makeup remover in dissolving makeup and other substances from the skin.
Buy A Separate Eye Makeup Remover
Irrespective of your skin type, choose an eye makeup remover that is specially designed for the eyes. Eye makeup removers are formulated to be gentler than the ones meant for the face so that there is no irritation. However, if you are constantly on the go and need to wipe off your makeup more than once a day, it is good to invest in hypoallergenic facial wipes.
Now, let's have a look at the right way to remove makeup from sensitive skin.
How To Use A Makeup Remover On Sensitive Skin
Avoid alcohol-based removers as they may burn and irritate sensitive skin.
Avoid using a cleanser around your eyes or your lashes unless it is specifically designed to do so.
Don't scrub your face with cotton pads or towels too harshly.
Look for makeup removers that won't clog your pores.
Wipe or rinse off the cleanser properly.
Avoid using it more than twice a day.
Removing makeup can be exhausting, particularly after a long day or an extremely fun party. Harsh makeup removal products can irritate the skin and cause breakouts, especially sensitive skin. Sensitive skin is extra delicate and requires a lot of care. Just like other skin care and makeup products, makeup removers too need to be gentle so that they do not cause breakouts and reactions. These paraben-free, non-comedogenic make removers are skin-friendly products that effectively remove makeup without the need for any rubbing or extra pressure.
Why Trust StyleCraze?
The author, Srijita De, is a beauty and makeup enthusiast who loves trying products that take your makeup and beauty routine a notch higher. Especially when it comes to sensitive skin, she urges you to use nothing but the best. After browsing through multiple sites and customer reviews, she brings you this specially curated list of the top makeup removers for sensitive skin. These products not only come in handy to cleanse your face of makeup but are also formulated with skin-benefiting ingredients to keep your skin naturally soft and healthy.
How do you get makeup off sensitive skin?
Use a makeup remover or a cleanser with a gentle formula, without any harsh ingredients, specially formulated for fragile skin. Don't scrub your face too harshly while removing the makeup, and once you're done, make sure you wipe off the cleanser thoroughly and use a mild moisturizer.
How can I remove makeup without irritating the skin?
Buy a makeup remover well-suited for your skin type. Take your time and use flat cotton pads instead of cotton balls. Clean the edges of your eyelids gently in circular motions. Wash your face and follow up with a face serum or a moisturizer.
Is micellar water good for sensitive skin?
Yes, micellar water is an excellent choice for people with sensitive skin. It is packed with oil molecules that attract dirt, grime, makeup residues, and other impurities from your skin. It can be used as a cleanser as well as a toner. The La Roche-Posay Effaclar Micellar Water is the best for sensitive skin.
What is the best thing to use to remove makeup?
You can remove makeup using makeup remover wipes, micellar water, or oil-based makeup cleansers. Try to use a product that is free of harmful ingredients like sulfates, phthalates, parabens, or artificial fragrances as it can irritate your skin further after makeup removal.
What is the best eye makeup remover for sensitive eyes?
The Bioderma Face And Eyes Sensibio H2O Make-Up Removing Micelle Solution, the Estee Lauder Take It Away Makeup Remover Lotion, and the La Roche-Posay Respectissime Eye Makeup Remover are some of the best for sensitive eyes.