15 Best Makeup Removers (Cleansers) For Sensitive Skin In 2020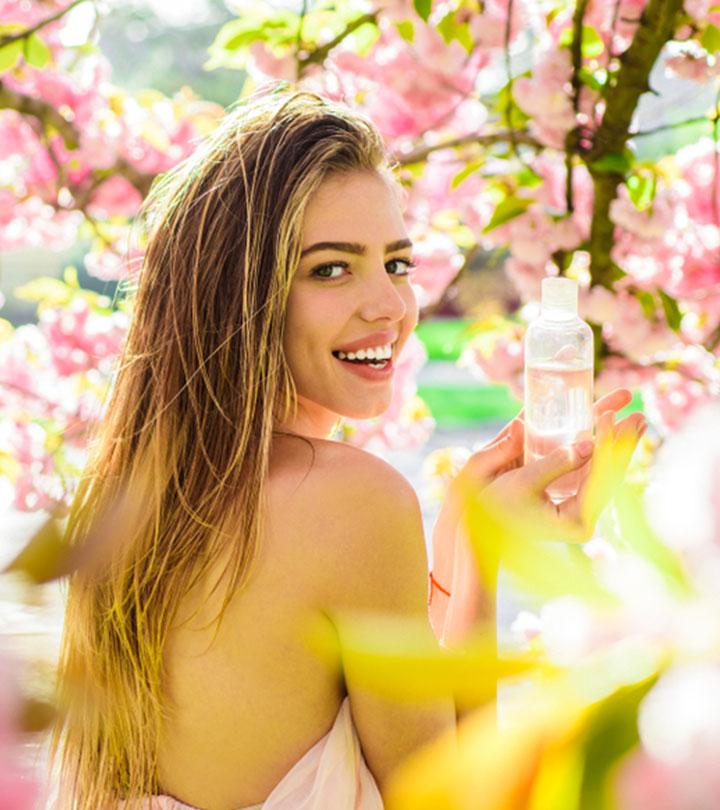 For some, applying makeup is like revealing a second layer of skin. One could even call it a confidence booster. For others, it's a creative way of expressing themselves. With so many makeup products to choose from, the world is literally our oyster right now. However, this also means that we may not be choosing the best products available in the market. Some makeup products are full of harmful ingredients and toxic chemicals, which make our skin break out and cause acne problems. This is why we should keep makeup removers and cleanser handy at all times.
Going to bed without removing your makeup is a cardinal sin, especially if you have sensitive skin. Makeup tends to seep into your pores overnight, making your skin irritated and causing a host of skin problems. With the right products, you can remove all traces of makeup in a matter of minutes, and go to bed with a fresh, clean face. Scroll down to find the best makeup remover for sensitive skin.
Top 15 Best Makeup Removers And Cleansers For Sensitive Skin That Actually Work
If your favorite makeup artist uses micellar water and credits her smooth and glowing skin to it, you should absolutely believe her. This one is a miracle product made of a healthy blend of ingredients like purified water, glycerin, and mild surfactants, which gets rid of dirt, makeup, and oils from your pores. Bioderma's micelle solution is perhaps the best makeup remover for sensitive skin. It removes 99% of makeup and 98% of fine particles. It is suitable for people with all skin types and effectively removes makeup from both the face and eyes. The micellar technology in this solution also soothes skin and maintains the natural pH balance of your skin.
Pros
Deep cleaning
Hydrating and purifying
Ideal for all skin types
No-rinse cleanser
Hypoallergenic
Paraben-free
Cons
You may need to use a lot of the product to wipe off heavy makeup.
Putting on makeup to go to work, run errands, or meet your friends is an enjoyable activity in itself. Still, one can't deny how therapeutic it is to take it off, especially with a gentle yet highly-effective cleanser or makeup remover. Aveeno's foaming cleanser comes with calming feverfew, which is a natural ingredient of the chamomile family. It leaves your face feeling refreshed and removes signs of facial redness. This facial cleanser removes dirt, oil, and makeup without drying your skin. For best results, wash it off with lukewarm water and pat your face dry with a soft cotton towel.
Pros
Non-oily
Soothing ingredients and hydrating qualities
Fragrance-free
Soap-free
Hypoallergenic
Oil-free
Cons
Considered to be one of the mildest and most effective makeup products, the Cetaphil Gentle Waterproof Makeup Remover is a bi-phase liquid formula. It is perhaps the best drugstore makeup remover for sensitive skin as it combines 2 separate compositions to remove stubborn makeup, dirt, residue, and other such impurities from your face. The formula is known for its soothing and refreshing qualities as it contains a generous dose of aloe vera, ginseng, and green tea. This oil-free formula unclogs pores and conditions your skin without leaving your skin feeling greasy or sticky. Don't forget to shake the bottle before using it.
Pros
Non-comedogenic
Suitable for all skin types
Hypoallergenic
Dermatologist-tested
Ophthalmologist-tested
Cons
Some may find the scent too strong.
It may take a lot of time to rinse off.
If you prefer creamy and milky facial cleansers instead of liquid formulas, you should give this one a shot. It clears away all traces of makeup and other pollutants from your face in one quick swipe without making your skin dry or irritated. Ideal for all skin types, it can be wiped away using a cotton pad or rinsed off. It is formulated with glycerin and thermal spring water, which helps in soothing the skin and keeping it soft. It is also safe for removing makeup from the eyes.
Pros
Fragrance-free
Paraben-free
Allergy tested
Dermatologist-tested
Creamy formula
Cons
Make a mental note to wipe off makeup before bed every night, even if it means just an eyeliner, mascara, and lipstick. To help you do this step each night, you can trust this makeup remover lotion by Estee Lauder. It is an excellent choice to wipe away even long-wearing and waterproof makeup products, without leaving a greasy or oily feeling to the skin. This water-based formula is safe for daily use and comes with a crisp citrus scent, making your skin feel awakened and revitalized.
Pros
Lightweight water-based formula
Removes waterproof makeup
Dermatologically-tested
Tested by an ophthalmologist
Non-oily
Can be rinsed or wiped off
Cons
This makeup remover cares for your lashes and keeps it healthy as it is formulated with cleansing oil and vitamin water. If you've put on a ton of makeup to last throughout the day, you will require a makeup remover that's tough and will get the job done. A simple shake of this bottle will activate its cleansing powers and remove the most stubborn makeup residues. Yes, even your waterproof mascara. Formulated especially for your eyes, it protects your eyes by dissolving makeup for a quick clean-up. It won't irritate your skin as it is free of parabens, drying alcohol, and other such harmful chemicals.
Pros
Safe for the eyes
Hydrates and nourishes lashes
Contains multivitamins
No artificial colors or dyes
No phthalates
Vegan
Cons
Some may find it slightly oily.
Perfect for travel or as a quick-fix to wipe off makeup and dirt when you are on the go, these wipes claim to be the ultimate makeup remover wipes. A makeup wipe that is infused with raw coconut cream, it melts makeup in seconds for a pure cleansing experience. It also softens and moisturizes your skin and has incredible radiance-boosting qualities. Ideal for all skin types, these nourishing and conditioning wipes are safe to use in the eye area and wipes off mascara from the lashes. It helps in soothing rashes and sunburn and is safe for babies too.
Pros
100% eco-friendly
Antibacterial
Anti-fungal
Non-GMO
Soy-free
Gluten-free
Cruelty-free
Pack of 20 individual wipes
Cons
Slightly expensive.
Some may find the size of the wipes too small and may require more than 1 wipe to clean off heavy makeup.
Finding products for people with normal to dry skin may not be hard, but finding one that keeps the skin happy most definitely is. A useful addition to your skincare routine, this facial cleanser is incredibly hydrating and quickly removes dirt, makeup, and other debris that clog up the pores. It contains ingredients like ceramides, reinforcing the skin's natural barrier to lock moisture in and hyaluronic acid, which keeps wrinkles and fine lines at bay. This facial cleanser also uses a patented MVE Delivery technology that keeps your skin hydrated for 24 hours.
Pros
Fragrance-free
Non-comedogenic
Accepted by National Eczema Association
Developed with dermatologists
24-hour hydration
Protective skin barrier
Moisture balance
Cons
Some may not enjoy the thick, lotion-like consistency of the cleanser.
It contains certain types of alcohol.
[ Read – CeraVe Hydrating Facial Cleanser Ingredients ]
It is essential to take care of your skin, love it, and keep it healthy and happy. The first step towards doing that is finding a gentle face cleanser that works like a tough cookie. This one gets rid of all sorts of dirt, grime, layers of makeup, leaving your face feeling fresh and soft. A whipped formula that transforms into a cream when mixed with water, this facial cleanser is infused with a powerful blend of aloe vera and allantoin, which soothes your skin and keeps it hydrated. It also contains licorice root, feverfew, and white tea extracts to protect your skin from environmental pollutants and is a great makeup remover for sensitive acne-prone skin.
Pros
Safe for use twice a day
Suitable of all skin types
Gluten-free
Nut-free
Oil-free
Vegan
Sulfate, parabens, and phthalate-free
Cons
It is expensive.
Some may not like how foamy it gets.
If you are looking for good makeup removers for sensitive skin, you should choose these ones as they are incredibly kind to skin, just as its name suggests. These wipes drive away skin impurities and makeup to reveal healthy skin and unclogged pores, making makeup removal an easy process. With triple purified water, vitamin E and B5, and fiber that's softer than silk, these wipes keep your skin hydrated and loved. Each wipe is enriched with Aqualock ™ technology, which keeps it fresh, moist, and prevents it from drying. If you were wondering if it wipes off waterproof mascara, rest assured that it does.
Pros
25 super soft wipes
Dermatologist tested and approved
Tested by an ophthalmologist
Hypoallergenic
Non-oily
Doesn't contain alcohol or dyes
Cons
It takes a lot of time to remove waterproof makeup with these wipes.
The scent may be disagreeable to some.
For skin as soft as a baby's bum and as pure as their innocence, try Philosophy's award-winning 3-in-1 Purity Made Simple cleanser. Its key ingredients include meadowfoam seed oil, which is an excellent source of hydration for your skin. It is also enriched with 12 essential oils such as rosewood, sage, and sandalwood that help in rejuvenating your skin, leaving it soft and healthy. It sets to work immediately and deep cleans pores by removing makeup buildup and residues. The formula also hydrates and conditions your skin in less than a minute and is a great cleanser for all skin types.
Pros
Fragrance-free
Contains 12 essential oils
Hydrating and conditioning
3-in-1 multitasking cleanser
Lightly tones your skin
Cons
It contains sulfates and parabens.
They say that if you want glowing, healthy, and radiant skin, all you need to do is walk into your kitchen or your pantry, and nature will provide you with everything you need. This gentle cleanser from Ktchn Apothecary is set to be a game-changer as a little product goes a long way and is said to last 3 times more than ordinary cleansers. This pH optimized cleanser is a creamy formula with 3x more extracts that nourish your skin. This cleanser's key botanical ingredients include aloe vera, avocado fruit extract, sage oil, and botanical glycerol, which offers detoxifying qualities and restores your skin's elasticity.
Pros
pH-balanced
Handcrafted with organic ingredients
Anti-aging properties
Non-drying
Moisturizing
Parabens, sulfate, phthalate-free
Cruelty-free
Cons
Slightly expensive.
Some may find the smell too strong.
This facial cleanser is the best-selling Farmacy product and also an award-winner, but only if you use it once is how you will truly discover its magical powers. It is enriched with sunflower and ginger root oils, which removes heavy-duty makeup effortlessly along with dirt, grime, and other impurities. It also contains papaya extracts, which keep the texture of your skin smooth and soft. Its pleasant fragrance is attributed to a blend of lime, orange, and bergamot oils. The mint-green colored sorbet-like texture makes it easy to apply and remove.
Pros
Exfoliating qualities
Doesn't dry out the skin
Contains turmeric
Paraben-free
Sulfate-free
Cruelty-free
Cons
If it is not wiped or rinsed off properly, people with sensitive eyes may feel a slight burning sensation.
Finding a makeup remover or cleanser that works wonders for you can be life-changing. It saves you a ton of time and makes you look forward to removing your makeup each night. This makeup melting butter can be that cleanser for you. It's a cleansing balm that wipes off dirt, stubborn makeup, sunscreen, and even waterproof formulations from your face with ease. It comes with a refreshing blend of kiwi, blueberry, and strawberry extracts along with cranberry, marula, kalahari melon, and ximenia oils among others to keep your skin nourished, moisturized, and protected.
Pros
Rich in antioxidants
Soothing fruit extracts
Anti-aging properties
Deeply cleanses skin
Contains vitamin C
Includes a spatula
Cons
Very expensive
It may take some time to wash off completely.
You'll be delighted to learn that this facial cleanser not only removes all traces of makeup, dirt, and other impurities, but it also soothes the skin with rosewater, nourishes, and moisturizes it with pro-vitamin B5, and heals your skin with comfrey root extracts. It is suitable for all skin types and glides on your skin like butter without feeling sticky or greasy. It also retains the natural pH of your skin. As it contains the same cleansing ingredients one would generally find in contact lens solutions, you can rest assured that it is safe for the eye areas.
Pros
Non-comedogenic
pH-balanced
Contains 5 skin conditioners
Vegan
Cruelty-free
Dermatologist-tested
Ophthalmologist-tested
Cons
Some may find the solution too runny.
[ Also Try – Fresh Soy Face Cleanser ]
Before purchasing a makeup remover or cleanser that's best for you, take a look at these helpful pointers.
How To Choose Makeup Remover For Sensitive Skin
Before you pick a makeup remover or cleanser off the shelf, or in this case, by clicking a button, make sure you understand your skin type. Buying a cleanser that is not designed for your skin may lead to acne, irritation, and allergies. If you have oily skin, choose a makeup remover with salicylic acid. It helps in soaking up oils while removing makeup. If you have dry skin, look for a creamy cleanser or a foamy one. It helps in restoring moisture in your skin to keep it hydrated.
Micellar water is considered to be one of the best types of cleansers for combination skin. It doesn't foam up like a cream cleanser but its chemical composition gets rid of all traces of makeup and dirt in a few swipes. If your skin type is super sensitive, opt for an emulsifying cream that you can massage into your skin. However, if you are constantly on the go and need to wipe off your makeup more than once a day, it is good to invest in hypoallergenic facial wipes.
How To Remove Makeup From Sensitive Skin
Avoid alcohol-based removers as it may burn and irritate sensitive skin.
Avoid using a cleanser around your eyes or your lashes, unless it is specifically designed to do so.
Don't scrub your face with cotton pads or towels too harshly.
Try to look for makeup removers that won't clog your pores.
Wipe or rinse off the cleanser properly.
Avoid using it more than twice a day.
If you have a skin condition, consult your dermatologist before trying out a new product.
Applying makeup and looking like our best, most confident selves is always a win-win situation. But on the flip side, applying a lot of makeup also means clogging our pores and not letting our skin breathe. We must promise ourselves that we will do better and remove our makeup every night. There are thousands of helpful makeup removers and cleansers to help us stay diligent in our quest to keep our skin clean and healthy, and we've gathered the top 15, right here. Reach out to us and let us know which one you adore and how it's worked for you.
Expert's Answers For Readers' Questions
How do you get makeup off sensitive skin?
One of the best ways to remove makeup off sensitive skin is to invest in a high-quality makeup remover or cleanser solution. The list given above contains the 15 best makeup removers and cleansers for sensitive skin.
How can I remove makeup without irritating skin?
Buy a makeup remover well-suited for your skin type. After applying the cleanser on your face, avoid harsh scrubbing.
Is micellar water good for sensitive skin?
Yes, micellar water is considered to be an excellent choice for people with sensitive skin. It contains oil molecules that attract dirt, grime, makeup residues, and other impurities away from your skin to give your face a deep clean.
What is the best thing to use to remove makeup?
A cleansing solution free of harmful ingredients like sulfates, parabens, phthalates, dyes, and artificial fragrances is a good choice.
What is the best eye makeup remover for sensitive eyes?
The Bioderma Face And Eyes Sensibio H2O Make-Up Removing Micelle Solution, the Estee Lauder Take It Away Makeup Remover Lotion, the Simple Sensitive Skin Experts Dual-Effect Eye Make-Up Remover, and the Cetaphil Gentle Makeup Remover are some of the best-selling eye makeup removers for sensitive eyes.
Recommended Articles