Best Victoria Secret Lip Glosses – Our Top 10 Picks
Victoria's Secret is one of America's leading brands that manufacture lingerie and cosmetics. It was founded in 1977 by Roy Raymond. The annual sales of this company in 2012 amounted to a whopping $6.12 billion. Their operating annual income for that year had been $1 billion. They started off with specializing in lingerie, before branching out to women's wear and finally into the beauty products category in the recent past. Their beauty catalogues are detailed and exquisite, with 375 million being printed every year, for distribution in all their stores, worldwide. It is owned by the L Brands Inc Company, which is a publicly traded company.
Their beauty division was created in 1988, known as the Intimate Beauty Corporation. It was set up by Limited Inc and specializes in beauty businesses. They signed a deal with Victoria's Secret for their beauty portfolio and this was the first firm they signed on for business.
One of the top-selling products in the Victoria's Secret Beauty range is their lip gloss. Lip gloss is an integral part of any cosmetic line, and Victoria's Secret Beauty is renowned worldwide for their sheen and gloss. Lip gloss being the main component of any girl's makeup kit, here's a look at the best  Victoria Secret Lip GLosses.
Top 10 Victoria Secret Lip Gloss
1. Beauty Rush Prismatic Kiss Flavored Gloss:
This Victoria Secret Rush lip gloss is wild and flirty. Reflective and dazzling, this limited edition gloss is a must have for this season!


2. Beauty Rush Shiny Kiss Flavored Gloss:
This one steals the spotlight with its sparkle and shine. With the kiss of sheer color and delicious shine, one can create the sexiest pout with the Shiny Kiss Flavored Gloss. It's a makeup essential for the grab-and-go.


3. VS Makeup Shine Drama Lip Gloss:
With this lip gloss from the VS Makeup collection, your lips will take on the spotlight. This high-shine and luxurious lip gloss gives you luscious color with the infusion of aloe vera and argan oil, that ensure soft and moisturized lips. This has a super smooth applicator and is an essential in every make up kit.


4. VS Makeup Brilliant Lip Shine Gloss:
This one offers pure shine. This is a patent-finish lip gloss that adds color to the lips along with the signature shine. The conditioner in the gloss provides the lustrous shine of pearls for that high-watt glossy shine.


5. Booty Parlor™- Kissaholic Lip Gloss:
This is an aphrodisiac lip gloss that plumps up the lips and feeds your kiss addiction! This is a lip gloss that is non-sticky, with a high shine formula. It softens the lips with the Vitamin E and shea butter contained in it, and plumps them with the chili fruit extract and ginger root oil to give you sexier lips.
This lip gloss is infused with aphrodisiac ingredients that inspire the desire for kissing, including ginkgo biloba, ginger, passion flower, damiana, muira puama and phenylethylamine. This is popularly called the "Molecule of Love"!


[ Read: Lip Gloss Products ]
6. Beauty Rush Glossy Tint Lip Sheen:
This one's for the shine and sparkle for the grab-and-go! It helps you to effortlessly steal the spotlight.


7. PINK Lip Gloss:
This one gives the lips a flirty pop of color and a cute pout to boot.


8. VS Makeup Color Lust Lip Lacquer:
This is a vinyl-finish lip gloss that covers the lips in color and adds a sparkly yet pearly shine due to the presence of shimmering pigments in it. It gives your lips the fuller, supermodel pout.


9. VS Makeup VS PRO Magic FX Holographic Lip Shimmer:
VS PRO Magic FX Holographic Lip Shimmer is designed especially for the runway. It has high reflective shimmer that catches the light and dazzles with a prismatic effect.
10. Beauty Rush Sparkle Gloss Lip Shine:
This lip gloss gives a flirty pop of color to the lips. Steal the spotlight with this grab-and-go makeup essential!
Susie Coulter is the president of Victoria's Secret Beauty, as per their November 2012 issue. This is the division of the company that takes care of all beauty-related products. Their main division is located in New York City but now they have branched out and have branches worldwide.


*Subject to Availability

The following two tabs change content below.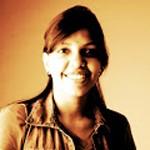 Latest posts by Shruti Goenka (see all)