10 Best Holographic Lip Glosses Of 2023, According To A Makeup Artist
Get the best shimmery and sparkly results instantly to glam up your makeup look.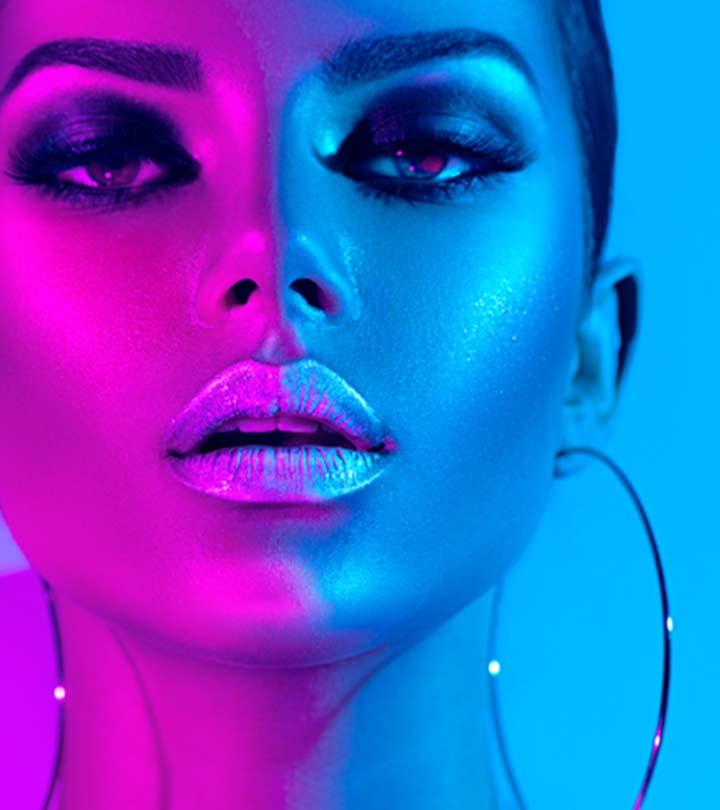 Are you looking for something quirky and unique to wear on your lips while planning to go for an outing with your friends? Then, the best holographic lip gloss is the trend for you. Just a swipe across your lips is enough to make you stand out from the crowd. If you are someone who loves glittery and shimmery makeup items, you must try wearing holographic lip gloss, and you will instantly fall in love with it. It has a whimsical and multidimensional effect that gives you opalescent, magical lips that entirely transforms the way you look.
Nowadays, holographic lip glosses are available in various shades and levels of shimmer and glitter. So, whether you are new to the holographic trend or familiar with these colors, there is something out there for everyone. In this article, we have rounded up the best holographic nail colors that are worth trying. Keep reading to go through the list and take your best pick!
10 Best Holographic Lip Glosses Of 2023 – A Review Guide
"Mirror, mirror on the wall. Who's the shiniest of them all?" The Unicorn Snot Holographic Glitter Lip Gloss is the one that fits this description perfectly. This holographic lip gloss comes in a pretty pink tint and is an oil-based formula that feels lightweight and non-sticky. This vegan and cruelty-free lip gloss is made using cosmetic-grade glitter, making it safe for use not only on your lips but on your face as well. This sparkling lip gloss with a transparent base delivers a high-shine gloss while also moisturizing your lips.
Pros
Can be worn on its own or over lipstick
Can be used on lips and face
Vegan-friendly
Not tested on animals
Safe for use on skin
Cons
The consistency may be too thick or clumpy for some.
Aren't we all left enchanted by prismatic colors? With the L.A. Girl Holographic Gloss Topper, you get to top your favorite lip tint and create a statement all summer-long. This lip gloss is packed with the goodness of aloe extracts, rosehip oil, and vitamin E to help keep your lips conditioned, soft, and supple. Just apply a layer of the lip gloss with color-shifting holographic pigments and leave it to the pigments to their thing and reflect light for a statement-making look!
Pros
Imparts an iridescent finish
Moisturizing
Paraben-free
Goes well over lipsticks and lip tints
Available in 4 colors
Cons
You know how lip glosses can make your lips feel sticky? Well, you can bid goodbye to that feeling with this holographic clear lip gloss from Glossier. This dazzling formula offers what Glossier proudly calls the 'glassy finish' that lasts a long time. Enriched with the wonderfully nourishing properties of jojoba oil and vitamin E, this formulation feels absolutely comfortable to wear all day long, giving exceptional results and a perfect look! Wait, we are not done yet! The doe-foot applicator glides smoothly over your lips to deliver just the perfect amount of product in one sweeping motion.
Pros
Nourishing
Long-wearing
Fuzzy doe foot applicator picks up the right amount of the gloss
Vegan
Cruelty-free
Dermatologist-tested
Cons
Quantity provided may be too little.
For those who prefer a subtle look but also want to try the charm of holographic lip glosses, the Dior Addict Lip Maximizer in the shade "Beige No 013" fits all the criteria. It suits both day and night looks, so if you are looking to transition your makeup from day to night, you are set. The gloss gives a lovely shine to the lips, making them appear plumper and fuller. It is never sticky, so you will not feel like you are wearing something on the lips. It is also long-lasting and spreads easily, so a little product goes a long way. The lip gloss also acts as a primer and helps your lips appear smooth and thoroughly hydrated.
Pros
Easy to apply
Moisturizing formula
Non-sticky
Cons
None
Achieve the fuller and smoother lips that you have always dreamed of with the Wonderskin WONDER BLADING Top Gloss in the version "Holographic." Its glossy finish gives you the perfect reflecting illusion of fuller lips. The holographic effect of the lip gloss lasts for hours and you can even adjust the shine as per your liking as it has a buildable formula. The product is not tested on animals and is lightweight and non-sticky which sits on the lip comfortably and adds a touch of sparkle to your lips. The doe-foot applicator that comes with it carries the right amount of product, making the application process smoother. Also, reviewers on Amazon assert that this product moistens the lips well and leaves a lasting color!
Pros
Lightweight
Ultra-pigmented
Easy to apply
Long-lasting
Vegan
Cruelty-free
Cons
May not be suitable for chapped lips
Go all out and paint the town your own holographic shade with this celebrity-endorsed brand's lip gloss. The Maybelline New York Electric Shine Prismatic Lip Gloss in the shade "Electric Blue." The product is easy to use and gives a brilliant shine to your lips. Just one swipe of the product would give you the stunning iridescent shimmer and is enough to turn heads around. The ultra-smooth gloss is easy to apply as it melts onto the lips without much effort. The product can also be layered over other lip colors!
Pros
Easy to apply
Non-sticky formula
Ultra-smooth application
Cons
None
Use the shine as per your whim with the Almay Goddess Gloss in the version "Angelic" by adorning it solo, mixed, or layered. If you also hate the sticky feeling after applying gloss, this gorgeously glittery gloss is the answer to your prayers. It gives you all the shine, moisturizes your lips, and provides nourishment, all without being sticky. The lip gloss comes with the goodness of nourishing pomegranate, grape, and raspberry oils to repair and prevent any lip damage. The product comes with an easy to use applicator that distributes the shade evenly on your lips.
Pros
Lightweight formula
Non-sticky
Nourishing
Easy to apply
Dermatologist-tested
Fragrance-free
Cons
Have you ever heard of a lip gloss formulated using meteorite powder and twilight pearl? Well, this iridescent lip gloss from MILK MAKEUP is sure to make you and your entire squad fall head-over-heels in love with it! Not only does the holographic glitter lip gloss impart a brilliant shine but it also hydrates your lips. Infused with the natural goodness of avocado oil, mango butter, and coconut oil this lip gloss leaves your lips feeling moisturized. Recreate all of your makeup looks with just one swipe of this lip gloss as it imparts a prismatic color payoff. Also, this one is a favorite among ethically conscious makeup lovers, as it does not undergo any animal testing.
Pros
Prismatic hue
Hydrating formula
Infused with shimmering microparticles, pearls, and meteorite powder for a high shine
Vegan
Non-sticky formula
Cons
The shade may not suit all skin tones.
If you are someone who survives on shimmer when it comes to makeup, the Milani Hypnotic Lights Holographic Lip Topper in the version "Fluorescent" is something you need to get your hands on. This lip topper can amp up any basic lip shade to create the perfect holographic lips with just one smooth swipe. It is made with enchanting prismatic technology and includes light-reflective, iridescent shimmers. Apply at the cupid's bow and work towards the edges for the perfect application. Follow the same pattern for the lower lip. The vibrant colors of this lip gloss make your lips look fuller and are great for all skin tones.
Pros
Iridescent finish
Hydrating formula
Smooth application
Cons
The last product on our list is this set of 6 holographic lip glosses. High on shine, this lip gloss set features a water-based formula that is long-lasting and non-sticky. It is waterproof but does not dry your lips over the course of the day. Offering a sheer finish, this lip gloss delivers a great shine that contours your lips well. The eye-catching lip gloss is easy to apply with the applicator provided and can be removed easily without leaving behind any stains. Since it comes in a set of 6 sparkly shades, you can choose any color based on your mood for the day!
Pros
Lightweight formula
Great color payoff
Sheer finish
Does not make your lips dry
Waterproof
Unique shades
Cons
The finish may be too sheer for some.
*The prices provided in this article are based on the latest available information. However, they may vary due to changes in pricing by the seller and/or promotional offers.
And with that we have come to the end of our list of the 10 best holographic lip glosses this year! Let us now explore a few pointers to keep in mind to help you get the best out of the product you have chosen.
How To Choose The Best Holographic Lip Gloss – A Guide
With so many great holographic lip glosses out there, how do you get one that suits you best? Here a few points that can help you along the way:
Firstly, it is important to acknowledge that sparkles and glitter may not be up to everyone's taste. Having said that, if you really want to jump on the wagon of the holographic trend and pick a lip gloss that has lesser glitter to begin with. For this, you could give RK by KISS Holographic Lip Gloss a try. If you're an experienced player of the game, you could definitely give one of the iridescent lip glosses from MILK MAKEUP or Glossier a try. These are sure to offer the statement-making sparkly payoff that you are looking for.
Always choose holographic glitter for lip gloss that is marked 'cosmetic-grade'. This makes it suitable for regular use on your skin.
Choosing a formulation that nourishes and conditions your lips goes a long way in making sure that your lips are taken care of. Regular use of cosmetic products can leave your skin dry and dull. Therefore, choose expertly crafted lip glosses that leave your lips smooth, hydrated, and supple.
How To Apply Holographic Lip Gloss? 
Now that you have chosen the right holographic lip gloss for yourself, let us get the most of it by knowing how to apply it:
Step 1: Prep your lips by applying a base layer of lipstick or lip primer. This helps the gloss last longer.
Step 2: Take a fair amount of your favorite holographic lip gloss on the wand and apply it to the center of your lips, dragging the wand towards the corners.
Step 3: Using your finger, lightly smudge the gloss over your lips to make sure that it looks even. If you have a light layer of lipstick underneath, take care not to smudge too hard as it may erase the tint.
Also, don't forget to carry your lip gloss with you so that you are not left high and dry, should you need a touch-up along the day.
The Bottom Line
Why Trust StyleCraze?
The author who wrote this article, Srijani Roy Chowdhury, is our in-house makeup enthusiast with a passion for discovering new trends and sharing products that keep you on the craze bandwagon. Holographic lip colors are the newest craze, and she loves it! She searched the internet, perusing many reviews on multiple forums, to find you the most fantastical holographic lip glosses. All these glosses were selected based on their benefits, such as skin-friendliness, finish, skin care benefits, color payoff, and more.
Frequently Asked Questions
What is holographic lip gloss?
A hydrating lip product enriched with nourishing ingredients and micro-glitters is a holographic lip gloss. It can be worn alone or on top of the lipstick of your choice.
What does green lip gloss do?
Green lipsticks react with your skin's pH level and bring out different tones in your lips.
Are lip glosses good for you?
Yes. Lip glosses hydrate your lips and protect them from UV rays, free radicals, and dry wind. They reduce lip inflammation while adding shine to your lips.
Why is lip gloss so popular?
Lip glosses offer a luscious glow to your lips and make them pout-perfect. The product became a sensation in the 90s and remained the crowd's favorite. Celebrities like Angelina Jolie and Kendell Jenner wear lip glosses to fashion events and red carpets.
Which is better, lip balm or lip gloss?
Lip balms hydrate and soften your lips. On the other hand, lip glosses add shine to your lips while nourishing them. Glosses offer a striking appearance to your lips and are better than regular lip balms.
Recommended Articles