The 10 Best Yoga Mats For Tall People Of 2022 – Reviews & Buying Guide
All-around mats that help in aiding yoga and accommodate people of all heights.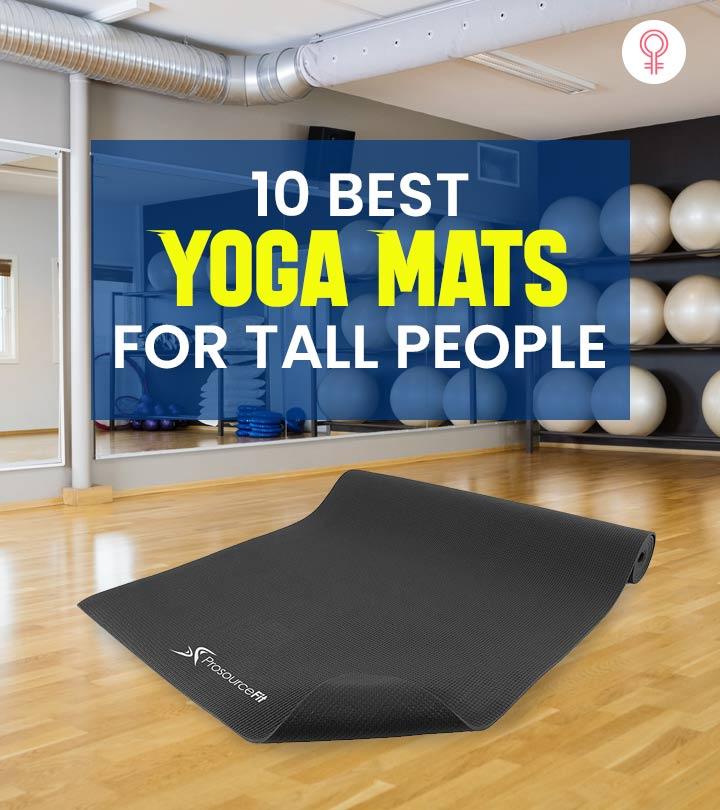 Finding yoga mats for tall people seems like a task when most fall short in length. Regular-sized yoga mats can barely accommodate tall people, so a broader and longer mat is what the tall yogis need. When it is an essential accessory to help one facilitate their yoga practice, it's impossible to do without it. To save you from the hassle of hunting for the right yoga mats, we have curated a list of the best ones for you to ease your practice sessions and offer enough space. Check them out below.
The 10 Best Yoga Mats For Tall People – 2022
The Spoga Premium Exercise Yoga Mat features a two-sided non-slip surface that prevents injury. This mat has a well-designed high-density memory foam that gives you a padded exercise surface that protects your back, arms, knees, and joints. It also allows you to hold on to the ground and provides a balanced grip preventing accidental falls. The non-skid ridges ensure that this mat does not slip when used. Moisture-resistant technology allows this mat to be easily washed with soap and water. This lightweight mat has a simple carrying strap that makes it travel-friendly.
Specifications
Material: Memory foam
Dimensions: 24 x 7 x 6 inches
Weight: 2.6 pounds
Pros
Non-slip
Double side surface
Moisture-resistant
Lightweight
Travel-friendly
Thick material
Durable
Cons
The Cambivo Extra Long Yoga Mat has a 6mm thickness to provide comfort and firmness to yogis. It offers excellent stability while performing asana. This mat is made of high-quality material, giving superior cushioning to eliminate pressure from the joints. It is designed to give you the best yoga experience possible. It has an added layer of reticular fibers (anti-shear mesh) in the middle, making it flexible and durable. In addition, its reverse protruding texture grips prevent slipping and provide stability on solid or soft surfaces. Furthermore, this extra-long yoga mat can be neatly folded for portability.
Specifications
Material: PVC
Dimensions: 84.25 x 29.92 x 0.24 inches
Weight: 5.082 pounds
Pros
Portable
Durable
Extra-long
Water-resistant
Extra cushioning
Tear-resistant
Durable
Stable
Cons
None
The ProsourceFit Classic Yoga Mat features a length of 6-feet while maintaining a standard width of 3mm. It helps you to maintain balance in any yoga position. The textured design enhances its grip and prevents you from falling. Furthermore, it is tear-resistant and easy to clean. It is suitable for any exercise, including high-intensity workouts and pilates. It contains no harmful elements and has a limited lifetime warranty.
Specifications
Material: PVC
Dimensions: 72 x 24 x 0.13 inches
Weight: 1.96 pounds
Pros
Tear-resistant
Anti-slip
Durable
Lightweight
Easy to clean
Phthalate-free
Dioxin-free
Furan-free
Heavy metals-free
Cons
The beautiful Body By Yoga Luxury Cork Yoga Mat is created by trained yogis using high-quality Portuguese cork. This mat is designed to keep in mind three essential features required by any yoga trainee: non-slip, proper cushioning, and minimal maintenance. Its extra-thick padding for knees and elbows offers superior stability and better support while making it super comfortable. The texture of this yoga mat helps in ensuring perfect grip and balance while performing asanas. This easily foldable yoga mat promises durability because of its good quality rubber bottom texture. It is also suitable for all yoga and fitness practices, including hot yoga, pilates, and aerobics.
Specifications
Material: Cork and Rubber
Dimensions: 80 x 26 x 0.2 inches
Weight: 10.05 pounds
Pros
Non-slip
Sweat-resistant
Water-resistant
Excellent padding
Slip-resistant
Durable
Foldable
Cons
Now you can easily convert your home into an outdoor yoga studio with a Pogamat Large Non-Slip Yoga Mat. This yoga mat is suitable for barefoot exercises, stretching, pilates, etc., due to its non-slip back and extra padded surface. The textured pattern of this mat offers cushioning to the body. In addition, the bottom of the mat contains a large honeycomb-like groove that helps the mat stick to any surface. One of the main reasons to buy this mat is that it has no harmful chemicals or materials that might hurt your skin. Furthermore, it has no odor and is made from eco-friendly materials and techniques. Lastly, it is super easy to clean and store.
Specifications
Material: Memory foam
Dimensions: 72 x 48 x 0.31 inches
Weight: 8.4 pounds
Pros
Padded cushioning
Silicone-free
Latex-free
Non-flammable
Phthalates-free
Eco-friendly
Easy to store
Cons
Yoga Direct Extra Long Mat is ideal for tall people to use at home or in the gym. It is made of latex-free, durable foam with a soft, non-slip, high traction, extra-thick mat to provide proper support for yoga, pilates, and other ground-based exercises. This mat measures 1/4-inch in size, 84 inches long, and 24 inches wide. In addition, it can be easily folded and stored after use.
Specifications
Material: Foam
Dimensions: 84 x 24 x 0.25 inches
Weight: 4.2 pounds
Pros
Latex-free
Durable
Non-slip
High traction
Easy to maintain
Foldable
Cons
None
If you are super tall, with long hands and legs, YogaAccessories Extra Long Deluxe Yoga Mat is probably the one you are looking for. This mat has a desirable thickness that offers proper cushioning and support. This mat's material is a high-quality foam that is soft, comfortable, durable, and easy to clean. In addition, it can be rolled up after use. It is both machine and hand washable.
Specifications
Material: Foam
Dimensions: 84 x 24 x ¼ inches
Weight: 3.6 pounds
Pros
Good cushioning
Easily foldable
Comfortable
Easy to clean
Durable
Phthalate-free
Latex-free
Heavy metals-free
Phthalate-free
Dye-free
Cons
Little slippery
Chemical scent
The Aurorae Super-sized Yoga Mat is perfect for yogis looking for a little extra room on their mats. A carrying strap included with this mat makes it easily portable. It also includes a non-slip rosin bag comes that absorbs sweat and provides a better grip. Besides, the package includes a small booklet that gives you instructions on using the mat properly and avoiding slipping while performing asanas. Furthermore, this mat is durable, lightweight, easy to maintain, odorless, and super comfortable. You get a 2 years warranty card attached with the package.
Specifications
Material: PER
Dimensions: 78 x 26 x 0.25 inches
Weight: 4.37 pounds
Pros
Includes carrying strap
Non-slip rosin bag
2 years warranty
Comfortable
Odorless
Durable
Easy to maintain
Comfortable
Lightweight
Cons
Yoga Direct Oversized Yoga Mat is suitable for yoga studios or gyms to accommodate yogis of different sizes. It is also perfect for partner classes or Acro Yoga. This mat is longer and wider than most mats to cover most of the area in your room and is made of durable foam with a high-tack surface that offers grip. These mats can be easily stored, cleaned, and folded after class.
Specifications
Material: Foam
Dimensions: 84 x 36 x 0.25 inches
Weight: 6 pounds
Pros
Easy to store
Foldable
Machine washable
Cons
If you want to perform yoga with a partner in the same yoga mat, AG ActiveGear Yoga Mat is the best choice. The non-slip, good grip, and 8mm thick padding system makes it suitable for all types of exercises, be it pilates, stretching, or other barefoot training. It offers extra cushioning, joint stability, and foam rolling. It is made from premium quality PVC foam, which guarantees longevity. It is an all-rounder mat, features properties like tear-resistance, eco-friendliness, easy to clean, easy to store, waterproof, and has no harmful material content.
Specifications
Material: PVC Foam
Dimensions: 72 x 48 x 0.31 inches
Weight:  8.05 Pounds
Pros
Durable
Waterproof
Non-slip
Tear-resistant
Padding system
Extra cushioning
Eco friendly
Latex-free
Secure grip
Comfortable
Cons
How To Choose The Best Yoga Mat When You're Tall?
1. Material
The yoga mat material decides durability, comfort, and floor gripping. Typically, a yoga mat is made from rubber, PVC, cotton, TPE, jute, sponge, and foam. Here's a quick overview of what these materials have to offer.
| | |
| --- | --- |
| Thin Yoga Mat (1/16 inch or 2mm) | Perfect tree-pose, warrior pose or any balancing pose |
| Standard Thickness (1/8 inch or 3mm) | Suitable for daily yoga |
| Thick Yoga Mats (1/4 inch or 6mm) | Extra cushioning for therapeutic practices |
| Thickest Mat (1/2-inch or 12mm) | Perfect for pilates |
2. Thickness
The thickness of the yoga mat is directly proportional to comfort. Proper thickness allows good cushioning and supports to your joints and muscles. Thin yoga mats may hurt your body while doing asanas, whereas extra-thick mats will detach you from the floor, making it challenging to do poses that require connection to the ground. Here's a thickness checklist for you.
Thin Yoga Mat (1/16 inch or 2mm)
Perfect tree-pose, warrior pose or any balancing pose
Standard Thickness (1/8 inch or 3mm)
Suitable for daily yoga
Thick Yoga Mats (1/4 inch or 6mm)
Extra cushioning for therapeutic practices
Thickest Mat (1/2-inch or 12mm)
Perfect for pilates
3. Size
The ideal length of a yoga mat is 6 x 2 feet dimensions. This size is a standard one, and you can perform any type of asanas or exercise. However, if you are on the taller side of the height spectrum, buy a longer yoga mat, as it will be ideal for people of any weight, height, and age.
4. Traction or Texture
One of the essential features of a yoga mat is grip and anti-slip characteristics. If you need to do a lot of twisting or any high-intensity workouts, then the mat should have an increased level of traction. Likewise, if you are sweating profusely, then an anti-slip texture will be helpful.
5. Travel-friendly
Most carry your yoga mats to different places like vacations, business trips, yoga training centers, etc.; in that case, an ideal yoga mat should be lightweight, foldable, smaller in size, and thinner. In addition, if your yoga mat has a portable strap attached to it, then Bingo!
Yoga mats are found in different sizes, lengths, thicknesses, materials, etc. But, which one should you buy then? It simply depends on the users, their needs, and the type of exercises performed by them. So first, check the above list of the top 10 best yoga mats for tall people, followed by a purchase guide. We recommend the Spoga Premium Yoga Mat as it offers comfort and impact absorption. So, what are you waiting for? Go ahead and choose the best yoga mat for your yoga session.
Why Trust StyleCraze?
Fitness aficionado Aditi Naskar is a certified health and wellness expert. She believes that engaging in yoga is key to a long and healthy life. To curate this list of the finest yoga mats for tall people, she has poured over countless customer feedback online, keeping quality, features, and dimensions in mind. These yoga mats are lightweight, moisture-resistant, durable, and made of thick material that prevents you from injuring yourself and having a stress-free yoga session.
Frequently Asked Questions
Do tall people need a bigger yoga mat?
The standard size of the yoga mat, which is 6 x 2 feet, is used even by tall people. But if you want extra space, then go for bigger yoga mats.
How long is an extra-long yoga mat?
Typically, extra-long yoga mats are 84 inches long.
Who needs an extra-long yoga mat?
Anyone taller than the average person requires an extra-long yoga mat.
What should you not do with a yoga mat?
Use yoga mats only for performing gentle yoga. Do not use these mats for heavy exercise, as the mats may tear or wear out. It is also recommended not to spill food, beverages, or paints on your yoga mat.
How big of a yoga mat do I need?
Use a 68 to 72 inches yoga mat if your height is under six feet. Make sure to purchase yoga mats of 84 inches in length if you are above six feet.
Is a 6mm yoga mat good?
Yes, 6mm yoga mats are extra thick and ideal for people with sensitive joints, knees, and wrists. These mats are also recommended for yoga enthusiasts with serious injuries.
Are all the yoga mats the same size?
No, the sizes of yoga mats range from 24 inches to 84 inches. The standard mats are 24 inches long and 64 inches wide.
Should a yoga mat be as tall as you?
Use a yoga mat that is six or more inches taller than you. The priority is to comfortably use the mat without compromising your yoga poses.
Recommended Articles