10 Best Skirted Leggings That Women Should Try
Add these to your wardrobe for that perfect coverage and comfortable fit.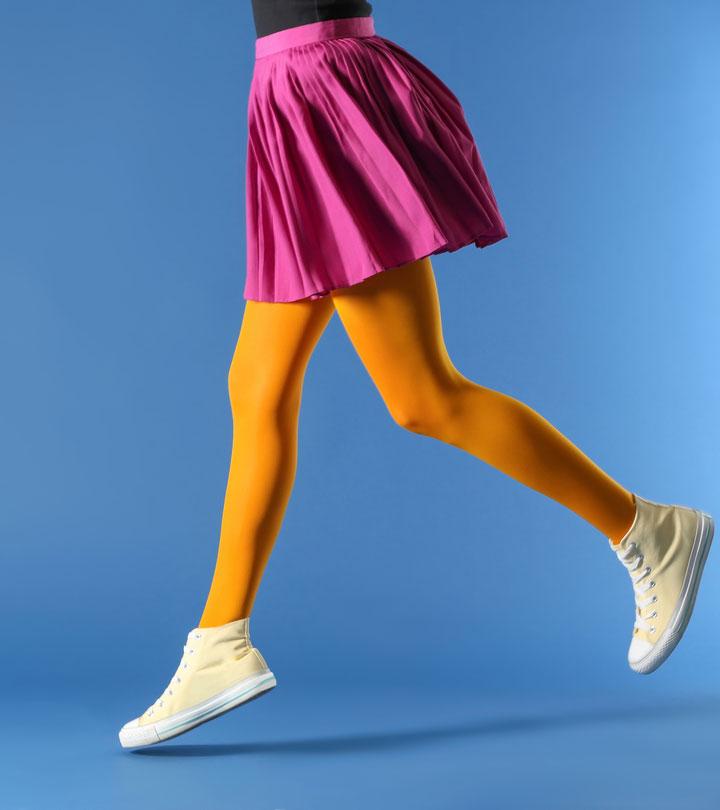 Leggings are now a staple in most of our wardrobes. To step up your fashion game from the basic leggings, you must try the women's skirted leggings. These are uniquely chic and offer more coverage around the hips. These are a perfect combination of comfort and style. Jonathan Bräuner Delfs, a fashion designer explains, "They are especially flattering for women with curvy figures. Skirted leggings can be worn with a variety of different tops and shoes. They can be dressed up or down, depending on the occasion. You can wear them out for a casual fun day or at lunches and parties. The best skirted leggings flatter your body shape and make you appear taller." The market has a wide variety of these in different colors and patterns. To save you the task of having to go through them all, we have compiled a list of the 10 best women's skirted leggings that you can choose from to look fashionable in your next outing.
If you are still confused and unsure, find out more about this bottom wear in the next section. Read on!
What Are Skirted Leggings?
Skirt leggings are a skirt paired up with leggings. They feature quality fabric that is stretchable enough to provide a perfect fit that flatters all body shapes. It lets you dress up modestly and feels a bit warmer than either skirts or pants. And the best part is it can be paired with pretty much any top or tee to make the outfit incredibly cool and stylish.
10 Best Skirted Leggings For Women
These skirted leggings from Anivivo are the best choice for sports enthusiasts and gym-goers. The soft and comfortable polyester-spandex blend fabric of these flared skirted leggings offers unbeatable comfort and stretches for free movement during your gym sessions. The flared fabric gives you all-around coverage without being sheer. These ankle-length leggings come with a high-waisted band for tummy control that renders an elegant and sleek look.
Pros
 Non-see-through fabric
 Lightweight
 Breathable
 Moisture-wicking
 Stretchable
 Side pockets
 Tummy control
Cons
Price at the time of publication: $32.37
These skirt leggings from ChinFun are made of a polyester-spandex blend that makes them super-lightweight and comfortable. The super-breathable fabric ensures temperature control and keeps the body cool during extensive physical activities indoors and outdoors. They are easy to put on and off and allow you to bend or move with ease. They come with a high waistband that prevents muffin-top and renders a slim look. The pressed flat seams to reduce irritation and chafing. So if you have been looking for skirted leggings for traveling, then these should surely be on your list!
Pros
 Skin-friendly
 Non-sheer fabric
 Chafing-free seam
 Soft fabric
 High elastic waistband
 Breathable fabric
 Quick drying
Cons
Price at the time of publication: $16.99
Your hunt for solid casual stretchy skirt leggings ends here with Heyhun's Ruched Skirt Leggings. These lightweight athleisure leggings are made of polyester and spandex that keep you warm while providing the right amount of stretch to bend or move freely. Thanks to its snug fit, the skirted leggings offer unbeatable tummy control while accentuating your silhouette. These skirted leggings are ideal for casual wear as well as some fancy brunches.
Pros
 Ultra-soft fabric
 Tummy control
 Lightweight
 Breathable
Cons
Price at the time of publication: $24.99
This pair of skirted leggings from HiDance are a perfect bottom wear for high-motion activities. Its excellent craftsmanship features triple-thread stitching that allows free movement during activities without tearing or pilling. Moreover, the breathable and stretchy fabric ensures soft and comfortable wear with a great fit for all body shapes. Unlike the usual skirt leggings, this pair has a skirt made of chiffon that is designed asymmetrically that makes it a unique fashion choice. These plus-size skirted leggings cater to all sizes and will ensure you a snug fit and utmost comfort.
Pros
 Super soft
 Comfortable
 Durable seam
 Breathable
 Stretchy
 Stylish design
Cons
None

Price at the time of publication: $11.99
The fashionable and stylish seamless skirt leggings from Kurve are a must-have. They are made of nylon-spandex blend and feature a super soft, comfortable, and smooth texture with a seamless finish that feels like a second skin. The fabric is highly breathable and keeps you cool even during workouts. Its unique Mynx Fiber offers four-ways stretch, ensuring free movement and a fit look. These skirted leggings with a slimming effect are unlike any other traditional skirt leggings as they offer UV protection as well. Its seamless design, oversized knit, great flexibility, vibrant color varieties, and aesthetically pleasing look make it ideal for all purposes and occasions.
Pros
 Breathable fabric
 Lightweight
 UV protection
 Ultra-comfortable
 Super stretchy
 Moisture-wicking
 Slim fit
Cons
Price at the time of publication: $29.99
From golf, tennis, and dancing to skating, you can trust these skirt leggings from Silmour. The polyester fabric material provides great stretchability and freedom of movement during extensive activities, making these skirted leggings ideal for an active lifestyle. Its non-sheer fabric is breathable, quick-drying, and offers compression to cover muffin top. Besides, its moisture-wicking fabric keeps you cool after long hours of workouts. These skeggings come with panel pockets, an elastic waistband to avoid slipping off, and an adjustable hidden drawstring.
Pros
 Super soft
 Moisture-wicking
 Great fit
 Good compression
 Breathable
 Good elasticity
 Stretchy
 Good stitching
 Non-sheer
Cons
None

Price at the time of publication: $24.99
Try out these excellent bottom wear from White Mark that screams high fashion with utmost comfort. These skeggings are made of rayon and spandex and feature a soft elastic waistband. The premium quality fabric material is super stretchable and provides freedom of movement during your fitness sessions. From casual daily wear to athletic bottom wear, these are a perfect fit for all.
Pros
 Slim fit
 Lightweight
 Stretchy
 Super soft
 Comfortable
 Stylish
Cons
None
Price at the time of publication: $27.99
Sort your fitness wear with these skirt leggings from Dear Sparkle. This flattering zip-closure bottom wear is the perfect sportswear. It features a four-way stretchable fabric that allows free movement. These skirt leggings are made of high-performance fabric that is breathable, moisture-wicking, and non-sheer and provide good coverage while keeping you cool. Moreover, these pants come with one hidden pocket with cable entry space for headphones and two waistband pockets for storing cash or keys. Thanks to its camel toe protection, you can focus on your fitness without getting unwelcoming stares.
Pros
 High-performance
 4-way stretch
 Breathable
 Non-sheer fabric
 Moisture-wicking
 Camel toe protection
 Comes with pockets
Cons
Price at the time of publication: $24.95
The women's skirt leggings from Bibblelime are made of a nylon-spandex blend that is non-sheer, soft, breathable, and provides UPF 50+ sun protection lining shields you from UV damage. The moisture-wicking helps in maintaining body temperature without irritating or chafing the skin. Its functional design features a high waist, inner drawcord, and pockets. The A-line design and ruffle hem render an appealing look by flattering your curves.
Pros
 Soft
 Flexible
 Durable
 Lightweight
 Moisture-wicking
 Breathable
 Non-sheer
 UV protection
 Tummy control
Cons
None
Price at the time of publication: $28.99
The mini skirt leggings by Fashionomics are made of the best quality polyester and spandex fabric that allows a four-way stretch and fluid drape for free movement. Its pull-on style elastic waist gives an adjustable and comfortable fit for all-day wear. The jersey knit fabric has a brushed face that enhances its visual appeal and accentuates your look. These yoga skirt leggings are great casual wear that matches pretty much any top.
Pros
 Machine washable
 Super soft
 Four-way stretch
 Perfect fit
 Value for money
Cons
Price at the time of publication: $21.5
If you are a beginner and know not what to look for before buying a skirt legging, then check out the buying guide below.
How To Choose The Best Skirted Leggings?
 Fabric: Soft, breathable, and moisture-wicking fabric would be best for workouts and sports. These materials maintain your body temperature and keep you cool during exercises, making them the ideal skirted leggings for running and other physical activities. For lounging at home, choose soft cotton and lycra skirted leggings.
 Styles: Skirted leggings are available in different styles, including full-length, ankle-length, or capris. You can pair full-length skeggings with a crop top and boots to create a high-fashion look. For your gym look, take a pair of skirted capri leggings and add a moisture-wicking top to the mix.
 Pattern: Solid, striped, and checkered are the most common skirt leggings available. Solid colors go well with any outfit and are perfect for all occasions. You can also try striped or checkered ones if you want to experiment with your looks and go trendy.
 Features: Skeggings with features like pockets, high waistband, and contoured seams add to your convenience and comfort.
Why Trust StyleCraze?
Baishali Bhattacharya, the author of this article, is a certified image consultant who loves reviewing fashion and clothing. After thorough research, she has curated this detailed list of the best skirted leggings. She went through numerous reviews on multiple online forums and brand websites to help you pick the perfect options for you. The products listed in this post come in several colors and patterns in lightweight and breathable fabrics.
Frequently Asked Questions
Are skirted leggings comfortable?
Most skirted leggings are made of cotton-polyester blend or spandex-nylon blend that makes them breathable and super comfortable.
What are the most supportive leggings?
Skirted leggings that are made of polyester, nylon, or high elastane fabric offer four-way stretch, ensuring effective compression without sacrificing mobility, making them the most supportive leggings. They provide great support during your exercises or other activities.
What are the best women's leggings?
Stretchable skirted leggings made of breathable and moisture-wicking fabric are undoubtedly the best. They absorb sweat exceptionally fast and keep you cool from within.
Are skirted leggings in style?
Yes, skirted leggings are back are currently a trend. They combine comfort and style in one legwear and are loved by many.
What shoes to wear with skirted leggings?
Skirted leggings look good with different kinds of footwear. Pair it with sneakers, knee-high boots, loafers, or heels to complete your look.
What to wear with skirted leggings?
Skirted leggings look attractive with many kinds of tops. Pair the skirted leggings with a long-sleeve sweater, tunic long-sleeve top, or cropped tank top and create a fashion statement.
Do leggings look good with skirts?
Yes. Leggings look stylish with skirts. They enhance the look of the outfit and increase their comfort level.
How to wear skirted leggings?
The different ways to style skirted legging are –
• Wear a casual tee and a denim jacket. Pair them with a sneaker. Also, wear a simple pendant necklace.
• Wear a crop top and a black jacket. Add a stylish touch to your feet with classic heeled boots. Accessorize with a necklace, bracelet, and statement clutch.
• During the winters, style your skeggings with puffer vests and lace-up boots. Accessorize with a simple gold stud and a handbag.
What should you not wear with leggings?
Skip wearing bodysuits, going-out tops, and dresses with leggings. These do not complement the leggings and look unflattering. In addition, avoid wearing flip-flops with leggings.
Recommended Articles