13 Skirts With Pockets Of 2023 That Are All-Season Staples
Accentuate your style game while keeping your essentials safe with secure clothing.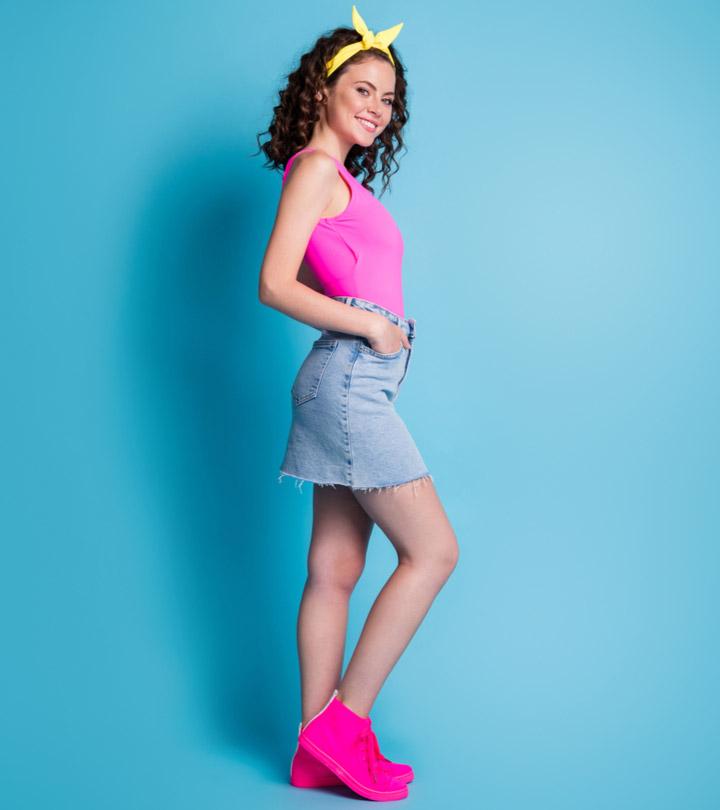 We would be lying if we said pockets were not the first thing we check every time we shop for a new outfit. Women have been robbed of functional pockets in their dresses and even pants for ages, but some brands have decided to break the code and give us what we've been clamoring for all along — skirts with pockets! If you like being hands-free everywhere you go without having to carry all-time essentials in a bag, we have rounded up some all-season staples that let you do just that.
Skirts with pockets are must-haves in the wardrobe, be it for stowing away essentials or simply warming your hands when the temperature drops. Given the many, many options from polka dots and flared to A-line, it's safe to say we've got your upcoming season OOTDs covered. So, get ready to twirl and flaunt your chic style with our list of the 13 best skirts with pockets.
13 Best Skirts With Pockets To Blend Fashion And Function
Pros
 Elegant design
 Lightweight fabric
 Ultra-comfortable•
 Great for all seasons
 Available in multiple colors and patterns
Cons
 Material may cling slightly during summer
Price at the time of publication: $31.89
Pros
 Versatile design
 Super-comfortable
 Conceals tummy area
 Available in multiple prints and colors
Cons
 Might be slightly bulky for petite women
If vintage clothing has your heart like it does ours, you are bound to fall in love with this one. The pleated and polka dotted knee-length skirt with pockets comes in vivid colors and has a versatile aesthetic. Besides awakening your chic and feminine vibe, the A-line skirt has a beautiful flare that'll make you want to twirl at every opportunity you get. It also has a zipper closure for a snug fit. And lest we forget, it has pockets!
Pros
 Lightweight
 Comfortable
 High-quality fabric
 Roomy pockets
 Available in multiple colors
Cons
Price at the time of publication: $25.99
Sporty, chic, and super-comfortable, this skirt is a favorite among women who despise wearing tights underneath or love to show off their athletic side. Made of polyester, spandex, and rayon, these breathable skorts come with 2 functional pockets and are non-see-through, not to mention ultra-soft on the skin. But what makes them unique is the drawstring closure and the internal drawcord, which ensure a customizable and secure fit. So, if you are planning a trip to the golf or tennis court, or even the beach, these sport skirts with pockets would be an ideal choice.
Pros
 Stretchy fabric
 Skin-friendly
 Moisture-wicking
 Available in multiple colors
Cons
Price at the time of publication: $26.99
Pros
 Soft and durable
 Breathable
 Lightweight fabric
 Cute button-down design
 Available in multiple colors
Cons
 Might need ironing before each wear
Price at the time of publication: $25.99
Pros
 Durable
 Lightweight
 Pull-on design
 Ultra-comfortable
 Available in multiple colors
Cons
Price at the time of publication: $21.49
Plaid skirts are already winter favorites, but with this one, you also get pockets! Add it to your smart-casual OOTDs when that time of the year arrives and get ready to be showered with compliments. This high-waisted and mid-calf-length skirt is made of blended wool and has PU leather side pockets to keep you warm. For those who want to add more than one to your winter collection, you get over 30 colors and prints to choose from!
Pros
 Snug, breathable fit
 Comfortable design
 Easy pull-on closure
 Available in plus sizes
Cons
Price at the time of publication: $34.99
Floral lovers, this skirt will make you feel like a veritable orchard and brighten everyone's day! Exuding elegance in its print and twirl-worthy silhouette, this high-waisted skirt is a great choice for day and evening wear. Aesthetic and functional, it has 2 pockets to hold your essential items, not to mention a zipper closure that keeps it snug and secure around your waist. The fabric is a blend of cotton and spandex, so there's a bit of stretchability and a whole lot of breathability. The fact that it's available in plus sizes is a huge bonus for the brand.
Pros
 Comfortable
 Versatile
 Secure fit
 Breathable
 Available in multiple prints
Cons
Price at the time of publication: $26.99
If you like big pockets, you'll love this high-waisted and ultra-cozy skirt by SweatyRocks. Just what you need to look summer-ready and chic, these versatile and high-waisted skirts with pockets are made of 100% cotton to keep you cool on hot days. Pair the skirt with a tank, casual, or Bardot top, and get ready to seize the day with style! As for comfort, it has an elastic waistband that gives you a secure and snug fit.
Pros
 Durable and lightweight
 Easy pull-on design
 Breathable material
 Available in multiple colors and sizes
Cons
 Might need ironing before each wear
Price at the time of publication: $36.89
Pros
 Relaxed fit
 Cotton blend fabric
 Easy pull-on style
 Available in multiple colors
Cons
 Might be slightly long for some
Price at the time of publication: $21.9
Oozing pure elegance in every twirl, this skater midi skirt with pockets has a minimalist A-line design that is grace personified. The skirt features a relaxed silhouette to provide an overall flattering look no matter what you pair it with. Made of polyester and spandex, the waistband has an elasticated fit along with gentle pleats that give you the right amount of flare. Great for formal wear, the skirt looks classy with casual tops, too.
Pros
 Stretchy and durable
 Comfortable fabric
 Structured pleats
 Available in multiple colors
Cons
Travels and adventure-filled getaways are incomplete without a boho maxi skirt. What makes this one different from most? The pockets, of course! In addition to being ultra-comfy and convenient, the skirt is made of 100% rayon that comes with enough stretch and breathability to let you frolic in it all day long. We also love the fact that these travel skirts with pockets are so lightweight, you can barely feel them on you.
Pros
 Relaxed fit
 Breathable
 Machine washable
 Available in multiple prints
Cons
 Some may find it slightly long.
Pros
 Stretchy fabric
 Easy movement
 Roomy pockets
 Machine washable
 Available in multiple prints and plus sizes
Cons
Price at the time of publication: $30.99
There you go! Those were the 13 best skirts with pockets of 2023 that you must browse through this season. If you need more assistance or shopping tips, check out our buying guide below.
How To Choose The Best Skirt With Pockets
Choosing the right size is imperative if you want to enjoy a glamorous flare and silhouette. You can even check the reviews and comments to figure out if you need to size up or down.
Check the material and its suitability to the weather you are planning to wear it in. Summer skirts are made of polyester or cotton for a breathable experience, but they might give you the chills in winter. So, inspect the material before buying.
Not all skirts are machine washable. Not maintaining them as instructed can ruin the pleats or the overall silhouette. So before buying, check if the maintenance or washing instructions are feasible for you for the best experience.
How To Wear Skirt With Pockets
The best thing about skirts is, they are incredibly versatile. Whether they have a princess-cut or a relaxed silhouette, you can pair them with any top and they'll look just right. But if you ask us, they look great with tank tops, Bardots, turtle necks, and formal shirts, too. Are you planning to wear one in winter? Throw an overcoat with your turtleneck and plaid skirt and watch yourself transform into an upper-east side fashionista instantly!
Frequently Asked Questions
Can skirts have pockets?
Yes, skirts can have pockets. But not all skirts do.
Do jean skirts have pockets?
No, not all denim skirts have pockets.
Why are female skirt pockets so small?
It is believed that women already carry purses and bags which cancels the whole point of providing pockets in the skirts. The small pockets are more of a decorative piece than anything useful.
Are skirts in Style 2023?
Yes, skirts are very much in style right now. From mini to full-length, women wear them all the time as a style statement.
Are maxi skirts still in for 2023?
Yes. Thanks to the supermodels, maxi skirts are still in style.
What is an office skirt called?
An office skirt is known as a pencil skirt.
When did women's clothing have pockets?
Women's clothing had pockets during the 17th century. Gradually, they are making a comeback now.