9 Best Korean Sunscreens For Acne-Prone Skin
Get sun protection without aggravating your acne-prone skin with the right skincare essentials at hand.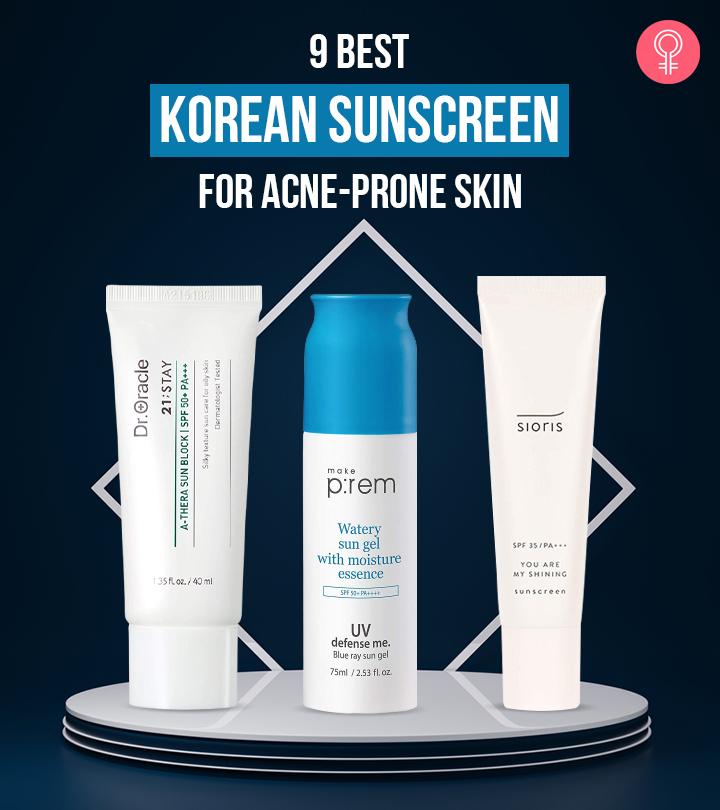 People with oily or acne-prone skin usually avoid wearing sunscreens, as they are greasy and heavy and tend to clog pores. Here is a tip! Find the best Korean sunscreen for your acne-prone skin. Most Korean moisturizers are non-greasy and lightweight, exactly what oily skin needs. They help control shine and regulate excess sebum production.
But why should you even use sunscreen? Contrary to popular belief, sunscreens are not just for a bright, sunny day. You have to wear them every day to prevent your skin from harmful UV rays and reduce the risk of sunburns, premature aging, and skin cancer. To help people with acne-prone and oily skin, we have listed a few of the best lightweight sunscreens in this article. Take a look!
9 Best Korean Sunscreen For Acne-Prone Skin
The Dr.Oracle 21; Stay A-thera Sun Block SPF 50+ Pa+++ provides all-round UVA and UVB protection to keep your skin safe and damage-free. Its soothing and irritation-free formula deeply hydrates the skin, leaving behind a cooling sensation upon application. This high-protection sunscreen is formulated with skin-nourishing ingredients like Lock'n Pore Complex and Maca Peptide that relax, moisturize, and hydrate the skin. Celtic water helps regulate sebum production while soothing the skin and keeping the pores clean. Besides, bamboo water relaxes and calms tired skin.
Pros
Lightweight
Leaves no residue
Hypoallergenic
Prevents inflammatory
Prevents dryness
Dermatologically tested
Cons
Price at the time of publication: $18
The Sunprise Mild Watery Light SPF50+/PA+++ sunscreen from Etude House has a lightweight formula specially crafted for acne-prone and sensitive skin. This sunscreen gel has a skin-caring formula that glides smoothly over the face to offer a fresh and clean finish. It is equipped with SPF50+ PA+++ to provide broad-spectrum UVA and UVB protection without causing breakouts. This mineral-based sunscreen contains Carex humilis root, aloe, and portulaca extracts to protect the skin against sun damage. The hydrating agents like cactus and hyaluronic acid moisturize the skin, while Centella asiatica and mistletoe soothe it. Soft acai berry and acerola improve skin vitality, while sunflower seeds and dwarf ground sedge extract provide UV protection. Click here to check out a detailed personal review of this product.
Pros
Lightweight
Clean finish
Skin-friendly formula
No white cast
Formula does not oxidize
Prevents breakouts
Non-sticky
Cons
Price at the time of publication: $15.99
Experience flawless skin with Force Shield Superlight Sunscreen SPF 30 from Hero Cosmetics. It is a great everyday SPF 30 sunscreen for acne-prone skin as it is packed with zinc oxide, green surge, and extrapolates, which don't cause damage. It is a non-comedogenic sunscreen that will give you a smooth texture and won't clog pores. This sunscreen is packed with superlight zinc oxide to regularly protect your skin from UVA/UVB rays. It is a weightless gel cream that is very hydrating and absorbs quickly without making your skin greasy. This broad-spectrum formula is reef safe, clinically tested, and non-irritating even on sensitive skin.
Pros
Fragrance-free
Silicone-free
Non-irritating
Non-comedogenic
Clinically-tested
Reef safe
Non-greasy
Long-lasting
Best for sensitive skin
Cons
Not suitable for dark skin
Price at the time of publication: $19.99
Mary&May CICA Soothing Sun Cream SPF 50 PA++++ is a triple-function Korean sunscreen that offers protection against UVA and UVB rays, fights against wrinkles, and brightens the skin. It absorbs quickly like a moisturizer and provides an amazing finish for the makeup. It is packed with ingredients like vitamin C, cica, and essential amino acid-rich fermented yeast, to calm the skin and strengthen the skin barrier. Hyaluronic acid from safe plant-based white wood mushrooms in this sunscreen has a potent moisturizing effect and improves skin cells' ability to retain moisture. It is a perfect everyday broad-spectrum sunscreen without any white cast.
Pros
Non-irritating
Vegan
All ingredients EWG Green Grade
Cruelty-free
Reef-safe
Vegan
No Streak
No white cast
Pleasant fragrance
Cons
None
Price at the time of publication: $19.99
IUNIK Centella Calming Vegan Moisture SPF 50+ PA++++ is a quick-absorbing formula that effectively protects against harsh and damaging UVA and UVB rays. It has a soft gel-like texture that applies smoothly without leaving a greasy behind. It dries fast and leaves no white cast, making it a perfect base for your makeup. This sunscreen is reef-safe and great for all skin types, including sensitive, dry, and oily skin. It has gone through various clinical trials to ensure the quality of its products. This multi-functional sunscreen is free from harmful or allergic ingredients.
Pros
Easy to apply
Soft texture
No white cast
Beta-glucan
Non-irritating
Fragrance-free
Non-sticky
Non-greasy
Suitable for all skin types
Reef-safe
Clinically-tested
No harmful ingredients
Absorbs quickly
Cons
Can sting around eyes sometimes
Price at the time of publication: $16.99
The ACSEN UV Protector is a lightweight sun essence with a watery texture that is the ideal sun protection. This unique product is a great option for sensitive skin, acne, and uneven pigmentation. This sunscreen isn't sticky or greasy and doesn't leave a white cast. It is infused with various actives and soothing ingredients that help hydrate and nourish the skin. Its formula also works as a great primer for makeup.
Pros
Lightweight
Broad spectrum
Non-greasy
Non sticky
Hypoallergenic
Repairs and strengthens the skin
Cons
None
Price at the time of publication: $55
A'pieu Sun Cream with SPF 45 and PA+++ offers protection against UVA and UVB rays of the sun. This broad-spectrum sunscreen has a creamy texture that keeps your skin soft and supple without leaving any white cast. The formula gets absorbed quickly and contains ingredients like aloe vera, watermelon extract, and berry blossom complex that helps to keep your skin hydrated. It has a lightweight texture that blends smoothly over the skin and does not leave sticky residue post-application. Click here to check out a detailed personal review of this product.
Pros
Quick-absorbing formula
Non-sticky
Non-greasy
Does not leave a residue
Matte finish
Dermatologist-tested
Lightweight
Shine-free
Cons
Price at the time of publication: $11.0
This soothing sun cream from Cosrx is a lightweight moisturizer that leaves your skin soft and gentle. Enriched with SPF50 and PA +++, it protects your skin from stress and environmental damage. The fast-absorbing formula moisturizes the skin without leaving it greasy. With the goodness of aloe leaf extract, it keeps your skin hydrated for a radiant look. This gentle formula needs to be applied generously 30 minutes before heading outdoors for complete protection.
Pros
Lightweight
Non-sticky
Non-greasy
Moisturizes the skin
Soothes the skin
No white cast
Cons
Price at the time of publication: $15.38
Missha Soft Finish Sun Milk is a double-layered UV blocker that protects your skin even in humid weather conditions. It contains a Natural Barrier Complex and Antozone rose extract that nourishes your skin and keep it hydrated. Enriched with glycofilm 1.5p and helichrysum flower water, it protects your skin from free radical damage and keeps it calm. This skin-protecting formula has SPF 50 and PA +++ to offer broad-spectrum UV protection. It does not leave any oily residue, even in high humidity conditions.
Pros
No white cast
No oily residue
Skin corrector
Hydrating formula
Brightens the skin
Cons
Price at the time of publication: $16.5
Managing acne can be a tough task especially while choosing the right sunscreen product. Here are some important factors to consider before buying a Korean sunscreen for acne-prone skin.
Things To Consider Before Buying AmKorean Sunscreen For Acne-Prone Skin
Skin Type: Some sunscreens may cause skin breakouts with skin sensitivity. Choose a product that suits your skin and does not cause side effects such as irritation and inflammation. The choice of Korean sunscreen creams will vary if your skin type is dry or oily. Opt for oil-free, gel sunscreens for oily or combination skin and cream or lotion-based for dry skin.
Formulation: Choose Korean sunscreens that are lightweight and do not feel too heavy on the skin. Such creams don't leave additional residue nor do they clog the pores. Choose a cream that absorbs quickly while gliding smoothly over the face offering a fresh finish.The best sunscreens offer deep and long-lasting hydration on the skin. They prevent dryness and breakouts on the epidermis which is one of the major reasons for frequent acne.
SPF Strength: Dermatologists recommend an SPF of 30 and above which is perfect for daily exposure to UV rays. If you are out in the sun for a longer duration, then advisable to pick a sunscreen with broad spectrum coverage with SPF 30-50. Also, choose products that are sweat and water -resistant, for the best results.
Ingredients To avoid: Read the label cautiously and avoid certain ingredients in sunscreens like avobenzone and oxybenzone that are harmful for the body, and Retinyl Palmitate known as vitamin A, which when exposed to the sun can be cancerous.
Additional Benefits: Sunscreen creams offer prevention against harmful UV radiation that can damage skin cells. Buy Korean sunscreen for acne-prone skin certified by experts to protect you against both UVA and UVB radiations. This will ensure that you are safe against the harmful effects of acne creation, skin damage, and also premature aging. Ensure that your sunscreen contains all essential ingredients like SPF 50+, homosalate, and octocrylene to offer full-proof protection.
Sunscreen plays an important role in protecting your skin from sunburns, premature aging, and cancer. Listed above are the best Korean sunscreens for acne-prone skin that ensure optimum sun protection without irritating and further harming the skin.
Why Trust StyleCraze?
The author of this post, Shiboli Chakraborti, is a qualified skincare coach who uses her in-depth knowledge and attention to provide reviews and best product suggestions to her readers. After completing a considerable study and reading various internet reviews from credible sources, she has prepared a list of the best Korean sunscreens for acne prone skin. Each of the featured goods includes a detailed description as well as pros and cons to help you shop!
Frequently Asked Questions
Are Korean sunscreens reliable?
Yes. Korean sunscreens have become increasingly popular because of their unique formulation that protects your skin against sunburns.
Can sunscreens prevent breakouts?
Yes! Sunscreens protect your skin from harmful UV rays and reduce exposure to free radicals that can worsen acne and signs of aging. In addition, sunscreens also help treat uneven skin tones and reduce the redness of the skin.
Does putting sunscreen on acne make it worse?
No. Sunscreen does not cause acne. However, there are s few sunscreens contain ingredients that can worsen acne and clog your pores. Use a non-comedogenic sunscreen to avoid such skin issues.
Can I skip moisturizer and use sunscreen?
Yes. If you are using a moisturizing sunscreen, you can skip the moisturizer. Always use a sunscreen that has SPF 30 and above. Reapply your sunscreen (which is also your moisturizer, in this case) every 2 hours.
What happens when you wear sunscreen every day?
Wearing sunscreen every day will protect your skin from harmful sun rays and prevent premature aging and sunburns. It can even reduce the risk of skin cancer!
Recommended Articles