9 Best Korean Sunscreens For Acne-Prone Skin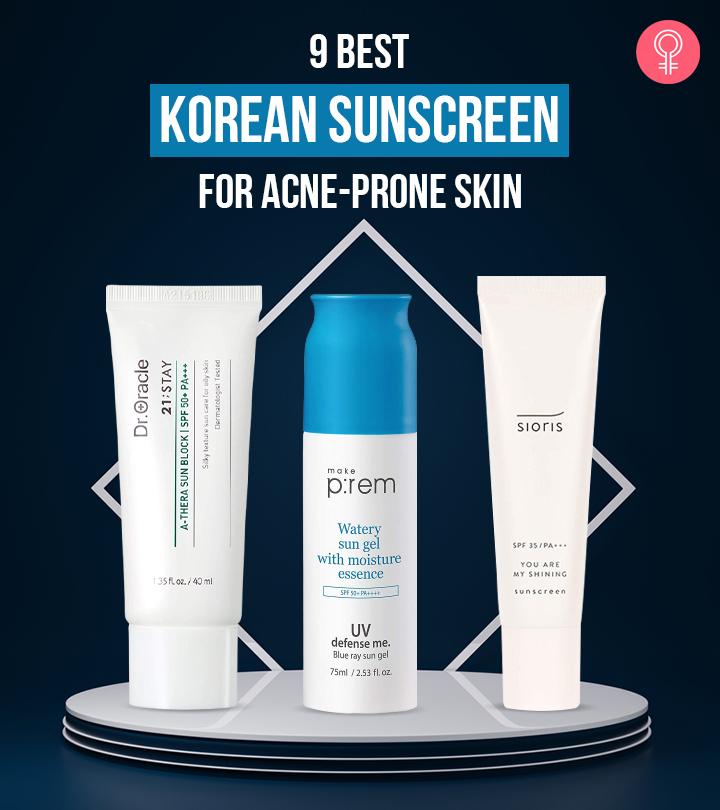 People with oily or acne-prone skin usually avoid wearing sunscreens, as they are greasy and heavy and tend to clog pores. Here is a tip! Find the best Korean sunscreen for your acne-prone skin. Most Korean moisturizers are non-greasy and lightweight, exactly what oily skin needs. They help control shine and regulate excess sebum production.
But why should you even use sunscreen? Contrary to popular belief, sunscreens are not just for a bright, sunny day. You have to wear them every day to prevent your skin from harmful UV rays and reduce the risk of sunburns, premature aging, and skin cancer. To help people with acne-prone and oily skin, we have listed a few of the best lightweight sunscreens in this article. Take a look!
9 Best Korean Sunscreen For Acne-Prone Skin
The Dr.Oracle 21; Stay A-thera Sun Block SPF 50+ Pa+++ provides all-round UVA and UVB protection to keep your skin safe and damage-free. Its soothing and irritation-free formula deeply hydrates the skin, leaving behind a cooling sensation upon application. This high-protection sunscreen is formulated with skin-nourishing ingredients like Lock'n Pore Complex and Maca Peptide that relax, moisturize, and hydrate the skin. Celtic water helps regulate sebum production while soothing the skin and keeping the pores clean. Besides, bamboo water relaxes and calms tired skin.
Pros
Lightweight
Leaves no residue
Hypoallergenic
Prevents inflammatory
Prevents dryness
Dermatologically tested
Cons
The Sunprise Mild Watery Light SPF50+/PA+++ sunscreen from Etude House has a lightweight formula specially crafted for acne-prone and sensitive skin. This sunscreen gel has a skin-caring formula that glides smoothly over the face to offer a fresh and clean finish. It is equipped with SPF50+ PA+++ to provide broad-spectrum UVA and UVB protection without causing breakouts. This mineral-based sunscreen contains Carex humilis root, aloe, and portulaca extracts to protect the skin against sun damage. The hydrating agents like cactus and hyaluronic acid moisturize the skin, while Centella asiatica and mistletoe soothe it. Soft acai berry and acerola improve skin vitality, while sunflower seeds and dwarf ground sedge extract provide UV protection.
Pros
Lightweight
Clean finish
Skin-friendly formula
No white cast
Formula does not oxidize
Prevents breakouts
Non-sticky
Cons
Make P:rem UV Defense Me Daily Sun Fluid is an innovative product that uses both mineral and chemical components to protect the skin against UV rays. While the chemical blockers decompose the UV rays, the mineral blockers deflect the harmful rays of the sun to give you complete sun coverage. It contains moisturizing ingredients like hyaluronic acid and moringa seed oil that hydrate the skin. Houttuynia cordata extract soothe inflammation and irritation, while Marrubium vulgare and Gossypium herbaceum extracts nourish the skin.
Pros
Non-sticky
Contains chemical and physical UV blockers
Skin-safe ingredients
Non-irritating
No white cast
Can be layered under makeup
Reef-safe
Cons
May cause drying
May cause a burning sensation
Sioris You Are My Shining Sunscreen is a gentle sunscreen with an effective formula that includes non-nano physical UV ray blockers. These blockers deflect the harmful rays of the sun to protect the skin from damage. It further helps in soothing the skin while supplying essential nutrition without leaving behind any residue. This broad-spectrum sunscreen offers optimum sun protection from both infrared and UV rays and reduces the chances of sun damage. The organic ingredients like plum water and rosanic essence provide vitality and shine to dull skin. It helps in calming and soothing the skin. Organic avocado, which is rich in vitamins and minerals, protects and hydrates the skin.
Pros
Controls shine
Matte finish
Prevents irritation
Natural white-tone effect
Reef safe
Cruelty-free
Mild fragrance
Cons
Troiareuke Acsen U.V Protector Essence is a lightweight sunscreen for oily, acne-prone, and sensitive skin. Its hydrating, quick-absorbing formula is infused with SPF50+ PA+++ that offers protection from harsh and damaging UVA and UVB rays. Due to its non-sticky texture, this sunscreen can be worn under makeup. The moisturizing biosaccharide gum, soothing Centella asiatica extract, along with hydration-boosting Portulaca oleracea extract heal and nourish the skin back to health.
Pros
Lightweight
Non-sticky
Gets absorbed quickly
No white residue
Non-irritating
Dermatologically tested
Cons
This is another fantastic sunscreen from the house of Make P:rem. The Blue Ray Sun Gel is specially designed for sensitive skin. It is enriched with SPF50+ and PA ++++ to give your skin maximum protection from the sun's harmful UV rays. Its hydrating formula is fortified with stem cells of Rubus arcticus, which help to remove impurities from your skin. It gets quickly absorbed into your skin and does not leave any white cast.
Pros
Lightweight
Anti-aging
Multifunctional
Moisturizes the skin
No white cast
Cons
A'pieu Sun Cream with SPF 45 and PA+++ offers protection against UVA and UVB rays of the sun. This broad-spectrum sunscreen has a creamy texture that keeps your skin soft and supple without leaving any white cast. The formula gets absorbed quickly and contains ingredients like aloe vera, watermelon extract, and berry blossom complex that helps to keep your skin hydrated. It has a lightweight texture that blends smoothly over the skin and does not leave sticky residue post-application.
Pros
Quick-absorbing formula
Non-sticky
Non-greasy
Does not leave a residue
Matte finish
Dermatologist-tested
Lightweight
Shine-free
Cons
This soothing sun cream from Cosrx is a lightweight moisturizer that leaves your skin soft and gentle. Enriched with SPF50 and PA +++, it protects your skin from stress and environmental damage. The fast-absorbing formula moisturizes the skin without leaving it greasy. With the goodness of aloe leaf extract, it keeps your skin hydrated for a radiant look. This gentle formula needs to be applied generously 30 minutes before heading outdoors for complete protection.
Pros
Lightweight
Non-sticky
Non-greasy
Moisturizes the skin
Soothes the skin
No white cast
Cons
Missha Soft Finish Sun Milk is a double-layered UV blocker that protects your skin even in humid weather conditions. It contains a Natural Barrier Complex and Antozone rose extract that nourishes your skin and keep it hydrated. Enriched with glycofilm 1.5p and helichrysum flower water, it protects your skin from free radical damage and keeps it calm. This skin-protecting formula has SPF 50 and PA +++ to offer broad-spectrum UV protection. It does not leave any oily residue, even in high humidity conditions.
Pros
No white cast
No oily residue
Skin corrector
Hydrating formula
Brightens the skin
Cons
Sunscreen plays an important role in protecting your skin from sunburns, premature aging, and cancer. Listed above are the best Korean sunscreens for acne-prone skin that ensure optimum sun protection without irritating and further harming the skin.

Why Trust StyleCraze?
The author of this post, Shiboli Chakraborti, is a qualified skincare coach who uses her in-depth knowledge and attention to provide reviews and best product suggestions to her readers. After completing a considerable study and reading various internet reviews from credible sources, she has prepared a list of the best Korean sunscreens for acne prone skin. Each of the featured goods includes a detailed description as well as pros and cons to help you shop!
Recommended Articles