The 9 Best Differin Products To Try In 2022
Bid farewell to acne with these skin-restoring and gentle ingredients of these formulas.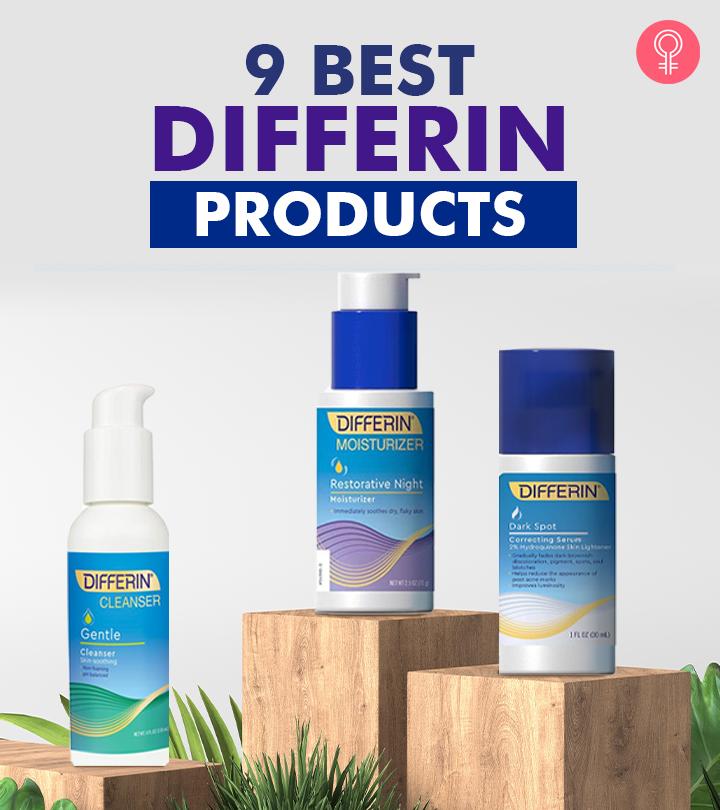 If you have been suffering from acne and pimples, it is time to try a 'Differin' treatment method. Here, we have listed the best Differin products that work magic on the above skin issues. Adapalene, a prescription-grade version of retiuse, was first introduced by Differin.
Differin Gel 0.1% was approved for acne treatment by the FDA in 2016. Soon, it became a hot favorite among women across the world. Differin's reasonable price range makes it different from other brands. In addition, the efficacy of their products has been known to minimize inflammation and provide you with clear, blemish-free skin in no time. So, what are you waiting for? Check out our top picks from their range.
Top 9 Differin Products Of 2022
Note: Do not use Differin products with AHAs and BHA or any other acne medication.
The Adapalene Gel 0.1% by Differin clears breakouts and prevents further growth, helping to restore skin complexion, tone, and texture. This gel normalizes skin cell turnover and targets acne inflammation and clogged pores. This water-based formula contains 0.1% adapalene, a form of retinoid that reduces inflammation, risk of hyperpigmentation, and acne scarring. The product is FDA-approved, has proven efficacy, and is well-tolerated. Take a look at this video to learn more about the product.
Caution: The product may cause skin purging. If you have sensitive and dry skin, consult a doctor before using it.
Key Ingredient: 0.1% Adapalene
Pros
Anti-inflammatory
Oil-free
Alcohol-free
Fragrance-free
Non-comedogenic
Works on hormonal acne
Dermatologist approved
Cons
None
The Differin Daily Deep Cleanser contains 5% benzoyl peroxide and is formulated for sensitive skin.  This dual-action deep cleanser has a micronized formula that penetrates deep into the skin and regulates excess oil and sebum production. It kills acne-causing bacteria in the pores to reduce inflammation and prevent future breakouts without drying the skin. This dermatologist-developed formula is great for daily use.
Key Ingredient: 5% Benzoyl Peroxide
Pros
Pleasant scent
Suitable for sensitive skin
Micronized formula
Dermatologist-developed
Soothes adult acne
Cons
May irritate the skin initially
The Differin Dark Spot Correcting Serum contains 2% hydroquinone that gradually fades post-acne marks, hyperpigmentation, spots, and blotches to improve skin tone. This serum is infused with antioxidant-rich sea buckthorn berry oil that soothes the skin and citric acid that renews and brightens the skin surface. The gel-like formula blends well under and helps improve skin luminosity. It is gentle and safe for daily use.
Key Ingredient: 2% Hydroquinone
Pros
Pleasant fragrance
Moisturizing
Paraben-free
Non-comedogenic
Dermatologist tested
Gentle
Suitable for all skin types
Cons
The Differin Oil Absorbing Moisturizer With Sunscreen contains broad-spectrum SPF 30 that protects your skin from UV damage. It has a lightweight, non-comedogenic, and oil-free formula developed with Micro Pearl Technology that absorbs surface oil and gives a matte finish. The moisturizer uses Oleosome Technology that keeps the skin hydrated without any irritation. This non-greasy product is perfect for oily skin.
Key Ingredients: Avobenzone, Octisalate, and Octocrylene
Pros
Offers sun protection
Lightweight
Hydrating
Dermatologist-developed
Non-greasy
Non-comedogenic
Hypoallergenic
Fragrance-free
Cons
Avobenzone may irritate the skin.
The Differin Restorative Night Moisturizer is a hydrating formula containing hyaluronic acid, allantoin, and ceramides. The hyaluronic acid helps the skin retain moisture, ceramides restore the skin and nourish it from within, and allantoin soothes dry and flaky skin. It also contains shea butter and licorice extract that further soothe and calm the skin and keep it plump and radiant. Watch this YouTuber's honest review to get a better idea about the product and its features.
Key Ingredients: Hyaluronic acid, Allantoin, and Ceramides
Pros
Fragrance-free
Non-comedogenic
Non-greasy
24-hour moisture lock
Pleasant fragrance
Dermatologist-developed
Cons
The Differin Gentle Cleanser has a non-foaming and pH-balanced formula, perfect for sensitive skin. This daily cleanser does not contain soaps, fragrances, and any active ingredients that might irritate sensitive skin. The hypoallergenic formula rinses off easily and protects the natural moisture barrier, leaving the skin feel smooth, soft, and healthy. This non-irritating formula is dermatologically tested and safe for daily use.
Key Ingredients: Water and Cetyl alcohol
Pros
Suitable for sensitive skin
Gentle cleanser
Dermatologist-tested
Hypoallergenic
Mild
Soap-free
Cons
Contains parabens
Contains SLS
The Differin Daily Refreshing Cleanser has a clinically proven formula that gently cleans sensitive skin without drying and irritating it. This low-lather and pH-balanced formula contains Pro-Vitamin B Complex that nourishes the skin, panthenol to calm and soothe the skin, and glycerin to keep it moisturized and improve its texture. It smoothly removes dirt, pollutants, and oil from the skin surface, making it feel clean, balanced, and refreshed. The cleanser is suitable for oily and sensitive skin.
Key Ingredients: Pro-Vitamin B Complex, Panthenol, and Glycerin
Pros
Non-comedogenic
Fragrance-free
Low lather formula
Soothing
Clinically proven
Gentle on skin
Non-irritating
Cons
The Resurfacing Scar Gel by Differin is a breakthrough innovation that promotes cell turnover and visibly improves the appearance of post-acne scars and uneven skin tone. The peptides present in the gel firm the skin and make it healthy, and the bakuchiol and seaberry oil soothe the skin and strengthen the natural moisture barrier. The gel softens the appearance of scars and other skin imperfections to improve skin texture. It is dermatologist approved and suitable for all skin types. This video will give you a better insight into the product.
Key Ingredients: Peptides, Bakuchiol oil, and Sea Berry oil
Pros
Softens acne scars
Improves uneven skin tone
Moisturizing formula
Non-irritating
Fragrance-free
Non-comedogenic
Paraben-free
Dermatologist tested
Suitable for all skin types
Cons
May not improve ice pick scars
The Differin Detox + Soothe 2-Step Treatment Mask has a self-warming and cooling formula that helps detoxify the skin, reduce excess sebum, minimize pore appearance, and improve clarity. Step one is a face mask containing kaolin clay, hectorite, and Hotflux. This mask draws out impurities and excess oil from the skin and detoxifies it. The next step is a gel formula containing blue tansy oil and allantoin that minimize pores and redness and moisturize the skin.  This gel layer should be left overnight. The face mask is dermatologically tested and is suitable for all skin types. For best results, use it thrice a week.
Key Ingredients
Step 1: Kaolin clay, Hectorite, and Hotflux
Step 2: Blue Tansy oil, Licorice extract, and Allantoin
Pros
Paraben-free
Non-comedogenic
Smoothens the skin
Suitable for all skin types
Dermatologist-tested
Cons
Why Trust StyleCraze?
The author, Shiboli Chakraborti, is a certified skin care coach and has carefully curated the list of the best Differin products in this post. She went through numerous product specifications and user feedback available on multiple online forums and brand websites to help you pick the best skin care formulas offered by the brand. The products recommended in this list minimize inflammation and provide you with clear, blemish-free skin in no time.
Frequently Asked Questions
Is Differin a good product?
Yes, Differin contains adapalene, a type of retinoid and a proven ingredient to fight acne, scars, and blemishes.
Should I moisturize before or after using Differin gel?
Use a moisturizer after 30-40 minutes of applying Differin gel.
Can other products be used along with Differin products?
Avoid using AHAs, BHA, retinol-based products, and any other acne medication along with Differin products.
Can you put the Differin gel all over your face?
Yes. Apply the Differin gel all over your face to get rid of acne-related signs.
Can I use a Differin product under my eyes?
Yes, but do not put a Differin product under your eyes directly. Since the skin around your eyes is too delicate, consult your dermatologist before putting on any product.
Does Differin work for wrinkles?
Yes, Differin works for wrinkles, acne, and other aging signs.
Recommended Articles