15 Best Blushes for Fair Skin – Summer 2023 Guide
Bring out your cheekbones and achieve that natural, subtle rosy glow effortlessly!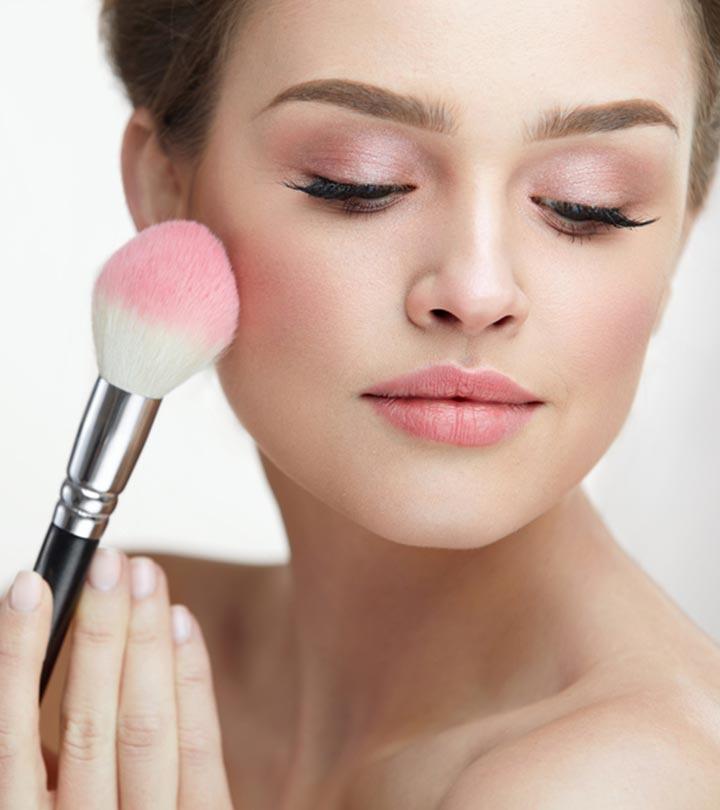 Blush helps to make your skin look healthier and youthful. However, choosing the best natural blush for fair skin might be intimidating as too little color may make you look washed out, and an excess may make you look like a doll.
Your makeup isn't complete until you apply blush on your cheeks. If you pick a random blush shade for light skin, that might make you look too bold or may give you a patchy finish. Sheer coverage, sparkle, and glow are the factors that can also be considered while picking the right blush shade.
Selecting the right fair skin blush that blends well on the skin gets too tedious. This is why we bring you a list of the 15 best blushes that go well on fair skin. Check them out below!
15 Best Blushes for Fair Skin – Summer 2023 Guide
A natural shimmer that blends into the skin beautifully is what every girl looks for in a baked blush. The product is infused with the best ingredients in the market and is brought to you sunbaked on terracotta tiles. A peachy orange shade that mimics a natural flush is one of the best coral blushes for fair skin tones with pink undertones. It adds just a hint of luminosity to your makeup that can make all the difference. Paula Heckenast, a renowned makeup and hair artist says, "Apply bronzer directly over your blush to give the appearance for glow from within." The powder blush is available in 12 other different shades, which makes it a desirable product for all makeup lovers. It is definitely a great product to add to your must-buy list.
Pros
Round-the-clock durability
Richly-pigmented
Highly-buildable
Easily-portable
Certified Cruelty-free by Peta
Cons
A light hand while application is preferred as it's too soft and creamy.
Price at the time of publication: $7.97
Going the minimal way while wearing makeup for summers is trending the charts. Covergirl Cheeker brings out a natural-looking color with a slight sprinkle of shimmer that takes the look a notch higher. A gentle formula of natural ingredients like talc, oat, mineral oil, seed oil, kaolin, etc used to build the product is dermatologist-tested for safer use with all types of skin. Natural rose pink blush is the hot favorite for girls with fair skin tone as the application of too much or too little of it gives you two diametrically opposite looks. What's best is that a sheer swipe of this rigorously tested rose blush for fair skin tones with a very light hand goes on to stay intact for long hours.
Pros
Highly-pigmented and blends well
Easily portable mini compact
Inexpensive
Long-lasting
Cons
Very fragile and breaks into pieces if not used with a soft hand
Price at the time of publication: $4.87
A flush of warm colors upon the cheeks and you are all set for that perfect night out. Jane Iredale's Pure pressed blush does not only highlight your face but brings about a natural glow upon the features that define your mood for the day. This warm-toned blush for fair skin is available in 13 different shades and gives a picture-perfect finish. It flaunts a large range of the latest shades that will surprise you every single time. Best complementing fair and light skin tones, this sheer Barely Blush shade makes the cheeks look as pretty as a cotton candy and manages to look good on darker skin tones as well.
Pros
High-quality long-lasting colors
Highly-pigmented
Easily-portable
Cruelty-free
Cons
Expensive
Does not blend too well
Price at the time of publication: $32.0
What's so special about this sassy hue that radiates extra glow on every pretty face? Well, it is devoid of all the harsh chemical products like paraben, artificial colors, synthetic fragrance, and many more which makes it completely safe on sensitive skin. Made of organic ingredients such as red tea, white tea, sea kelp, aloe vera, and pomegranate, this one flushes your face naturally making the skin look ageless. Highlight the apples of your cheek with this sudden pop of color from the best mauve blush for fair skin.
Pros
For chemically sensitive skin
Infused with organic ingredients
Natural shades that blend easily
Gluten and talc-free
Cruelty-free
Cons
Price at the time of publication: $12.74
Ace the summer look with a blush palette that gives your skin a healthy glow. With Neutrogena's Healthy Skin Powder blush, the non-greasy shimmery combo brings some dimension to the face and adds depth to your fresh and trendy look. The rosy color that is advisable for girls with fair to medium skin tones is already a hot favorite. Its soft and blendable texture, best suited for sensitive skin, is easy to dust across the cheeks; so much so that you can't get enough of it. Wear this simple yet spunky palette for parties or office meetings to amaze everyone.
Pros
Blends evenly
Highly-pigmented
Dermatologist-tested
Enriched with vitamin C
Matte finish for oily skin
Cons
Not as shimmery as it looks
Not very pigmented
Price at the time of publication: $6.37
The Wet n Wild Color Icon Blush Powder Makeup is a must-have product in your makeup collection. It has a wide range of gorgeous shades, perfect for adding a pop of color to your cheeks and creating a fresh, radiant look. The smooth, blendable formula of this powder blush applies evenly and effortlessly, leaving your skin with a natural-looking flush. The highly pigmented formula ensures long-lasting wear, so you can enjoy your radiant cheeks all day long with minimum retouches. With its smooth formula and long-lasting wear, this powder blush is an affordable and accessible option for any beauty enthusiast.
Pros
Long-lasting
Buildable color
Smooth texture
Blends effortlessly
Cruelty-free
Gluten-free
Fragrance-free
Dermatologist-tested
Cons
None
Price at the time of publication: $3.28
What's so special about True Match's powder blush? Its soft and fine texture blends smoothly on the cheeks making them look bright and glowing. The shade leaves you with a sheer bouncy blush and the most natural flush of color for your fair skin tone and undertone. Sweep it on the areas where the sun hits the face naturally and watch the contouring create the magic. A brush comes along with a tiny mirror inside the packaging which adds to the excitement further and allows you to pull off a celebrity-inspired makeup look in no time.
Pros
Blends evenly
High pigmentation
High on quality
Healthy color for the skin
Inexpensive
Oil-free and non-comedogenic
Cons
Use with a light hand as the cake is easily breakable.
Price at the time of publication: $7.86
So many shades all at the price of one! What can be more exciting than that? This multi-colored blush palette with shades suited for every skin tone is just the right amount of mix and match. A natural contour with the right combination of colors stays intact for long hours just so you don't have to fret much about touch-ups. Made from the best Italian talc, the shades promise a perfect blend and are considered the best concealers for combination skin. They offer a luminous and natural finish that stays all day long and adds a professional touch to your look. Recommended as a must-try for those crazy funky outings!
Pros
Ingredients include the best quality Italian talc.
Hypoallergenic
Fragrance and oil-free
Non-comedogenic
Dermatologist approved
Cons
A mix of too many colors can be confusing for first-time users.
Price at the time of publication: $12.99
Looking for a matte blush for oily skin? Try Gen Nude blush for its cushiony, powdered texture that draws out all the oil from the skin providing a soft focus on the highlighted features. Given how makeup lovers die for some quotient of drama, a light dab of this matte product would turn your face into looking like a dream. So, wake up your inner diva with the velvety soft touch of this expertly crafted blush locked by a sudden burst of color.
Pros
Oil-free
Fragrance-free
High pigmentation
Gives a matte finish to every look
Cons
Does not come with a brush
Price at the time of publication: $19.89
Looking for makeup colors for fair skin? A Shy Pink hue rich of all-natural ingredients is ideal for a fair to medium complexion. Made with the goodness of bamboo, honey, jojoba seed oil, soybean oil, alumina, silica, and many other natural ingredients, this one is a dream combination for people who are a stickler for products that are taken from the lap of nature. Available in two other beautiful shades for all skin tones and types, it blends perfectly on those gorgeous-looking cheeks making it look as natural as ever. Share it, gift it, use it, suggest it to your entire squad, and make them fall head over heels in love. 
Pros
Devoid of parabens, phthalates, SLS, petrolatum, or synthetic fragrances
Made of mineral oil
Highly-pigmented
Blends easily
Infused with vitamin E
100% natural
Dermatologically tested
Cons
The packaging is done using plastic which is not environment friendly.
Price at the time of publication: $8.99
For an instant pop of colors upon the cheeks, Honest Beauty Crème Cheek Blush is your one-stop destination. Infused with naturally derived fruit extracts from apple, raspberry, and grape, the creamy and soft blush falls upon the skin and makes it feel like heaven. Be it a regular or a special day, go all out with the color for those great selfie moments.
Pros
Devoid of petrolatum, mineral oil, and synthetic fragrances
Paraben and talc-free
Hypoallergenic and Dermatologist-approved
Cruelty-free
Portable
Cons
Not ideal for someone looking for a powder blush
Price at the time of publication: $10.95
With 4 shimmery shades all in one palette, this rare combination of pink and apricot blush is one of a kind. Now your cheeks will look completely different for all occasions making a distinct mark every single time. Lift your mood and get yourself this combination of matte, shimmery, dark, and light palette which is extremely soft and powdery for skin that is a combination of dry and oily. Define your look this summer and enhance your timeless beauty with this shimmery blush that is the hottest piece in the market today.
Pros
Palette with 4 different shades
A mix of both matte and shimmery shades
High on pigmentation and buildability
Cruelty-free
Vegan
Cons
Very delicate so must be handled with a soft hand
Price at the time of publication: $8.0
The feel of a powder and the texture of cream— that's what gel blushes are made of. A blush as versatile as this suits all skin types and caters to makeup enthusiasts all around the world. Let your skin feel the lightweight powder-gel formula of this sheer blush blush that blends beautifully making you look naturally ravishing. The travel-friendly packaging that the product boasts is a plus as you can carry it for business trips, holidays, kitty parties, and many more. Use a stippling brush for an even blend of color along the cheekbones.
Pros
Gel powder formula for all skin type
Melts easily on the skin
Easily blendable
Highly-pigmented
Long-lasting
Cons
Price at the time of publication: $12.99
One of the best natural blushes for fair skin with a slight tan, this one is the product of your dreams. A blush mainly preferred during summers, makes the cheeks look like that of a 10-year-old— soft and plump! Ideal for creating various looks, the silky formula is user-friendly and adored by the fashionista inside every girl. So hurry and grab your Bobbi Brown Blush if you want your cheeks to look like they have been outside on a chilly day.
Pros
High-end brand promising high quality
Looks natural on application
Stays on the skin for long
Blends seamlessly
High on pigmentation
Cons
Does not look as bright after application
Expensive
Price at the time of publication: $23.75
What more do you need when a blush promises to last for over 12 hours? This amazingly long-lasting beautiful blush is clinically proven to ensure 12-hour wear and does more. Enhancing the complexion with the solar-baked hue, it makes the face look radiating and natural, all at one go. Infused with essential vitamins and crafted with Amazonian clay, the blush provides the exposed skin with the right amount of hydration and oil production. Last on the list though, but has the most number of makeup users with light, dark or olive skin tone vouching for it. If you are still unsure, look for unbiased reviews before investing in this product.
Pros
Lightweight and creamy in texture
Stays on the face for 12 hours
Made of Amazonian clay
Vitamin E and C infused
Solar baked blush
Cons
Price at the time of publication: $29.0
Now that we have discussed some of the best soft blushes for fair complexion, let's take a look at what points must be kept in mind while choosing the perfect blush for your skin tone.
How To Find The Right Blush Color For Your Skin Tone
Skin color determines what shade would look best with the complexion. Someone with fair skin color must go for light colors like baby pink and coral while wheatish and dark skin colored girls must go for darker shades like rose pink, deep peach, apricot, and deep rose, brick, or plum, respectively.
The skin type plays the most important role in deciding the brand or product one wants to opt for. Soft and smooth products are always better than harsh and patchy ones which might affect your skin adversely. People with oily skin must go for powder blushes while cream-based blushes are best suited on dry skin. If you do not have the scope for testing the product, make sure to check customer reviews and feedback to understand if it will suit your skin type.
Your skin undertone can be either warm, cool, or neutral. To add depth to the cheeks, you need to pick up a blush that is opposite to your undertone. If you have a neutral undertone, most shades of blush will suit you.
Different types of blushes are available on a variety of bases, namely cream-based, powder-based, liquid-based, or oil-based. Powder and cream-based blushes are ideal for normal to oily skin whereas oil-based or liquid blushes suit dry to normal skin.
Why Trust StyleCraze?
The author, Srijani Roy Chowdhury, is a beauty and makeup enthusiast. She went through several customer testimonials, product reviews, and brand websites before shortlisting this list of the 15 best blush shades for fair complexion. Whether you want a matte blush for fair skin or a dewy one, these blushes are sure going to add that healthy tint of color to your cheeks.
Frequently Asked Questions
What is the best blush color for fair skin tone?
People with light undertones of pink or yellow must always go for lighter shades of pink, coral, and peach. Fairer skin tones look completely natural with coral and pink shades and slightly colorful with peach.
Can blush be used for contouring techniques?
The answer to that question is yes. Blush can be used for contouring techniques. However, one must be mindful of how much or how little they need to apply as it could go wrong both ways.
How much blush should I apply?
Blush is meant to strategically heighten your cheekbones and highlight your features by giving it sharp cuts. It all boils down to the structure of the face that determines the amount of blush. Start with a little blush powder and eventually build upon it according to your requirement.
How can I make my blush last longer?
All the blush brands mentioned above mostly last for longer hours. To keep them longer than the usual, apply a base or primer before highlighting your cheeks with a powder or cream blush.
Does peach blush look good on fair skin?
Peach blush for fair skin works beautifully on a face with yellow or pink undertones. It highlights the features with a sudden pop of color.
What's a good blush for fair skin with cool undertones?
The Bare Minerals Gen Nude Blush is ideal for people with fair skin. This blush for cool undertones imparts a velvety soft focus on the highlights of your face.
Can fair skin wear red blush?
Yes, red blushes complement all skin colors. If you have fair skin, use a red blush on the apples of your cheek to get that flushing glow.
Which benefit blush is best for pale skin?
The Milani Baked Blush, Jane Iredale Pure Pressed Blush, and Neutrogena Healthy Skin Powder Blush Makeup Palette are some of the best blushes for fair skin. They are richly pigmented and impart a long-lasting, natural-looking finish.
Recommended Articles: