11 Best Expensive Body Lotions To Moisturize Your Skin – 2023
Premium formulations to pamper, nourish, and protect your natural skin barrier.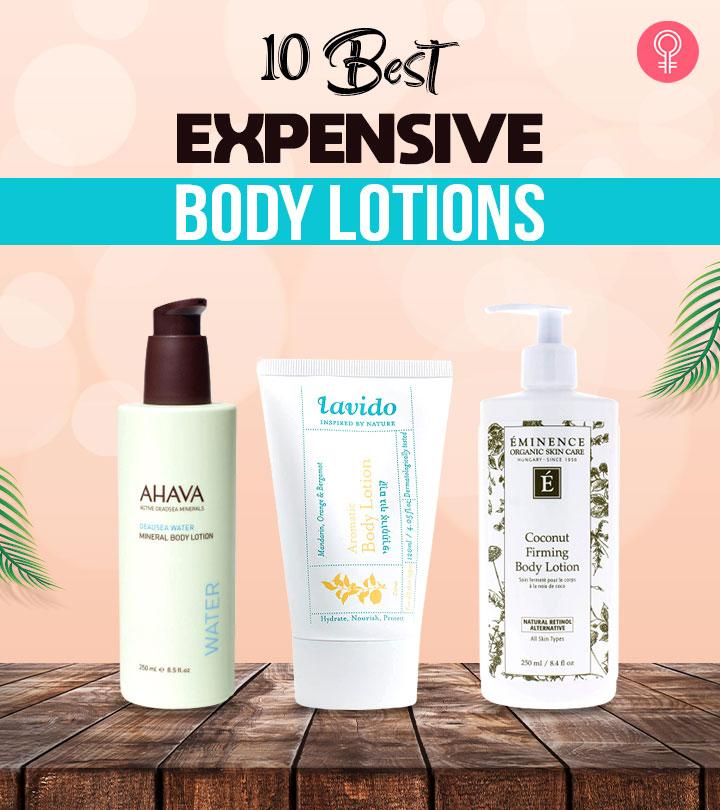 While drugstore products work just fine, there's no denying the benefits you get from luxury skincare. This is why investing in expensive body lotions is never a bad idea. With these products, you can treat yourself to healthy formulations that will not only prove great for your skin but also restore all the moisture lost and cleanse the pore impurities deeply. Instead of feeling too greasy or sticky, they will also ensure your skin remains smooth and supple. Infused with skin-loving ingredients like shea butter, glycerin, aloe vera, vitamins, minerals, and more, they are safe to use. Not only this, they have luxurious, aromatic scents that ensure you smell like a fresh bouquet. To help you get the perfect one for your skin type, we've listed the best expensive body lotions of all time.
11 Best Expensive Body Lotions In 2023
The Ahava Dead Sea Water Mineral Body Lotion is loaded with 21 essential minerals like magnesium, calcium, and potassium to nourish itchy, dry skin and maintain its softness. The moisturizing formula is enriched with nutrient-rich Dead Sea water, aloe vera, and witch hazel that soothes skin texture, add moisture and nourishes it. The lightweight formula is non-greasy and absorbs quickly, ensuring long-lasting hydration. The allergy-tested formula makes it suitable for sensitive skin as well.
Key Ingredients: Dead Sea water, Witch Hazel, and Aloe vera
Pros
Hypoallergenic
Vegan
Absorbed quickly
Non-greasy
Natural ingredients
Paraben-free
Cons
None
Price at the time of publication: $31
The dermatologically tested Lavido Aromatic Body Lotion is formulated with organic ingredients. Its active ingredients, such as shea butter and jojoba oil, hydrate, rejuvenate, and form a protective barrier on your skin. Other essential oils like mandarin, orange, and bergamot oils infused in the lotion improve the skin tone and have antibacterial properties which protect the skin. It also balances your skin's moisture content and makes it look smooth and radiant. In addition, the blend of oils has a soothing fragrance that invigorates the senses and uplifts the mood.
Key Ingredients: Mandarin, Orange and Bergamot oils, Shea butter, and Jojoba oil
Pros
Calming fragrance
Vegan
Paraben-free
Silicon-free
Mineral oil-free
Propylene glycol-free
Synthetic dye-free
Cons
None
Price at the time of publication: $34
The Le Labo's Rose 31 body lotion channels the perfumer's artistry into premium skincare and gives a full fragrance sensation with each stroke. It aims to transform the well-known Grasse Rose, a representation of voluptuousness and unrestrained femininity, into an assertively virile scent that can be worn by both men and women. This body lotion contains vitamin E, vitamin A, aloe vera, coconut, and olive oil which softens and smoothes your skin. Rose, cumin, cedar, and amber are just a few of the exotic ingredients that make up this one-of-a-kind fragrance. These notes combine to create a warm, spicy, and woodsy perfume that is both delectable and unforgettable. It will adorn its user day and night, making them feel confident and mysterious.
Key Ingredients: Vitamin E, Shea butter, White tea extract, Olive leaf extract, Aloe vera, and Coconut
Pros
Long-lasting
Paraben-free
Cruelty-free
Vegan
Cons
None
Price at the time of publication: $64.56
The Replenix Retinol Body Lotion has a potent delivery method that ensures maximal penetration and unrivaled results. It has a tempting combination of all-trans-retinol and edelweiss flower to help lift and tighten skin visibly while enhancing skin tone and texture. The anti-aging skin cream formula promotes healthy collagen formation, which helps decrease the appearance of cellulite. It reduces the look of sagging, and the skin appears brighter, smoother, and firmer.
Key Ingredients: Bio-Mimicking ceramides, Proprietary green tea polyphenol technology, All-trans retinol, Edelweiss flower, and Fractionated hyaluronic acid
Pros
Dermatologist-developed
Good fragrance
Best for dry skin
Cruelty-free
Gluten-free
Paraben-free
Fragrance-free
Cons
Price at the time of publication: $93
The Malin + Goetz Vitamin B5 Body Lotion has a lightweight formula that gets quickly absorbed without leaving any residue. It is formulated with pro-vitamin b5 and essential fatty acids, which offer instant and long-lasting hydration. Further, grapeseed and avocado oils nourish the skin and increase collagen, improving the skin's elasticity. It makes skin radiant and softer.
Key Ingredients: Provitamin B5, Essential fatty acids, Grapeseed, and avocado oil
Pros
Long-lasting
Suitable for all skin types
Lightweight
Value for money
Cons
Price at the time of publication: $36
The Natural Shielding Lotion has a highly lightweight formula that absorbs instantly and promotes healthy skin. Unlike other brands that provide temporary relief from dry skin, this Skin MD lotion creates a protective shield on the skin surface, protects it from environmental damage, and leaves it feeling hydrated all day. The non-comedogenic formula is infused with arnica flower extracts and chamomile extracts that have anti-inflammatory benefits and reduce eczema and psoriasis. In addition, the oil-free lotion is infused with aloe vera and vitamin E, which moisturize and revitalize your skin.
Key Ingredients: Aloe Vera, Vitamin E, Arnica, and Chamomile
Pros
Non-comedogenic
Hypoallergenic
Vegan
Fragrance-free
Colorant-free
Oil-free
Cruelty-free
Cons
None
The Eminence Organic Skin Care Coconut Firming Body Lotion is an organic formula that ensures firm and plump skin while minimizing the appearance of fine lines and wrinkles. It is enriched with coconut milk and coconut water that nourishes and soothes your skin. Other natural ingredients infused in the formula include hyaluronic acid derived from the marshmallow plant. It restores your skin's lost resilience and radiance. Green apple stem cell rejuvenates skin cells and improves the appearance of your skin.
Key ingredients: Coconut water & milk, Hyaluronic Acid, Green apple stem cell
Pros
Non-sticky
Non-greasy
Get absorbed quickly
Natural ingredients
Cruelty-free
Paraben-free
Phthalates free
SLS-free
Propylene glycol-free
Cons
Price at the time of publication: $25.29
The Kai Body Lotion has a scented formula infused with shea butter which hydrates and restores the skin's elasticity. It also contains safflower seed oil that lightens the complexion. Its anti-inflammatory properties treat pimples and acne. In addition, vitamins A, C, and E act as antioxidants and protect your skin against sunburn. It is also loaded with comfrey extracts that reduce inflammation, promote the growth of new skin cells, and give you healthy-looking skin. Moreover, the lotion is enriched with cucumber and ivy, which combat premature aging. Finally, it has white exotic floral notes with fresh green overtones, which will surely invigorate your senses.
Key Ingredients: Safflower seed oil, Shea butter, Vitamins A, C, & E, Comfrey extracts, Cucumber, and Ivy
Pros
UV protection
Vegan
Floral fragrance
Paraben-free
Sulfate-free
Phthalate-free
Phosphate-free
Gluten-free
Cruelty-free
Cons
None
Price at the time of publication: $40
The moisturizing Lavender Body Lotion from L'Occitane is a high-quality natural beauty product enriched with the relaxing scent of lavender essential oil that keeps you refreshed all day long. It is enriched with the nourishing properties of shea butter, which restores the elasticity of the skin. The high-quality lotion makes your dry skin soft and supple with regular use. The rich texture of the formula gets absorbed quickly into the skin to offer ultra-nourished skin.
Pros
Hypoallergenic
Non-greasy
Organic
Relaxing fragrance
Cons
Price at the time of publication: $30
The Rosemary Mint Body Lotion from Aveda cools and revitalizes your skin with menthol. The lightweight lotion hydrates your skin by deeply penetrating the layers. It also offers a refreshing aroma of certified organic rosemary and peppermint. The lotion blends well into your skin and reinforces the skin's defense against free radical damage to make it look soft, smooth, and healthy.
Key Ingredients: Rosemary, Peppermint, and Mint
Pros
Vegan
Cool & refreshing sensation
Cruelty-free
Lightweight
Non-greasy
Cons
Price at the time of publication: $30.08
The dermatologist-developed Lubriderm Daily Moisture Lotion is formulated with a broad spectrum of SPF 15 that protects your skin from harmful UVA and UVB rays. In addition, the skin essential moisturizer is enriched with vitamin B5, which hydrates the skin while healing breakouts and blemishes. Furthermore, the fast-absorbing formula lasts for up to 24 hours making your skin feel moisturized, but not greasy.
Key Ingredients: Avobenzone, Octisalate, Octocrylene, and Oxybenzone
Pros
Dermatologically tested
Non-greasy
Long-lasting
Gets absorbed quickly
Cons
Not nourishing enough for super dry skin
Price at the time of publication: $36
The body lotions mentioned above are undoubtedly from a higher price range. But is the cost justified? What makes these lotions superior than your low-cost body moisturizers? Let's discuss this in the section below.
How To Choose The Best Body Lotion
Ingredients to look for:
Exfoliants: Exfoliants are great for moisturizing super dry skin. The body lotions with exfoliants are specially made to remove the dead cells and promote healthy skin underneath. It penetrates deeper into your skin pores and evens the skin tone. Look for a lotion that contains a gentle chemical exfoliate like alpha-hydroxy acids.
SPF: Having a body lotion with SPF means having two benefits in one product. It protects your skin against harmful UVA and UVB rays. A broad spectrum SPF ensures more protection. Dermatologists recommend choosing a body lotion with SPF 30 or even higher.
Humectants: A humectant is a non-negotiable element in any moisturizer. Humectants boost skin moisture without making them feel heavy. They allow the skin to retain the skin moisture and helps other ingredients to perform better. It would be best to always look for humectants like glycerin, hyaluronic acid, and propylene glycol.
Ingredients to avoid:
DMDM Hydantoin: The DMDM Hydantoin is not safe when used in body lotions. It contains a formaldehyde-releasing preservative that irritates your skin badly.
Fragrance: Avoid artificial fragrances even if you love a nicely fragrant lotion. These ingredients may irritate the skin or cause allergies. Instead, you may opt for lotions made with naturally fragrant ingredients.
Parabens: Parabens are a common ingredient in body lotions. They are usually added as a preservative. But parabens age your skin faster and triggers irritated skin (especially sensitive, damaged and broken skin).
Why Trust StyleCraze?
Shiboli Chakraborti is a certified skin care coach who loves to review different skin care products. She went through numerous reviews and feedback on multiple forums and websites to curate a list of the best expensive body lotions that restore the skin's lost moisture. These body lotions are made of skin-loving and safe ingredients like shea butter, glycerin, aloe vera, vitamins, essential minerals, and many more.
Frequently Asked Questions
Which body lotion is best for females?
The Lavido Aromatic Body Lotion is a dermatologist-approved product that helps soothe and protect the skin.
Should I use body lotion every day?
Yes, you can use body lotions daily before going to bed for the best nourishment.
Can you put body lotion on your face?
No. Using body lotions on the face can result in pore blockage, breakouts, and redness.
Does body lotion expire?
Yes, body lotions have a shelf life of around 12-36 months.
How long does it take for the lotion to absorb?
Lotion can get fully absorbed into the skin within 10 minutes with appropriate massages.
How much lotion is too much?
If the body lotion is dripping down your skin, it is not applied in the right amount.
Recommended Articles