17 Best Body Moisturizing Lotions For Dry Skin – 2023
Replenish the lost moisture from your skin with these gently formulated products.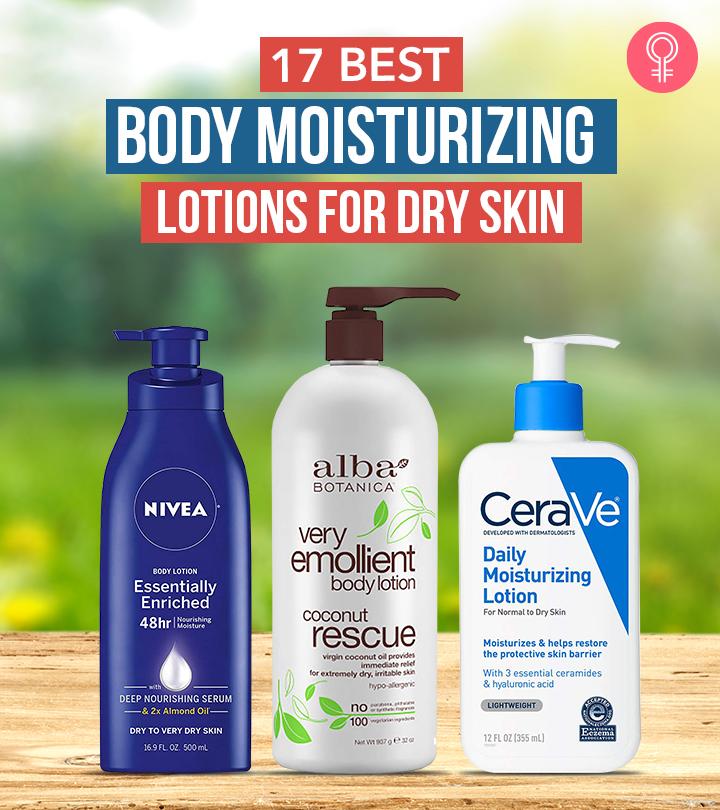 If you are experiencing dry skin throughout the year, it is time to switch to the best body lotion for dry skin. A body lotion will moisturize, hydrate, and nourish your dry skin. In addition, it will prevent dryness, flakiness, and rough patches on your skin. No matter what the weather, you can enjoy smooth and supple skin if you use a body lotion daily. We have got 17 of the best body lotions for dry skin for you. Have a look!
17 Best Body Moisturizing Lotions For Dry Skin – 2023
The CeraVe Daily Moisturizing Lotion contains hyaluronic acid that maintains the skin's natural moisture, while the MVE technology provides 24-hour long intense hydration. This non-greasy formula comes with three essential ceramides (1, 3, 6-II) that help in restoring and maintain the skin's natural barrier and protect it from pollutants. Its smooth and lightweight texture is absorbed quickly into the skin and leaves it feeling soft and hydrated. It also has the National Eczema Association (NEA) Seal of Acceptance and is suitable for the face, hands, and body. Check out this video on YouTube for a detailed understanding of the product and the reviewer's experience. Also, reviewers, after testing, found the product to be top-notch, resulting in a chorus of positive reviews.
Key Ingredients: Hyaluronic acid and Ceramides 1, 3, and 6-II
Pros
Lightweight
Absorbed quickly
Non-greasy
Allergy-tested
Non-comedogenic
Fragrance-free
Cons
The NIVEA Essentially Enriched Body Lotion is infused with deep moisture serum and almond oil. This rich formula intensively nourishes the skin, locks in moisture, and gives noticeably smoother skin for up to 48 hours. It also reduces skin roughness after just one application. Use daily to nourish and moisturize extremely dry and rough skin. If you want to know more about this product and the reviewer's experience, check out this video on YouTube. Reviewers were genuinely impressed with the product's performance during testing, and their reviews have reflected their satisfaction.
Key Ingredients: Deep moisture serum and Almond oil
Pros
Smooth texture
Absorbed quickly
Mild scent
Long-lasting
Cons
Palmer's Cocoa Butter Formula Daily Skin Therapy is a high-quality, plant-based daily moisturizing body lotion that provides a protective barrier that locks in moisture and gives 24-hour deep hydration to dry and eczema-prone skin. It is formulated with cocoa butter that naturally moisturizes dry, cracked skin and antioxidant-rich vitamin E that eliminates scars, stretch marks, and other skin imperfections. This lotion evens out the skin tone and makes it soft and silky.
Key Ingredients: Cocoa butter and Vitamin E
Pros
Smooth and rich texture
Absorbed quickly
Long-lasting
Mild fragrance
A little goes long way
Paraben-free
Phthalate-free
Cons
The alba BOTANICA Very Emollient Body Lotion is a rich and creamy formula made with virgin, unrefined coconut oil and coconut milk that nourish and intensely hydrate the skin. This lotion also contains moisturizing botanicals, such as sunflower seed oil and shea butter, that provides immediate relief from very dry, irritable skin. The 100% vegetarian formula is hypoallergenic and free of parabens, phthalates, and synthetic fragrance. Go ahead and check out this YouTuber's video for more details about the product.
Key Ingredients: Coconut oil, Coconut milk, Sunflower seed oil, and Shea butter
Pros
Cruelty-free
100% vegetarian
Paraben-free
Synthetic fragrance-free
Phthalate-free
Cons
Does not get absorbed easily.
The Lubriderm Daily Moisture Lotion is a clinically proven formula that is dermatologist-approved and replenishes and moisturizes dry skin for 24 hours. It is enriched with vitamin B5 and skin essential moisturizers found naturally in healthy skin to improve the moisture in your skin barrier. This fast-absorbing product is dermatologist-developed and expert-recommended by tattoo artists for tattooed skin aftercare. It can be used as a daily lotion on the hands and body.
Key Ingredients: Vitamin B5
Pros
Dermatologist-approved
Clinically-proven
Non-greasy
Long-lasting
Absorbed quickly
Fragrance-free
Great for fresh tattoos
Cons
The Curél Ultra Healing Intensive Lotion is a clinically proven formula that relieves and repairs extra-dry skin two times better than other leading intensive products. It provides instant dry skin relief that can last more than 24 hours. This dry skin lotion contains extra strength and naturally hydrating agents that restore moisture and makes the skin soft and supple. The Advanced Ceramide Complex restores the skin's ceramide levels, aids in moisture retention, and prevents dry and tight skin symptoms.
Key Ingredients: Advanced Ceramide Complex
Pros
Non-greasy
Clinically proven
Absorbed quickly
Lightweight
Long-lasting
Cons
The LA ROCHE-POSAY Lipikar Balm Ap+ Intense Repair Moisturizing Cream is clinically proven to reduce dry and rough skin, replenish the skin's essential lipids, and provides hydration for up to 48 hours. The dermatologist-recommended body cream formula is suitable for adults, children, and even 2-week old babies and can be used all year round. It has high a concentration of soothing La Roche-Posay Prebiotic Thermal Water, lipid-replenishing shea butter, and moisturizing glycerin and niacinamide. This dermatologist-tested lotion rebalances skin microbiome removing dead skin cells and it has been accepted by the National Eczema Association.
Key Ingredients: La Roche-Posay Prebiotic Thermal Water, Shea butter, Glycerin, and Niacinamide
Pros
Dermatologist-tested
Dermatologist-recommended
Clinically-proven formula
Professional-grade
Pediatrician-approved
Paraben-free
Fragrance-free
Non-comedogenic
Allergy-tested
Cons
The O'KEEFFE'S Skin Repair Body Lotion is perfect for relieving, and repairing extremely dry and itchy skin as owing to its hydrating ingredients. This clinical body lotion moisturizes and protects the skin and gives dryness relief for 48 hours and even lasts through showering. It prevents flare-ups associated with dry, itchy skin and is safe for skin that is impacted by diabetes and eczema.
Key Ingredients: Shea butter
Pros
Hypoallergenic
Non-greasy
Absorbed quickly
Long-lasting
Cons
The Vaseline Intensive Care Cocoa Radiant Body Lotion moisturizes, soothes, and heals very dry and rough skin and hands. It is made with 100% pure cocoa and shea butters that reveal the skin's natural radiance without being greasy. This rich skin moisturizer also combines glycerin, a natural humectant, with microdroplets of Vaseline jelly that lock moisture deep within the skin.
Key Ingredients: Cocoa butter and Shea butter
Pros
Non-greasy
Absorbed quickly
Long-lasting
Cons
The BURT'S BEES Body Lotion for dry skin gently moisturizes the skin. It contains cocoa butter and cupuaçu butter that are absorbed quickly into the skin and soften it for all-day moisturization. The rich, non-greasy, dermatologically tested formula also contains nourishing active ingredients like shea butter, vitamin E, and 98.9% natural botanicals that keep the skin moisturized throughout the day and leave it feeling healthy.
Key Ingredients: Shea butter, Vitamin E, and Natural botanical extracts
Pros
Gentle
Non-greasy
Dermatologist-tested
Long-lasting
Paraben-free
SLS-free
Petroleum-free
Cons
The AVALON ORGANICS Hand & Body Lotion is a certified organic and plant-based formula made with organic botanicals and essential oils. This moisturizing formula replenishes and rebalances dry skin for intensive hydration. It contains lavender essential oil, aloe, plant lipids, and nutrient-rich beta-glucan, which work together to restore the skin's lipid balance and leave it feeling soft and supple.
Key Ingredients: Lavender essential oil, Aloe vera, Plant lipids, and Beta-glucan
Pros
Long-lasting
Cruelty-free
Vegan
Paraben free
Phthalate-free
Sulfate-free
No synthetic colors
Fragrance-free
Cons
The ALAFFIA Everyday Shea Body Lotion is a handcrafted deeply moisturizing and nutrient-rich formula that softens and revitalizes dull, dry skin. It contains unrefined raw shea leaf extract, saponin, tannins, and antioxidants that protect the skin and boost hydration. This dry skin lotion also contains antioxidant-rich lemongrass, which is known to calm and soothe skin irritation. This is an unscented product for sensitive skin that is rich in antioxidants like vitamins C and E.
Key Ingredients: Shea leaf extract and Lemongrass
Pros
Non-greasy
Sulfate-free
Paraben-free
Phthalate-free
Silicone-free
Artificial color-free
Synthetic fragrance-free
Cruelty-free
Cons
The Eucerin Skin Calming Lotion soothes irritated skin and relieves itchiness caused by dry skin. It is enriched with natural, soothing oatmeal that moisturizes dry skin. It also contains rich emollients that moisturize and protect the skin's barrier. This dermatologically tested, non-greasy, fast-absorbing moisturizer is suitable for daily use and provides 24-hour moisture.
Key Ingredients: Oatmeal
Pros
Non-comedogenic
Gentle
Fast-absorbing
Non-greasy
Fragrance-free
Dye free
Dermatologist-tested
Cons
The Tree to Tub Moisturising Shea Butter Body Lotion is a great choice for dry skin. It contains a blend of natural ingredients, which provide intense nourishment to cracked skin, especially in areas like the elbows and heels. Its non-greasy formula, enriched with natural elements like organic cocoa butter, aloe vera, and chamomile oil, helps calm and soothe the skin. It also comes in several varieties like lavender and colloidal oatmeal, which provide deep hydration and nourishment to dry and calloused skin. It is the perfect formula for sensitive skin that needs nutrition.
Pros
Nourishing
Non-greasy
Suitable for sensitive skin
Lightweight formula
Cons
[multi_buy_now_btnasin="B01N20N5FA"amz_affilate="tsr-skincarepro-20″walmart_affilate=""]
The ARCHIPELAGO BOTANICALS Oat Lotion Milk is blended with dried milk solids that enhance the skin's appearance and leave it feeling soft and supple. Oat protein is a superfood for the skin. The formula also contains natural esters from jojoba oil and other premium active ingredients that allow the lotion to glide smoothly, seal in moisture, and nourish the skin thoroughly giving smooth skin texture.
Key Ingredients: Wild oats, White tea, Coconut water, and Natural jojoba esters
Pros
Non-greasy
Gentle
Pleasant fragrance
Long-lasting
Quick absorbing
Paraben-free
Sulfate-free
Cons
This body lotion for dry skin is created by skin care specialists. It keeps the skin hydrated and retains moisture for up to 24 hours. It is also great for sensitive skin and has been accepted by the National Eczema Association. This moisturizer contains safflower oleosomes that provide long-lasting moisturization with natural oils. The proprietary botanical formula has plant-based nutrients, moisturizers, and antioxidants from green tea, clove flower, and soy that nourish and protect the skin.
Key Ingredients: Safflower oleosomes, Green tea, Clove flower, and Soy
Pros
Hypoallergenic
pH-balancing
Long-lasting
Phthalate-free
Sulfate-freeParaben-free
Fragrance-free
Cons
Does not get absorbed well.
This L'OCCITANE body lotion is enriched with 15% shea butter and calendula. It deeply nourishes and comforts dry and flaky skin with essences of apricot oil, natural honey, jasmine, and ylang-ylang. This body lotion leaves the skin moisturized for a long time. Its fluid, fast-absorbing formula soothes skin tightness and irritation and offers protection against skin dryness.
Key Ingredients: Shea Butter and Calendula
Pros
Lightweight
Absorbed quickly
Long-lasting
Mild fragrance
Cons
Not for extremely dry or eczema-prone skin.
*The prices provided in this article are based on the latest available information. However, they may vary due to changes in pricing by the seller and/or promotional offers.
Dry skin is a common problem, and it's only exacerbated by the cold winter months. To combat it, you may be tempted to reach for any lotion at your fingertips. However, there are many factors to consider when choosing a body moisturizing lotion that will ensure you're properly hydrated. Here are some factors you should look for when selecting a body moisturizer:
The Best Body Moisturizing Lotions For Dry Skin — A Buying Guide
Ingredients: choose a product with natural ingredients like shea butter, aloe, or cocoa butter. They are natural ingredients that nourish the skin. Avoid products with alcohol, parabens, mineral oils, or artificial fragrances. While they may smell pleasant at first, they can dry out your skin over time.
Moisturization: look for a moisturizing lotion with ingredients like aloe, essential oils, almond oil, vitamin E, or shea butter. They are non-greasy and are absorbed by the skin quickly, leaving you feeling comfortable at all times.A good lotion penetrates deep into the skin and works against water evaporation. While moisturizing, keep in mind that you want it to moisturize and prevent any flaking. If you plan to use it before bed, opt for a nighttime moisturizing lotion instead.
Formulation: look for lightweight, non-greasy, and non-sticky lotions with the ability to last throughout the day. It's important to choose a product that is scientifically formulated, validated by leading dermatologists, and keeps your skin moisturized for hours. Look for a body lotion that gets fully absorbed into the skin soon after application.
Skin Care Routine: consider your skin care routine before deciding on a moisturizing lotion. If you usually use a particular soap or shaving gel, make sure that the body lotion can coexist with it. Also, consider other skin concerns like redness, eczema, keratosis pilaris, and others before deciding on a product.
Why Trust StyleCraze?
The author, Shiboli Chakraborti, is a certified skincare coach who loves bringing the best skincare products to you. She has thoroughly gone through several product reviews to bring you the best body moisturizing lotions for dry skin. This article lists the top products on the market, which contain ingredients that prevent dry and flaky skin, keeping your skin moisturized and hydrated.
Recommended Articles