10 Best Hypoallergenic Eyeshadows For Sensitive Eyes
Say goodbye to skin irritation because these eyeshadows are here to your rescue.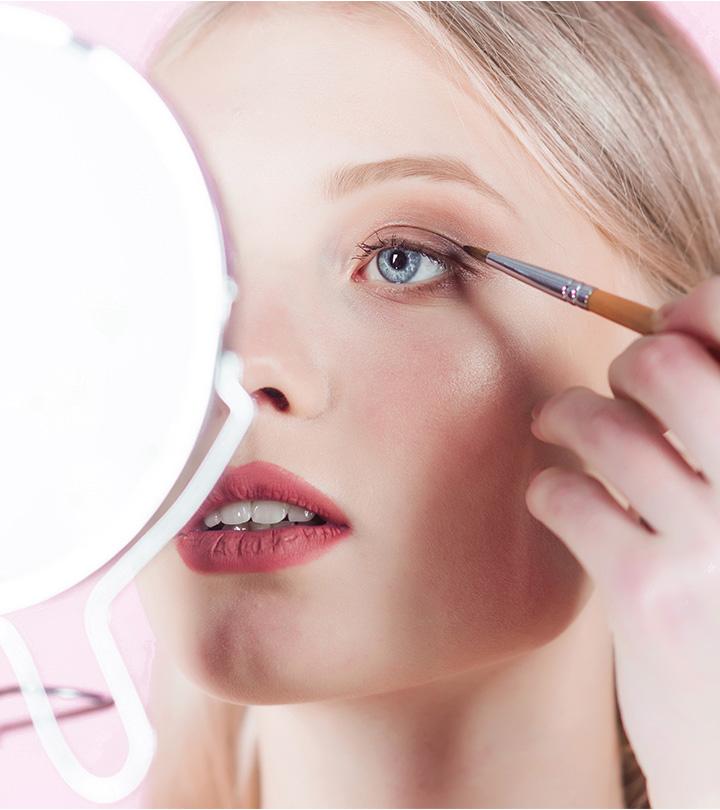 While getting our favorite makeup on, we are often worried about skin sensitivity or some allergy, especially on our facial skin or eyelids. That's why you need the best hypoallergenic eyeshadows in your vanity. Skin-loving makeup brands today manufacture hypoallergenic makeup that not just makes you look great but also keeps you away from the worry of getting skin irritation. With these, you don't have to skip your makeup and go for a naked face look due to the chemicals present in the makeup. Instead, you can choose toxin-free, sensitive-skin-friendly makeup that is hypoallergenic and gentle on all skin types.
The best hypoallergenic eyeshadows help you achieve all looks – shimmer, shine, smokey eye, or a nude look – effortlessly as there's one eyeshadow available for every look.
If you do not know where to begin, we have listed the 10 best hypoallergenic eyeshadows for you to create endless amazing looks. So do not fear glamming up anymore, and have a look at these to pick your most favorite one.
What Eyeshadows Are Hypoallergenic?
Put simply, hypoallergenic eyeshadows are clinically tested to be safe for sensitive skin and are formulated without icky chemicals. If the skin around your eyes tends to get red, itchy, and puffy after using certain makeup products, the chances are you may be allergic to some ingredients that are irritating the delicate skin around your eyes. This is where you would benefit from picking a hypoallergenic eyeshadow explicitly designed to be calming and soothing to your skin while you create beautiful, vibrant looks. Not sure if a product is hypoallergenic? Just have a quick look at the product description and make sure it is labeled as being hypoallergenic.
Bid Farewell To Teary Eyes With The 10 Best Hypoallergenic Eyeshadows
Shimmer and shine with this dynamic set of 6 gorgeous, highly pigmented eyeshadows to create a look that is equal parts mysterious and dramatic. Use this set of hypoallergenic glitter eyeshadows by wetting it for intense color that transforms the shadow into a liner or dry for a softer result. The long wearing, blendable formula is easy to apply and lasts up to 24 hours. This little platter of deliciously fun, multi-reflective shimmer eyeshadows is all you need to create the perfect smokey eye for an ultra-glam look that is sure to turn heads.
Pros
Long wearing, blendable formula
Contains no artificial fragrances
Free of parabens and gluten
Hypoallergenic and safe for sensitive skin
Dermatologist-tested
Cruelty-free
Cons
Some might find the texture of these eyeshadows a bit dry.
Price at the time of publication: $12.96
Get your hands on this must-have collection of 10 versatile, pigment-rich shades to create gorgeous looks that switch seamlessly between day and night, from subtle and classy, to elegant and couture. These hypoallergenic cream eyeshadows have a velvety texture and effortless blendability, making them a popular favorite for everyday use. Dermatologist tested for safety, this hypoallergenic eyeshadow palette has a great mix of shimmer, satin, and matte colors, making them the ideal choice for all skin types and occasions. Go through this video to check out the detailed review and demo of the Honest Beauty Eyeshadow Palette – Get It Together.
Pros
10 versatile, pigment-rich palette
Dermatologist-tested and hypoallergenic
Toxicologist-verified
Free of parabens, talcs, and silicones
Cruelty-free
Cons
Some might find the texture of these eyeshadows a bit grainy.
Price at the time of publication: $35.98
Here's a beautiful eyeshadow palette that helps transform your look while providing gentle nourishment to the delicate skin around your eyes. Formulated with a soothing mix of chamomile, vitamin E, and meadowfoam, this palette is the ideal choice for anyone looking for a highly pigmented hypoallergenic eyeshadow for sensitive skin. This dynamic trio has the perfect combination of vibrant shades that can be used as a base, highlighter, and contour for your eyes. So what are you waiting for? Bring home this product now! Check out this YouTube Video to learn best about the Mineral Fusion Eye Shadow Trio.
Pros
Long-lasting, crease-resistant color
Gluten-free and vegetarian
Hypoallergenic and fragrance-free
Free of parabens, phthalates, and harsh ingredients
Cruelty-free
Cons
Some might find these eyeshadows a bit difficult to blend.
Price at the time of publication: $21.47
If you're looking for a matte, hypoallergenic eyeshadow that provides high-impact color without drying out the delicate skin around your eyes, your search ends here. Infused with vitamins C and E, this conditioning formula provides full, buildable coverage for an unmatchable dramatic effect. The luxurious, suede-like texture glides over lids smoothly and evenly for a look that can range from soft and teasing to intense and eye-catching. What's more, the natural ingredients ensure it is safe for even the most sensitive skin types.
Pros
Crease-resistant, matte finish
Infused with moisturizing vitamins
Hypoallergenic and safe for sensitive skin
Free of parabens and mineral oil
Cons
This eyeshadow might not be suitable for darker skin tones.
Price at the time of publication: $20.0
Say hello to rich, dense, and decadent color with this natural hypoallergenic eyeshadow that delivers unmatched performance and long-lasting wear. Made with skin-loving nourishing, organic, and gentle ingredients, these blendable and highly-pigmented shades can be used to create a wide variety of looks, from bold and bright to subtle and classy. Easy to apply, a little goes a long way when it comes to these natural mineral colors. And that's not all! This formula does not irritate eyes and is great for sensitive skin.
Pros
Smooth, flawless application
Made with natural and organic ingredients
Sweat and humidity-resistant
Hypoallergenic
Vegan and cruelty-free
Cons
Some might find the texture of this eyeshadow a bit powdery.
Price at the time of publication: $19.19
Enhance your eyes with this creamy eyeshadow that glides smoothly to deliver a beautiful, luminous finish. The convenient stick-style design helps you quickly achieve your desired look without worrying about brushes and sponges, making this the ideal beauty accessory for your handbag. With a huge color payoff and incredible staying power, this hypoallergenic eyeshadow is the perfect choice for a professional finish without compromising the quality of ingredients.
Pros
Lightweight, creamy texture
Crease-proof and water-resistant formula
Long-lasting color
Hypoallergenic and safe for all skin types
Cons
Some might find the scent of this eyeshadow a bit unpleasant.
Price at the time of publication: $15.99
Clean beauty never looked so good! Here's a high-performance eyeshadow palette made of safe, good-for-you ingredients. Lightweight and conveniently sized, this eyeshadow palette features a gorgeous collection of 4 matte and 4 shimmer shades that complement and flatter every skin tone. Enriched with vitamin E for long-lasting staying power, these vibrant colors layer beautifully for more intensity and glide on effortlessly for a look that transitions easily from day to night. Take a look at this video for visuals on using the P/Y/T Beauty Day-To-Night Eyeshadow Palette.
Pros
Enriched with nourishing vitamin E
Free of parabens, phthalates, and talc
Hypoallergenic
Vegan and cruelty-free
Cons
Some might find the consistency of the eyeshadows a bit powdery.
Price at the time of publication: $27.0
Here's the perfect hypoallergenic eye makeup for sensitive eyes to try out the next time you're heading to a happening party! The convenient crayon-style eyeshadows can be used without a brush and feature a creamy texture which glides on effortlessly without skipping, smudging, or fading. Waterproof and hypoallergenic, this set has 7 vibrant colors which can be used to create any number of gorgeous looks, be it for your prom night, dance party, the wedding of the season, or just a special date night.
Pros
Portable and easy to apply
Soft and creamy texture
Waterproof and smudge-proof formula
Set of 7 vibrant colors
Cons
Some might find the texture of these eyeshadows a bit oily.
Price at the time of publication: $8.99
Say goodbye to caked-up eyeshadows with this long-wearing matte eyeshadow that is crease-resistant and looks fresh all day long. It also doubles as an eyeliner and delivers a high pigment, intense finish when applied with a wet brush. The smooth, velvety texture and gentle, hypoallergenic formula make this eyeshadow an instant favorite amongst sensitive skin. So get your hands on this unique eyeshadow and get ready to create some dramatic and stunning eye looks.
Pros
Smooth, luxurious texture
Crease-resistant formula
Mineral and oil-free
Hypoallergenic and safe for sensitive skin
Cons
Some might find that this eyeshadow tends to smudge a bit.
Price at the time of publication: $18
Mix and match to create a look to suit your mood! This hypoallergenic eyeshadow palette has 4 versatile and timeless shades which can be used to create anything from a classic nude with a velvety, matte finish to the ultimate evening smokey eye with a luminous, shimmery finish. Easy to apply and ultra-wearable, these long-lasting shadows are highly pigmented and suitable for all skin tones. So add this eyeshadow palette to your makeup bag and create a sophisticated and charming look in the blink of an eye.
Pros
Long-lasting, highly-pigmented colors
Fragrance-free
Suitable for sensitive eyes
Hypoallergenic formula
Cons
Some might find these eyeshadows a bit difficult to blend.
Price at the time of publication: $24.99
Now that we've had a look at our pick of the 10 best hypoallergenic eyeshadows in 2021, let us look at some things to consider when buying the best product to create your desired look.
How To Choose A Hypoallergenic Eyeshadow
Depending on your skin tone and the kind of look you're trying to create, pick a suitable color or palette which helps you achieve your desired finish. If you're going for an understated, professional look, pick nudes and neutral colors with a smooth, matte finish. Going out for evening cocktails and want to replicate your favorite runway look? Pick an eyeshadow palette with shimmery, luminous shades and create a look that is equal parts mysterious and dramatic. With the right eyeshadow colors in your makeup bag, you can have a lot of fun making a different look for matching every outfit.
The best thing about hypoallergenic eyeshadows is that they are designed for sensitive and allergy-prone skin and are generally free of harmful and chemical ingredients like parabens, phthalates, and sulfates. If your skin tends to get dry and flaky, pick an eyeshadow enriched with nourishing, moisturizing ingredients like vitamin E. Those with oily skin would benefit from an eyeshadow made of non-comedogenic ingredients, preventing your pores from clogging up. Lastly, if you are sensitive to strong scents, pick a fragrance-free eyeshadow.
From soft and powdery to velvety and creamy, there is a wide range of textures available when it comes to eyeshadows, and it largely comes down to a matter of personal preference. While soft and powdery eyeshadows offer better blendability, creamy eyeshadows are more long-lasting and have better-staying power. Another factor to consider is the finish you are looking to achieve. While a matte finish is better suited to a professional setting, a more sparkly and shimmery finish will add an oomph factor to your party look.
Why Trust StyleCraze?
The author, Chaitra Krishnan, is a makeup aficionado. She is very passionate about eye makeup products, especially eyeshadows suitable for sensitive eyes. She has carefully researched brand websites and checked online reviews and user feedback to compile the list of the best hypoallergenic eyeshadows. These products are toxin-free, designed with non-irritating formulas, and are gentle on all skin types.
Recommended Articles