15 Best Drugstore Nail Polishes That You Should Try In 2023
Achieve the perfect salon-like mani-pedi at home at a budget-friendly price.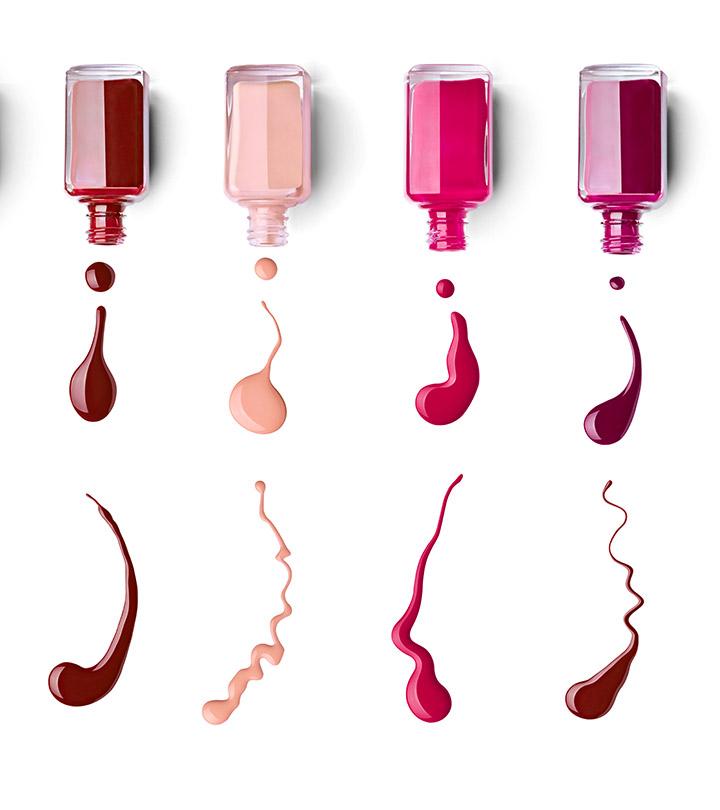 Freshly manicured nails look gorgeous, but not everyone has the time to visit the salon frequently amidst their hectic schedules. The secret to getting the perfect mani-pedi at home is to pick a great nail color. Nowadays, the best drugstore nail polishes come in stunning, statement-making shades and offer enough longevity at affordable prices. In this post, we have curated a list of the 15 beautiful drugstore nail polishes (under $11) that will make your drugstore trip worthwhile and promise a salon-style manicure at home. Keep reading to explore our top picks!6
15 Best Drugstore Nail Polishes That You Should Try
Pros
Great formula that goes on smoothly
Quick-drying
This shade can get away with one coat as it's very opaque
DBP, Toluene, and Formaldehyde free
Highly saturated
Cons
May emphasize nail imperfections like ridges.
Essie Mirror Metallics In "Good as Gold" Review
All that glitters is all you need! This affordable nail polish by Essie's Mirror Metallics collection is a gorgeous gold shade, which is entirely muted – it's not too yellow, and it's not overly flashy. The gorgeous formula is excellent, and it provides for easy and smooth application. Two coats are all it takes for the most opaque finish!
This one's a great option for the Winter Holiday season or just about any day because it's a super versatile color. This shade will look stunning on almost every skin tone. According to reviewers, the nail color offers an easy application.
Pros
Easy to apply
Great color
Long staying
Dries quickly
Cons
Sally Hansen Hard As Nails Xtreme Wear In "Mauve Over" Review
Sally Hansen is one of the most popular drugstore nail polish brands. The shade "Mauve Over" seemingly changes its color depending on the lighting. Regardless of the lighting, this color looks utterly gorgeous. Its formula builds quickly to opacity, dries fast without the use of a UV lamp, and lasts really long even without a top coat.
It's a great shade for winter and fall, or even spring, and will look so hot on light to medium skin tones! This shade is a subtle statement-making shade that offers a warm mauve color to your nails.
[ Read – Top Rated Sally Hansen Products For Women ]
Pros
Great color formulation
Easy to apply
Good applicator brush
Long staying
Cons
Chips easily without top coat
Essie Nail Polish In "Mint Candy Apple, Green" Review
This Essie nail polish in the shade "Mint Candy Apple, Green" is fresh and light and would make a beautiful shade for spring or summer. Its new formula is great, and two coats provide a full-fledged opaque finish.
Whether you have light skin or medium to dark skin tone – this typical nail polish will surely stand out and score you some compliments. When you feel your creative juices flowing, this mint-green shade is a great addition to your nail art design ideas!
Pros
Long-wearing
Bubble-free formula
Gel formulation
Easy application
Dries quickly
Opaque finish
Cons
Revlon ColorStay Gel Envy Longwear Nail Enamel In "Lady Luck" Review
This gorgeous shade is a blend of pink and coral with a subtle gold shimmer. The formulation of this line of nail polishes by Revlon is impressive. We loved its consistency, quality, and glossy, salon-like finish along with its staying power. This shade has a low-key neon vibe going on, which makes it a really fun and youthful shade!
Overall, it's a great color for summer or spring and can easily be pulled off by all skin tones.
Pros
Fully opaque
Long-lasting
Quick drying
Cruelty-free
Paraben-free
Vegan
Cons
Some may find the consistency thick
ILNP Nail Polish In "Abundance- Red, Orange, Bronze, Gold Ultra Chrome Color" Review
For the ones who don't have the words dull and simple in their vocabulary, the ILNP Abundance Shifting Nail Polish in red, orange, bronze, and gold ultra chrome color is ideal for them! Never experience a dull moment with this vibrant, flamboyant product that attracts all the attention, making you the life of the party. It is fast-drying and fully opaque, hence does not require a base coat. Curated with high quality nail lacquer formula, it delivers long-lasting results, does not fade easily, and is free of animal testing.
This long-lasting formula can be worn all through the year and is great for every skin tone! If you still need convincing then read the reviews which have praised the nail polish for being long-lasting and giving the nails a professional look.

Pros
Easy application
Gel formulation
Does not chip off
Goes on smoothly and dries quickly
Long-lasting
Cons
Sally Hansen Miracle Gel Collection In "Terra Coppa" Review
A bottle of this shade of Sally Hansen nail polish is reportedly sold every two minutes – making it a best-seller! According to InStyle, since its launch, this bottle has been sold over 32 million times. "Terra Coppa" is the most Instagram-worthy rose gold shade that is long-lasting and universally-flattering. It goes on glittery, but it dries up to a more subtle shimmery finish that isn't very flashy. It applies easily, and its gel formula holds up for a week and stays chip-free. This long-lasting formula goes with everything and keeps glowing for long.
This one can be worn all round the year and is great for every skin tone!
Pros
Great color
Easy to apply
Fast drying
Long staying
Great applicator brush
Cons
OPI Infinite Shine 2 Review
"This Is Not Whine Country" is a little sheer, but it can be built upon, and once it dries, its saturation and shine is so beautiful. It's a wine-colored shade with blue and berry undertones that looks so sultry and hot! The formula of this high-shine finish nail polish is great, and its brush ensures an easy application that lasts for over a week!
This shade is perfect for any time of the year, and we can visualize this shade looking stunning on every skin tone.
Pros
Chip-resistant
Long-lasting
Easy application
Smooth finish
Cons
Thick consistency
May take longer to dry
The L.A. COLORS Color Craze Nail Polish In "Cocktail" Review
With a tint of alluring pink and a glossy, shimmery finish, the L.A. COLORS Color Craze Nail Polish is bound to become one of your favorite nail paints. The product offers a vibrant yet subtle hue that is ideal for everyday wear and is perfect for long-lasting manicures. The colorful glitter present in it further supports a flirtatious and lively look, perfect for days when you want your nails to do all the talking. According to a reviewer's experience, the nail color does not streak and is free of chipping.
Pros
Gorgeous color
Applies smoothly
Dries quickly
Long-lasting
Cons
The polish in the bottle dries out rather quickly
China Glaze Nail Polish In "Heart of Africa" Review
"Heart of Africa" from China Glaze is a beautiful deep shimmery wine color. If you instantly want to glam up your hands and feet, this intensely rich color should be something you absolutely must look at! Two coats of this long-lasting formula give you a fully opaque finish and decent staying power.
This vampy shade is perfect for fall, winter, and the holiday season and looks exceptionally flattering on medium-tan skin. To get a better understanding of the product, you can check out this video on YouTube to learn about the tester's experience of using the product.
Pros
Very saturated
Beautiful color
Quick-drying
Long-wearing
Rich color payoff
Cons
Essie Nail Polish In Designated DJ Review
This was launched as a part of Essie's 2017 Spring Collection. The shade is a rich, deep plum with more purple in it and no matter what the season, this will look gorgeous. Its formula is great, and you get an opaque finish in two coats. The applicator brush is easy to use and gives you a smooth and even finish.
This is a color that will look flattering on every skin tone, all year round! It can also be used for doing your nail art designs.
Pros
Suitable for sensitive skin
Non-toxic material
Good durability
Fast drying
Highly-pigmented
Easy application
Low odor
Cons
RARJSM Holographic Nail Polish In "Dark Purple" Review
Always stay abreast with modish looks and top trends with the RARJSM Holographic Nail Polish. The product offers a gel formula with high durability that dries up in minutes. This quick-dry formula is curated from non-toxic material that is free from all the chemicals that commonly harm the nail bed, thus making it a suitable option for sensitive skin as well. This high-quality drugstore holographic nail polish is a highly recommended product with high pigmentation that won't require frequent coating and promises long-lasting up to 21 days. With innumerable benefits and an attractive holographic look, this non-toxic formula is going straight to our top long-time favorite nail polish list. This color offers exceptional results and is a great choice for those who love to stand out.
Pros
Easy to apply
Gentle formula
Great applicator brush
Long-lasting
Cons
Needs too many coats for a fully opaque finish because of which it takes forever to dry
Zoya Nail Lacquer In "Frida" Review
Frida by Zoya is a sheer, dark, and warm-toned teal blue with a buildable jelly gloss finish. Its unique formula can be worn alone or layered to create an endless variety of custom colors and effects. Talking about the formula, it's pretty thin and you need to apply multiple coats (around 5-6) to get it to an opaque finish.
This one's great to use as a tinted top coat or over your nail art designs, but as a stand-alone polish, it's hectic to apply so many coats. However, we can't deny that the jelly gloss finish looks incredible. Check out the review of this product for more information.
Pros
Easy to apply
Quick-drying
Long-wearing
Gives you an opaque finish
Cons
Essie Nail Polish In "Wicked" Review
This shade by Essie is a beautiful deep brown-purple, and it makes for a sultry winter look. Its formula is great. The applicator brush is easy to use and gives you a shiny, smooth finish with much ease. Two coats give you a fully opaque finish, and the longevity of the polish is decent.
This dark color will look amazing on every skin tone with all outfits and is great for winter, fall, and autumn.
Pros
Great formula
Easy to apply
The brush does not create streaks
Long-wearing
Cons
Orly In "Haute Red" Review
If you want a glamorous Hollywood red on your nails – your search ends here! This neutral red is a balance of orange and blue shade range, giving you a true red shade. Its formula applies evenly and beautifully without streaking. Haute Red is a definite staple for your neutral shade nail polish collection.
Since classic red is a timeless beauty, this will look great all round the year and will complement every skin tone so well.
Pros
Quick drying
Alcohol-free
Paraben-free
Easy application
Long-lasting
Chip-resistant
Cons
May cause allergic reactions in some
Beetles Gel Nail Polish In "Emma Emerald Green" Review
This nail polish has a deep-green emerald hue that can complement all your outfits. This formula allows you fuss-free application sans the messiness. It is durable and can be worn on most occasions without having to worry about the color fading. Its alcohol-free formula doesn't dry out the nail bed. It is a trendy shade ideal for all age groups!
*The prices provided in this article are based on the latest available information. However, they may vary due to changes in pricing by the seller and/or promotional offers.
[ Also Try – Sally Hansen Hard as Nails ]
 (*Product prices may vary) 
Why Trust StyleCraze?
As an author who loves all things nails and manicure, Esha Saxena is an ardent believer that a good manicure can amp up your look. She believes that great nails don't have to cost a fortune. After carefully considering the product reviews of hundreds of nail polishes, she assembled a comprehensive and detailed list of the top drugstore nail polish. Pick bold or subtle hues and mix and match them effortlessly to create a stylish look.
*Subject to Availability
That was our pick of the 15 best drugstore nail polishes out there that you absolutely must check out! Do you have a favorite drugstore brand when it comes to nail colors? Let us know in the comments!
Frequently Asked Questions
Is Sally Hansen's nail polish good quality?
Yes. Sally Hansen's nail polish ingredients are plant-based. These chip-resistant formulas are toxin-free and long-lasting.
Are nails healthier without polish?
No. However, some nail polishes with strong solvents may dry the nails and cuticles. Also, wearing these harsh chemicals for a long time turns your nails brittle.
Does gel polish damage the nails?
Yes. Gel polish turns your nails brittle and dry. In addition, the process of removing a gel polish can damage your natural nails.
How long should you let your nails breathe between manicures?
Let your nails breathe for three to four hours between manicures.
What color nail polish goes with everything?
White nail polish goes with every outfit. It adds elegance to your look and makes any dress stand out. You can also go for the best drugstore nail polish for natural nails if you want to be safer.
Recommended Articles: